Fujian Map: Fujian China Map, Fujian Province Map…
Fujian is the coastal province in southeastern China that mainly renowned for its wonderful Xiamen City, sacred Fujian Tulou Cluster, natural and cultural Wuyi Mountain, picturesque Xiapu Mudflat and so on. To help you navigate this big province, here we list the most useful Fujian Maps for you, including Fujian China Map, Fujian Province Map, Fujian Tourist Map, Fujian Transportation Map, etc.
Fujian China Map - Where is Fujian Province on a China Map?
Fujian lies along the southeast coastline of China, neighboring East China Sea to its east, Zhejiang Province to its northeast, Jiangxi Province to its northwest and Guangdong Province to its southwest.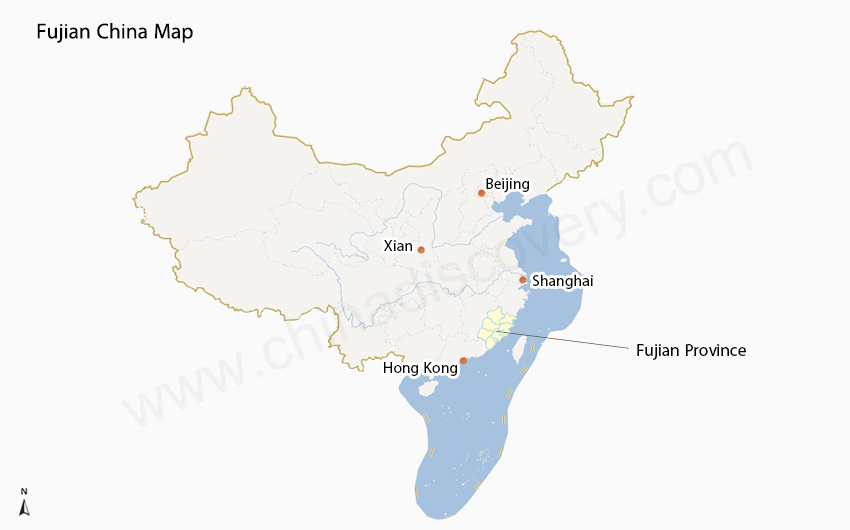 Fujian China Map
Fujian Province Map - Major Tourist Cities in Fujian
Fujian Province is mainly composed of 9 cities, including its capital Fuzhou, Xiamen, Quanzhou, Longyan, Zhangzhou, Nanping, Ningde, Putian and Sanming. Gulangyu Island, one of the best islands in China for vacation, can be found in Xiamen. The world-famous Fujian Tulou Clusters are scattered in the mountainous regions of Longyan City and Zhangzhou City. The marvelous Xiapu Mudflat is located in Ningde City. And Wuyi Mountain, the scared World Natural and Cultural Heritage, is settled in Wuyishan City of Nanping City. Check the Fujian Province Map below to know the distribution of the above cities.
Fujian Province Map
Fujian Tourist Map - Top Fujian Attractions
Highlights in Fujian include Gulangyu Island in Xiamen, Nanjing Tulou in Zhangzhou, Yongding Tulou in Longyan, Wuyi Mountain in Nanping, Xiapu Mudflat in Ningde, Sanfang Qixiang in Fuzhou, Kaiyuan Temple in Quanzhou, Damushan in Ningde, etc. Check their locations at the following Fujian Toruist Map. Also, you can check Places to Visit in Fujian to know more.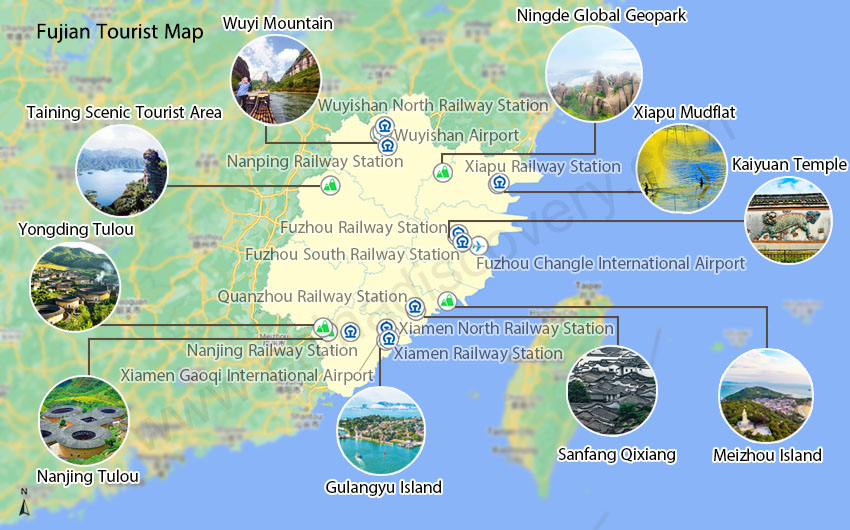 Fujian Tourist Map
Fujian Transportation Map - Airports & Railway Stations in Fujian
Fujian Province has well-established flight, train and bus networks. The following Fujian Transportation Map will show you the most-concerned transportation information of Fujian, including Xiamen Gulangyu Ferry, Xiamen to Fujian Tulou, Fuzhou to Fujian Tulou, Xiamen to Wuyi Mountain, Fuzhou to Wuyi Mountain, Xiamen to Xiapu, Fuzhou to Xiapu, etc.
Xiamen Domestic Flight Map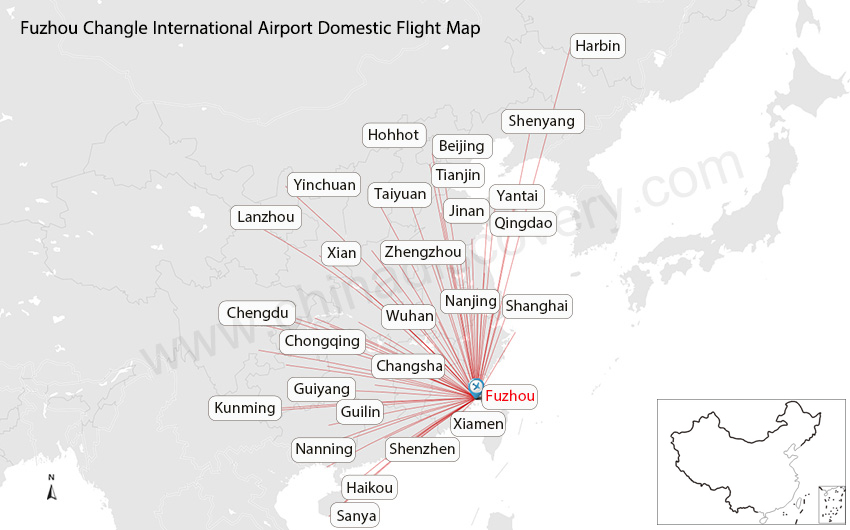 Fuzhou Domestic Flight Map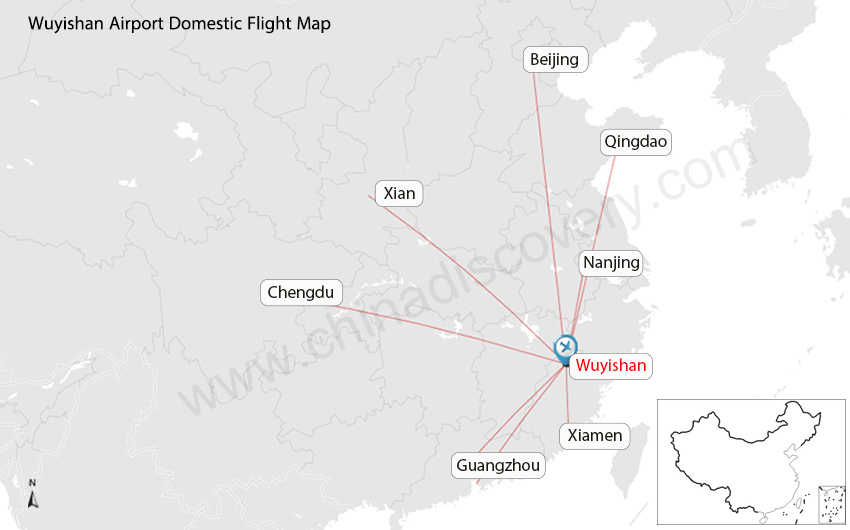 Wuyishan Domestic Flight Map
Gulangyu Island Ferry Map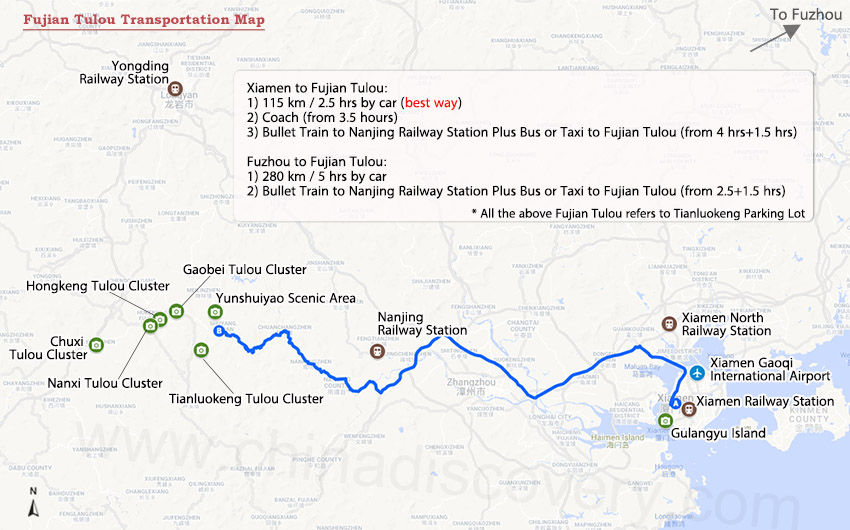 Fujian Tulou Transportation Map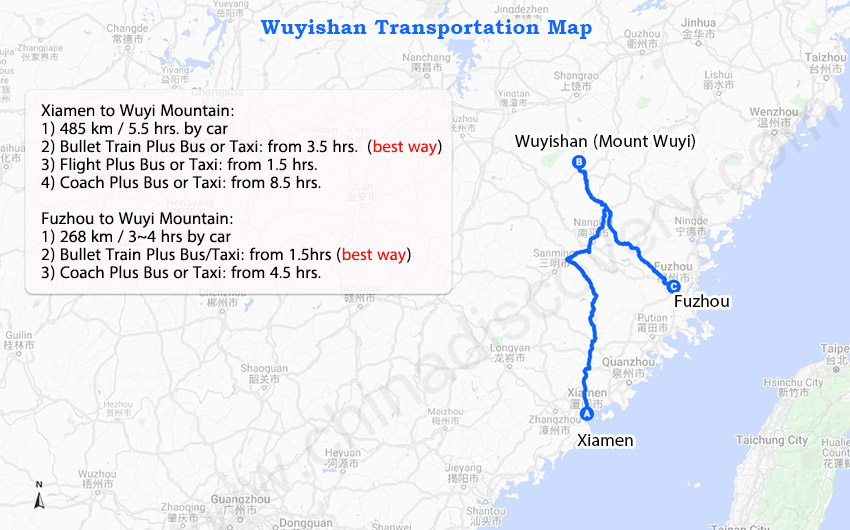 Wuyishan Transportation Map
Get more Fujian Map information:
How to Plan a Fujian Tour
Top Places to Visit in Fujian: Fujian Tulou, Gulangyu Island, Wuyi Mountain, Xiapu Mudflat, Sanfang Qixiang, Kaiyuan Temple, Meizhou Island, etc.
Best Time to Visit Fujian: January ~ July & September ~ December for most places; March ~ November for Wuyi Mountain.
How to Get to Fujian: Take flight to Xiamen Airport, Fuzhou Airport, Wuyishan Airport, or take high speed trains to Xiamen, Nanjing, Fuzhou, Wuyishan, Xiapu…
Fujian is a pleasant destination to enjoy appealing coastal sightseeing, lay back in leisure and discover the culture and history of southeast China. You can spend about 2 days in most places there to discover the top highlights of each one. And usually 5-6 days is mostly planned to enjoy a Fujian province tour to have best fun in Xiamen, Fujian Tulou and Wuyishan! Among them, Xiamen and Fujian Tulou are the most classic and not-to-be missed for the first time to Fujian. Besides, if you want a deeper exploration or fond of nature, Wuyishan and Xiapu Mudflat are the top recommendation!
☛ 5 Days Xiamen, Nanjing Tulou & Mount Wuyi Discovery Tour
☛ 5 Days Cultural Tour to Xiamen & Fujian Tulou
1-2 days in Xiamen
Xiamen is usually planned as the start of a Fujian tour where to enjoy pleasant and leisure time with the coastal landscape. Gulangyu Island, Nanputuo Temple, Huandao Road, etc. are the top highlights..
☛ 2 Days Xiamen Essence Tour with Nanjing Tulou
☛ 3 Days Classic Xiamen and Fujian Tulou Tour
1-2 days Fujian Tulou
Many visitors enjoy a 1 day classic Fujian Tulou trip from Xiamen to visit Tianluokeng Tulou Cluster and other earthen buildings in Nanjing. Hongkeng Tulou Cluster and Chuxi Tulou Cluster in Yongding are great to add for a 2-day Tulou trip. Tulou in Hongkeng, Gaobei and Nanxi are also favored for an in-depth tour.
☛ 2 Days Classic Yongding Tulou & Nanjing Tulou Tour from Xiamen
2-3 days in Wuyishan
Most people spend 2 days at Wuyishan to visit Jiuqu Stream rafting, Tianyou Peak, Dahongpao Scenic Area, Wuyi Palace, impression Da Hong Pao, etc. Water Curtain Cave, Xiamei Village, etc. are great to add in another day.
☛ 3 Days Classic Wuyi Mountain Tour
2-3 days in Xiapu
If you are interested in photography, plan at least 2 days to Xiapu to shoot the marvelous mudflat at Xiaohao, Beiqi, Dongbi, Shajiang and Yantian. Extend to more beautiful places like Huazhu, Yangjiaxi, Bachimen, etc. based on your likes, which usually takes 3-5 days covering the arrival and departure.
☛ 4 Days Fujian Xiapu Mudflat Photography Tour
You are also recommended to discover more beautiful destinations in Fujian like Fuzhou, Quanzhou, etc., which needs 1-2 days for each one.
Besides, lots of traveler to Fujian also prefer to plan it with other hot destinations in China, such as Huangshan with the fantastic Yellow Mountain, Guilin with wonderful Karst landscape, Yunnan with amazing scenery and ethnic minority culture, Zhangjiajie with incredible Avatar Mountains, Hangzhou with heavenly West Lake, Shanghai with contrast past and modern China looks, Hong Kong with fabulous skyline, Guangzhou with delicious Cantonese food, etc. China Discovery is always prepared to offer you the best Fujian tours and customized service for a satisfied itinerary based on your requirement.
☛ 6 Days Xiamen Nanjing Tulou & Yellow Mountain Amusing Tour
☛ 12 Days China Xiapu Mudflats Xiamen Tulou Coastal Tour by Bullet Train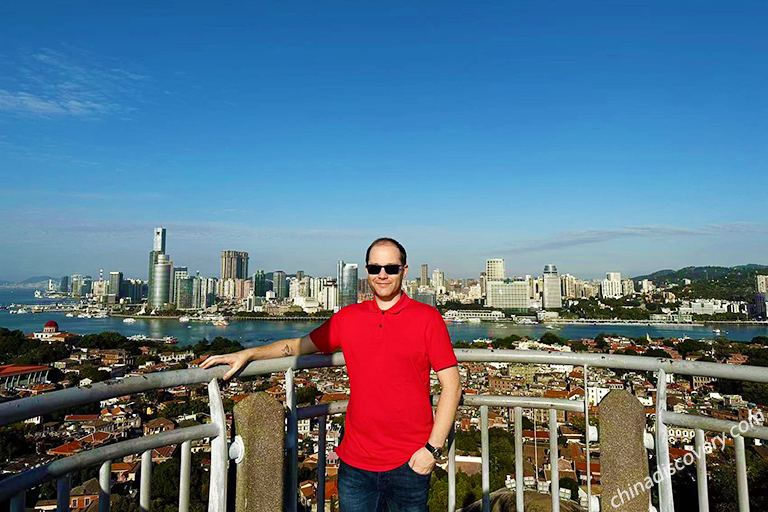 Gulangyu Island in Xiamen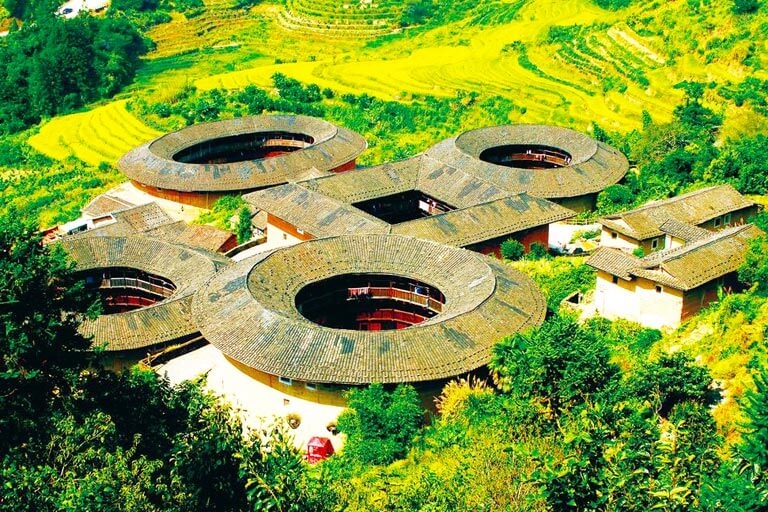 Fujian Tulou (Nanjing County)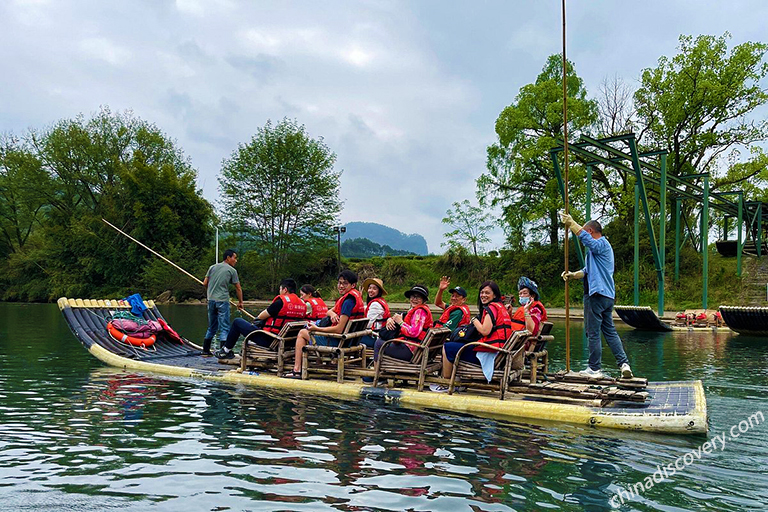 Wuyi Mountain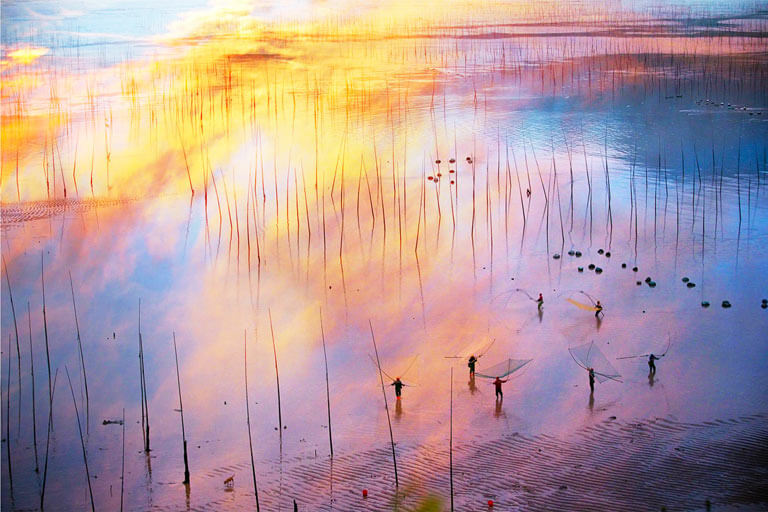 Xiapu Mudflat
Huangshan Yellow Mountain (Flying-over Rock)
Travel Fujian with China Discovery
To help you enjoy a worry-free trip to Fujian, we highly recommend you travel with us China Discovery. Our local experienced drivers will escort you to the attractions with comfortable car directly with speed and safety. And our English-speaking tour guide will accompany you all the way, show you the best travelling route, share interesting stories, introduce all highlights, and give you warm insider tips of avoiding offending local custom taboos, so you can focus all your attention on the highlights. Our experienced travel expert will help arrange your accommodation and plan your trip sincerely. The tour can be tailor-made according to your group size, time, physical condition, plan, interest, budget and every special need. Please feel free to contact us if you need any help!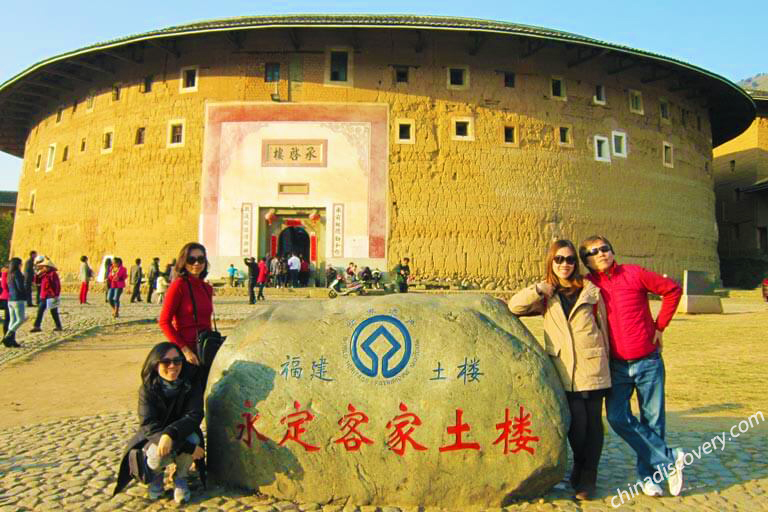 Our Customers Traveling in Fujian
More about Fujian Travel Guide
More about Fujian Attractions & Destinations
Recommended Fujian Tours
Top 3 Fujian tours chosen by most customers to explore Fujian in the best way. Check the detailed itinerary,or tailor your own trip now with us.
5 Days Xiamen, Fujian Tulou & Mount Wuyi Discovery Tour

Xiamen / Nanjing Tulou / Yongding Tulou / Xiamen / Wuyishan
3 Days Classic Xiamen and Fujian Tulou Tour

Xiamen / Nanjing Tulou / Yongding Tulou / Xiamen
6 Days Fujian Tulou & Xiapu Mudflat Photography Tour

Xiamen / Nanjing Tulou / Yongding Tulou / Xiamen / Xiapu