Top 8 Things to Do in Fujian Tulou in 2023/2024
Fujian Tulou, featured in "a Living World Heritage", "a Place of Harmony and Happiness", "Cluster of Hakka Culture", is the most extraordinary type of Chinese rural dwellings. Paying a visit to Tulou clusters in Fujian, you can enjoy various earth buildings in Nanjing and Yongding, explore Fujian tea culture, learn more about Hakka culture and try traditional Hakka cuisine by visiting inside famous earth buildings and immersing in the idyllic scenery around rural villages...
Read the following passages to learn more details about the TOP 8 things to do in Fujian Tulou area.
Top Recommended Fujian Tulou Tour:
► 2 Days Best Nanjing Tulou Tour with Tianluokeng Tulou Cluster
► 2 Days Classic Yongding Tulou & Nanjing Tulou Tour from Xiamen
No.1: Appreciate Magnificent Hakka Roundhouse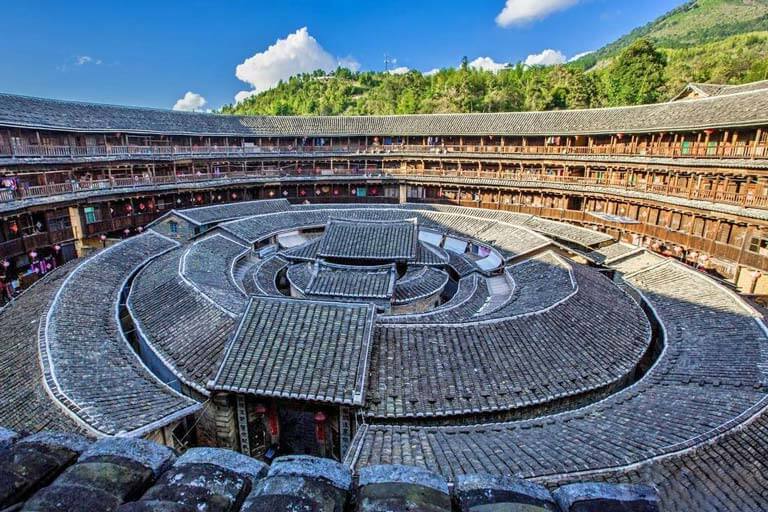 "King of Tulou" - Chengqilou
Overlook Fujian Tulou
• Type: Typical Dwellings, Architecture
• Sites: Yongding County, Nanjing County
When travelling around Fujian Province, it is hard not to see the spectacular ancient mountain dwellings that Americans once mistook for China's nuclear plants. Nowadays, Tulou has already become the representative of Fujian tourism. The number of earth buildings in Fujian might be more than you think, there are more than 10,000 Tulou scattered in West Fujian province. There are various shapes of Tulou, round, square, oval, polygon... The flexibility of adapting to local terrains, and the naturalness of integrating with the surrounding environment have created the unique mountain dwelling buildings in the world.
When it comes to Nanjing county, the earth building filled with Hakka customs is naturally the highlight of the journey. The famous "Four Dishes with One Soup" Tianluokeng Tulou Cluster is located here, as well as the rickety Yu Chang Lou (裕昌楼). You can also seek romantic scenes from the romantic movie "The Knot" and animated film "Big Fish & Begonia" at Huaiyuanlou and Yunshuiyao Village. Then go further to visit "Prince of Tulou" - Zhenchenglou (振成楼) in Yongding county, which is a wonderful art combining Chinese and Western architecture. Also don't miss the "King of Tulou" - Chengqilou (承启楼), It is a circular Tulou building with the largest number of rounds and the largest resident population. Chengqi Lou is surrounded by mountains and water. In front of the building is an open field. The picturesque mountain charm is quite worthwhile for you to savor.
More information and guide about Tulou in Fujian, please visit Yongding Tulou Travel Guide | Top Fujian Tulou | Tulou Travel Guide >>
• Recommended Hakka Round House Visit: ✔ 2 Days Best Nanjing Tulou Tour with Tianluokeng Tulou Cluster | ✔ 2 Days Best Nanjing Tulou Tour with Tianluokeng Tulou Cluster
No.2: Experience Authentic Hakka Culture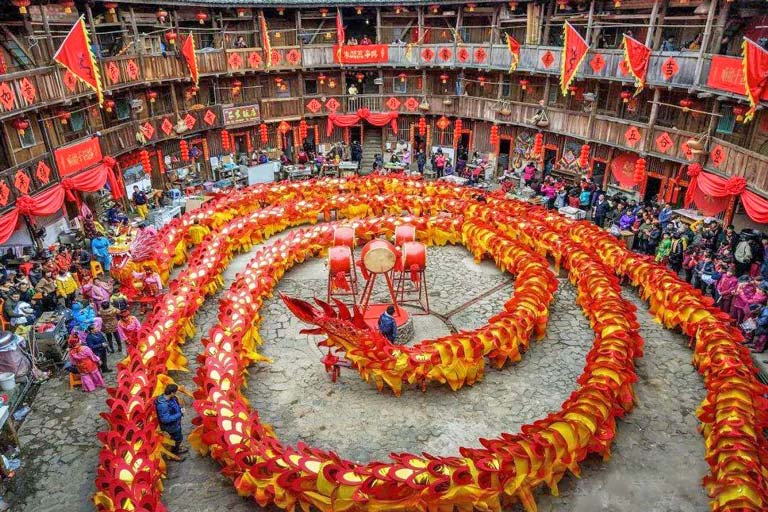 Fujian Hakka Spring Festival
Minxi Han Opera
• Type: Cultural Activities, Historic Sites
• Places to Enjoy: Yongding County, Nanjing County
Tulou is the main place for Hakka people to live. They have lived here for many generations. By visiting different kinds of Tulou Clusters, you will find their own culture and habits. Hakka songs (客家山歌), Minxi Han Opera (闽西汉剧), drum blowing (锣鼓吹), puppetry (木偶戏), etc. are all forms of cultural entertainment for local people with strong Hakka flavor.
But there is something you might not know: the Hakka songs. The bright element of Hakka culture is songs, which are sung in the Hakka language. The main theme of the lyrics is love, and the words are flowery and passionate. From them you can see the real temperament of the people in the earthen buildings, and also feel the artistic charm. Hakka hill songs are also used as a form of communication at a distance, since Hakka people mostly live in hilly areas. The melody of Hakka Hill Songs tends to have a higher pitch so the sound can travel further. So when travelling in Fujian Tulou you will hear mountain songs and will enjoy a nice feeling when you are watching beautiful landscapes and listening to nice songs sounding in mountains.
Minxi Han is popular in the Hakka region in western Fujian, Longyan and Zhangping, etc. It is one of the main local operas in Fujian Province. There are males, females, painted faces, and clowns in the show; Musical Instruments have Touxian, moon lutes, Sanxian, pipa 4 large pieces, and Urheen, flute, suona horn, big and small gongs, Tupan... Nowadays, there are more than 200 traditional plays with books collected and recorded.
• Recommended Hakka Culture Tour: ✔ 3 Days In-depth Fujian Tulou Tour with Hakka Cultural Experience | ✔ 5 Days Xiamen & Fujian Tulou Highlights Tour
No.3: Explore Fujian Tea Culture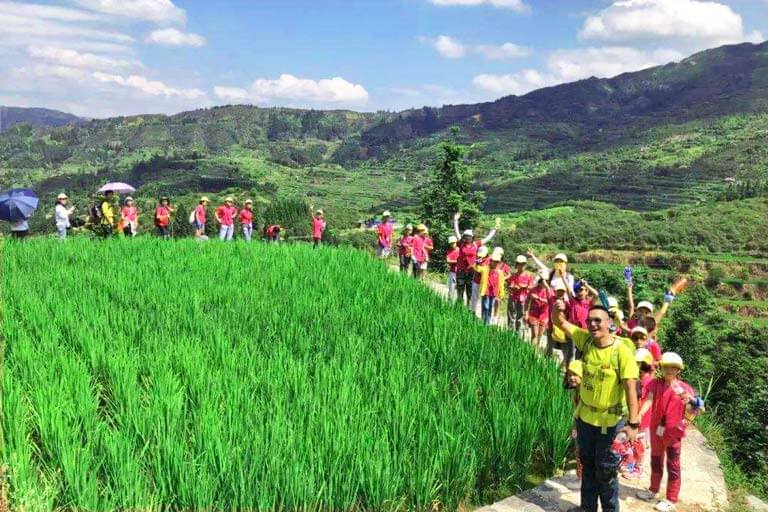 Fujian Tea Culture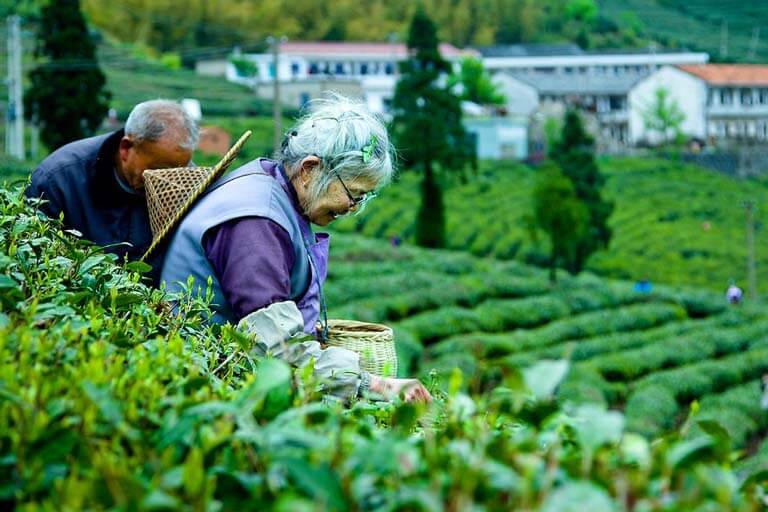 Tea-picking at Fujian Tulou Area
• Type: Tea Culture
• Places to Enjoy: Nanjing County
The production of Fujian tea has a time-honored history of over 1,600 years. It takes an important position in China to produce all the five categories of tea-black, green tea, and oolong, white and scented tea. The world famous Oolong has been introduced to some other regions. Excellent trees and craftsmanship as well as the abundant supply of raw material make it possible for Fujian to push out many well-known brands of tea such as Anxi Tieh-kwan-yin (iron Bodhisattva), Wuyi Rocky, SilverTip Pekoe, Tianshan green, etc. You can find a tea shop easily when travelling, sometimes you can taste one cup of tea for free before you buy it.
Any guest in Hakka's house must be offered a cup of tea. According to the customs, the host fills a cup on 7/10 and empty 3/10 is considered to be filled with friendship and love. Also, this tea ceremony is an important part of weddings. The bride and groom must make tea for each other as a symbol of unity and love. The tea culture pays more attention to the taste flavor than the ceremony actions. So, Hakka people use small cups that contain tea only for 2 sips. Thus, you can taste the whole bouquet of tea.
• Recommended Fujian Tea Tour: ✔ 5 Days Xiamen, Nanjing Tulou & Mount Wuyi Discovery Tour
No.4: Taste Traditional Hakka Cuisine & Make Rice Cake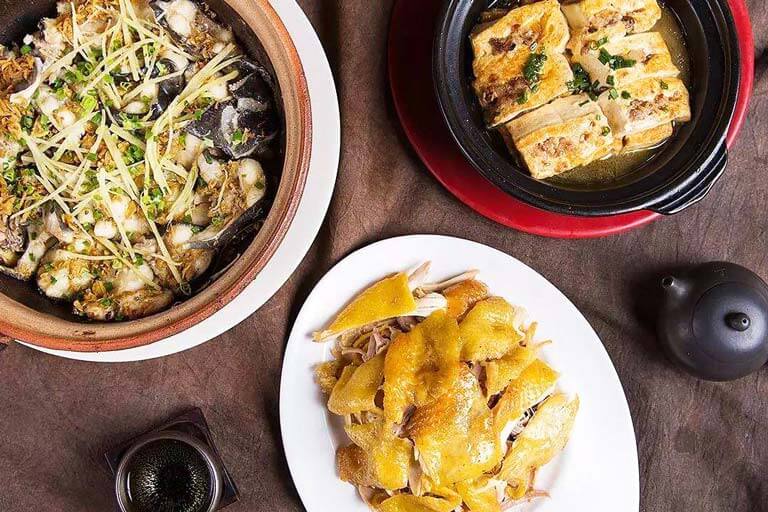 Traditional Hakka Cuisine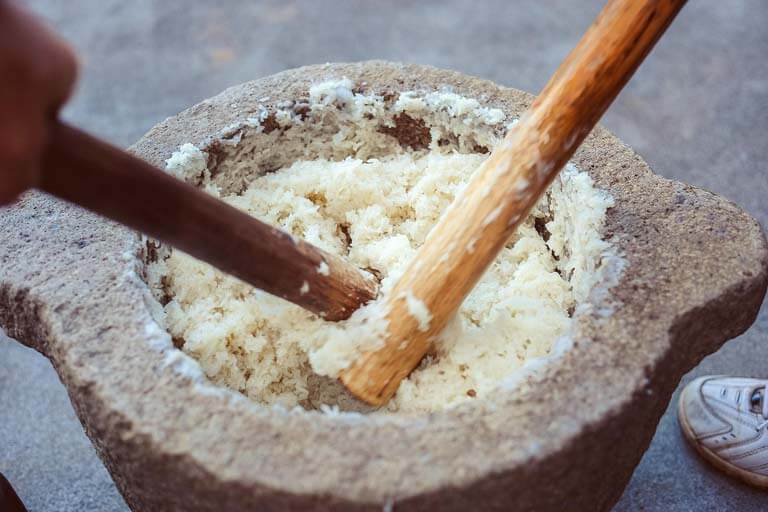 Making Rice Cake
• Type: Cuisine
• Places to Enjoy: Yongding County, Nanjing County
Hakka cuisine is the cooking style of the Hakka people, who are primarily found in southeastern China (Guangdong and Fujian), but also may be found in many other parts of China, as well as in the Chinese diaspora. Hong Kong, Malaysia and Singapore have numerous restaurants serving Hakka cuisine.
In a nutshell, the salty Hakka cuisine can be attributed to environmental influences. Early Hakka migrants in Taiwan worked hard and sweated a lot to open up new land for farming. To make up for the huge loss of salt content in the body, they added more salt to food. Besides, food with high salt content preserves longer. These qualities meet the thrifty and hardworking nature of the Hakkas.
Food is also interesting, mainly based on poultry, pork, rabbit, and local veggies, including tea leaves. For instance, Steamed Pork with Preserved Vegetables (梅干扣肉), Hetian Sliced Cold Chicken (白斩河田鸡), Hakka Rice Wine (客家米酒), Ngiong Tew Foo, Beef meatball soup, Fried pork with fermented tofu, Sliced cold chicken, Soked duck feet, Ciba, Soked niu pi, are the most famous cuisine in Hakka. These cuisines are easy to taste in Hakka restaurants and village households. Hakka rice is very famous, therefore, the glutinous rice cake there is very delicious. Visitors may also experience making rice cakes on their own.
• Popular Hakka Food/Cuisine Tour: ✔ 3 Days In-depth Fujian Tulou Tour with Hakka Cultural Experience
No.5: Meet Flickering Fireflies in Midsummer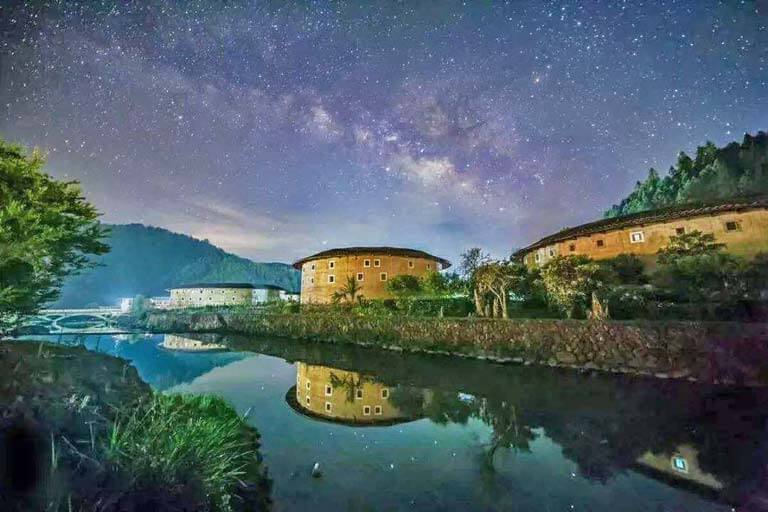 Fujian Tulou Nightview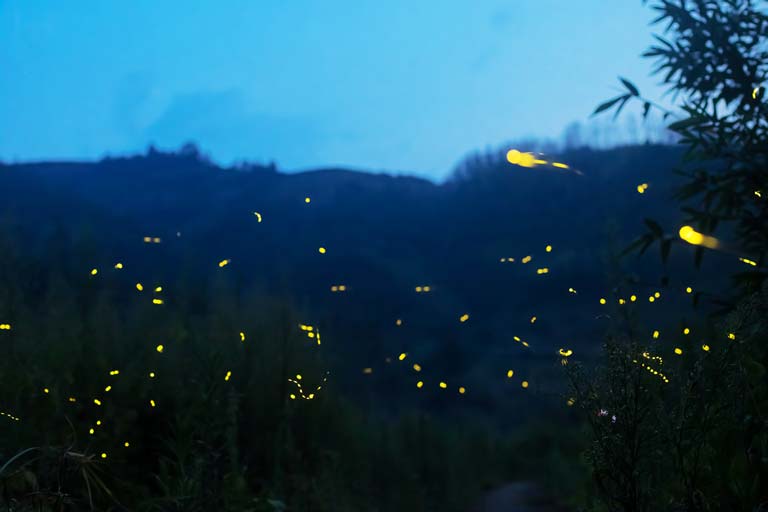 Flickering Glowworms in Nanjing Tulou
• Type: Animals, Scenery, Entertainment
• Places to Enjoy: Near Taxia Village, Nanjing County
When it comes to Nanjing, the earth building - Tulou would first come into our mind. However, few people know that it is also a good place to watch glowworms. Every year from mid-May to mid-July, visits have a greater chance of meeting fireflies. There is a Firefly Park near Taxia Village, where many fireflies flit around every summer night. Surrounded by fluttering lights, visitors would feel like being "in the Milky Way". It's an experience that visitors can't miss.
• Popular Tulou Night Tour: ✔ 5 Days Xiamen & Hakka Tulou Leisure & Luxury Tour with Tulou Retreat
No.6: Climb to the Highest Observation Deck and Enjoy Photographing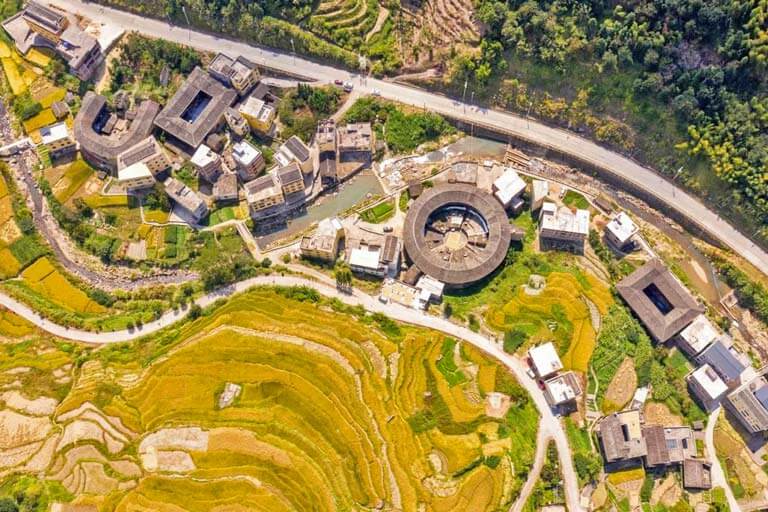 Nanxi Tulou Cluster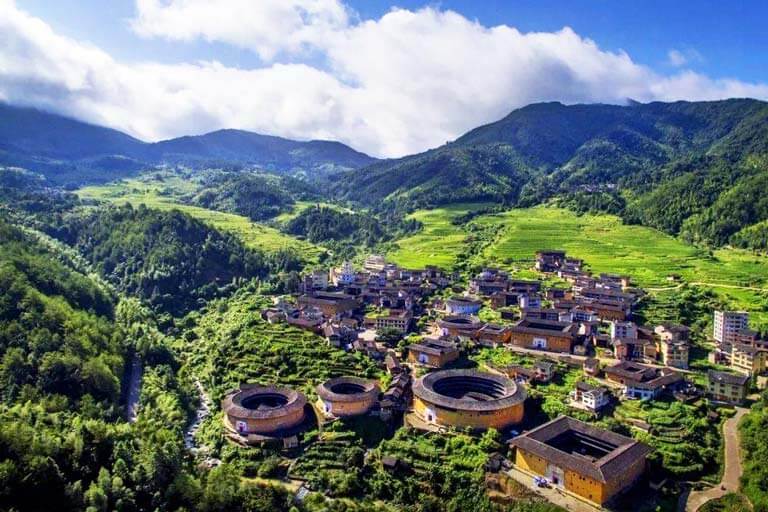 Chuxi Tulou cluster
• Type: Photography, Hiking
• Places to Enjoy: Near Nanxi Tulou Clusters, Yongding County
Go Upstream along the river from Hukeng Town (湖坑镇), passing through Xiananxi (下南溪), Xinnan (新南) and Nanjiang village (南江), etc. Climb on the Tulou viewing platform on the way and overlook in a distance, you will see the Nanxi Stream flow gently through the valley, surrounded by the dark green mountains alongside and the terraces pour down off the top of the mountain ridge. On both sides of the river, earth buildings of different shapes are embedded in terraced fields and valleys, which are magnificent. After enjoying the inner structures of Tulou, you can climb to the top of the mountain for camping. It is a very pleasant thing to enjoy Tulou Clusters in the morning glow.
• Recommended Tulou Photography Tour: ✔ 4 Days Fujian Tulou Tour by High Speed Train | ✔ 6 Days Fujian Tulou & Xiapu Photography Tour
No.7: Enjoy the Liancheng Tianyi Hot Springs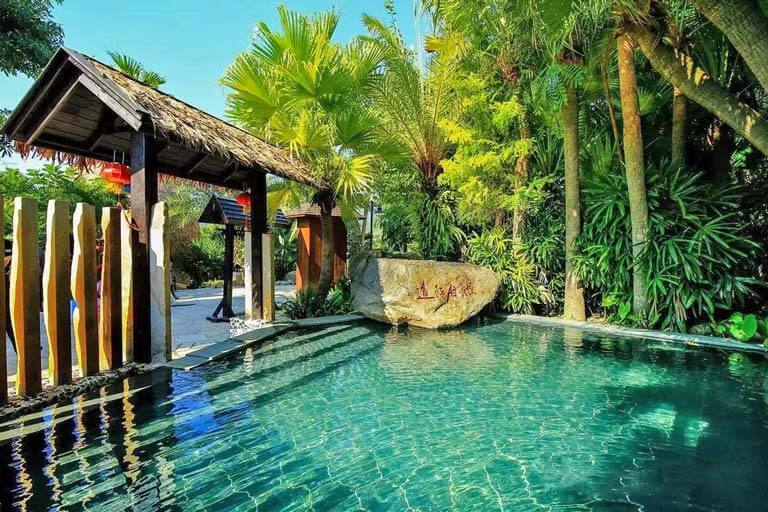 Liancheng Hot Springs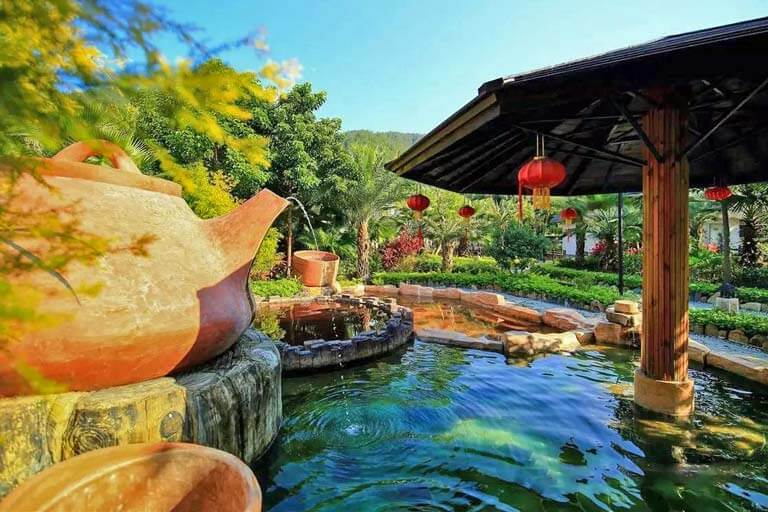 Liancheng Hot Springs
• Type: Spa/Hot Spring
• Places to Enjoy: Liancheng County
Travelling to Liancheng, Fujian, you not only get a closer look at rural life and buildings, but also can enjoy modern leisure. Tianyi Hot Springs is excellent for you, especially after a whole day's trip. It is a part of the Tianyi Hot Spring Resort. This resort gathers aromatherapy, wine rhyme, fish therapy, herbal therapy, and a hundred kinds of hot springs therapy for you. During the spa, you can touch nature and enjoy the original ecology personalized service.
No.8: Try Paper Making and Woodblock Printing by Yourself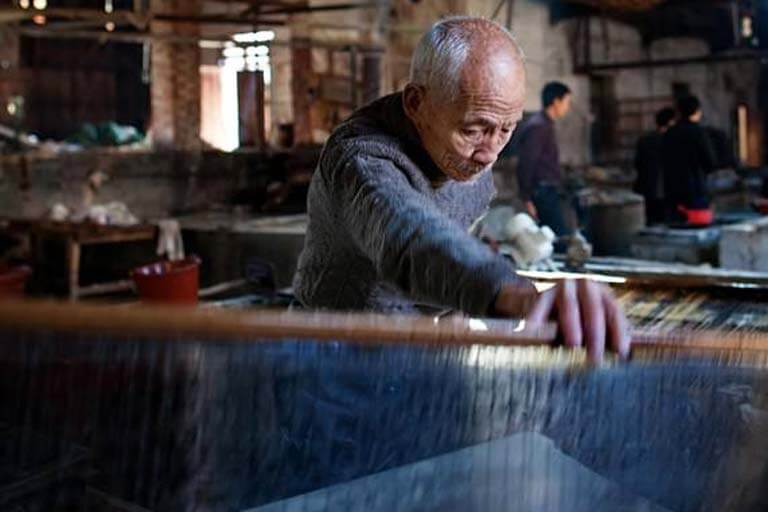 Lian Shi Paper in Gutian Town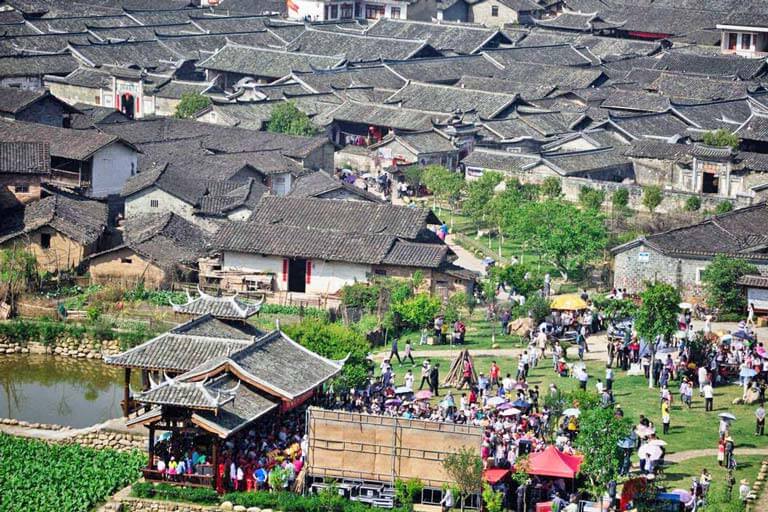 Peitian Ancient Dwellings
• Type: Experience Activities, Paper Making
• Places to Enjoy: Gutian Town, about 33km away from Liancheng County
When it comes to the Chinese art paper used to print books, one cannot mention Gutian Town (姑田镇), which is about 50 km southeast of Sibao. Gutian is rich in bamboo with Chinese air paper, named "Lian Shi Paper (连史纸)". It has been changed to use the natural bamboo bleaching technique since Chongzhen year in the Ming Dynasty. Chinese paper made here is white, flexible and can sustain for years. It is not only used in book printing, but also in the writing of imperial announcements and memorials. Till now, there is still a time-honored handmade paper shop named Mei Yu Tang (美玉堂). Tourists who are interested in paper making must not miss this opportunity to encounter the production of Chinese Art Paper. Then you may continue your trip by visiting one of the four major towns of woodblock printing in Ming and Qing Dynasties - Sibao Ancient Town (四堡古镇), or appreciate architecture and ancient dwellings at the "Manor for Hakka People" - Peitian Ancient Dwellings (培田古民居).
How to Plan a Fujian Tulou Tour
Most visitors prefer to plan 1-2 days to see Fujian Tulou with one day to see Tianluokeng Tulou Cluster, Taxia Village, Yuchang Building and top earthen buildings in Nanjing and another day to see 1-2 clusters of Hongkeng Tulou Cluster, Chuxi Tulou Cluster, Gaobei Tulou Cluster in Yongding. Besides, if you have more days, you can have a deeper exploration of Nanjing and Yongding Tulou clusters.
Furthermore, most travelers like to visit Fujian Tulou from Xiamen with 1-2 days exploring the best city highlights there including Gulangyu Island, Nanputuo Temple, etc. and convenient landing by flights or high speed train.
✔ 2 Days Xiamen City Tour with Gulangyu Island
Besides, you can also plan as many other visitors to spend 5-6 days visiting Wuyishan together with Xiamen and Fujian Tulou to appreciate more natural and cultural charm of Fujian Province.
✔ 5 Days Xiamen, Nanjing Tulou & Mount Wuyi Discovery Tour
If you are interested in photography, you can add 2-4 days to shoot Xiapu Mudflat in Ningde.
✔ 4 Days Fujian Xiapu Mudflat Photography Tour
If you want to discover more culture and nature highlights to Fuzhou, Quanzhou, etc., plan 1-2 more days for each destination.
Beyond Fujian, China boasts a lot of wonderful nature, culture, history and city charm to discover, such as Beijing, Shanghai, Guangzhou, Guilin, Chengdu, Huangshan, Hangzhou, Yunnan, etc. Extend your Fujian trip to more popular destinations to enrich your exploration of China in one go!
► Check more popular Xiamen Tour Packages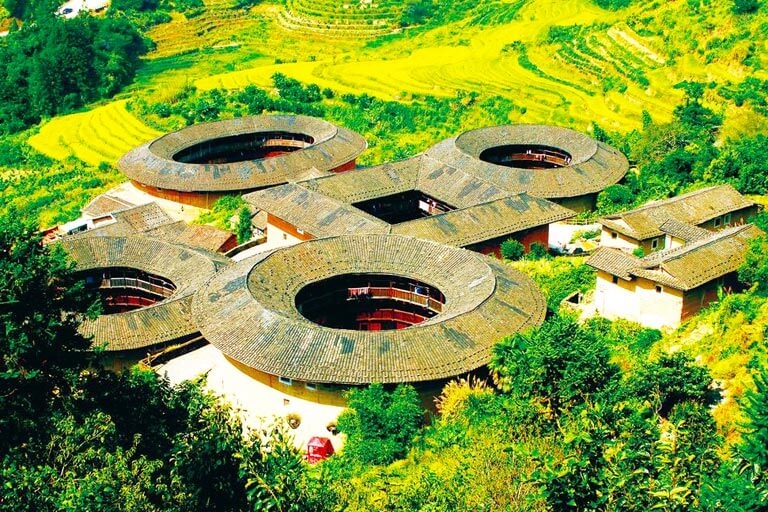 Fujian Tulou (Nanjing County)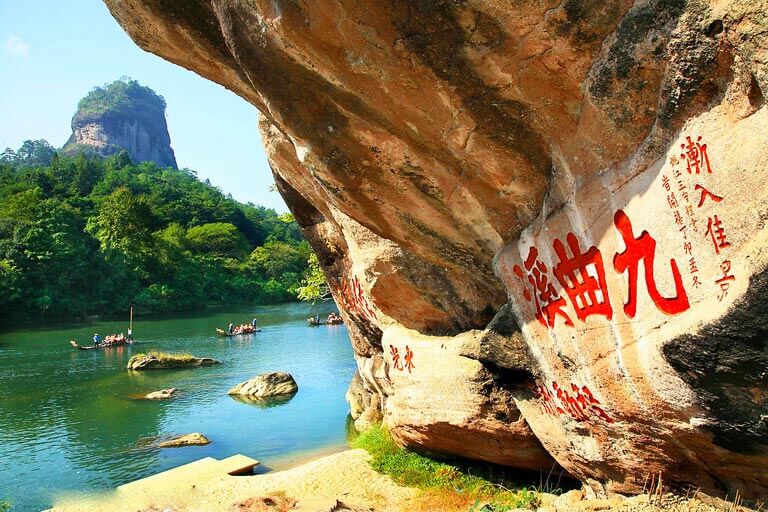 Wuyi Mountain
Travel Fujian Tulou with China Discovery
China Discovery is an experienced, professional and reliable travel companion devoted to offering high-quality and the best tour services for all travelers to China. In order to have a hassle-free travel and focus on the trip itself, it's highly recommended travelling with China Discovery. So, you can enjoy convenient airport pick-up and drop-off service and transportation to all scenic spots in a safe, clean, comfortable, air-conditioned and non-smoking vehicle. Also, we will arrange knowledgeable local English-speaking tour guide, excellent accommodation and dining arrangements to ensure you rest well and get better understanding of highlights in Fujian. The tour can be tailor-made according to your interests, time, group size, budget and every special need. If you are interested, please feel free to contact us to customize your tour!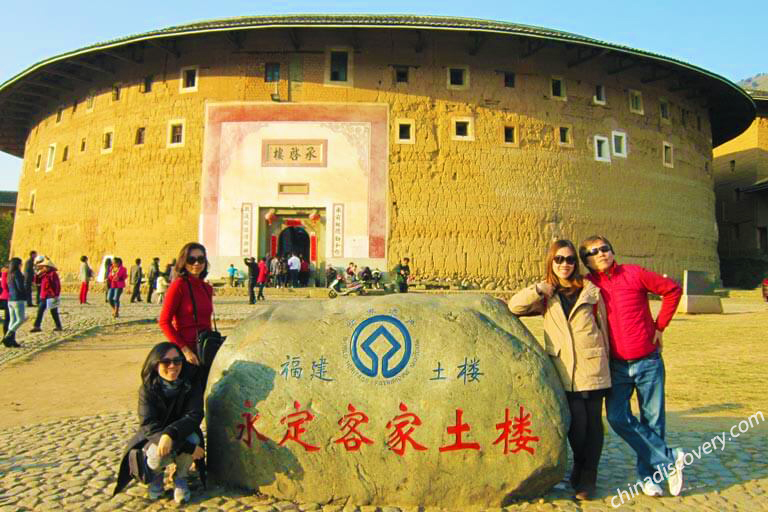 Our Customers Traveling in Fujian
Fujian Tulou Travel Guide
More about Fujian Travel Guide
Recommended Fujian Tulou Tours
Top 3 Fujian Tulou tours chosen by most customers to explore Fujian Tulou in the best way. Check the detailed itinerary, or tailor your own trip now with us.
5 Days Xiamen, Fujian Tulou & Mount Wuyi Discovery Tour

Xiamen / Nanjing Tulou / Yongding Tulou / Xiamen / Wuyishan
3 Days In-depth Fujian Tulou Tour with Hakka Cultural Experience

Xiamen / Nanjing / Yongding / Xiamen
5 Days Xiamen & Hakka Tulou Leisure & Luxury Tour with High-end Tulou Resort

Xiamen / Nanjing / Yongding / Xiamen
Start planning your tailor-made holiday to China by contacting one of our specialists. Once inquired, you'll get a response within 0.5~23.5 hours.
Customize a Trip
Have a question? Get answers from our travel experts or guests
Your Question:

Your Name:

Your Email: