Dali Weather | Best Time to Visit
Dali is a county-level city in Dali Bai autonomous prefecture, Yunnan at an elevation about 2,000m. With Erhai Lake in the east and Cangshan Mountain in the west, Dali city covers an area of 1,468 square kilometers and crossing east longitude 99°58'~ 100°27', between north latitude 25°25' and 25°58'. There are overall 10 towns and 1 nationality township under the jurisdiction of Dali City which are including Xiaguan Town, Dali Old Town, Xizhou Village, Shuanglang Town etc.
Dali city belongs to the north subtropical plateau monsoon climate, with an average annual temperature of 14.9 ℃, an annual sunshine duration of 2,227.5 hours, an annual rainfall of 1,051.1mm and an average annual frost period of 228 days. Dali city is famous for its high wind, so it is also called "the Windy City".
Best Time to Visit Dali City, Yunnan
Dali city is suitable for sightseeing all year around, but the best time to visit Dali is from March to June when springtime is in full swing, and there are most festivals for Bai People between March and April. You'll see best view and taste local customs and culture. Butterfly Spring, Cangshan Mountain, Erhai Lake, Dali Old Town, Three Pagodas, Xizhou Village are the most representative attractions in Dali city.
Recommended Best Dali Tour:
>> 4 Days Dali Leisure Vacation for Nature & Culture Savory (in Luxury Boutique Hotel) (Dali / Shaxi Ancient Town)
Average Dali Temperature by Month
| Month | Recommended Rate | Max Temp. | Min Temp. |
| --- | --- | --- | --- |
| Jan. | | °C | °C |
| Feb. | | °C | °C |
| Mar. | | °C | °C |
| Apr. | | °C | °C |
| May. | | °C | °C |
| Jun. | | °C | °C |
| Jul. | | °C | °C |
| Aug. | | °C | °C |
| Sep. | | °C | °C |
| Oct. | | °C | °C |
| Nov. | | °C | °C |
| Dec. | | °C | °C |
Dali Seasons to Go
Located in the low-latitude plateau, there is no large difference in temperature between 4 seasons in Dali. However due to the complex landform and topography of the whole state and the difference in elevation is great, the stereo climate in Dali City is significant, hot in river valleys, warm in dam regions, cool in mountainous area and cold in the mountain tops.
Spring which is the best season to visit Dali is from March to May, and the average temperature is around 16°C. Summer is the season with the heaviest rainfall of the year from June to August with slightly higher average temperature around 20°C and greater precipitation of 560mm. Autumn is from September to November, rainy days come to an end, the cooler temperature makes Dali a more suitable place to plan a hiking tour. Winter is the windy season in Dali from December to February. There are over 10 days in December, January and February with winds above force 8.
Spring (March to May)
The third lunar month is the most beautiful season in Dali. In March, although the peaks of Cangshan Mountain might still cover with snow, but the azalea has begun to blossom in the thicket, the once black and dark mountain starts blushing. Sometimes clouds float in the middle of the mountain like two pure white ribbons interwine with each other. Erhai Lake during this period is as charm as Cangshan Mountain, the white sail boat scattered on the board lake, islands loom in a distance, willows on the bank sway in the breeze like flickering eyelashes, limpid waves ripple like sentimental eyes. Such a good time is also the beginning of festivals. You can join the Third Mouth Fair which is the traditional festival of Bai people celebrated from March 15th to 20th of Chinese lunar calendar and learn more about the local culture and custom. Colorful furs, clothes, jeans and dresses are hung everywhere, the exotic fragrance of medicinal herbs wafts around, you can taste all kinds of national cuisine during this time. Horse racing is the climax of the Festival.
It is a little cool in spring from March to May in Dali. The average temperature is from 7℃ to 20℃. Average monthly precipitation during this period is about 43mm.
What to Wear
During the day, the average temperature is 20℃. It is recommended to wear short suits made of single-layer cotton and linen fabric, T-shirts, thin jeans, casual clothe and other comfortable clothes etc. The average night temperature is 7℃, so don't forget to add a sweater or jacket for cold night.
Recommended Places to Visit & Tour Package:
Cangshan Mountain, Dali Old Town, Erhai Lake, Xizhou Village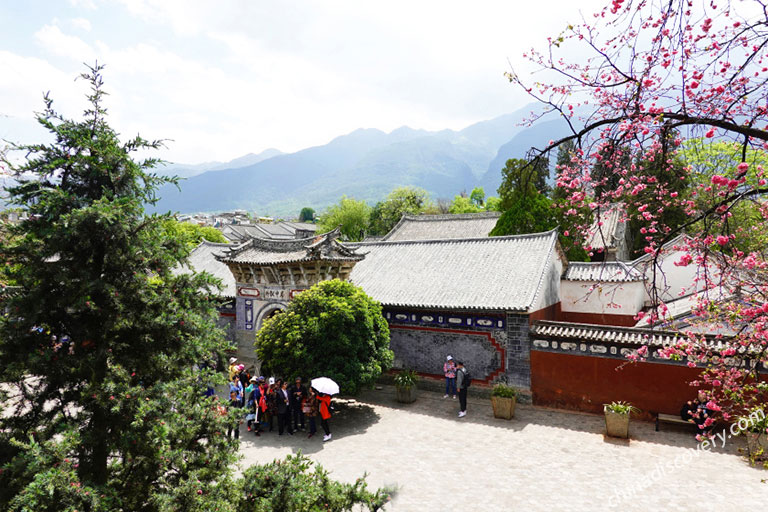 Sanyuejie Festival in Dali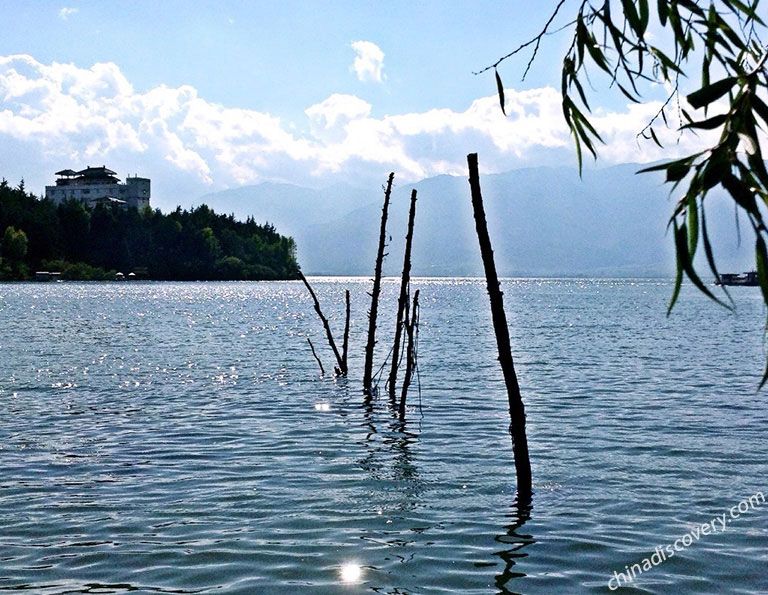 Dali Spring
Summer (June to August)
After a summer shower, sky turns bluer, lake becomes clearer, trees are greener and flowers grows brighter. The blue sky and fluffy clouds are reflected on the surface of grand Erhai Lake, makes it the most beautiful scenery in Dali. If you are looking for a place to escape the summer heat, Cangshan should be your best choice, the average temperature in Cangshan Scenic Area in summer is only 19℃. You can also enjoy the colorful sea of azalea. Summer is also the farming season; there are rice paddies with blue sky reflected in water between bright green shoots, laborious farmers in baggy clothes and a wide straw hat work in the knee-deep paddy field. How pleasant it would be to wandering around the old town in a leisure afternoon, see the wind shakes the barley, and watch the clouds scud across the sky!
Compared with other tour destinations in summer, the weather in Dali is much more suitable for outdoor activities, not too hot during the day and cool at night. Average temperature is from 15℃ to 25℃. However, summer brings the rainy season to Dali, with an annual monthly precipitation around 187mm.
What to Wear
T-shirts and shorts are recommended, pay close attention to strong UV rays and take sunscreen cream for skin care. Summer is the raining season in Dali, which means you need to have rain gear ready for frequent but not long-lasting rainfall.
Recommended Places to Visit & Tour Package:
Cangshan Mountain, Erhai Lake, Dali Old Town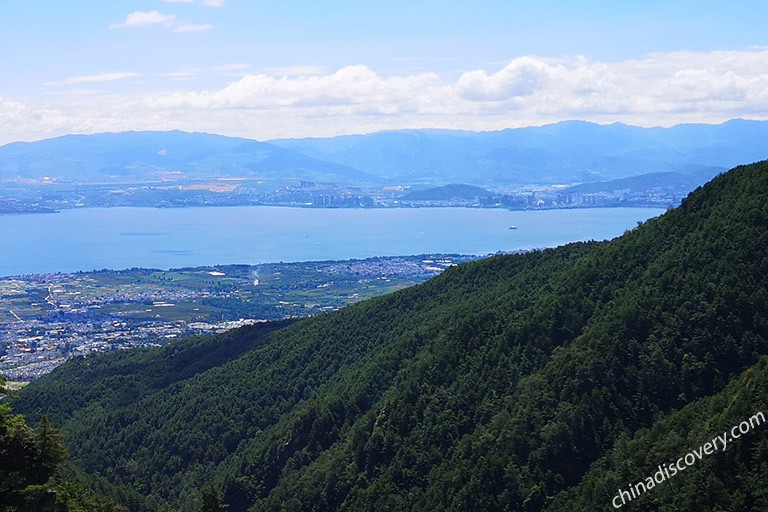 Azalea Bloom on Cangshan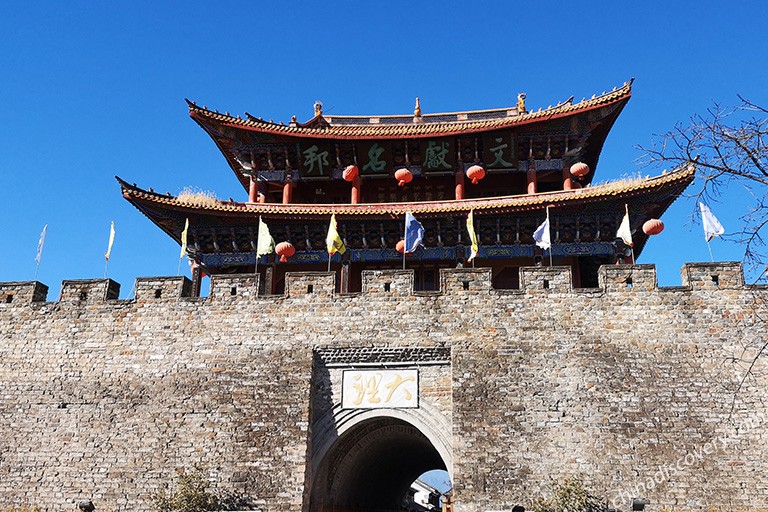 Dali Old Town
Autumn (September to November)
In Dali, each season has their beauty, so does autumn. The autumn of Dali is like the beauty of heavy makeup, presenting the most bright and beautiful look to greedy people. In autumn, Dali is encompassed by expansive golden wheat field. Looking out over the fields at the edge of Erhai Lake, you can see a scene of people working hard with an undistinguished smile on their face. The golden idyllic autumn scenery in west bank of Erhai cannot be missed by photography lovers.
The weather in autumn is cool and pleasant. The average temperature ranges from14 ℃ to 23℃. Rainfalls gradually decrease from September (168mm) to November (41mm).
What to Wear
Dali's temperature in autumn is lower than that of summer, but it is still warm and mild during daytime but cold at night. Rainy days come to an end in autumn; so most of the time, it's sunny. When it occasionally rains, the temperature will drop sharply to new low. Warmer clothing like a sweater and jacket is required during this period. Bring a rain gear with you if you are visiting during early autumn.
Recommended Places to Visit & Tour Package:
Xizhou Ancient Town, West Bank of Erhai Lake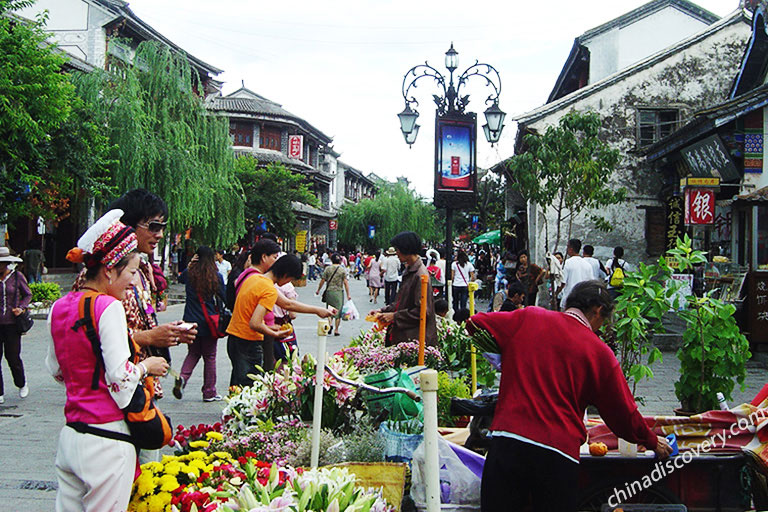 Xizhou Village in Autumn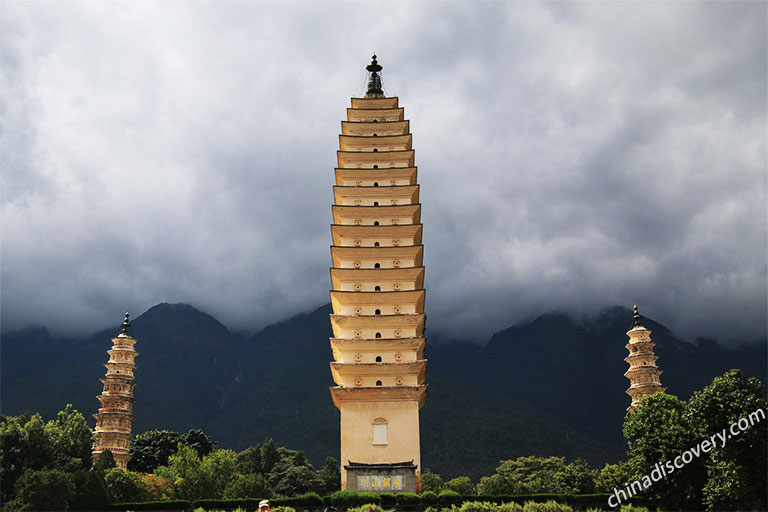 Three Pagodas
Winter (December to February)
The wind in Xiaguan blows those flowers in Shangguan, the moonlight in the Erhai shines over the snow in Cangshan. If you visit Dali in winter, take a cable car to Cangshan Mountain top and immerse in the spectacular ice kingdom. Then take a rest at Dali Old Town, when you pass the ancient arch gate, don't forget to look back Cangshan snow once more. It will give you a feeling of traveling back thousands of years before.
Although the annual temperature range is not great, daily fluctuations are significant in winter. There may be strong winds at times. There are over 10 days in December, January and February with winds above force 8. 'Xiaguan Wind' is an unusual experience here. The average temperature is from 4℃ to 17℃. On average, it rains or snows a very small amount with an average monthly rainfall of 19mm.
What to Wear
Don't forget to equip yourself for both wind and rain. You can wear warm down jackets, thick trousers and thick shoes when you visit Dali in winter.
Recommended Places to Visit & Tour Package:
Cangshan Mountain, Dali Old Town, Three Pagodas and Chongsheng Temple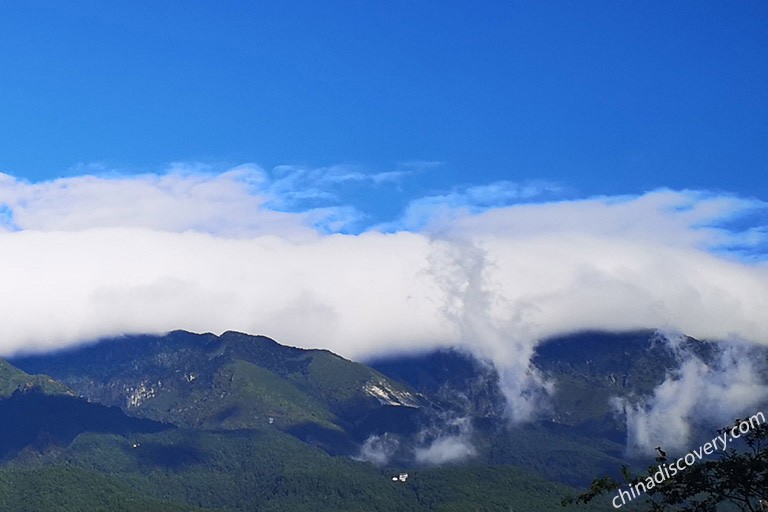 Cangshan Snow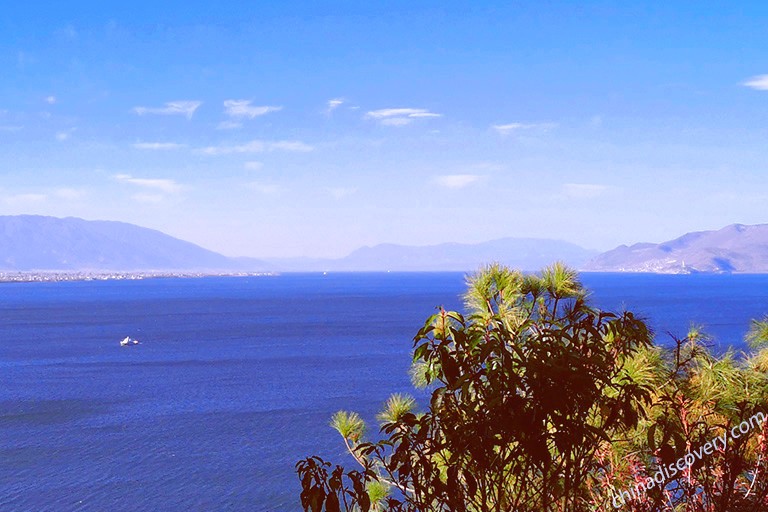 Erhai Lake
How to Plan Your Dali Tour
Usually, tourists would plan a 2-3 days tour in Dali city. Visit the ancient capital of Nanzhao and Dali Kingdoms - Dali Old Town and nearby attractions such as Cangshan Mountain, Three Pagoda and Chongsheng Temple. If you are interested in mountain climbing, you can also take a whole day to conquer Cangshan Mountain. Xizhou Village and Zhoucheng Town on the west side of Erhai Lake is worth to visit for their local typical Bai culture such as Three-Course Tea and Tie-dye and the well-preserved Bai Residence Architecture group. If you want to spend more days in Dali, you can plan a day tour to the only surviving market along the Ancient Tea Horse Road - Shaxi Ancient Town.
>> 6 Days Dali Lijiang Tour with Shaxi Ancient Town (Dali / Shaxi Ancient Town / Lijiang)
Dali, situated between Kunming and Lijiang, is well linked by flight, train or bus with Kunming and Lijiang. Before your Dali tour, you can spend 1-2 days in Kunming, visit the natural wonder - Stone Forest. Transfer to Dali and spend 2-3 days here then continue your trip to Lijiang, take 2-3 days to tour Jade Dragon Snow Mountain, Tiger Leaping Gorge, Lugu Lake etc. For those who have more time can head to the fairyland on earth - Shangri-La.
>> 6 Days Yunnan Essence Tour (Kunming / Dali / Lijiang)
>> 8 Days Classic Yunnan Tour (Kunming / Dali / Lijiang / Shangri-La)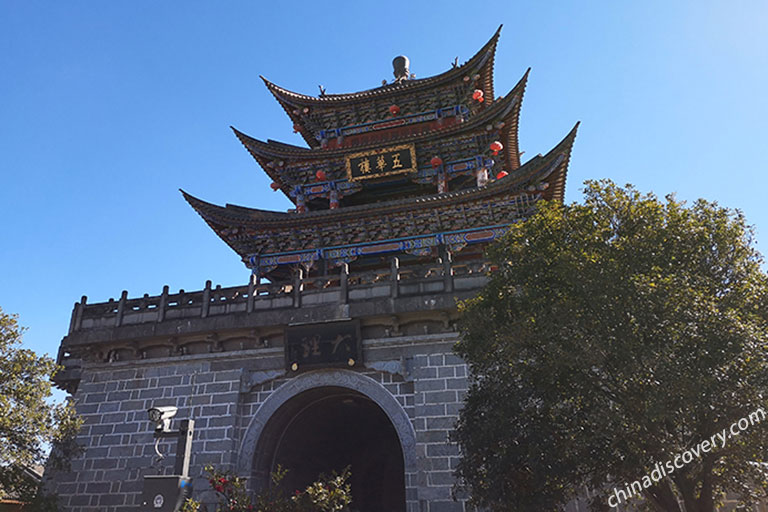 Dali City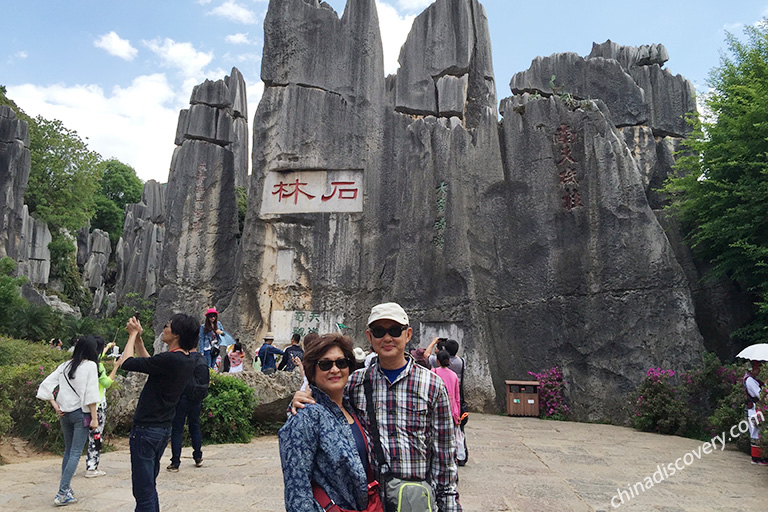 Kunming Stone Forest
Travel Dali City with China Discovery
To help you enjoy a worry-free holiday in Dali, Yunnan, we highly recommended you travel with us China Discovery who is a professional about the local condition of the whole Yunnan. Our local experienced drivers will escort you to Dali city or other places with comfortable car directly with speed and safety. And our English-speaking tour guide will accompany you all the way, showing you the best travelling route and introduce highlights and history of each place so you can better enjoy your historical and ethnic cultural tour in Dali, Yunnan. The tour can be tailor-made according to your group size, time, physical conditions, plan, interest, budget and every special need. If you have any other ideas about the trip or you have other places or cities wanted to visit such as Sichuan, Tibet, Guilin or Guiyang, etc. our experienced travel consultants are very glad to offer their help. Please feel free to contact us if you need any help.
Average Temperature & Rainfall of Dali, Yunnan

| | | | | | | | | | | | | |
| --- | --- | --- | --- | --- | --- | --- | --- | --- | --- | --- | --- | --- |
| Month | Jan | Feb | Mar | Apr | May | Jun | Jul | Aug | Sep | Oct | Nov | Dec |
| Temperature(°C) | 8 | 10 | 13 | 16 | 19 | 20 | 20 | 19 | 18 | 15 | 11 | 8 |
| Precipitation(mm) | 20 | 28 | 42 | 25 | 62 | 165 | 186 | 209 | 168 | 96 | 41 | 11 |
Keep Reading on Dali
Yunnan Weather & Best Time to Visit
Useful Yunnan Travel Articles
Recommended Dali Tours
Top 3 Dali tours chosen by most customers to explore Dali in the best way. Check the detailed itinerary,or tailor your own trip now with us.
4 Days Kunming & Dali Highlights Tour by High Speed Train

Kunming / Stone Forest / Kunming / Dali
Kunming / Dali / Lijiang / Shangri-La