Dali, at an altitude of 2090 meters, is located on a fertile plateau between Cangshan Mountain range to the west and Erhai Lake to the east. Dali is also the capital of Dali Bai Autonomous Prefecture in northwestern Yunnan Province, served as the connection between Kunming and Lijiang.
In the 4th century, Bai ancestors here thrived and spread many tribal clan. In the time of 8th to 10th century, Dali was the medieval capital of both the Bai kingdom Nanzhao and the Kingdom of Dali. With such a long history, Dali is one of the oldest cultural birthplace in Yunnan with historical and cultural sites to explore.
Why Visit this City:
Extraordinary Natural Scenery - The pretty and lofty Cangshan Mountain looks like a painted screen, the elegant Erhai Lake is as bright and beautiful as a mirror, the white clouds floating over the rice field look like jade belt...This is the normal scene of Dali and no matter when you come and you'll catch the best scenery of the pearl of plateau.
Colorful Bai Ethnic Culture - On the treasure land of Bai people, you'll be amazed by the colorful culture and traditions of Bai ethnic group. Appreciate the special structure of Bai's architecture, learn Bai's tie-dyeing with beautiful pattern, taste the featured Bai snacks and meaningful Three Courses of Tea, get in-depth into the Bai people's fishing villages and experience the local life...This is the Kingdom of Bai people and this is the heaven for all travelers.
Slow Pace and Leisure Exploration - Relaxing and interesting activities are designed in every scenic spot. Travelers can take a leisure walk in Dali Old Town, do some hiking in Cangshan Mountain, cruise happily on Erhai Lake, cycle merrily around Erhai Lake, sit quietly by the lake, watch the sunset going down...Traveling is a kind of life here without any rush.
Top Attractions
Dali is renowned as land of wonder, both natural and manmade. Silver Cangshan Mountain and Jade Erhai Lake are famous in Dali that travelers should never miss them during your Dali visit. Located between the magnificent Cangshan Mountain and elegant Erhai Lake are Dali Old Town, Three Pagodas, Xizhou Ancient Town, Zhoucheng and Butterfly Spring, etc. All of the attractions will give you historical and cultural feast. For more attractions info, please see all Attractions in Dali.
Shaxi Ancient Town
Located roughly halfway between Lijiang and Dali, Shaxi Ancient Town (Jianchuan) once was a bustling trade point on the Tea Horse Caravan Road. Its Market Square was added to the World Monuments Watch List of 100 Most Endangered Sites in 2001.
Weather & When to Go
Dali has a subtropical highland climate with warm and rainy summers and short, mild and dry winters because of its low latitude and high elevation. The annual average temperature is around 16°C, and the average temperatures of Spring and Summer stay around 13°C~24.5°C and the average temperatures of Autumn and Winter keep around 6°C~19°C.
Dali is a comfortable destination which can be visited all the year round, especially in beautiful spring time (March to May). There is a saying going "The best scenery of Dali falls in March" and travelers can enjoy the breathtaking natural scenery and lively Bai ethnic festivals. July to September is the rainy season and make sure you bring umbrella and thin coat when come in this season and to take coat, cappa when visit the Xiaguan Area for the wind is heavy. >>see details about Dali climate, weather & season to go
Transportation
Transfer to Dali
Travelers can take flight, train and long distance bus to get to Dali. Dali Airport is located in the southeast of Erhai Lake, about 13 kilometers from Xiaguan and 30 kilometers to Dali Old Town. Convenient flights are connecting Dali with Kunming, Xishuangbanna in Yunnan Province; and Beijing, Shanghai, Chengdu, Xian, Chongqing, Guangzhou, Hangzhou, Wuhan, Nanjing, Shenzhen, etc. There are several daily schedules for flights from Kunming to Dali with 50 minutes' transfer. Dali Railway Station is located in the south of Erhai Lake in Xiaguan, about 26 kilometers from Dali Old Town. It is a common choice to travel between Kunming / Lijiang and Dali by train. There are seven daily K trains from Lijiang to Dali, taking around 2 hours. And eight daily K trains are available from Kunming to Dali and many travelers choose overnight train which usually board the train around 22:00~23:30 and get off Dali Railway Station in the early morning, taking about 7.5 hours on the train. Travelers can reach Dali by long distance bus either from Kunming, Lijiang or other places in Yunnan.
Transfer around Dali
Besides use our private car service, travelers can take Dali sightseeing buses to Dali Old Town, Three Pagodas, Cangshan Mountain, Shuanglang, etc; if weather and physical condition permit, it is recommended to rent a bike cycling around Erhai Lake. Moreover, taking a cruise sailing on Erhai Lake adds more leisure into your trip. To check more transfer info, please see how to get to and around Dali.
Accommodation
You never need to worry about your accommodation in Dali. No matter you want to stay in the new town area in Xiaguan, or want to stay in Dali Old Town, or even accommodate in the beautiful fishing village around Erhai Lake, you are bound to a lot of choice. For travelers who have one or two nights in Dali, it is recommended to stay in Dali Old Town for there are hotels and hostels ranging from luxury 5 star (Dali Regent Hotel recommended, located close to the East Gate), comfortable 4 star (Dali Landscape Hotel recommended, located close to Foreigner Street in the center of Dali Old Town) to budget hostels. Feel free to tell your needs and requirements to our professional travel consultants, they are here ready to help and book your ideal hotels.
Useful Dali Maps
We have collected some very useful Dali maps including Dali Tourist maps, Cangshan Mountain Map and Erhai Lake Map to help you have a better understanding about Dali and its attractions. For more maps, please check 2016 Overall and Detailed Dali Maps.
Other Hot Destinations in Yunnan
Besides Lijiang, there are some other hot destinations in Yunnan, like Lijiang, Shangri-la, Kunming, Yuanyang and Jianshui, etc. Check the travel guide of each destination and discover now!
Other Popular Destinations in China
China is vast and diverse. You can choose your favorite destination among more than 70 tourist destination and regions. Following are 4 popular destinations you may get interested in. Check all destinations in China
Chinese Name: 大理
Chinese Pinyin: dà lǐ
Population: 0.61 million
Language: Mandarin, Bai & Yi Language
Tel Code: 0872
Zip Code: 671000
Time Zone: (UTC+8)
Plan your Dali Tour
Usually, travelers would like to spend 2~4 days in Dali. They plan to cover all the highlighted attractions with memorable activities designed, like Dali Old Town (walk for leisure), Three Pagodas, Cangshan Mountain (walking or hiking), Erhai Lake (cruising or cycling), Xizhou Ancient Town (Bai architecture and Three Courses of Tea), Zhoucheng (traditional tie-dyeing technique), etc.
Actually, Dali is served as a break for Yunnan trip and travelers can continue your exploration in Kunming, Lijiang, Shangri-La, Yuanyang, Jianshui and Dongchuan Red Land in Yunnan.
Recommended Tours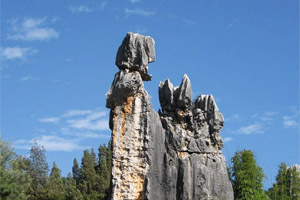 MORE