Dali, at an altitude of 2090 meters, is located on a fertile plateau between Cangshan Mountain range to the west and Erhai Lake to the east. Dali is also the capital of Dali Bai Autonomous Prefecture in northwestern Yunnan Province, served as the connection between Kunming and Lijiang.
In the 4th century, Bai ancestors here thrived and spread many tribal clan. In the time of 8th to 10th century, Dali was the medieval capital of both the Bai kingdom Nanzhao and the Kingdom of Dali. With such a long history, Dali is one of the oldest cultural birthplace in Yunnan with historical and cultural sites to explore.
Why Visit this City:
Extraordinary Natural Scenery - The pretty and lofty Cangshan Mountain looks like a painted screen, the elegant Erhai Lake is as bright and beautiful as a mirror, the white clouds floating over the rice field look like jade belt...This is the normal scene of Dali and no matter when you come and you'll catch the best scenery of the pearl of plateau.
Colorful Bai Ethnic Culture - On the treasure land of Bai people, you'll be amazed by the colorful culture and traditions of Bai ethnic group. Appreciate the special structure of Bai's architecture, learn Bai's tie-dyeing with beautiful pattern, taste the featured Bai snacks and meaningful Three Courses of Tea, get in-depth into the Bai people's fishing villages and experience the local life...This is the Kingdom of Bai people and this is the heaven for all travelers.
Slow Pace and Leisure Exploration - Relaxing and interesting activities are designed in every scenic spot. Travelers can take a leisure walk in Dali Old Town, do some hiking in Cangshan Mountain, cruise happily on Erhai Lake, cycle merrily around Erhai Lake, sit quietly by the lake, watch the sunset going down...Traveling is a kind of life here without any rush.
Top Attractions in Dali
Dali is renowned as land of wonder, both natural and manmade. Silver Cangshan Mountain and Jade Erhai Lake are famous in Dali that travelers should never miss them during your Dali visit. Located between the magnificent Cangshan Mountain and elegant Erhai Lake are Dali Old Town, Three Pagodas, Xizhou Ancient Town, Zhoucheng and Butterfly Spring, etc. All of the attractions will give you historical and cultural feast. For more attractions info, please see all Top Attractions in Dali
Shaxi Ancient Town
Located roughly halfway between Lijiang and Dali, Shaxi Ancient Town (Jianchuan) once was a bustling trade point on the Tea Horse Caravan Road. Its Market Square was added to the World Monuments Watch List of 100 Most Endangered Sites in 2001.
Xizhou Village
Xizhou Village is an ancient town with 1000-year history in Dali, featured with numerous Bai residence architectures, famous local dishes - Xizhou Baba, and Bai ethnic customs and activities like Morning market, Three-Course Tea and Tie-dyeing.
Zhoucheng Village
Zhoucheng is located in the north of Xizhou Ancient Town, west side of Erhai Lake. It is called the "Land for National Tie-dye" where travelers can learn how to make a tie-dyed cloth. Visit one of Bai's family workshops and see the local Bai people use traditional tie-dye techniques to make cloth.
Butterfly Spring
Every year during late spring and summer, the scent of heritiera parvifolia alongside Butterfly Spring will attract thousands of colorful butterflies gathered in the scenic area. The local Bai ethic group regard the spring a symbol of eternal and faithful love.
Chongsheng Temple
Chongsheng Temple complex is located behind the Three Pagodas which was the royal temple of Dali and one of the 6 largest Buddhist centers in Southeast Asia. 
Shibao Mountain
Shibao Mountain is a famous Danxia landform mountain with famous Temples, Buddhist Grottoes and Golden Monkeys.
Top Things to Do in Dali
Besides the endless beauty of Cangshan Mountain and Erhai Lake, Dali is a ravishing destination giving you more. It is a lively place on plateau taking you truly involving in local ethnic group's daily life and have in-depth experience about their stunning cultures. For more featured activities and festival info, please see all Things to Do in Dali.
Bai's Morning Market
If you want to have a look at the local Bai people's daily life, going to one of the old towns in the morning and visiting the local lively market is the authentic way. The locals are dressed in traditional costumes, either selling goods or buying daily staff.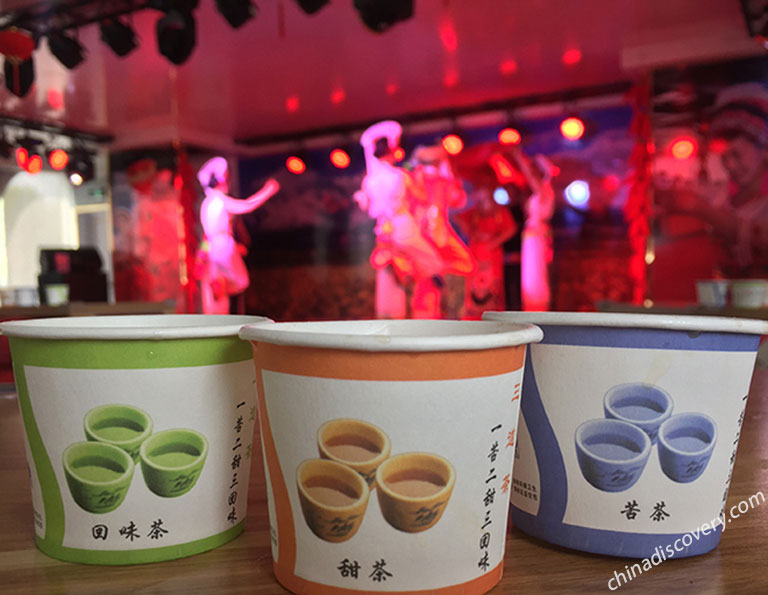 Three-Course Tea (三道茶)
The genius Three- Course tea ceremony is a must try in Dali. Three-course tea, first cup is bitter, second cap is sweet and the third cup is for aftertaste, which indicating the pursuit of perfection of personality during the whole life.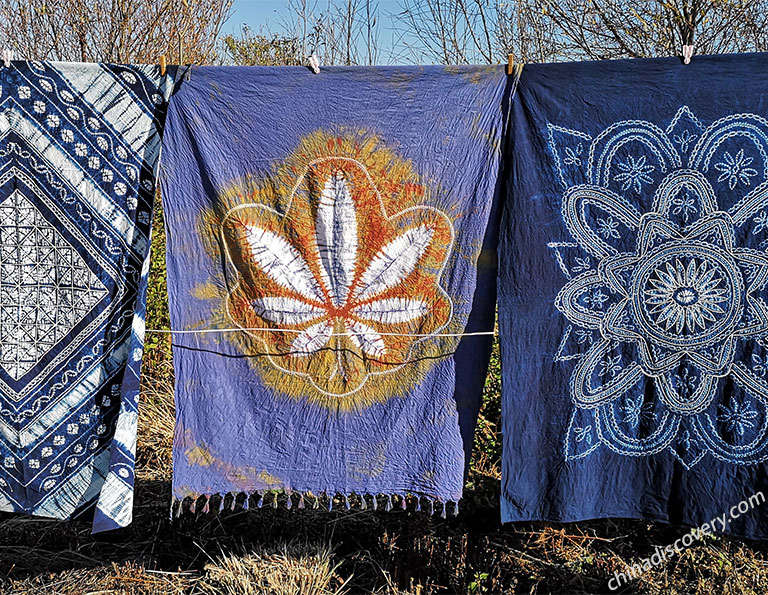 Tie-Dye (扎染)
Tie-dye technique of Bai Minority was listed as a national intangible cultural heritage, can be used as a clothes, tablecloth, decoration, etc. If you are interested in the making process of tie-dye, you transfer to Zhoucheng Village - "Hometown of Bai People's Tie-dye Art".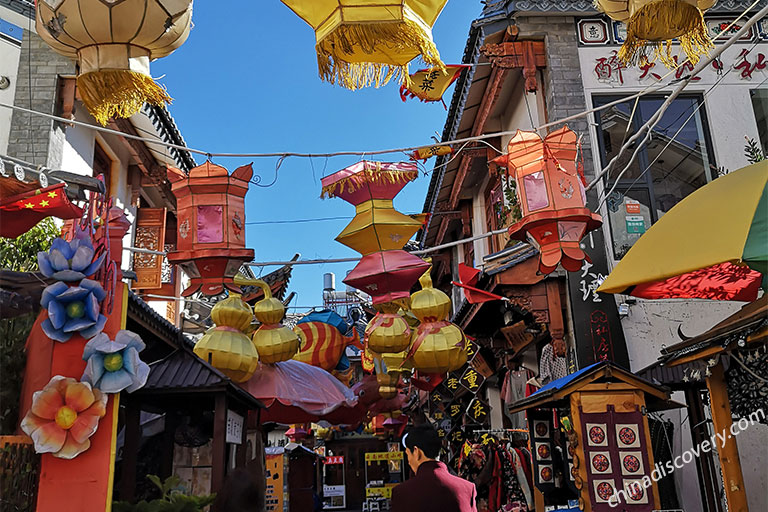 March Fair (三月街)
Bai people's March Fair is is the grandest festival for the Bai people held from 15th to 21th of the third lunar month. During the festival, businessmen and local people in and around Dali gather here to participate in the transaction.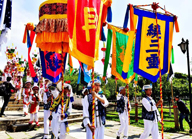 Raosanling (绕三灵)
Raosanling is the most important religious festival in the calendar of the Bai people. It takes place in three villages in the Dali valley during the 4th lunar month and lasts for three days, each major activity taking place at a different location.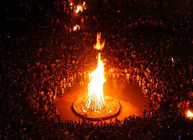 Torch Festival (火把节)
Torch Festival is a major festival for the Bai and the Yi minorities around Shaxi. It is held every year from the 25th day (24th for Yi minority) of the 6th month on the lunar calendar. During the festival, Yi and Bai people dressed in traditional costumes dancing and singing around big barn fires go on late in to the night.
Dali Weather & Best Time to Visit
Dali has a subtropical highland climate with warm and rainy summers and short, mild and dry winters because of its low latitude and high elevation. The annual average temperature is around 14.9°C, and the average temperatures of Spring and Summer stay around 7°C~20°C and the average temperatures of Autumn and Winter keep around 14°C~23°C.
Dali is a comfortable destination which can be visited all the year round, especially in beautiful spring time (March to May). There is a saying going "The best scenery of Dali falls in March" and travelers can enjoy the breathtaking natural scenery and lively Bai ethnic festivals. July to September is the rainy season and make sure you bring umbrella and thin coat when come in this season and to take coat, cappa when visit the Xiaguan Area for the wind is heavy.
>> See Details about Dali Climate, Weather, Wearing tips & Best Season to Go
Dali Transportation & How to Get there
How to Get to Dali
Travelers can take flight, train and long distance bus to get to Dali. Dali is served as the connection between Kunming and Lijiang.
Get to Dali by Air
Dali Airport is located in the southeast of Erhai Lake, about 13 kilometers from Xiaguan and 30 kilometers to Dali Old Town. Convenient flights are connecting Dali with Kunming, Xishuangbanna in Yunnan Province; and Beijing, Shanghai, Chengdu, Xian, Chongqing, Guangzhou, Hangzhou, Wuhan, Nanjing, Shenzhen, etc. There are several daily schedules for flights from Kunming to Dali with 50 minutes' transfer.
Get to Dali by Train
So far in May, 2020, there is only one train station in Dali - Dali Railway Station (大理站). This station is served for both high speed train to and from Kunming (2 hours), Guangzhou (10.5-11 hours), Guilin (10 hours), Nanning (6.5-7 hours), Lijiang (1.5 hours), Puzhehei (3.5-4 hours), etc. Also, there are some normal trains with some destinations in Yunnan Province and some nearby provinces in south China region.
Get to Dali by bus
Travelers can reach Dali by long distance bus either from Kunming, Lijiang or other places in Yunnan.
How to Go Around Dali
Besides use our private car service, travelers can take Dali sightseeing buses to Dali Old Town, Three Pagodas, Cangshan Mountain, Xizhou Village, Shaxi Ancient Town, Shuanglang, etc; if weather and physical condition permit, it is recommended to rent a bike cycling around Erhai Lake. Moreover, taking a cruise sailing on Erhai Lake adds more leisure into your trip.
To check more transfer info, please see How to Get to and around Dali | Dali to Shaxi Ancient Town | Kunming to Dali | Lijiang to Dali.
Dali Accommodation & Where to Stay
You never need to worry about your accommodation in Dali. No matter you want to stay in the new town area in Xiaguan, or want to stay in Dali Old Town, or even accommodate in the beautiful fishing village around Erhai Lake, you are bound to a lot of choice. For travelers who have one or two nights in Dali, it is recommended to stay in Dali Old Town for there are hotels and hostels ranging from luxury 5 star (Dali Regent Hotel recommended, located close to the East Gate), comfortable 4 star (Dali Landscape Hotel recommended, located close to Foreigner Street in the center of Dali Old Town) to budget hostels.
Feel free to tell your needs and requirements to our professional travel consultants, they are here ready to help and book your ideal hotels. Check more about Recommended Dali Accommodation | Where to Stay in Dali
Useful Dali Maps
We have collected some very useful Dali maps including Dali Tourist maps, Cangshan Mountain Map and Erhai Lake Map to help you have a better understanding about Dali and its attractions. For more maps, please check Overall and Detailed Dali Maps.
Other Hot Destinations in Yunnan
Besides Lijiang, there are some other hot destinations in Yunnan, like Lijiang, Shangri-la, Kunming, Yuanyang and Jianshui, etc. Check the travel guide of each destination and discover now!
Other Popular Destinations in China
China is vast and diverse. You can choose your favorite destination among more than 70 tourist destination and regions. Following are 4 popular destinations you may get interested in. Check all destinations in China
Plan your Dali Tour
Usually, travelers would like to spend 2~4 days in Dali. They plan to cover all the highlighted attractions with memorable activities designed, like Dali Old Town (walk for leisure), Three Pagodas, Cangshan Mountain (walking or hiking), Erhai Lake (cruising or cycling), Xizhou Ancient Town (Bai architecture and Three Courses of Tea), Zhoucheng (traditional tie-dyeing technique), etc.
Most visitors plan Dali as a part their exploration of the vast Yunnan Province and usually arrange it for a middle stop between Kunming and Lijiang. To enrich your travel experience, you are highly recommended to do as the others to enjoy a classic week long vacation in Yunnan. Since most travelers would land in Kunming first and it is a good idea to spend one or two days there visiting the incredible Stone Forest, overlooking Dian Lake from Dragon Gate of Western Hill, viewing local people's daily life at Green Lake Park...then with a high speed train to Dali for about 1.5 days' exploration to catch all the essences of Dali. Transfer to Lijiang to meet the famous Lijiang Old Town and learn the mysterious Dongba culture within 2 days. Following the exciting Tiger Leaping Gorge hiking, enjoy another 2 days in Shangri-La to immerse into the earthly paradise with nice visiting of the holy monasteries and lovely landscapes.
Besides, you can extend from Kunming to Yuanyang to marvel at the unbelievable magnificent Yuanyang Rice Terraces, to Puzhehei to relax at the pleasant wonderland of lotus blossoms, to Luoping to be fond of the golden sea of rapeseed flowers, to Xishuangbanna to feel the enthusiastic Dai ethnic people and the lush tropical forest, etc.
Check More about How to Plan Your Dali, Yunnan tour
Travel with China Discovery
We have helped many global travelers enjoy their memorable trips to Yunnan for the past few years. Among them Mr. Elie & his wife from Belgium had 15 great days in Yunnan during their 69 days China trip customized with us and shared us their special travel story. Travel with China Discovery to create your wonderful Yunnan trip memories!
Recommended Tours
MORE