Xiamen to Wuyishan: Get from Xiamen to Wuyi Mountain
Xiamen and Wuyi Mountain are both located in Fujian Province in the southeast part of China. These two places are two of the most popular tourist destinations of this region. While Xiamen introduces one kind of the best coastal sceneries in China, Wuyi Mountain gives visitors more about stunning Kast Landscape, profound cultures of Confucianism, Buddhism and Taoism, and also one of the best teas in China - Dahongpao.
Many visitors prefer visiting Xiamen and Wuyi Mountain in one go. And since Xiamen has more convenient international flights, domestic flights and high speed trains, they usually get to Xiamen first, and then travel to Wuyi Mountain from Xiamen. In this Xiamen to Wuyi Mountain Transportation Guide, we will introduce you how to get from Xiamen to Wuyishan by flight, train, private car, bus, etc.
Where are Xiamen & Wuyi Mountain?
Xiamen is located along the costal of Fujian Province. Wuyi Mountain (or called Wuyishan) is located in Wuyishan City, Nanping City, Fujian, China. They are both under jurisdiction of Fujian Province. Wuyi Mountain is about 485 kilometers north of Xiamen City, which takes about 5.5 hours by car.
At present, visitors can get from Xiamen to Wuyishan by flight plus taxi or car (from 1.5 hours), private car (5.5 hours around), high speed train plus taxi or car (from 3.5 hours), or coach plus taxi or car (from 8.5 hours).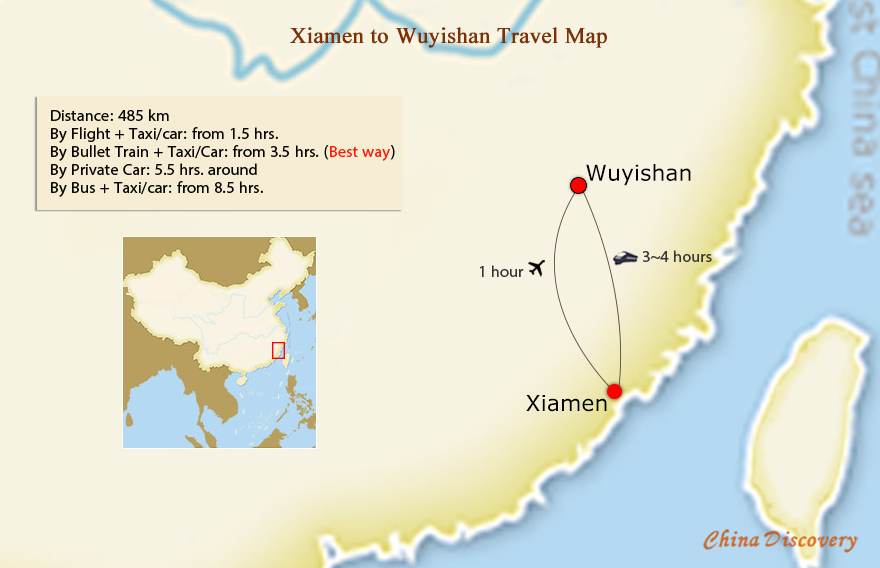 Xiamen to Wuyishan Travel Map
Top 1: Xiamen to Wuyishan Train + Taxi or Car (The Most Popular)
From - To: bullet train from Xiamen Railway Station / Xiamen North Railway Station to Wuyishan North Railway Station / Nanping Railway Station, and then ride a taxi or car to Wuyi Mountain
Time needed: from 3.5 hours, including 3~4 hours by high speed train plus half an hour or so by taxi or car (the time from your hotel/airport to the railway stations in Xiamen is not included)
Riding a high speed train from Xiamen to Wuyishan City takes about 3~4 hours. Every day, there are over 25 high speed trains running between them. Those trains are available from 7:00am to 17:00pm. Most of the trains make departure from Xiamen North Railway Station and arrive at Nanping Railway Station. But there are also trains from Xiamen Railway Station to Wuyishan. And at the Wuyishan side, there are also bullet trains to/from Wuyishan North Railway station.
Referential Currency: RMB=1USD
Train No.
Departure / Train Staiton
Duration
Seat Type / USD Price / Availability
Note: Train information is subject to final confirmation due to the delay of data occasionally.
China Train Travel Tips
Class of Ticket
You can usually choose from the First Class Seat, the Second Class Seat or Business Class Seat on the high speed trains. While, there are three types offered on the normal train, including Soft Sleeper, Hard Sleeper and Hard Seat. learn more >>
Book, Collect, Alter and Cancel
Foreign tourists can book train ticket online or via a ticket agency, or buy the tickets physically at the train station with your valid passport. Train ticket alteration and cancellation are only available at ticket counters. learn more >>
Board & Get off
1) Prepare your passport and China Visa; 2) Get to the right train station at least 30 mins in advance; 3) Collect your train ticket; 4) Read your train ticket; 5) Pass the security control; 6) Pass through Security & Luggage Checks; 7) Find the right waiting room; 8) Cross the ticket checking gate; 9) Get to the right platform; 10) Get on your train. learn more >>
Baggage Allowance
Passengers don't need to check luggage separately. Each passenger is allowed to carry luggage in certain weight and volume, but without limitation of amount and types. learn more >>
Facilities and Service
All high speed trains in China are equipped with advanced facilities and good service, including luggage racks, air-conditioner, power socket, dining car, hot water, etc. learn more >>
How to Plan a Wuyishan Tour?
A Wuyi Mountain Tour is full of cultural charm, natural beauty and adventures hiking and bamboo rafting experiences. Besides, it is a great chance to sample one of the best kinds of tea and admire one of the best real landscape shows in China! Usually, tourists spend 2~3 days to explore the highlights of Wuyi Mountain.
2 Days in Wuyi Mountain (Top Recommended)
A 2-day Wuyi Mountain tour includes 2 whole days in Wuyi Mountain. During the two days you will explore almost all the major attractions of Wuyi Mountain, including Tianyou Peak, Nine Bend Stream, Wuyi Palace, Big Red Robe Scenic Area, Impression Da Hong Pao Show, and Water Curtain Cave. If your time allows, you can also add Tiger Roaring Rock and One Thread of Sky in to your trip.
3 Days in Wuyi Mountain
If you arrive at Wuyishan City late or have more time left, you are suggested to spend one day more in Wuyishan. In addition to the above highlights included for the 2-day tour, you can also go to Xiamei Village to admire the ancient dwellings.
>> 3 Days Classic Wuyi Mountain Tour
Travel Wuyishan with More Wonders in Fujian & China
Wuyi Mountain is only a small part of the Fujian. This coastal province is also proud of wonderful Gulangyu Island, sacred Fujian Tulou clusters, picturesque Xiapu Mudflat, etc. One day in Xiamen, including a half-day Gulangyu Island Tour, is very popular. Xiamen is a paradise for sea foods and offers some of the best costal scenery in China. Spending about 1~2 days more to visit Fujian Tulou is also highly recommended. These gigantic earthen buildings will introduce you another kind of dwelling in the world and also some of the legends and history of Hakka people. For photography enthusiasts, Xiapu Mudflat should be on your travel list. It will take you 2 more days or so. Have more days in Fujian? Take another 1~2 days to Fuzhou, the capital of this region, is also a good idea!
>> 5 Days Xiamen, Nanjing Tulou & Mount Wuyi Discovery Tour
Since Wuyi Mountain is only 1~1.5 hours away from Huangshan by high speed train, you may also interested in taking these two of the best mountains in China in one go! Such a Huangshan Wuyishan Tour needs about 4~6 days.
Customize Your Wuyi Mountain Tour
Have your own preferences? Want more China's surprises into your trip? Please feel free to tell us your interests, and let us customize you a perfect China tour!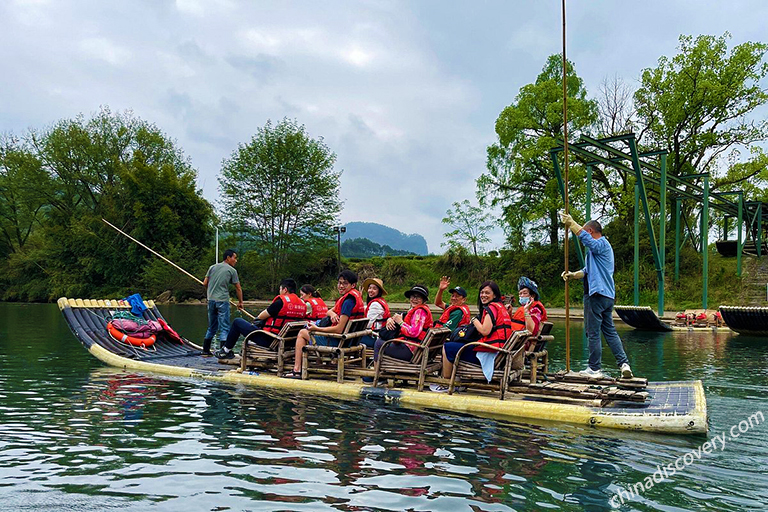 Nine Bend Stream Bamboo Rafting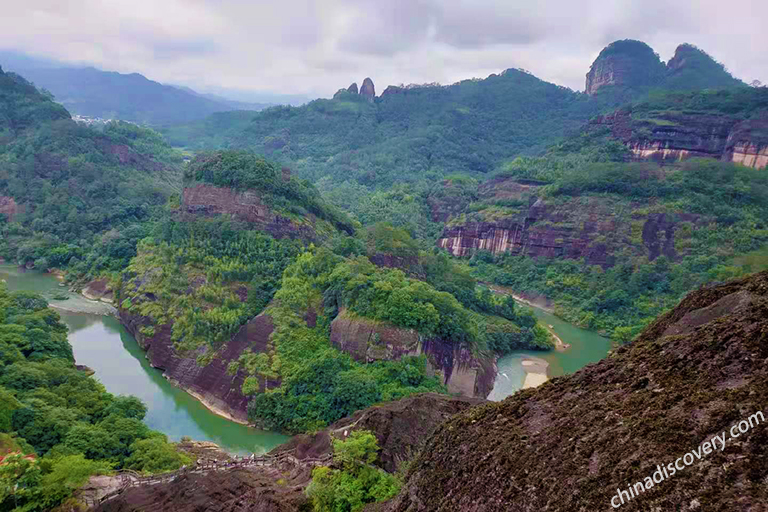 Mysterious Panorama of Tianyou Peak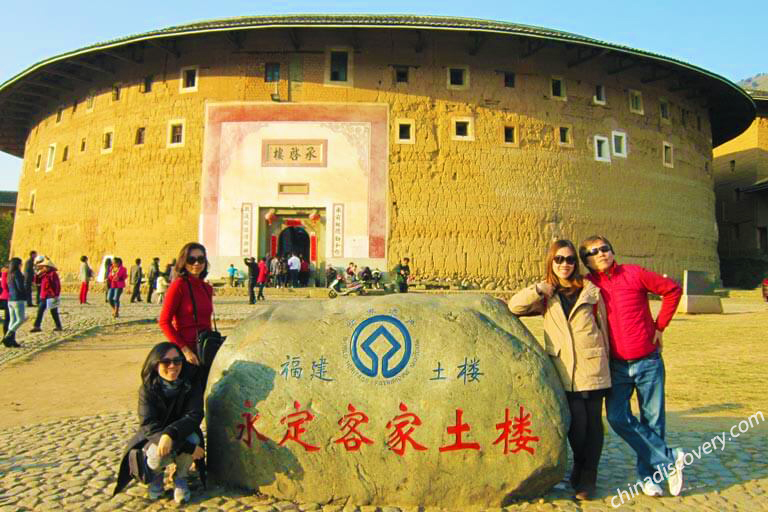 Our Customers in Fujian Tulou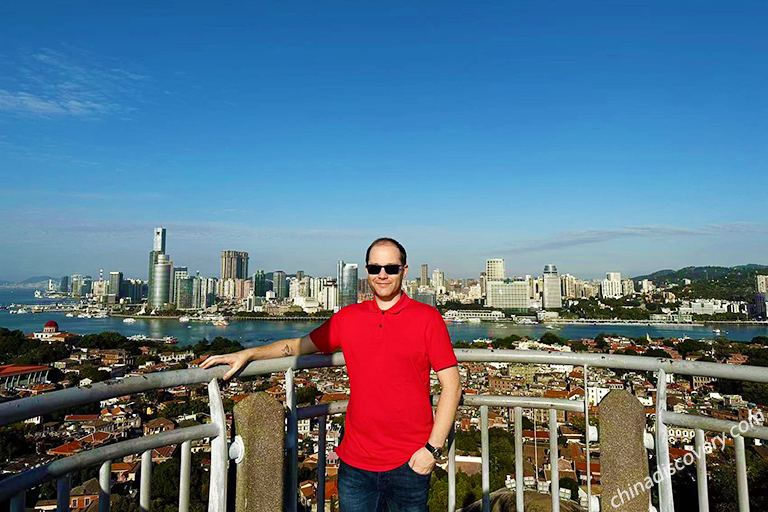 Xiamen Gulangyu Island
Travel Wuyishan with China Discovery
Still feel trouble about choosing the best hotel to stay and best visiting route to follow? Travel with us China Discovery, and let us help you! We have professional local travel guide, who will accompany you all the way and introduce you the scenery, history and culture of this region. Besides, our local driver will escort you from the airport/railway station/hotel to Wuyi Mountain directly. Therefore, you can have a hassle-free experience there!
The tour can be customized according to your budget, interests, group size, and every special need. If you are interested, please feel free to contact us!
Extension Readings of High Speed Train Travel in China
Keep Reading about Wuyishan
Recommended Xiamen Wuyi Mountain Tours
Top 3 Xiamen Wuyi Mountain tours chosen by most customers to explore Xiamen Wuyi Mountain in the best way. Check the detailed itinerary, or tailor your own trip now with us.
5 Days Xiamen, Fujian Tulou & Mount Wuyi Discovery Tour

Xiamen / Nanjing Tulou / Yongding Tulou / Xiamen / Wuyishan
3 Days Classic Wuyi Mountain Tour

Wuyishan
4 Days Xiamen & Wuyi Mountain Highlights Tour by High Speed Train

Xiamen / Wuyishan
Start planning your tailor-made holiday to China by contacting one of our specialists. Once inquired, you'll get a response within 0.5~23.5 hours.
Customize a Trip
Have a question? Get answers from our travel experts or guests
Your Question:

Your Name:

Your Email: