How to Travel from Shanghai to Luoyang - By Flight or High Speed Train 2022
Shanghai is a metropolis with much glamour and mystique. With enough international flights flying to its two busy airports, it acts as the best place to start a China tour. After your unique journey of exploring modern China in Shanghai, you may want to have a different experience in a different destination, like old city full of history and culture. Luoyang is such a city to meet your interest. Traveling from Shanghai to Luoyang, you can have a contrast tour with China's past and present exploration. In order to help you travel easily and smoothly, here we offer the detailed information of Shanghai Luoyang transfer. After Luoyang tour, you can easily travel to China's other destinations as well, like Beijing and Xian.
Our Best Selling Shanghai Luoyang tour:
√ 11 Days Essence of China Culture Tour by High Speed Trains
Location of Shanghai and Luoyang and Travel Distance
Shanghai is a direct-administered municipality located on the east China coast just to the south of the mouth of the Yangtze River and Luoyang is a prefecture-city located in northwestern Henan Province (河南). The linear distance between Shanghai and Luoyang is 2,337 km (621 miles).
Get from Shanghai to Luoyang by Flight
Taking a flight is the most efficient way to transfer from Shanghai to Luoyang. There are 3 daily flights running from Shanghai to Luoyang usually, one departing from Shanghai Pudong International Airport and two departing from Shanghai Hongqiao International Airport. All the flights land on Luoyang Beijiao International Airport. The whole flying journey cost 2 ~ 2.5 hours.
Luoyang Beijiao International Airport
Luoyang Beijiao International Airport is located in Mount Mangshan, Laocheng District, Luoyang City(洛阳市老城区邙山), about 17 km away from Luoyang City center, about 28 km away from Longmen Grottoes and about 28 km away from White Horse Temple. There is no direct bus running the Longmen Grottoe or White Horse Temple, but you can take a bus Luoyang City and then transfer to them. Read more about Shanghai Luoyang Flights>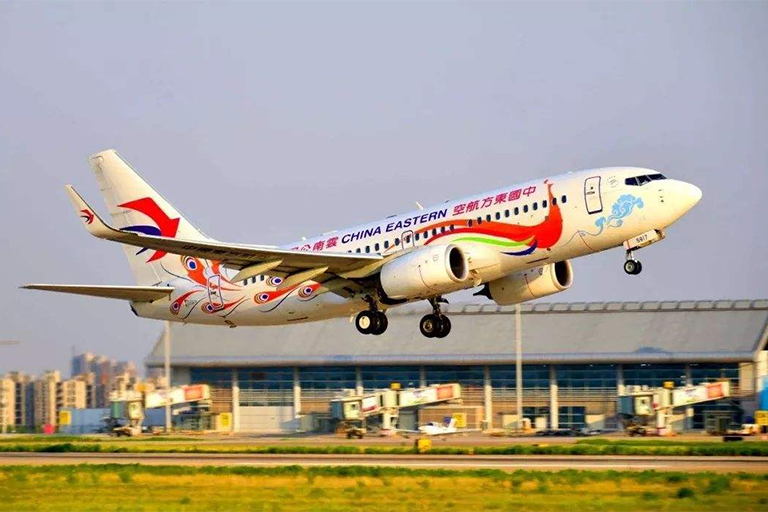 Luoyang Airport
Get from Shanghai to Luoyang by High Speed Train
Apart from traveling by flight, many travelers choose to take a high speed train from Shanghai to Luoyang. It offers much more comfortable environment but takes much shorter time than normal trains. Compared with airport, railway stations is always closer to the downtown area. There are 4 daily high speed trains operating from Shanghai to Luoyang, including 3 G-trains and 1 D-train. All G-trains leave from Shanghai Hongqiao Railway Station and arrive in Luoyang Longmen Railway Station, taking about 5.5 hours. The D-train is a night train, leaving from Shanghai Railway Station at night and arriving at Luoyang Longmen Railway Station in the next morning.
Referential Currency: RMB=1USD
Train No.
Departure / Train Staiton
Duration
Seat Type / USD Price / Availability
Note: Train information is subject to final confirmation due to the delay of data occasionally.
▶ Shanghai Hongqiao Railway Station (上海虹桥站)
Location: No.1500, Shengui Road, Minhang District, West Shanghai (上海市闵行区申贵路1500号).
Next to Shanghai Hongqiao International Airport, Shanghai Hongqiao Railway Station is about 40 mins' drive to Shanghai Museum and 45 mins' drive to Yuyuan Garden. You can take Metro Line 10 to Terminal 1 of Hongqiao Airport and then walk a few minutes to Terminal 2. If you will go to Pudong Airport, taking a taxi for around 1 hour and 20 minutes is the most convenient way. Meanwhile, there are two subway lines (Metro Line 2 & 10) available for transportation to central city area.
▶ Shanghai Railway Station (上海站)
Location: No.303, Moling Road, Jingan District, North Shanghai (上海市静安区秣陵路303号).
Shanghai Railway Station is one of the major train stations of Shanghai, both serving 170 high speed trains (G & D trains)and 53 normal (K, T, Z trains) every day. The station is located about 15 mins' drive to Shanghai Museum, 30 mins' drive to Shanghai Hongqiao Airport and 1 hour to Shanghai Pudong Airport. From here, you can take Metro Line 1, Line 3 and Line 4 to transfer to downtown or other places in Shanghai, or get to the Pudong Airport by airport bus.
▶ Luoyang Longmen Railway (洛阳龙门站)
Location: Tongqu Road, Luolong District, Luoyang (洛阳市洛龙区通衢路).
Luoyang Luomen Railway Station is the only station served for high speed train to/off Luoyang. It is very close to Longmen Grottoes and needs only about 20 minutes by car. From this train station, you will need about 35-40 minutes by car to the White Horse Temple, about 15 minutes by car to the Luoyang downtown area, etc.
Travel with China Discovery
Currently, Luoyang is not equipped with metro lines and you need to transfer at least one time sometimes. It is strongly recommended to travel with China Discovery. Our local travel guide and driver will pick you up at the airport or train station as you arrive with an air-conditioned and non-smoking vehicle, and then escort you to your hotel or every attraction listed in your itinerary. Great freedom will be given to you whenever you need to stop for sightseeing and photograph. You are sure to enjoy a comfortable, safe and efficient experience.
Far more than that, China Discovery is professional to provide high-quality customizable tour. Before your tour, our travel expert will communicate with you one to one and make an itinerary according your own interest, need and budget. Every detail – transfer, hotels, attractions, etc. will be arranged well for you and you just need to focus on sightseeing. Feel free to contact us to start your worry-free private tour now!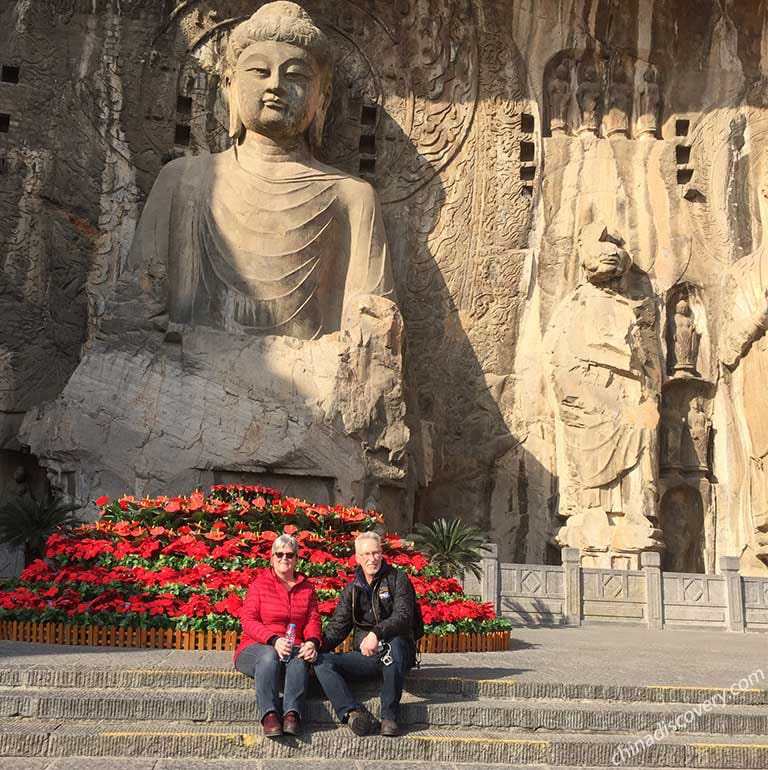 Mr. and Mrs. Walker visited Longmen Grottoes with China Discovery
How to Plan Shanghai Luoyang Tour
Usually, a classic Shanghai Luoyang tour needs about 4 ~ 6 days. All the essences of the two cities can be covered.
You are suggested to spend 2 ~ 4 days visiting the landmarks of Shanghai, like the Bund with featured European architectures, Shanghai Museum housing numerous precious China's treasures, exquisitely-designed Yuyuan Garden and lots of skyscrapers (Shanghai Tower, Shanghai World Financial Center, Oriental Pearl Tower…) with their own styles.
√ 2 Days Classic Shanghai City Tour
√ 3 Days Shanghai Past and Present Contrast Tour
To explore the cultural highlights of Luoyang, 2 ~ 3 days is needed. Best highlights of Luoyang include Longmen Grottoes which is known as the finest examples of Chinese Buddhist art, 1900-year old White Horse Pagoda (also China's first Buddhist temple), 2000-year old burial site – Tianzi Jialiu Museum and beautiful Guanlin Temple with a lot of history to tell. Of course, you can't miss a Kung Fung exploration in Shaolin Temple (in Dengfeng city) if you visit Luoyang. It is only 60km (about 1.5 hour's drive) away from Luoyang city. If you have more time, it is a good idea to extend your Luoyang tour to other destinations in Henan, like Zhengzhou, Kaifeng, Mount Yuntai, etc.
√ 3 Days Luoyang Longmen Grottoes Tour
Our Customers in the Bund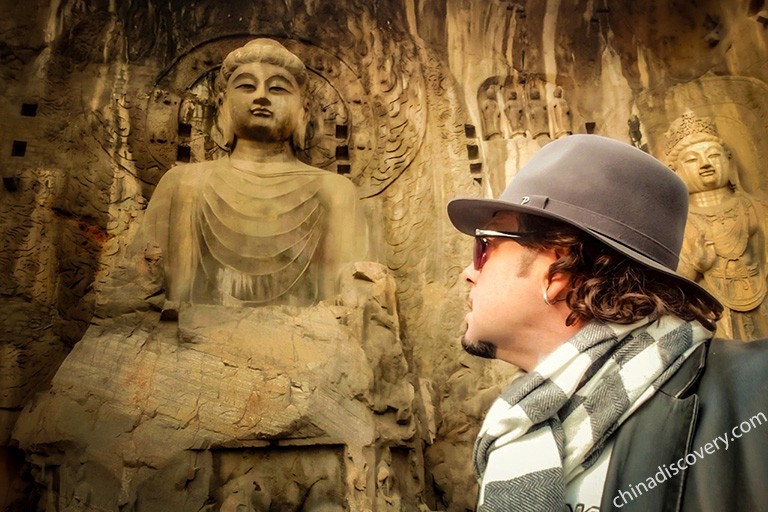 Beautiful Longmen Grottoes
Top Luoyang Tour Packages
More Luoyang Transportation
Helpful Luoyang Travel Guide
Recommended Shanghai Luoyang Tours
Top 3 Shanghai Luoyang tours chosen by most customers to explore Shanghai Luoyang in the best way. Check the detailed itinerary, or tailor your own trip now with us.
12 Days Unforgettable Kungfu Panda Tour

Beijing / Luoyang / Dengfeng / Xian / Chengdu / Shanghai
15 Days China Kungfu Panda Family Tour

Beijing / Luoyang / Xian / Chengdu / Guilin / Shanghai
10 Days China Culture Tour Plus Shaolin Kung Fu Experience

Beijing / Xian / Luoyang / Dengfeng / Zhengzhou / Shanghai
Start planning your tailor-made holiday to China by contacting one of our specialists. Once inquired, you'll get a response within 0.5~23.5 hours.
Customize a Trip
Have a question? Get answers from our travel experts or guests
Your Question:

Your Name:

Your Email: