Kaifeng Attractions | Top 7 Things to Do in Kaifeng
About 70 km away from Zhengzhou in the west, Kaifeng city is one of the eight ancient capitals in China, with over 3000 years of history.
It was endowed as the capital city for seven dynasties in old days. Now the profound history and culture can be reflected in these attractions, like Millennium City Park, Longting Pavilion, Daxiangguo Temple, Iron Pagoda Park, and so on.
It's a city beyond ancient attractions. With lots of things to join in, you can stroll along the Kaifeng River and witness the bustling streets in the style of the Song Dynasty in Millennium City Park where you can watch the hilarious skits, exciting horse racing, and Cockfighting, etc. When the autumn comes, Kaifeng city turns more glamourous with beautiful Chrysanthemum all over the city. Getting to see the treasures in Kaifeng Museum and know the man of the city, the Lord Bao's story in Kaifengfu and his temple, you will understand more about the soul and value this city has been rooted... Just check the 7 Best things to do in Kaifeng that you can get inspired and plan an enjoyable Kaifeng tour!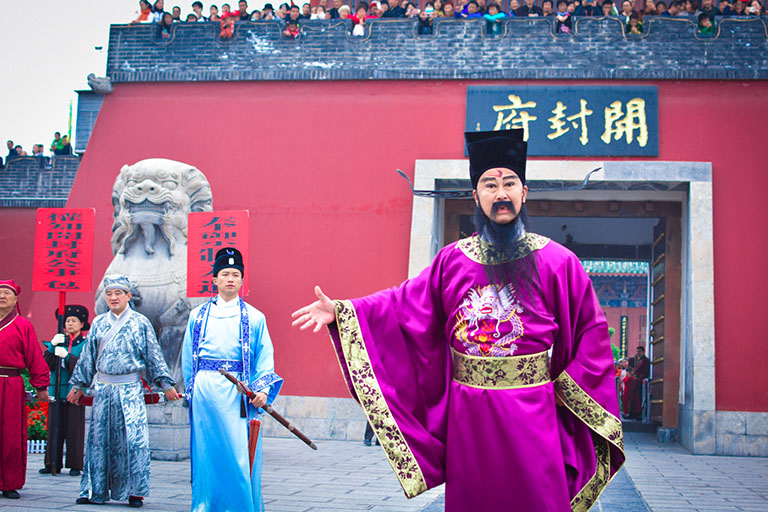 "Lord Bao" of Kaifeng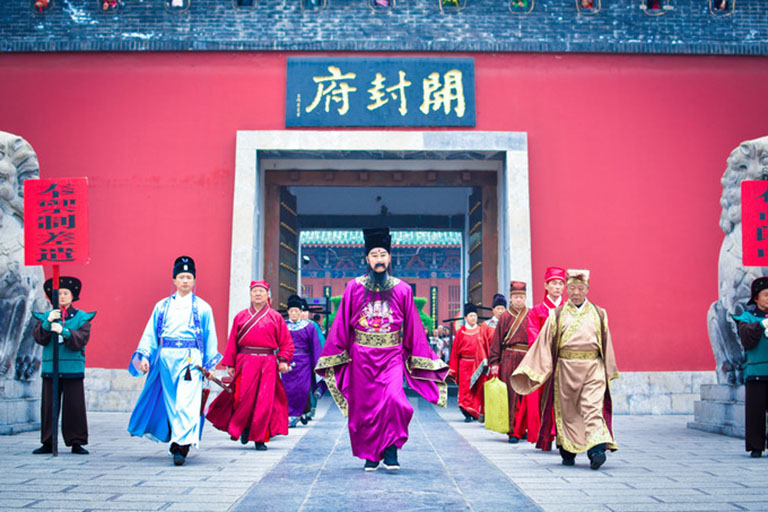 "Lord Bao" of Kaifeng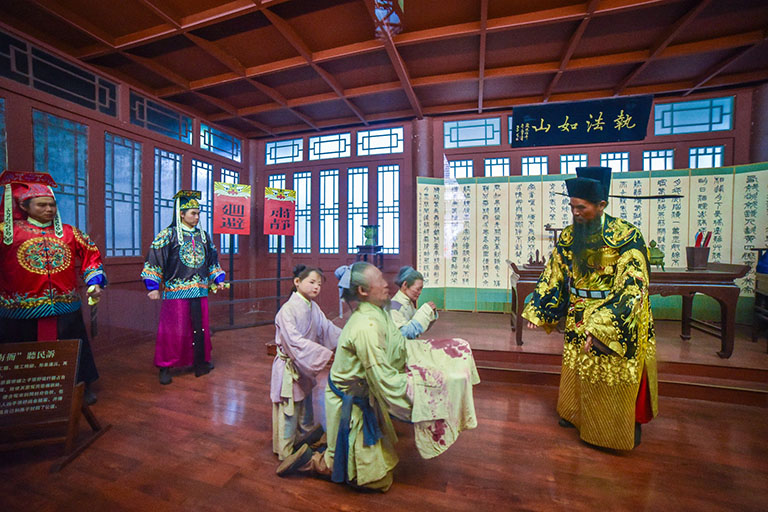 Wax Statue of Lord Bao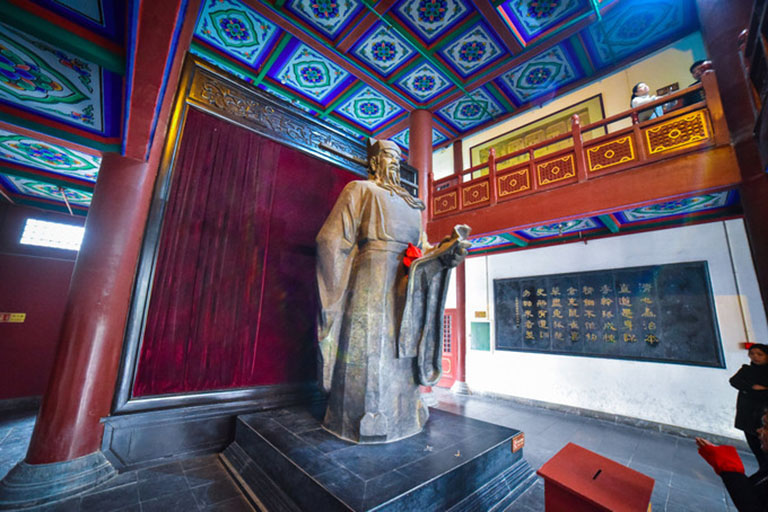 Lord Bao Statue
• Ticket: CNY 65
• Opening Hours: 07:00-19:00
• Address: 开封市鼓楼区包工东湖北岸1号 No.1, North Bank of Donghu, Baogong, Gulou District, Kaifeng City
If the statue of liberty represents the freedom and democracy of the United States, the image of Bao Gong can represent the fairness and justice of the Chinese people. If Kaifeng needs a spokesman, it must be Lord Bao Qingtian, Bao Zheng. He represents the justest judge in ancient China, who is upright in law! He was the 93 term Chief Executive of Kaifeng. The story of his judgments on trails is known by every Chinese household. 
Located on the North Bank of Baogong lake, Kaifengfu, the ancient government office of Kaifeng displays a large number of precious historical materials and exhibitions. From 9:00 a.m. to 11:00 a.m, there is a skit about the true story of Bao Zheng in Kaifengfu, including the opening ceremony of the office, the judgment of Lord Bao, and the martial arts show. If you are interested in the biography of the righteous judge, don't miss it.
• Popular Kaifeng Tour: ✔ 3 Days Shaolin Temple Longmen Grottoes Tour from Zhengzhou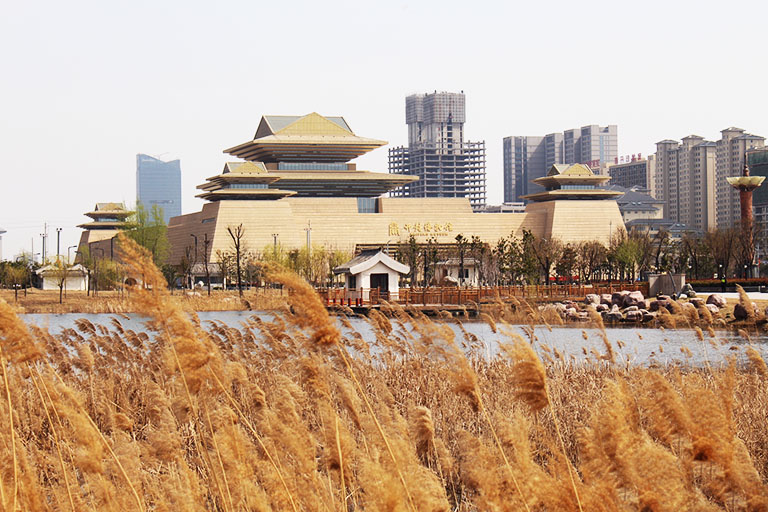 Kaifeng Museum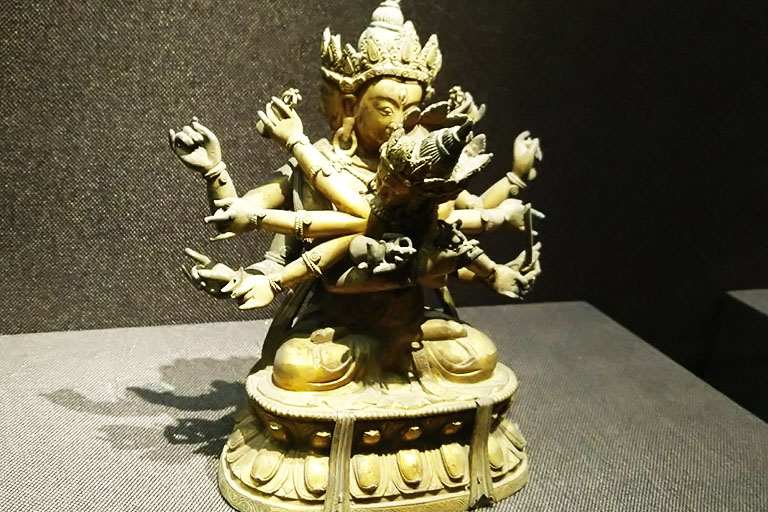 Buddha Statue in Kaifeng Museum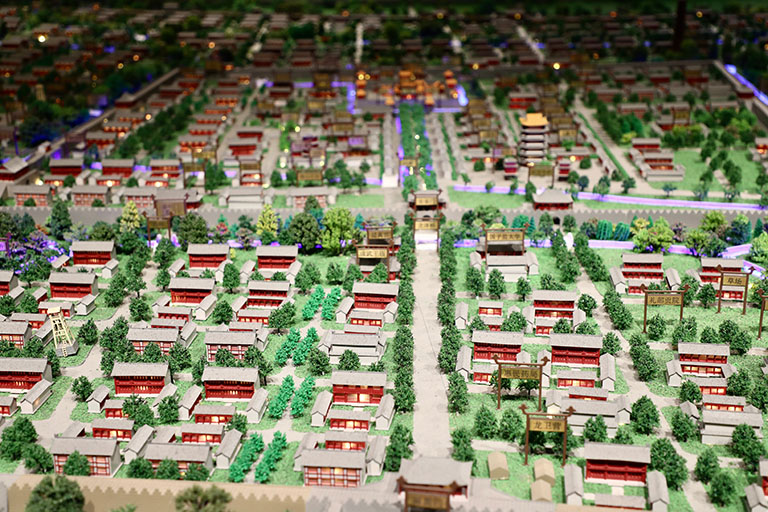 Kaifeng City Mininatures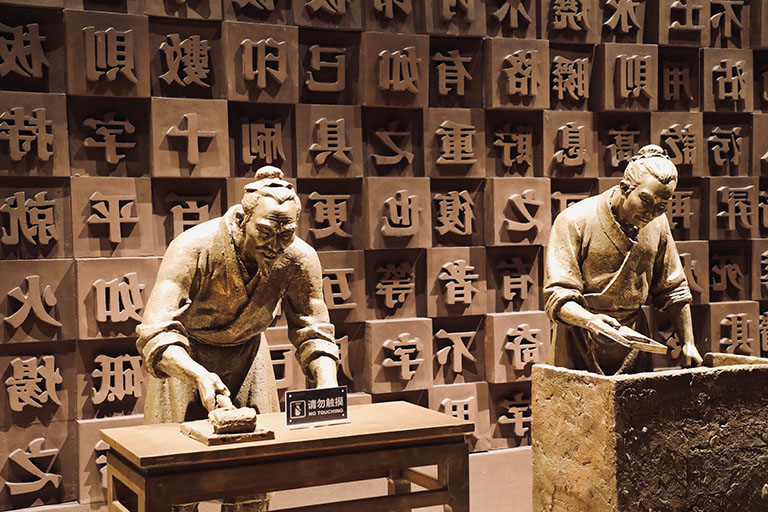 Kaifeng People in the Ancient Time
• Ticket: Free
• Opening Hours: 9:00-17:00 (Tuesday to Sunday)
• Address: 开封市龙亭区郑开大道与六大街交叉口 Intersection of Zhengkai Avenue and liudajie street, Longting District, Kaifeng City
As the capital of the Northern Song Dynasty, Kaifeng has a long history and many museums, including 7 national museums, 9 public museums, and 24 private museums. Among them, the most famous and worth-visiting one is Kaifeng Museum. With a total building area of 54286 square meters, Kaifeng Museum has four exhibition halls, namely, an exhibition of fine stone carvings, a wood engraving exhibition of Zhuxian Town in Kaifeng, an ancient civilization exhibition of Kaifeng, and history and culture in Northern Song Dynasty. As of September 2019, there are 80000 pieces of cultural relics in the Kaifeng Museum, including jade, calligraphy and painting, bronze, ceramics, etc., and Kaifeng Museum was rated as the first-class national museum in 2016.
• Other recommended museums in Kaifeng:
Kaifeng Art Museum 开封市艺术博物馆 Xufu Street, Gulou District, Kaifeng City 开封市鼓楼区徐府街
Kaifeng Wax Museum 开封宋代蜡像馆 Longting Park, Kaifeng City 开封市龙亭公园内
Kaifeng Police Museum 开封警察博物馆 No.86, the middle section of Zhongshan Road, Kaifeng City 开封市中山路中段86号
Kaifeng Northern Song Dynasty Official Porcelain Art Museum 开封北宋官瓷艺术博物馆, 111, Jinming Avenue, Jinming District, Kaifeng City 开封市金明区金明大道111号
Song Embroidery Museum of Suhua in Kaifeng 开封市素花宋绣博物馆 Wangfen village, Longting District, Kaifeng City 开封市龙亭区王坟村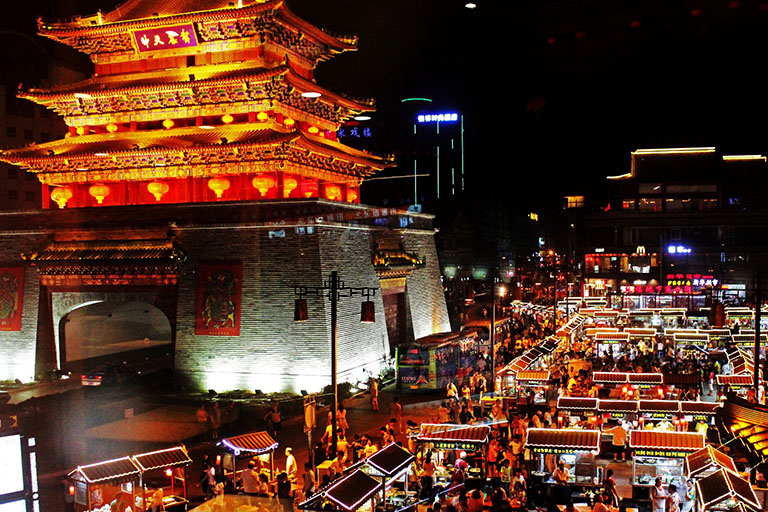 Gulou Night Market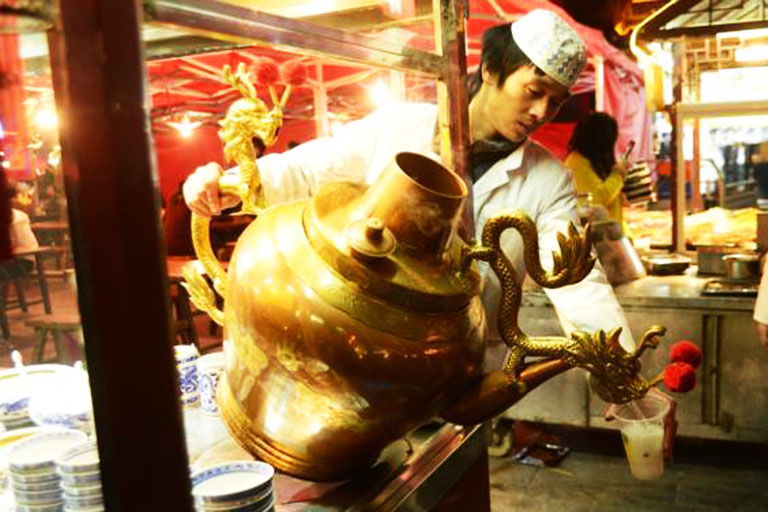 Kaifeng Almond Tea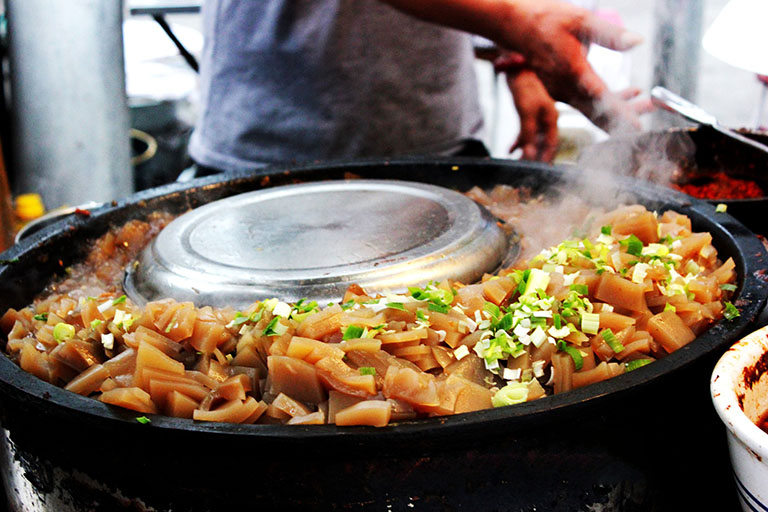 Fried Rice Jelly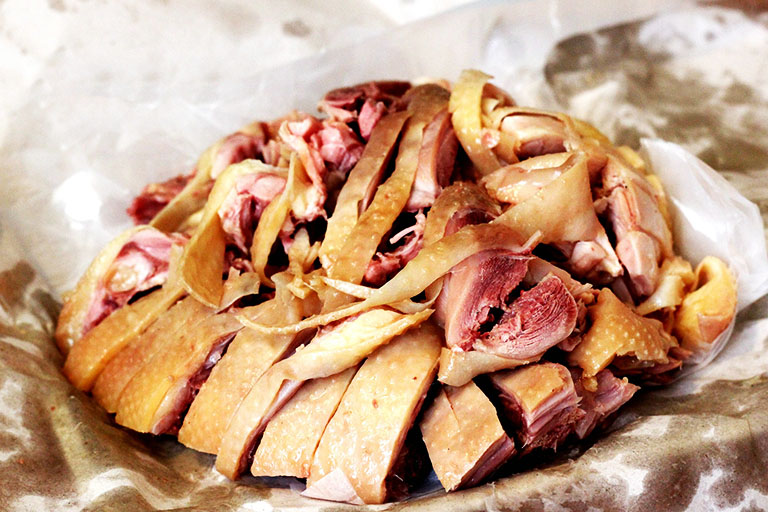 Kaifeng Chicken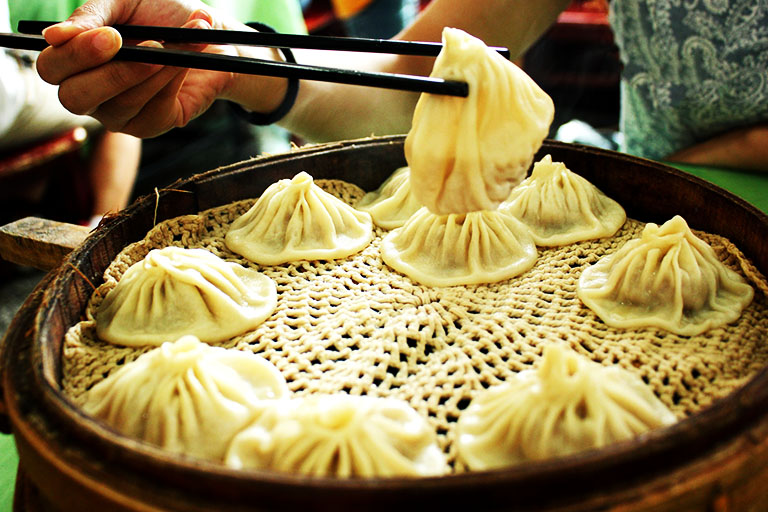 Steamed Dumplings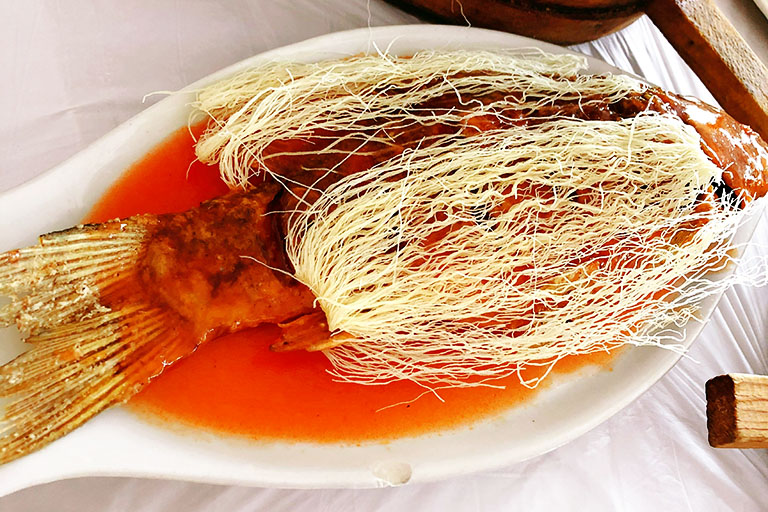 Fried Carp with Baked Noodles
Kaifeng is the birthplace of Henan cuisine in China. It tastes salty and delicious. Trying the delicious local food can help you understand the culture of the Kaifeng People. There are various interesting snacks in Kaifeng. The most famous food and snack street is located around the ancient drum tower of Kaifeng, namely the Gulou night market. It is the largest night market in Kaifeng. Besides the Gulou night market, there is also the Xisi night market that is located right next to the temple of Lord Bao and the local people prefer this one better. The Recommended dishes are Kaifeng xiaolongbao (steamed juicy dumplings), fried carp with baked noodles, barrel chicken, Kaifeng mutton soup, palace almond tea, fried rice jelly, etc.
• Recommended Night Markets:Gulou Night Market (鼓楼夜市) Address: Gulou South Square, Gulou District, Kaifeng City 开封市鼓楼区鼓楼南广场
Xisi Night Market (西司夜市) Address: Dingjiao Street, Gulou District, Kaifeng City, near the Temple of Lord Bao 开封市鼓楼区丁角街,靠近包公祠
• Recommended Restaurants: The First of Kaifeng (开封第一楼), address: No.8, back street, Kaifeng 开封市后街8号
Mayuxing chicken and duck restaurant, address: Gulou snack night market 鼓楼南广场小吃夜市
How to Plan Your Henan Kaifeng Tour
How to Get to Kaifeng: You can get to Kaifeng from Zhengzhou by private driving (about 1.5 hours), by intercity high speed train (about 20-30 minutes) and by bus (about 2 hour) or depart from Luoyang.
Best Time to Visit Kaifeng: April to May and September and October namely spring and autumn. when the temperature is comfortable, the precipitation is moderate and chrysanthemums festival will be held in annually in October.
Top Attractions to Visit in Kaifeng: Millennium City Park, Dragon Pavilion Park, Iron Pagoda Park, Ancient City Wall, etc. …
Travelers often tour Kaifeng with Shaolin Temple, Luoyang Longmen Grottoes and other top destinations in Henan for 5 to 6 days. After arrival from Zhengzhou, about 1.5 hour by private driving, you're suggested to leave 1 day visiting the Millennium City Park (Qingming Riverside Landscape Garden), Iron Pagoda Temple, Dragon Pavilion (Longting) Park, the Ancient City Wall and other ancient sites in downtown area, learn the diverse culture and featured regional history and customs in Kaifeng. In autumn months, you may witness hundreds of species of beautiful chrysanthemums in the yearly festival.
And then, most tourists return to Zhengzhou and travel to Shaolin Temple, a dream place for worldwide Kung Fu fans. 1 day is enough to visit the ancient temple complex and watch a splendid Kung Fu show, get a real contact with Chines Zen and martial arts culture. Luoyang with Longmen Grottoes is also worth your exploration. This giant Buddhist grottoes treasury presents China's early Buddhist culture and carving craft. China's oldest Buddhist temple - White Hose Temple and gorgeous Spring peony also attract numerous visitors.
If you are fond of Chinese character, Yinxu of Anyang is an ideal place to know plentiful Oracle Bone Inscriptions. Moreover, Henan offers lots of awesome natural splendors where you can immerse in magnificent mountains, fresh air, powerful water and broad vision created by magic of nature. Mount Song, Yuntai Mountain, Guoliang Village, Xiaolangdi Dam are top recommendations.
✔ 5 Days Henan Cultural Tour to Luoyang and Kaifeng
✔ 6 Days Henan Highlights Tour
Planning a longer China trip to further explore ancient China? China Discovery is honored to offer you customized Kaifeng tour with Beijing, Xian and other prominent ancient capitals of China. Or, you can tell us your personal schedule and preference to make a unique China Henan trip.
✔ 8 Days China Ancient Capitals Tour with Shaolin Temple (Beijing/Luoyang/Xian)
✔ 11 Days Essence of China Culture Tour by High Speed Train
✔ 15 Days China Kung Fu Panda Family Tour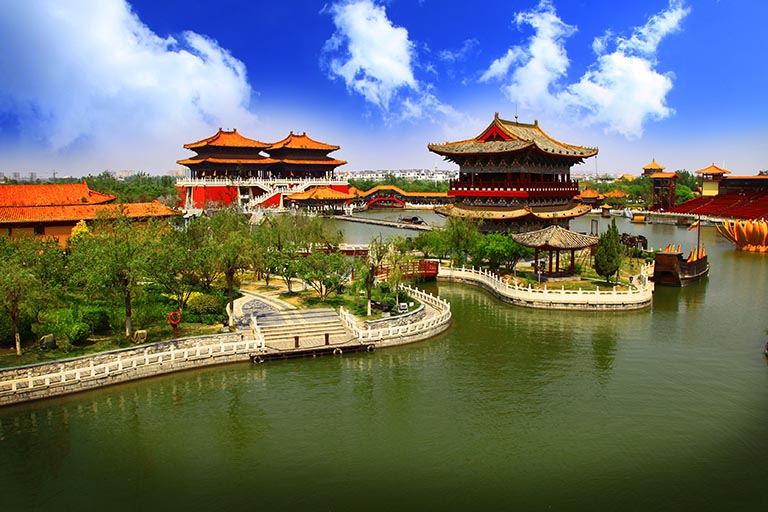 Qingming Riverside Landscape Garden in Kaifeng
Our Customers visited Pagoda Forest of Shaolin Temple
Travel with China Discovery
China Discovery is an experienced, professional and reliable travel companion devoted to offering high-quality and the best tour services for all travelers to China. In order to have a hassle-free travel and focus on the trip itself, it's highly recommended travelling with China Discovery. So, you can enjoy convenient airport pick-up and drop-off service and transportation to all scenic spots in a safe, clean, comfortable, air-conditioned and non-smoking vehicle. Also, we will arrange knowledgeable local tour guide, excellent accommodation and dining arrangements to ensure you rest well and get better understanding of Buddhism, Shaolin Zen and Kung Fu culture of Henan. You may select a favorite from our most popular Henan tours or contact us to design a unique itinerary according to your personal time and preference.
Helpful Kaifeng Travel Guide
Start planning your tailor-made holiday to China by contacting one of our specialists. Once inquired, you'll get a response within 0.5~23.5 hours.
Customize a Trip
Have a question? Get answers from our travel experts or guests
Your Question:

Your Name:

Your Email: