Kaifeng (开封), anciently called Bianjing and Bianliang, a previous capital city of Henan Province, is located in the east-central part of Henan Province. Kaifeng has been listed as a famous historic and cultural city in China, not only because it has a long history of more than 4,100 years and is one of China's 8 main ancient capital cities serving for 8 dynasties, but also for that it is rich in the traditional Chinese culture, such as the culture of palace, government office, chrysanthemum, opera, calligraphy, etc. It was the biggest metropolis in the world during the Northern Song Dynasty, and a distinctive Song Dynasty culture has been bred here and affected the following Ming and Qing Dynasties.
Moreover, Kaifeng is the place of the origin of the excellent work of the "Riverside Scene at Qingming Festival" (清明上河图), and therefore, it enjoys a beautiful reputation of "Dongjing Dream" to compliment the harmonious and prosperous scene along the Bian River in Kaifeng.
Why Visit Kaifeng:
Ancient Capital City of 4,100 Years Old - Kaifeng is a famous Chinese ancient capital city and a former regional economic and cultural center in North China. Therefore, a series of cultural relics, including many ancient buildings of the Song Dynasty, are well preserved in Kaifeng. These are all wonderful witness for you to discover and touch the rich culture and glorious history of this ancient metropolis and see how the time changed Kaifeng.
The Legend of Bao Zheng - Bao Zheng, wildly known as Justice Bao or Lord Bao, is an ancient Chinese politician in Kaifeng who is honored as a famous symbol of justice in China's history. During his civil service period, he devoted himself to help ordinary people against evildoers without fearing the influential officials. Kaifeng is the best place to know about this respectable judge, because his uprightness, fairness and integrity are celebrated in many local activities.
Rich Traditional Chinese Culture - Diverse culture adds more charm and flavor to Kaifeng. Except the inherited intangible cultural heritage, Kaifeng also keeps lots of unique folk culture, such as the Yu Opera, Bian Embroidery, woodblock painting, Chrysanthemum festival and so on.
Top Attractions to Visit in Kaifeng
Kaifeng is not big but has many places of interest for you to explore in this historical city. The main sightseeing spots are the Song Dynasty cultural relics and some other ancient spots. Top places to visit includes the Song Dynasty Imperial City Tourist Resort (consist of the Millennium City Park, Longting Park, Hanyuan Stele Forest and Tianbo Yangfu), Memorial Temple of Lord Bao, Daxiangguo Temple. Check major must-sees below to plan your Kaifeng tour. Know more Kaifeng Attractions >>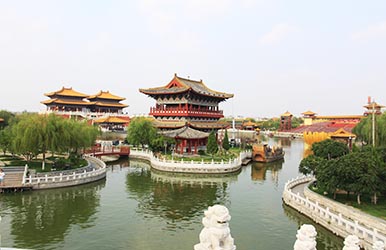 The Millennium City Park
It is a large cultural them park constructed to present the prosperous and harmonious scene shown in the world famous "River Scene at Qingming Festival" painting. Abundant featured buildings, pavilions, halls, bridges, palaces and garden together with fantastic shows and folk performances will bring you back to the old times and witness the bustling society and diverse culture of Kaifeng.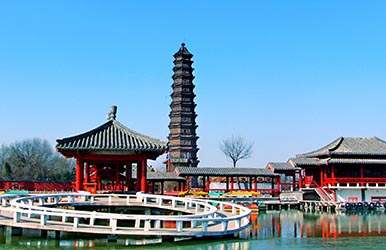 Iron Pagoda Park
Iron Pagoda Park has gained its popularity with the special towering iron pagoda. The pagoda was built in the Northern Song Dynasty with nearly 1,000 years of history. With a height of 55.8 meters of 13 storeys, the tower has brown glazed bricks which look like iron-made. Bet you will marvel at this talented skill, delicate bricks with over 10 types of carvings and graceful Buddha statues inside.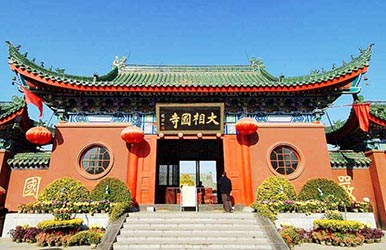 Xiangguo Temple
Xiangguo Temple, or Daxiangguo Temple, built in 555 AD is one the 10 famous Chinese temples in China. Worshiped by the royal family and got many expansion, this temple was the national religious center and the biggest Buddhist temple in China during the Northern Song Dynasty. There are spectacular ancient buildings existed, such as the Buddhist halls, towers, Buddha sculptures, making it a great place to know about the Buddhist culture of ancient China.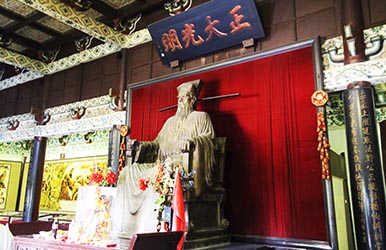 Memorial Temple of Lord Bao
Memorial Temple of Lord Bao first built in Jin Dynasty near 1000 years ago is reconstructed to memorize Bao Zheng, a famous honest and upright official in North Song dynasty. Rare relics of Bao and some wall paintings of the judging scene totally express the power and boldness of Bao and lead visitors know about the story of this great politician.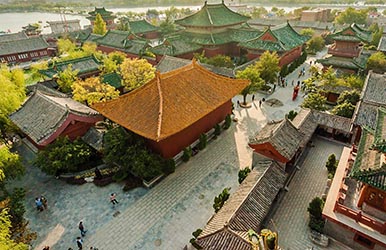 Kaifeng Fu (Kaifeng House)
The house is the ancient government office in Song dynasty and was rebuilt in 1662 during the Kangxi Emperor of Qing Dynasty. Many aspects like emperors, government offices, imperial examinations, etc. show the essence government culture in Song, giving you a chance to know the official buildings and how previous politicians handled routine government affairs.Kaifeng Fu is the ancient government office in Song dynasty and was rebuilt in 1662 during the Kangxi Emperor of Qing Dynasty. Many aspects like emperors, government offices, imperial examinations, etc. show the essence government culture in Song, giving you a chance to know the official buildings and how previous politicians handled routine government affairs.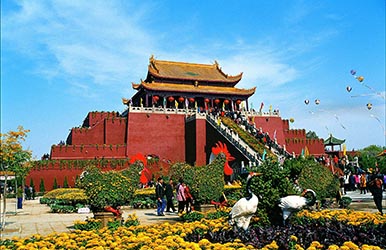 Dragon Pavilion Park
The original Dragon Pavilion Park (Long Ting Park) which served as the royal palace for many dynasties mainly presents many elegant imperial palaces. Now, it has been rebuilt to be a popular tourist park for its beautiful clear wide lake, antique pavilions and the national only one wax work museum of Song dynasty.
Featured Activities to Experience in Kaifeng
Kaifeng is a historic city of rich culture, so you can take your time enjoying all the interesting activities. Check the following information to see the featured activities in this city. To help tourist better understand the history and culture of Kaifeng and enjoy your Kaifeng tour, many folklore performances are held in most attractions. So you can not only enjoy sightseeing of different exquisite architectures, but also can get in-depth acquaintance by your ear, taste buds and sense.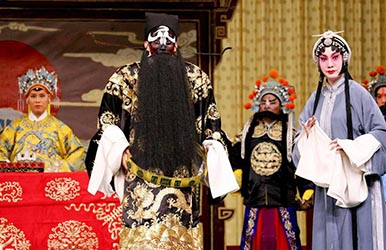 Watch the Yu Opera
Yu Opera, or Henan Opera, is one of China's 5 main operas and is regarded as the "Oriental Aria". It expresses people's emotions and life by vivid performance and clear singing and is welcomed by people of all ages for its humor. You can visit Kaifeng Yu Opera Theater to enjoy the show and learn some traditional stories in ancient China.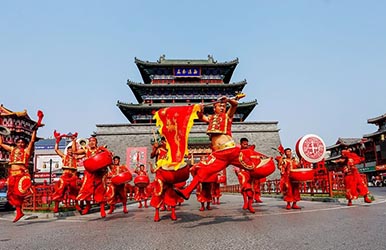 View a Show of Kaifeng Drum
Kaifeng Drum (Pan Drum) is a characteristic traditional folk culture in Kaifeng. In many festivals like the New Year's Day, Chinese Lunar Year Festival, Chrysanthemum Exhibition, etc., drum performance and competition will be held by a group of drummers in main tourist attractions in Kaifeng to celebrate the festival and expressing hope for goodliness.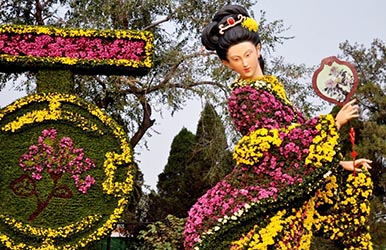 Attend a Chrysanthemum Exhibition
Chrysanthemum is the city flower of Kaifeng, and every year, more than 200 types of different chrysanthemum flowers will be exhibited in Kaifeng, which provides a beautiful sight and a great chance to appreciate the blooming floras. Middle of October to the middle of November is the best time to meet those colorful chrysanthemums.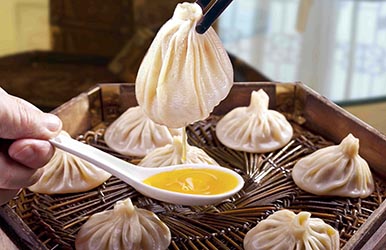 Taste Various Local Snacks
Kaifeng is the birthplace of Henan cuisine and the best site to try some classic dishes and local snacks. After your trip, you can easily find snack streets and local restaurants to eat the local flavor. Stuffed Steam Buns, Bucket Chicken, Clear Soup with Braised Pork Belly (Dongpo Rou) are top recommended for your curious and hungry stomach.
Weather & When to Go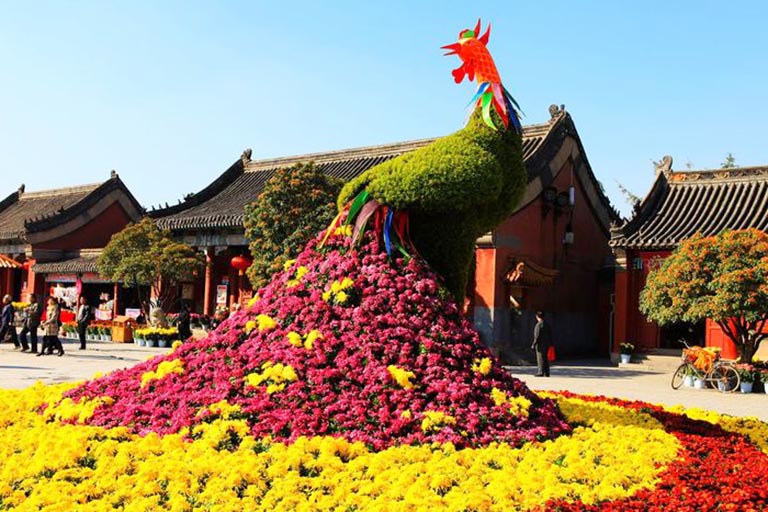 Kaifeng belongs to a temperate continental monsoon climate. It shows clear distinction in all four seasons, and usually it is cold and dry in winter, warm and little rainfall in spring, hot and rainy in summer, and refreshing and a little dry in autumn. The annual average temperature of Kaifeng is about 14.52℃ and it has over 220 frost-free days and almost 630 mm of mean annual precipitation. Summer month, July and August has the most rainfall of a year.
Spring (March to May) and autumn (September to November) are the best seasons to visit Kaifeng, because during the two periods, temperature is moderate, pleasantly comfortable and natural scenery is the best. The annual Kaifeng Chrysanthemum Exhibition Festival is also held between October to November for tourists to see many kinds of chrysanthemums. If you visit in summer, it is recommended to prepare the sun scream, sunglasses and other relative items to protect from the strong UV, and always keep warm if you visit Kaifeng in cold winter.>>Learn More About the Best Time to Visit Kaifeng
Kaifeng Transportation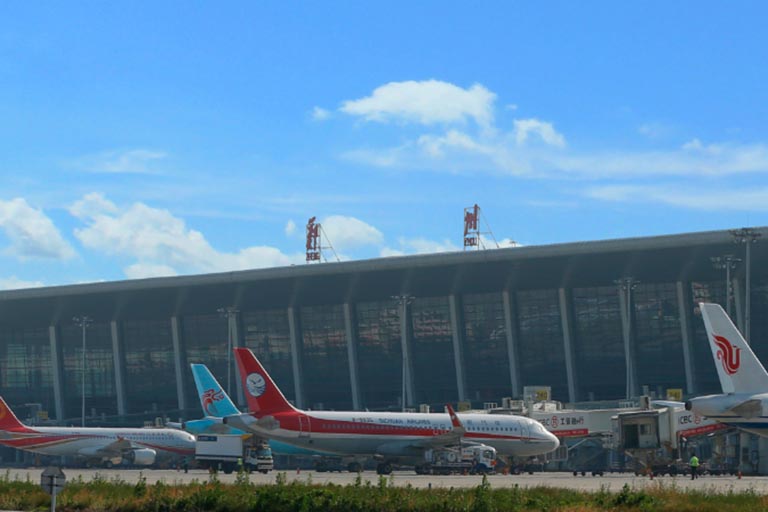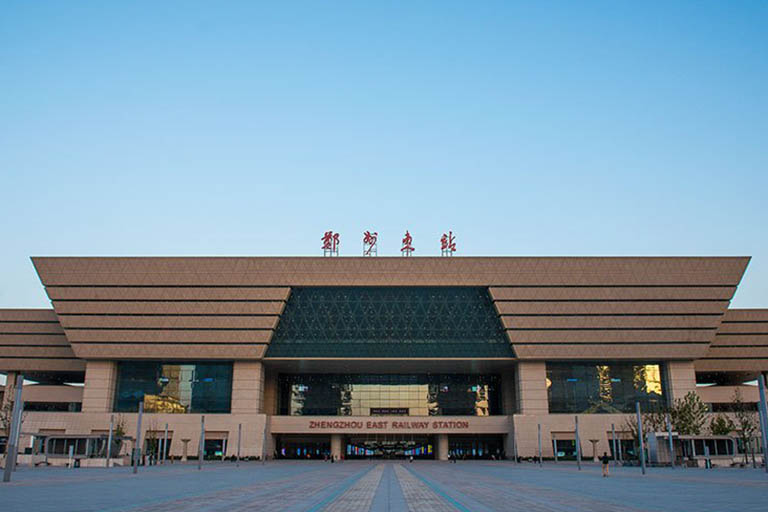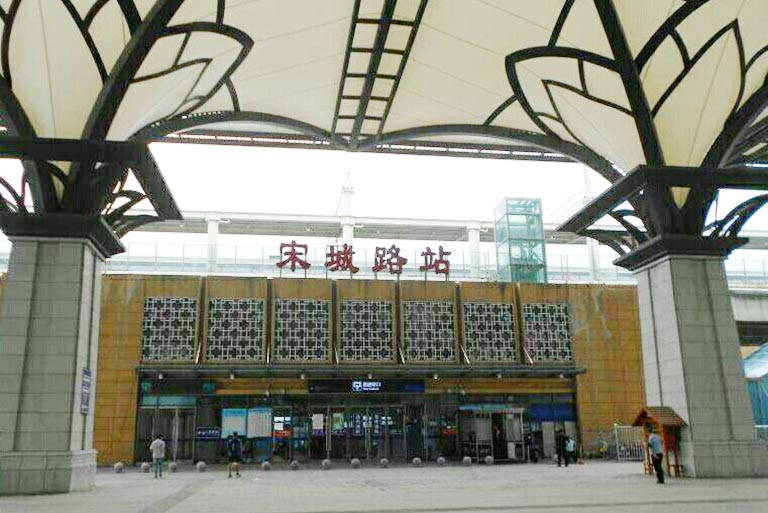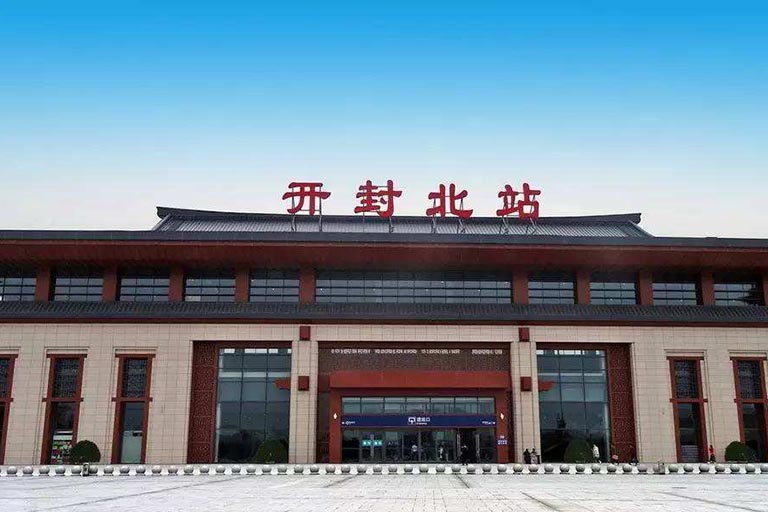 Kaifeng has no airport and most tourists get to Kaifeng from Zhengzhou and other places in Henan Province by bus or train, or by private driving. If you want to take flight to Kaifeng, you're suggested to fly to Zhengzhou Xinzheng International Airport in Zhengzhou first, and then take a bus or fast intercity train (for 1 hour) from the airport to Kaifeng directly.
Tips: Zhengzhou Xinzheng International Airport has over 200 airline routes with more than 110 cities, including Beijing, Shanghai, Guangzhou, Chengdu, Chongqing, Xiamen and many Chinese cities, and Seoul, Cheju, Tokyo, Osaka, Nagoya and Shizuoka, Kuala Lumpur and other overseas cities.
Zhengzhou to Kaifeng
By Train: Zhengzhou East Railway Station and Zhengzhou Railway Station in Zhengzhou runs more than 30 intercity high speed trains to Kaifeng North Railway Station and Songchenglu Railway Station in Kaifeng, with a duration of around 30 minutes. And there are also nearly 30 normal trains departing from Zhengzhou Railway Station to Kaifeng Railway Station. Air travelers can take intercity train from Zhengzhou Airport to Kaifeng Songchenglu Railway Station.
By Bus: Zhengzhou Airport has direct bus to Zhengzhou Kaifeng Bus Center Station from 09:30 to 22:50. Besides, you can take bus to Kaifeng from Zhengzhou Long-distance Bus Center Station (near Zhengzhou Railway Station), Zhengzhou Bus Station (near Zhengzhou East Railway Station) and Zhengzhou North Bus Transport Terminal. The bus ride is around 1.5 hours.
Luoyang to Kaifeng
By Train: Luoyang Longmen Railway Station has nearly 10 high speed trains to Kaifeng every day. It costs around 1 hour to 1hour 20 minutes. Moreover, you can choose from over 10 normal trains from Luoyang Railway Station to Kaifeng Railway Station after 3 hours' journey.
By Bus: Coach from Luoyang Bus Station to Kaifeng Bus Station are arranged daily and needs at least 3 hours
Get to Kaifeng from Other Cities
It's quite easy to take a train from other Chinese cities to Kaifeng, such as Shanghai, Xian, Suzhou, Nanjing, Xiamen, Lanzhou, Huangshan, etc. Getting to Kaifeng by bus from a city in Henan is accessible.
Transportation in Kaifeng City
Kaifeng has not yet built any subways, so public transportation mainly depends on city bus. Taking a taxi is more recommended for it's very convenient to get to major attractions in downtown Kaifeng.
>> Zhengzhou Xinzheng International Airport & Flights
Accommodation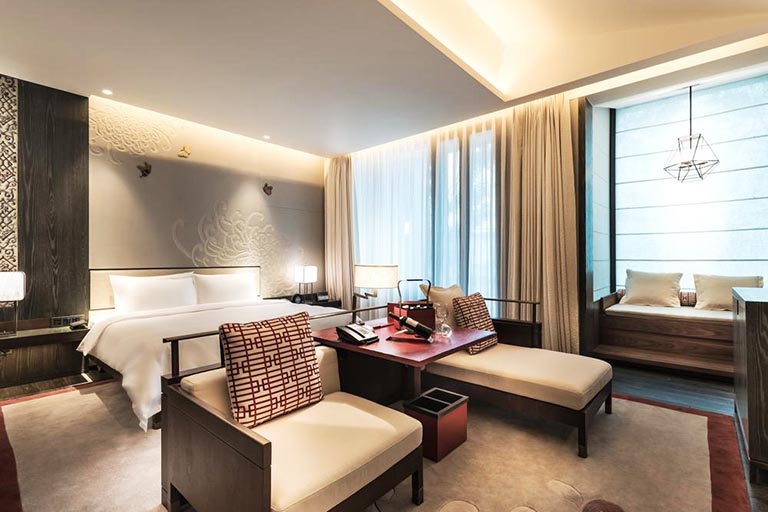 The best and most recommended accommodation area is the Kaifeng city center, which has many choices of good hotels, hostels and inns and close to Millennium City Park and other major attractions. Pullman Kaifeng Jianye andSheraton Kaifeng are the two top luxury 5-star hotels which enjoy good location and provide superb facilities and service wide rooms, nice staff, and confortable environment, etc. In downtown Kaifeng, there are many other star-rated hotels you can book, such as Kaifeng Zhongzhou International Hotel, New Century Grand Hotel Kaifeng, New Dynasty Hotel Kaifeng. Furthermore, you can stay near the railway station or the bus station to catch your early or late train/bus leaving Kaifeng to next destination.>>Learn More about Kaifeng Hotels
Kaifeng City Maps
Here we list some very useful maps about Kaifeng City for your reference. You can feel free to use them to know the attractions, location and traffic for planning your Kaifeng tour. More Kaifeng Maps >>
Other Destinations in Henan Province
After a Kaifeng tour, you can take a fast train to other cities in Henan province, such as Xinxiang (about 2.5 hours), Xuchang (about 2 hours), and Jiaozuo (about 2 hours), etc. and take a bullet train to Zhengzhou (about 40 min) to find more interesting attractions. Discovery now!
Other Popular Destinations in China
China is vast and diverse. You can choose your favorite destinations among more than 70 tourist destination and regions, like Beijing, Shanghai, Xian, Chengdu, etc. Following are 4 popular destinations you may get interested in. Check all destinations in China.
Chinese Name: 开封
Chinese Pinyin: kāi fēng
English IPA: /' kaɪ ' fʌŋ /
Population: 457,490
Language: Mandarin & Kaifeng Dialect
Tel Code: 0371
Zip Code: 475000
Time Zone: (UTC+8)
City Flower: Chrysanthemum
Plan Your Kaifeng City Tour
Tourists usually visit Kaifeng together with Shaolin Temple and Longmen Grottoes in Luoyang and other highlights in Henan for 5 to 6 days, excluding the arrival and departure days. Taking a side trip to Kaifeng of 1 day from Zhengzhou is the most popular itinerary that gives you enough time to visit top landmarks, like the Millennium City Park, Dragon Pavilion Park, Iron Pagoda Temple, Kaifeng Ancient City Wall and other places of interests in Kaifeng. Later, you can return to Zhengzhou, the transport hub in Henan, take 1-day tour for Shaolin Temple in Dengfeng and another day trip in Luoyang. If time allows, you can extend trip further to Yuntai Mountain in Jiaozuo, Yin Ruins of Anyang, Guoliang Village in Xinxiang to discover both natural and cultural splendor of Henan.
China has over 5,000 years of history and massive ancient capitals. For Chinese ancient culture and history lovers, China Discovery is pleased to design special China tour including Kaifeng and Beijing, Xian, Luoyang and other top capital or modern cities to suit your likes and requirements.
Travel with China Discovery
We have helped many global travelers enjoy their memorable wonderful trips to Henan for the past few years. Among them, a couple from the UK traveled with us and spent 21 Happy Days in Luoyang, Dengfeng, Beijing, Xi'an and 5 Other Cities in Northern China, and shared us their special travel story!
Moreover, we got more than 1,580+ good reviews on TripAdvisor.com, and over 3,270+ China travel reviews from our customers. Travel with China Discovery to create your great China trip memories!
Recommended Tours
MORE