How to Get to Ningbo & Get around Ningbo 2023
Ningbo not only carries the nature bestows of Jiangnan water towns, but also has the bright neon brought by the development of the east. For thousands of years, three rivers have flowed here, nourishing generations of "Ala Ningbo People". There are many places to visit here, whether it is the Moon Lake, Tianyi Pavilion in the city, or the Dongqian Lake and "Chiang's hometown" - Xikou Town outside the suburbs, all worth your exploring.
It is convenient to get to Ningbo from many major domestic cities by high speed train or flight. Here we provide you with specific transfer information about Ningbo, including how to get to Ningbo from major gateway cities, such as Shanghai, Hangzhou, Beijing, Guangzhou, etc., as well how to get around Ningbo. Read our ultimate Ningbo transportation guide to find your answers and plan your Ningbo tour in 2023/2024!
Where is Ningbo?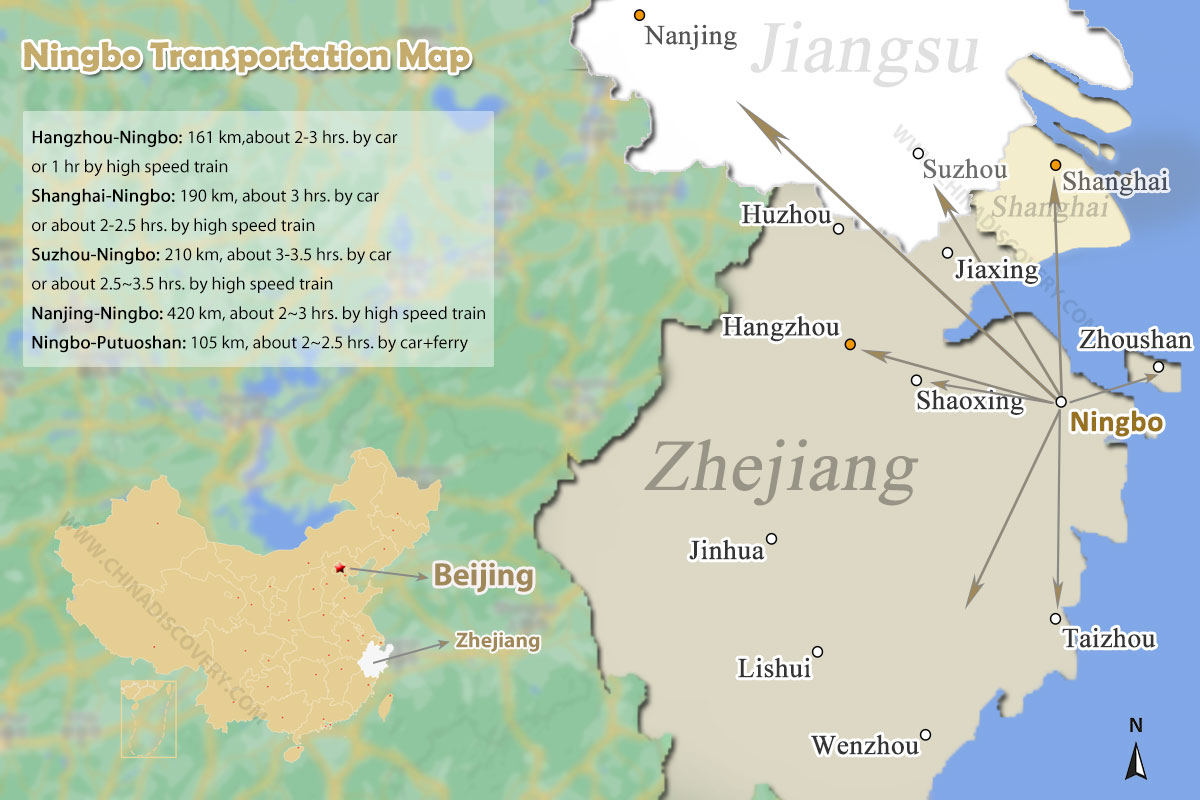 Ningbo Transportation Map
Ningbo is a seaport city in eastern China, the southeast coast, the middle of the mainland coastline, and the south wing of the Yangtze River Delta. To the east, Zhoushan Islands serve as a natural barrier. It is about 178 km east from Hangzhou - the provincial capital city of Zhejiang Province, about 230 km south from Shanghai - one of the best starting places for a China tour, 1360 km south from Beijing, 1350 km northeast from Guangzhou, and 1400 km northeast from Hong Kong.
Click to Jump to:
How to Plan a Ningbo, Zhejiang Tour?
Travel Ningbo with China Discovery
If you want to get rid of hustle of public transportation, best visiting time and other troublesome tour planning, you can take a private tour package which covers sightseeing, night shows and activities, dining and transfer from us. Our local tour guide and driver will escort you to any destinations with speed and convenience, and take care of all the details. You just need to focus on sightseeing.
If you have more questions about Ningbo and Ningbo tours, please feel free to contact us and our professional travel consultants are here ready to help!