Ningbo China Map: Where is Ningbo on a China Map?
Ningbo is a typical water town and seaport city in southern China. It is the southern exit of the Grand Canal and the eastern departure port of the "Maritime Silk Road". Ningbo is located in east China, China's South-East coastal areas, the middle of the continental coastline, and the south wing of the Yangtze River Delta. Ningbo has Zhoushan Islands (where Putuoshan is located) as a natural barrier in the east, Hangzhou Bay in the north, Shaoxing City in the west, Sanmen Bay in the south, and connected with Sanmen and Tiantai in Taizhou. It is only 230km south from Shanghai, one of China's major landed cities and also well-connected by flight and high-speed train with other hot destinations in China, such as Beijing (1360km), Xi'an (1490km), Guangzhou (1350km), Chengdu (2040km), Yunnan (2265-3000km), etc.
The color-coded Ningbo China Map with Ningbo's location in China, nearby province, and the distance between Ningbo and the major cities in China below will give you a clear understanding of where Ningbo is located in China and help you to plan Ningbo tour in 2023/2024.
Click to Enlarge Ningbo China Map
More Ningbo Maps including Ningbo Zhejiang Map, Ningbo Tourist Map, Ningbo Transportation Map, etc. please visit up-to-date map of Ningbo in 2023/2024 >>
How to Plan a Ningbo, Zhejiang Tour?
Things to Do in Ningbo: Tianyi Pavilion, Ningbo Old Bund, Ningbo Museum, Xikou Xuedou Scenic Area, Former Residence of Chiang Kai-shek, Tiantong Temple…
How to Get to Ningbo: International flights from Singapore (6.5 hrs), Tokyo (3 hrs), etc., 2-3 hrs' domestic flights from Guangzhou, Beijing, Chengdu, etc., or high speed trains from Hangzhou (1 hr), Shanghai (2~2.5 hrs), Suzhou (2.5~3.5 hrs), etc.
Best Time to Visit Ningbo: Spring and Autumn
Tourists usually take about 1-2 days to explore Ningbo. The scenic spots in Ningbo downtown are relatively concentrated. You may visit the Tianyi Pavilion, Ningbo Old Bund, Tianyi Square, etc. within 1 day. If you would like to spend more days exploring the suburbs and countryside, you may visit the Former Residence of Chiang Kai-shek and Xuekou Mountain Scenic Area or Tiantong Temple, Asoka Temple and Dongqian Lake.
Ningbo is one of the best transfer places to reach Putuoshan. Most visitors prefer to visit Ningbo and Putuoshan together. It usually takes about 2 days to have a lifetime spiritual pilgrimage in Putuoshan. Then they may extend the "Heaven on Earth" - Hangzhou (2-3 days), the representative Wuzhen Water Town (1-2 days). A classic Zhejiang trip with Hangzhou, Ningbo, Wuzhen and Putuoshan usually takes 6-7 days. Also, you can extend to Anji bamboo forest or Moganshan resort in Huzhou (2-4 days), etc.
☛ 6 Days Zhejiang Highlights Tours from Hangzhou
Besides, compared with just travelling Ningbo, Zhejiang, most visitors prefer to travel to the metropolis Shanghai, Suzhou Gardens, Hangzhou Lakes, Huangshan Mountains more nearby hot cities in One Go! Such an amazing tour will take 7~8 days.
☛ 3 Days Hangzhou & Suzhou Beauty Tour by High Speed Train
☛ 5 Days Shanghai Hangzhou Suzhou Highlights Tour
☛ 5 Days Yellow Mountain Tour from Hangzhou
Have your preferences? Please feel free to tell us your likes and let our professional travel consultants customize a personal tour for you!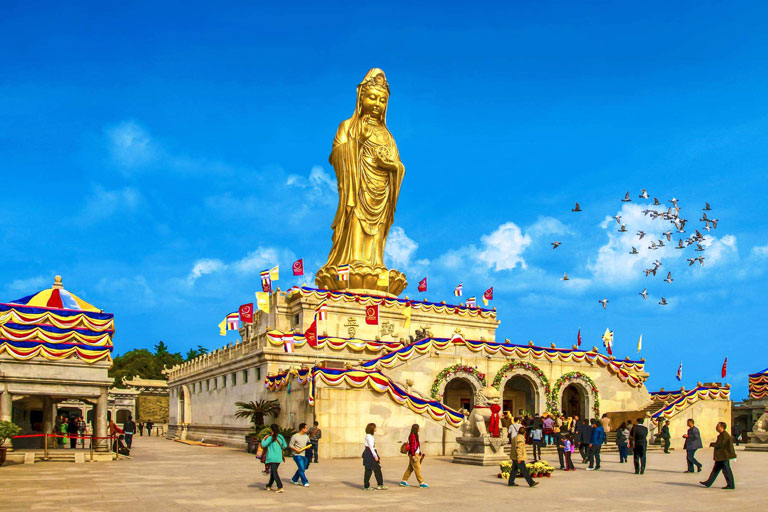 Putuoshan
Our Customers visited Meijia Dock Longjing Tea Plantation, Hangzhou
Travel Ningbo with China Discovery
If you want to get rid of hustle of public transportation, best visiting time and other troublesome tour planning, you can take a private tour package which covers sightseeing, night shows and activities, dining and transfer from us. Our local tour guide and driver will escort you to any destinations with speed and convenience, and take care of all the details. You just need to focus on sightseeing.
If you have more questions about Ningbo and Ningbo tours, please feel free to contact us and our professional travel consultants are here ready to help!
More about Zhejiang Travel Guide
Recommended Ningbo Tours
Top 3 Ningbo tours chosen by most customers to explore Ningbo in the best way. Check the detailed itinerary,or tailor your own trip now with us.
4 Days Hangzhou Putuoshan Brief Tour

Shanghai / Putuoshan / Hangzhou
2 Days Classic Ningbo Tour

Ningbo
6 Days Zhejiang Highlights Tour from Hangzhou

Hangzhou / Wuzhen / Hangzhou / Ningbo / Putuoshan