Brief Introduction of Shaxi Ancient Town
Located roughly halfway between Dali and Lijiang, Shaxi Ancient Town is a famous attraction once played an important role as a bustling trade point on the Tea Horse Caravan Road.
Walking down the streets of Shaxi is indeed like stepping back into history. The 700-year-old theatre(寺登戏台), wonderfully scenic Yujin bridge(玉津桥), 600-year-old Xingjiao Temple (兴教寺), spectacular Ouyang Courtyard (欧阳大院) and vibrant Friday market(星期五市集) make it a perfect fit to meet old China.
Hot Best Shaxi Tour:
>> 4 Days Dali Leisure Vacation for Nature & Culture Savory (in Luxury Boutique Hotel)
>> 6 Days Dali Lijiang Tour with Shaxi Ancient Town
History of Shaxi Ancient Town & Tea Horse Road
Shaxi Ancient Town
In Tang Dynasty around 700 AD, Shaxi was founded as a trading point at the Tea Horse Road. People of the town not only sold a wide variety of homemade items at that time, but also opened their house and offered food to the passing caravans. Due to the prosperity of their business, the families renovated their house. The improving of living conditions then attributed to the flourishing of arts and centuries-old traditions. The meticulously kept houses decorated with family motto plaque and exquisite wooden carving products witnessed the affluence of Old Shaxi and Shaxi people. However, with the decline of the trade along the Tea Horse Road, Shaxi vanished from the sight of public, only the surviving Friday Market continued its vigor.
Tea Horse Road (Tea and Horse Caravan Trail)
Tea Horse Road (茶马古道) earned its name from the large-scale commerce in tea and horse between tea-growing regions of China to places with plenty of horses. Tea was traded to Tibet and India while horses were brought to south of China at that time.
The development of large-scale commerce between the Chinese dynasties and Tibet probably dates to the Song dynasty (960-1279). And during the Qing dynasty (1644-1911), the tea trade between Yunnan, Sichuan and Tibet continued to develop. Today there are still many people come to the Tea and Horse Caravan Road, not for business or trade, but for the culture and spectacular old buildings of the region. Friday market of Shaxi Ancient Town, for instance, has attracted numerous visitors around the world every year.
Things to Do in Shaxi Ancient Town
Stroll at the Main Spot of the Town - Sideng Street (寺登街)
The existing Sideng Street, which was put on the World Monument Watch list of the 100 most endangered sites in 2001, is composed of four parts: old market square theater, Xingjiao Temple, Ouyang Courtyard, and Yujin Bridge.
Among the three parts, the old market square theater (寺登戏台)in the center of Sideng Street. It is a perfect place for vibrant celebration of folk art that displays the culture and tradition of Shaxi.
Xinjiao Temple (兴教寺), built in the Ming Dynasty, is the only Buddhist temple of Bai People. At present it functions as a museum that exhibits how the Shaxi Rehabilitation Project (SRP) has contributed to the renewal of Shaxi.
Ouyang Courtyard (欧阳大院), the original homestead of the rich caravan leaders Ouyang family in times of the Tea Horse Road, is a superb example of three-in-one Bai folk architecture. Its wooden window shutters still open and close smoothly despite a century of use. Carving details throughout the residence remain intact and lovely despite their sometimes faded lacquer. People visiting the house are allowed to take photos of most of the common areas after paid a modest ten yuan fee.
Yujin Bridge (玉津桥) spans opposite the east gate of Shaxi Old Town. The ancient Yujin stone arch bridge built in the Qing Dynasty is about 6 meters high and 35.4 meters long. It is a perfect spot for photographers who want to capture a snapshot of Shaxi. This ancient stone bridge carries Shaxi's history. Its surface is getting bumpy smooth by the touch of countless passing horses and travelers.
Attend & Witness the Vibrant Friday Market (星期五市集)
It is said that the market have been held on Fridays since 1415. Originally the market was a modest one. Locals gathered at the square outside of Xingjiao Temple to peddle homemade items to passing merchants who in turn traded goods from distant cities along the Tea Horse Road. But now it has grown into a massive affair.
Friday must be the highlight of the week in Shaxi valley. Nearby residents in traditionally dressed will gather together along the curbside to offer a wide range of local items. Such as freshly made goats cheese, traditional Chinese medicine, drying tofu, wild mushrooms, etc. It seems there is nothing that isn't for sale on Fridays in Shaxi. Even the hair can be cut and weighed in situ. If you come here on Friday, you should not miss this only surviving market of The Ancient Tea Horse Road.
Shaxi Old Market Square Theater
Shaxi Yujin Bridge
Shaxi Ouyang Courtyard
Accept the Blessing of Shakyamuni Buddha during Taizihui Holiday (太子会)
Taizihui is the biggest traditional folk activity of Yi minorities held every year on the eighth day of the second lunar month. Taizi refers to Shakyamuni Buddha and the holiday held in order to get Taizi's blessing. According to the legend, it is in that day Shakyamuni decided to be a Buddha and began to deliver all living creatures from torment.
Enjoy Dancing around Fires during Torch Festival (火把节)
Torch Festival is a major festival for the Bai and the Yi minorities around Shaxi. It is held every year from the 25th day (24th for Yi minority) of the 6th month on the lunar calendar. It is said that Torch Festival is rooted in the local agrarian culture. Farmers originally took torches into the fields in order to scare away birds and insects that might eat the valuable crops. And it gradually evolved into a grand festival for all general people.
During the festival, Yi and Bai people dressed in traditional costumes dancing and singing around big barn fires go on late in to the night. Large torches even up to 20 meters high.
&nbsp
&nbsp
Shaxi Ancient Town Taizihui
Torch Festival(火把节)
Nearby Attraction - Shibao Mountain (石宝山)
Shibao Mountain is 25 kilometers southwest of the Jianchuan County, and about 20 mins' car ride from Shaxi Ancient Town. It is a famous Danxia landform mountain with famous Temples, Buddhist Grottoes and Golden Monkeys. Shibao Mountain earned its name from its turtleback-shaped cracks, which also look like lion, elephant and bell sometimes.
The Major Scenic Spots of Shibao Mountain
Its scenic spots include three parts: Haiyunju Scenic area, Baoxiang Temple and Shizhongshan. Haiyunju Temple facing the Lijiang Jade Snow Mountain in distance is the first Buddhist temple of Shibao Mountain Scenic Area. Known as the "Hanging Temple in Yunnan", Baoxiang Temple is built on a ledge of a nearly vertical cliff. Shizhongshan Grottoes, built during Nanzhao and Dali Kingdom periods (738 AD-902 AD), is the largest and best preserved grottoes existing in Yunnan. The entrance fee of the mountain is 50 RMB (20 RMB for Shizhongshan Grottoes).
Other Attractive Highlights of Shibao Mountain
Encounter with Golden Monkeys, which are as precious as Panda, will also be a wonderful experience while hiking the mountain.
Shibao Mountain Song Association, the grand traditional ethnic festival featured in singing battle, starts from the 27th day of the seventh lunar month and lasts about 3 days. During the festival, the Bai people wearing national costumes will gather at Shibao Mountain from Jianchuan Eryuan, Lijiang, Dali, Lanpin and other places.
Shibao Mountain Baoxiang Temple
Shibao Mountain Golden Monkeys
How to Get to Shaxi Ancient Town
Shaxi Ancient Town is a small town in Jianchuan County, Dali, Yunnan. It sits between Lijiang and Dali, with a driving distance for about 148km from Dali and 107km from Lijiang. Shaxi cannot be reached by flight or train. Tourists usually get there from Dali or Lijiang by private car or coach.
Dali to Shaxi
Though Shaxi Ancient Town is closer to Lijiang, it is under the jurisdiction of Dali. Driving from Dali to Shaxi takes about 2.5~3 hours. You can also travel by coach. However, the coaches will only take you to Jianchuan County area, from where you need to change to a local minibus to Shaxi. The coach ride from Dali to Jianchuan needs about 2.5~3 hours, and the minibus ride is 1 hour around.
Check more details of How to Get from Dali to Shaxi Ancient Town >>
Lijiang to Shaxi
Shaxi Ancient Town is about 107km southwest of Lijiang. Every day from 8:00am to 17:30pm, there are about 14 long-distance coaches from Lijiang Coach Station (丽江客运站) to Jianchuan County. The coach ride takes about 2~3.5 hours. After arriving at Jianchuan County, you will find local green minibuses on the right side out of Jianchuan Coach Station. Hop on a minibus there, and you will be in Shaxi in about 1 hour.
Shaxi Location Map
Please Note: (1) The above information might be slightly changed according to practical situation, feel free to contact our professional travel expert for the detailed and newest information. (2) Due to the uncertainty and complexity of taking long distance bus, I will recommend our private car service for you, which will be arranged according to your need.
>> Check more about Lijiang Transportation
>> Check more about Dali Transportation
How to Travel Around Shaxi Ancient Town
Walking around Shaxi Ancient Town by foot is always the best way to explore it. Stroll the flagstone-paved Ancient Street and step in and out those old houses there will make you feel that you have gone back in time. If you want to visit Shibao Mountain, you are required to book a private car service or ask the locals for help to get there, because there is no official bus.
Shaxi Ancient Town Accommodations
There are many inns, guesthouses and folk houses of various standards in and around Shaxi Ancient Town. For your ease of reference, below are the recommended inns & guesthouses.
Five-star:
Shaxi Old Theatre Inn (沙溪古戏台会馆): A beautiful restored boutique heritage hotel, housed within an authentically preserved eighteenth-century temple theatre courtyard complex. The local partner, Mr. Wu speaks English, French and Chinese.
Landscape Hotel Shaxi (兰林阁颂曲): The hotel has its own bar, garden and restaurant and features a 24-hour front desk and an ATM for guests. Breakfast is available every morning, and includes continental, American and Asian options.
Four-star:
Dali Shaxi Cato's Inn (大猫驿客栈): Located 30m from the center scenic spot old market square theater, Dali Shaxi Cato's Inn offers numerous leisure options including hiking and cycling. BBQ facilities, Luggage storage, free parking and laundry are also available.
Three-star:
Shaxi Xiaolazhe Yododo Inn (肖拉者游多多客栈): Conveniently located 500m from the Shaxi Old Town Parking lot, this inn offers public balcony to view the mountains. Shower facility, hairdryer, shampoo and body soap are also provided at this inn.
How to Plan Dali Shaxi Lijiang Tour
Shaxi is a small town in Dali. Usually, about half day around is enough to explore its highlights like Sideng Street, Xinjiao Temple, Ouyang Courtyard, Yujin Bridge, etc. However, it usually takes at least 2.5 hours to get there from Dali and another 2.5 hours to come back. Therefore, most of the visitors will make a one-night stay at Shaxi. You are suggested to stay at Shaxi Ancient Town for at least one night too. This authentic old town offers many traditional houses with wooden carving products to see and interesting historic stories to tell. If you happen to visit Shaxi on Friday, you will also be welcomed by a vibrant Friday Market, which is the last traditional market on Tea and Horse Road.
Recommended Dali Shaxi Tour:
>>4 Days Dali Leisure Vacation for Nature & Culture Savory (in Luxury Boutique Hotel)
For Shaxi located almost halfway between Lijiang and Dali, it well-worth to stop over here for one or two leisure days for the visitors who are planning to visit the other two places. And since both Dali and Lijiang have superior transportation conditions, it will be a good option to choose Dali or Lijiang as first destination. However, we will recommend Dali more because Shaxi is a small town of Dali Prefecture. For more information, you can read below tour as reference.
Recommended Dali Shaxi Lijiang Tour:
>>6 Days Dali Lijiang Tour with Shaxi Ancient Town
If you have your own ideas to plan your Shaxi Yunnan tour, please feel free to tell us your likes and our professional travel consultants will help customize a satisfactory tour for you!
Dali Three Pagodas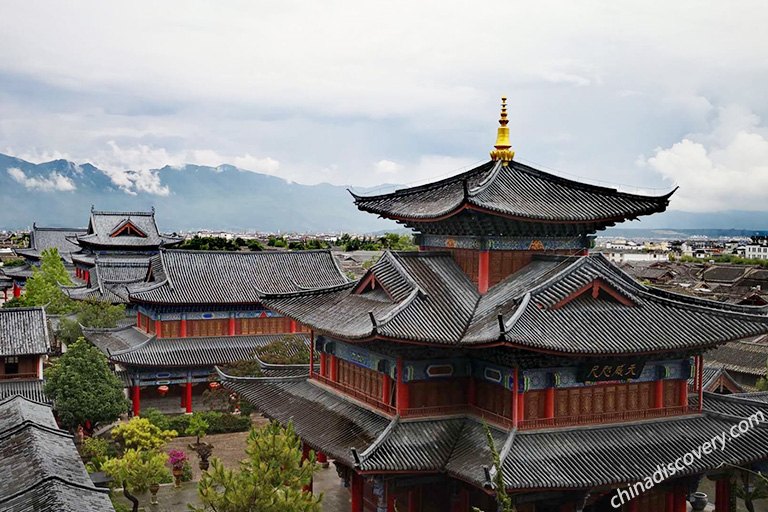 Lijiang Ancient Town
Keep Reading on Dali
Useful Yunnan Travel Articles
Recommended Dali Tours
Top 3 Dali tours chosen by most customers to explore Dali in the best way. Check the detailed itinerary, or tailor your own trip now with us.
6 Days Dali Lijiang Tour with Shaxi Ancient Town

Dali / Shaxi Ancient Town / Lijiang
Kunming / Stone Forest / Yuanyang / Jianshui / Kunming / Dali / Lijiang / Shangri-La
Start planning your tailor-made holiday to China by contacting one of our specialists. Once inquired, you'll get a response within 0.5~23.5 hours.
Customize a Trip
Have a question? Get answers from our travel experts or guests
Your Question:

Your Name:

Your Email: