How to Get to & around Yuanyang
Get to/away Yuanyang
There is no airport or train station at Yuanyang County, you are supposed to get to Kunming first (Kunming airport and train stations are highly developed for you to choose from) and then travel overland to Yuanyang to appreciate the artistic Hani rice terraces and other highlights there. Visitors can get to Yuanyang from Kunming by private cars, trains or buses. (At present, there is no airport and flights serving in Yuanyang County. Yuanyang airport is under construction. By then, flying from Kunming to Yuanyang only needs 1 hour.)
>> Learn More about How to Get to Kunming City, Yunnan
By Private Car - Most Convenient and Recommended Way
Yuanyang Rice Terraces is about 375km from Kunming city center, takes about 4.5 hours by car. There is no railway station or airport in Yuanyang, plus the large covered area and the scattered scenic spots of Yuanyang Rice Terraces, that makes most travelers choose to rent a private car to get there and around.
We China Discovery, with rich experiences in ranging Yunnan tours for our customers, can provide you the best Yuanyang travel experiences. Our professional English-speaking guide and experienced drivers can pick you up anywhere in Kunming at any time you want. Booking a private car service, you don't need to waste your time and energy on planning the trip or waiting and transferring between different vehicles; you will have more time to relax on the car and enjoy the highlights in Yuanyang Rice Terraces. Based on your own preferences, our experienced travel guide will find the best shooting points for you and escort you to the perfect place at the perfect time. The car can also park at any time according to your photography needs. If you need any help, please feel free to contact us and tailor your trip with us.
Recommended Best Yuanyang Tour:
>> 3 Days Yuanyang Rice Terraces & Hani Culture Tour
Yuanyang Transportation Map
Yuanyang Rice Terraces
By Train - a Considerably Comfortable Way for Independent Travelers
To get to Yuanyang by train, you need to transfer from Kunming, via Jianshui or Mengzi on the same railway, and then take a distance bus for arrival. There are 6 bullet trains and 1 normal train from Kunming Railway Station for your choice.
Kunming - Jianshui - Yuanyang
Transferring from Kunming to Jianshui (建水) by bullet train takes about 2 - 2.5 hours and needs about 3.5 hours by normal train, covering a railway distance of about 206 km. Then you need to take the bus from Jianshui Bus Terminal (建水汽车客运站) to Yuanyang for about 3 hours, which departures about every 30 minutes during around 07:15 - 18:40 every day.
>> Kunming to Jianshui real time train schedules, fares etc. 2020
Kunming - Mengzi - Yuanyang
Trains from Kunming to Jianshui will stop in Mengzi (蒙自) after in Jianshui. You could also get off at Mengzi North Railway Station (蒙自火车北站) for about 4.5 hours' train running. Or you can take bullet trains from Kunming Railway Station (昆明站) to Mengzi, which takes less than 3 hours to get there. Then, transfer to Yuanyang Xinjie Town by a distance coach at Mengzi Bus Terminal (蒙自汽车客运站), for 2 - 2.5 hours.
>> Kunming to Mengzi real time train schedules, fares etc. 2020
Kunming-North Mengzi Train
By Bus - a Common Way for Independent Travelers
Bus is the main transportation to get to Yuanyang from Kunming. Here are two ways to get there:
Kunming-Yuanyang Nonstop
There are only 3 nonstop buses from Kunming South Coach Terminal to Yuanyang Xinjie Bus Station (元阳新街客运站) (about 320km), driving about 6.5 hours. The departure time is around 10:20, 12:30, 18:00.
Kunming-Gejiu-Yuanyang
To go from Kunming via Gejiu (个旧) to Yuanyang is the most time-saving way by bus, which takes about only 5 hours in total. First take a coach (around 08:30 - 16:15 every day) to Gejiu Bus Terminal (个旧汽车客运站) from Kunming Eastern Bus Station (昆明东部汽车客运站) (about 300km) within about 4 hours, then transfer to Yuanyang Xinjie Town with another 1 hour's bus riding. As there are buses to Yuanyang (Xinjie town) and Yuanyang Nanshsa Bus Terminal, for your convenient of tourist sightseeing, we advise to book the bus to Yuanyang (Xinjie Town).
Note: Yuanyang Nansha Bus Terminal is at the county downtown, which needs about 1 hour's driving to Yuanyang Xinjie Town (新街镇). And Yuanyang Xinjie Town is closer to the rice terrace scenic spots. If you take a bus to Yuanyang Nansha, it would cost you more time to get to the sightseeing places.
>> Check More about Transportation between Kunming and Yuanyang.
Kunming South Bus Station
Kunming - Gejiu Bus
Get around Yuanyang
From Yuanyang Xinjie Town to major scenic spots like the rice terraces, old town, etc., there is no public bus or taxi. There are only 2 transportation ways for travelers to travel around take a private car or by local chartered minibus. (If you need any help on booking a private car service, please feel free to contact us!)
By Chartered Minibus - for Independent Travelers
The chartered minibus is the only and convenient vehicle to go around to the top attractions in Yuanyang, and that is charged reasonably by person.
From Yuanyang Xinjie Town, you could get to:
(Note: the above information of number of shifts, railway/bus station, time, etc. is only for your reference, since they could be slightly changed according to practical situation. You could contact our professional travel expert for the detailed and newest information of Yuanyang transportation.)
Map of Yuanyang Rice Terraces
Yuanyang Minibus
How to Plan a Yuanyang Yunnan Tour
The weather in Yuanyang changes a lot even during one day. It is better to spend 3 days taking great pictures of Yuanyang Rice Terraces and Hani ethnic villages and their markets, festivals. In the short stays, you won't miss Duoyishu Rice Terraces Sunrise, Bada Rice Terraces Sea of Clouds and Sunset, Laohuzui Rice Terraces Sunset and mushroom-like houses in Jingkou Folk Villages, etc. Attend Hani ethnic market in Shengcun for more understanding about the local Hani people life.
Recommended Yuanyang & Hani Culture Discovery Tour Package:
▶ 3 Days Yuanyang Rice Terraces & Hani Culture Tour
▶ 3 Days Yuanyang Rice Terrace Hiking Tour for Hani Culture Exploration
As a connection between Yuanyang and Kunming, Jianshui is a little town with interesting historical architectures and relics. Travelers can spend 1 to 2 days here exploring Zhu Family's Garden, Confucius Temple and Tuanshan, etc. Then tour around the capital city of Yunnan - Kunming for 1-2 days.
Recommended Yuanyang Kunming Tour Package:
▶ 4 Days Yuanyang Rice Terrace Awesome Photography Tour (Kunming / Yuanyang)
▶ 4 Days Kunming Jianshui Tour by High Speed Train (Kunming / Jianshui)
For visitors who have several days left can continue your trip to other hot spots in Yunnan, such as the capital of ancient Nanzhao Kingdom - Dali city to experience Bai ethical culture and customs. Then reach to Lijiang and appreciate the splendor of holy Jade Dragon Snow Mountain. Take 2-3 days to explore the earthly paradise described in the famous novel Lost Horizon - Shangri-La. For photography lovers, you can also continue your trip to another top photography destination in Yunnan - Dongchuan Red Land, immerse yourself in the most colorful and beautiful land to feel the most harmonious relationship between human and nature.
Recommended Yuanyang Yunnan Tour Package:
▶ 8 Days Dongchuan, Yuanyang & Jianshui Photography Tour (Dongchuan / Kunming / Jianshui / Yuanyang)
▶ 11 Days Amazing Yunnan Tour (Kunming / Yuanyang / Jianshui / Kunming / Dali / Lijiang / Shangri-La)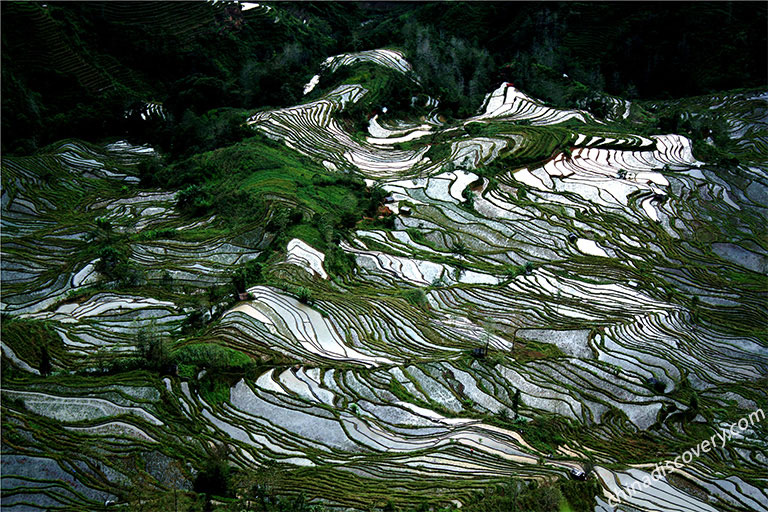 Yuanyang Rice Terraces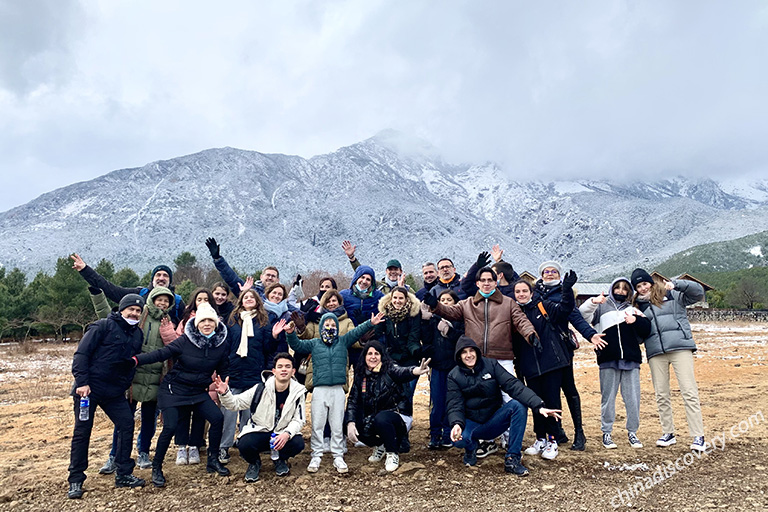 Lijiang in Yunnan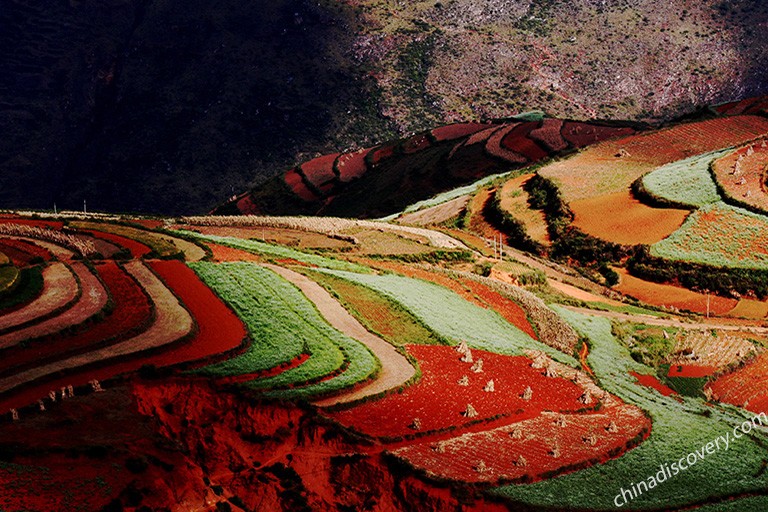 Dongchuan Red Land
Travel Yuanyang with China Discovery
Also, for your worry-free travel to Yuanyang, we offer the local private transfer and guide service. If you need, our local guide and driver would pleasantly pick you up smoothly from the bus station and transfer to the scenic spots with comfortable vehicle and give great introduction of the highlights of the attraction in your Yuanyang Tour. Furthermore, our professional travel expert could help you tailor make the best Yuanyang tour for you as you wish. Please contact us for detailed information.
Keep Reading on Yuanyang
Useful Yunnan Travel Articles
Recommended Yuanyang Tours
Top 3 Yuanyang tours chosen by most customers to explore Yuanyang in the best way. Check the detailed itinerary, or tailor your own trip now with us.
3 Days Yuanyang Rice Terraces & Hani Culture Discovery Tour

Kunming / Yuanyang / Kunming
5 Days Kunming, Jianshui & Yuanyang Rice Terraces Tour

Kunming / Stone Forest / Yuanyang / Jianshui / Kunming
Kunming / Stone Forest / Yuanyang / Jianshui / Kunming / Dali / Lijiang / Shangri-La
Start planning your tailor-made holiday to China by contacting one of our specialists. Once inquired, you'll get a response within 0.5~23.5 hours.
Customize a Trip
Questions & Discussions
Following are latest questions and answers from our webusers and customers. You can learn many useful information from the discussion and cases. You can also join in the discussions or ask your own question. Our experts will help you ASAP.
Yuanyang from Hekou
HI, the above shows how to get from Kunming to YuanYang, if I come from Hekou, can I get to Mengzi by train and then a bus to XinJie ? Or are there other better ways ?
Hello Katie,

Greetings from China! Actually, from Hekou to Yuanyang, you can first take a bullet train or normal K-train from Hekoubei Railway Station to Mengzi and take a bus to Xinjie Town in Yuanyang. The high speed train takes usually 1 hour and 15 minutes while the normal train takes less than 2 hours. Bus from Mengzi to Yuanyang runs usually only once in the afternoon around 15:30 every day and arrives at Xinjie Town at around 18:10.

Besides that, there in fact are a few direct buses from Hekou Bus Station to Yuanyang in the morning at around 06:00 and 09:50 with about 3-4 hours riding. Also, you can directly hire a private car to arrive in Xinjie Town in Yuanyang from Hekou without worries.

However, due to the current Coronavirus disease situation in China, many public transportation vehicles have been stopped, including many trains, buses and flights, and also some tourist spots have been closed for public health. In order to protect you, we suggest you visit after the end of the disease fighting. And on the occasion, if you need the private car service or more help about Yunnan trip planning, we are always here to help you!

Wish you a great day and good health!
Bus from yuanjiang to xinjie
Is there a bus from yuanjiang to yuanyang xinjie or nansha?
Hi Corregan,

Thanks for your question. The distance between Yuanjiang (元江) and Yuanyang (元阳) is about 120 kilometers. But, there is no direct bus from Yuanjiang to Yuanyang. Instead, you can first take a bus to Honghe (红河) and then transfer from Honghe to Yuanyang.
1) Yuanjiang to Honghe: You can take bus from Yuanjiang Bus Station at 8:00 10:00 11:00 12:00 14:00 and reach Honghe Bus Station.
2) Honghe to Yuanyang: Many buses are running from Honghe Bus Station, and you can take at 7:20 7:40 8:10 8:50 9:10 9:20 10:00 11:00 12:00 12:30 12:40 14:00 14:30 15:40. The ticket price is cheap which costs around ¥17.

The time and price may adjust slightly based on the real situation. Please understand. Wish you a nice trip to Yuanyang Rice Terrace.
Bus schedule from Yuanyang to Jinghong
I am planning my trip. Kunming-Yuanyang-Jinghong and would like to know bus schedules.
I have read that there is a direct bus from Yuanyang to Jinghong. I would like to know this bus schedule and price.
And if possible please give me bus schedule , Yuanyang-Jianshui. Thank you very much.
Dear Beewinny,
Warm greetings from China Discovery. Thanks for your questions. I have checked the official website for the Kunming-Yuanyang-Jinghong schedules and prices.

1. Kunming-Yuanyang Bus: The distance between Kunming and Yuanyang is 270km which takes about 6~7 hours for driving. There are three long distance buses running at 10:20, 19:30 and 20:00 from Kunming South Bus Station to Yuanyang. The price is around 132RMB.

2. Yuanyang-Jinghong Bus: At present, no bus runs from Yuanyang to Jinghong yet. But, you can travel from Jianshui to Jinghong by coach which there are two from Jianshui Long Distance Bus Station to Jinghong at 13:30, 16:30, taking 12-13 hours. The price is about 144RMB.

3. Yuanyang-Jianshui Bus: The distance between Yuanyang and Jianshui is 80km, taking about 2.5 hours for driving. Buses are a lot running during 07:10~18:40 from Yuanyang Xinjie Bus Station to Jianshui and the price is around 32RMB.

Please pay attention that the bus schedules may adjust according to the real situation, season and road condition, etc. The Prices above are for reference which may do some slightly change. Please understand!

If you want private tour to travel in Yunnan or have more questions, please let us know and we are here glad to help. Have a good time.
Private transportation
Is it possibile to arrange a car from the Kunming airport to Yungyang, we arrive on 15 august at 21pm.
How to get from Yuanyang to Duoyishu
Is there public transport from Yuanyang to Duoyishu. When are the departures
from Yuanyang to Duoyishu village?
Hello Stan,

Thanks for your question. If you travel from Kunming to Yuanyang, you may arrive at Yuanyang Nansha Bus Station (located in new town) or Yuanyang Xinjie Bus Station (located in old town). Local mini buses are available from Nansha Bus Station to Yuanyang Xinjie Town. And Yuanyang Xinjie Bus Station has mini buses running to Duoyishu Village every hour.

If you want to enjoy worry free transfer, you can hire a local car/van to travel directly from the bus station to Duoyishu and other villages to view the amazing rice terraces. The price should discuss with the driver. For more questions, please feel free to contact us.

Wish you have a wonderful time in Yuanyang!
Have a question? Get answers from our travel experts or guests
Your Question:

Your Name:

Your Email: