The Mystery of Kumtag Desert
In Uighur, Kum means sand and Tagh means mountain, so Kumtag Desert is also called Sand Mountain Desert. The whole scenic area of Kumtag desert is about 62 kilometers long from east to west and 40 kilometers wide from south to north. It was first formed in the Han Dynasty (202 BD ~ 220 AD). Being only about 2 kilometers away from Shanshan County, it is the only desert in the world connected with the city. This desert condenses most features of the desert landscape and is honored as the Desert Museum. Most importantly, it is a happy garden where the desert and people harmoniously exist. For thousands of years, the desert has never invaded the city and added a great view.
But how Kumtag Desert formed why Kumtag Desert and city could coexist? Because of its special location where the southwest wind from Qijiaojin in the south range of Tianshan Mountain meets and offsets the southwest wind passing through the Dabacheng. The sand and gravel carried by the two winds are deposited here, forming the unique scenery of the "desert with sandy mountains" in the Kumtag Desert.
What to See in Kumtag Desert
Wonderful Desert Landscape
The natural scenery is the main highlight of Kumtag Desert. Due to its geographical location, it is affected by the surrounding terrain and local air currents, forming a rich type of aeolian landform landscape. Unlike Mingshan Mountain which is quite plain, Kumtag Desert has many undulating sand dunes with clear outlines distinct layers, and sand mounds with smooth ranges. There are grid-shaped sand dunes, crescent-shaped sand dunes, honeycomb sand dunes, pyramid-shaped sand dunes, star-shaped sand dunes, and linear sand dunes as well. Besides, there are also unique feather-like dunes. The desert view becomes more alluring when the night falls. The sun hangs in the balance between daylight and darkness, and this balance makes the colors of the desert more striking. Remember to wait for the sunset and take a breathtaking shoot of Kumtag Desert.
Combination of Desert and City Views
The desert with ever-changing colors is enough to delight your eyes, but Kumtag Desert offers more than that. In Kumtage Desert, you will enjoy the beautiful city view from the desert as well. Climbing or taking a car to the sand hill, you will immerse yourself in the unbelievable scenery. Facing north allows you to enjoy a far-reaching view of the majestic desert ocean with rolling waves. And turning south, you can see the city of Shanshan County with the lush, graceful and charming green oasis. There is no transition between yellow and green, but the two colors form a sharp contrast. On the old city gates of Shanshan County, you will see the spectacular expanse of the sands of Kumtag Desert as well. The local people live in Shanshan harmoniously and peacefully. The desert does not affect their life and brings them happiness instead.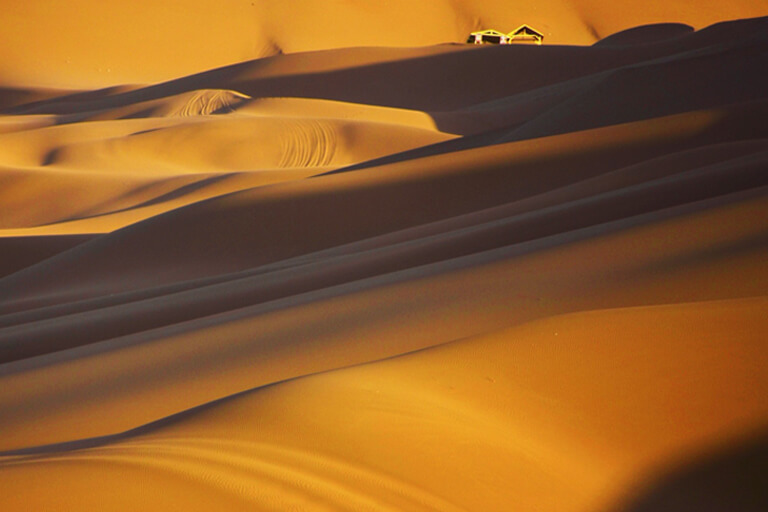 Beautiful Desert View
View City and Desert at the Same Time
What to Do in Kumtag Desert
Photograph in Kumtag Desert
Without any doubt, everyone wants to record the beautiful scenery and happy time in Kumtag whether you are a photographer or not. In Kumtag Desert, you are able to create dramatic images using any lens easily. The colorful desert, the city view, the camels, the jeeps and the people are all good objects to shoot. The awe-inspiring dunes are usually what first wow us when we look at the picture. Don't hesitate to wait for the right light to capture the best colors. Taking pictures of the walking camels, some footprints in the sand is also recommended, and this can avoid your images looking too similar. Please take extra care of your cameras in the desert because the sand can be destructive to cameras.
Join in Amazing Desert Activities
Taking part in some desert activities in Kumtag is a must if you want more desert fun. There are many places to enjoy various activities, and the most recommended ones are:
Desert Safari: Desert Safari is a popular way to experience the desert. As the experienced driver maneuvers over the sand dunes at a high speed, you will feel extremely excited.
Sand Surfing: The various sandy dunes are the amazing waves to surf on your sand board. For adrenaline-seekers, just climb to a higher sand dune and then glide down.
Desert Spa: It is said that sand bath is good for muscles, aching limbs and some skin diseases. Some travelers dig up holes in the desert dunes and lie in there for 30 minutes. It is not conformed to be effective but a desert spa is an interesting way to experience the desert.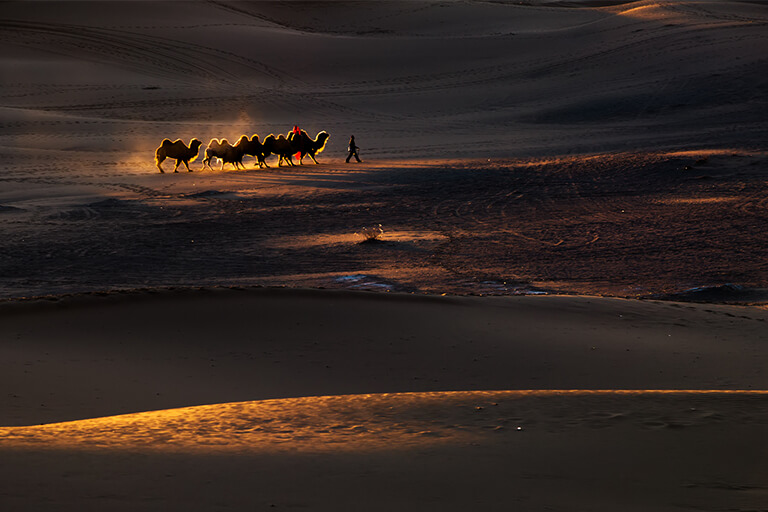 Kumtag Desert Sunset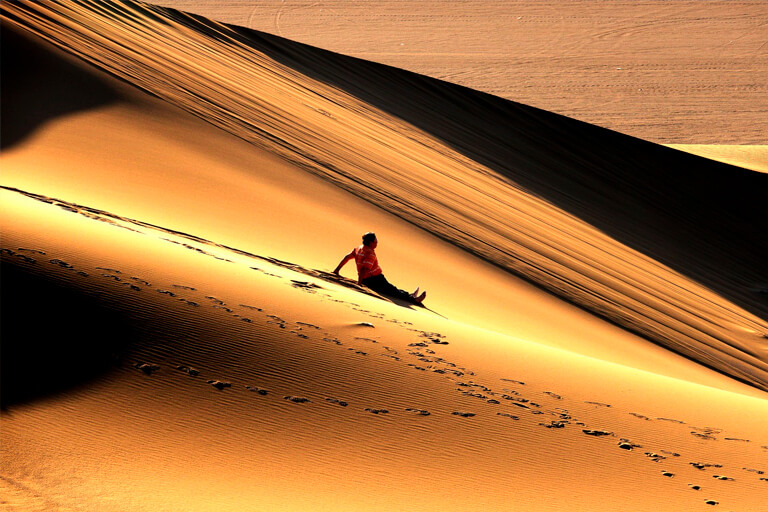 Desert Sliding Experience
Kumtag Desert Location and Transportation
Where is Kumtage Desert
Kumtage Desert is located in the junction of the southeastern part of Xinjiang and the western part of Gansu, bordering Dunhuang Mingshan Mountain in the east, Lop Nor in the west, Altun Mountains in the south and Aqik Valley-Dunhuang Yadan Geopark Route in the north. The main scenic area is at the southern end of Shanshan old city in Xinjiang.
90 km (56 miles) away from Turpan City, about 1.5 hours' drive
280 km (174 miles) away from Urumqi City, about 3 hours 40 minutes' drive;
33 km, 40 minutes' drive from Karez System;
730 km (454 miles) away from Dunhuang City, about 9.5 hours' drive
How to Get to Kumtag Desert
Most travelers start a Kumtag Desert from Turpan, and some also get to Kumtag Desert from Urumqi and Dunhuang.
Turpan to Kumtag Desert
There are about 20 trains running from Turpan to Shanshan, including about 5 high speed trains. All the trains depart from Turpan North Railway Station and arrive at Shanshan North Railway Station. A high speed train can take you from Turpan to Shanshan within 30 minutes while a normal train trip needs 40 minutes to 1 hour 16 minutes usually. As you get to Shanshan North Railway Station, you can easily take a bus or call a taxi to the entrance of Kumtag Desert Scenic Area.
Urumqi to Kumtag Desert
There are over 20 trains from Urumqi to Shanshan County, including about 5 high speed trains (about 1.5 hours) and over 15 normal trains (2 ~ 3.5 hours). Taking a high speed train, you can easily get to Shanshan North Railway Station from Urumqi Railway Station.
Dunhuang to Kumtag Desert
There is no direct train running from Dunhuang City to Kumtag Desert. You need to transfer to Liuyuan (210 km, about 2 hours 15 minutes' drive from Dunhuang City) first. Both Liuyuan South Railway Station and Liuyuan Railway Station operate high speed D-trains to Turpan North Railway Station and the whole train trip cost about 3.5 hours.
Inner Transportation in Kumtag Desert
The desert is very big and walking in the desert for quite a long time will be quite physically demanding. We suggest you take a sightseeing car in order to get a better trip. There are two cars running in different routes available and both of them will take into the depth desert. No. 1 sightseeing car takes CNY30 per person and No. 2 sightseeing car takes CNY 35.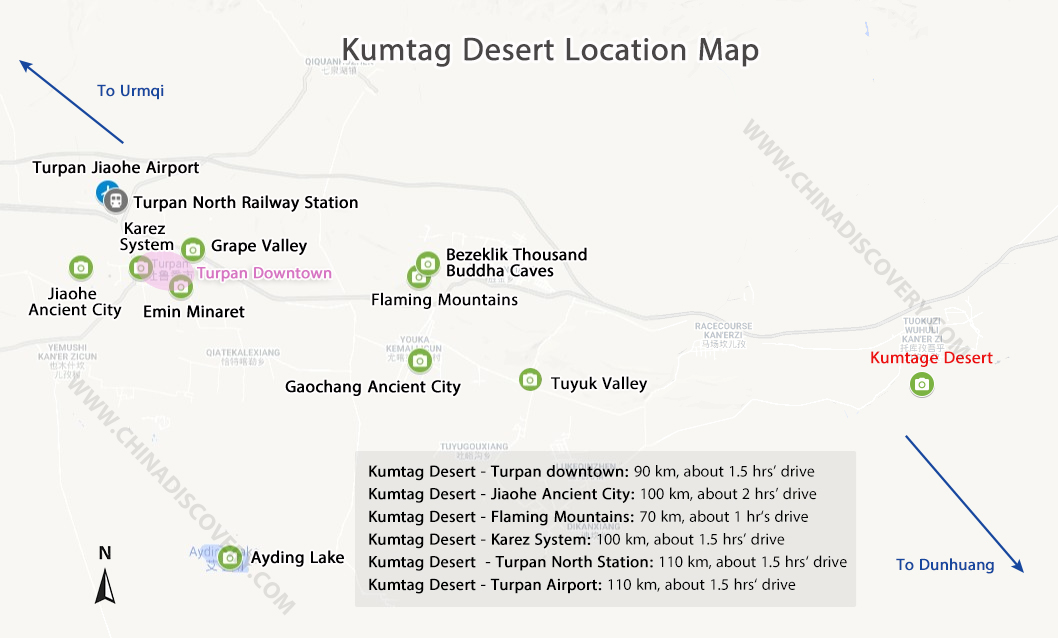 Click to enlarge Kumtag Desert Location Map
Click to enlarge Turpan Location Map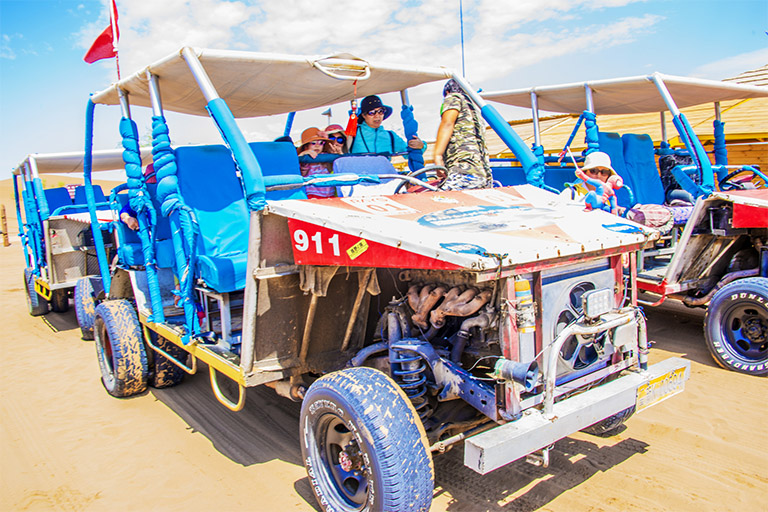 Sightseeing Car in Kumtag Desert
Best Time to Visit Kumtag
Located in Turpan – the hottest city of China, Kumtag Desert enjoys a typical warm temperate continental arid desert climate with abundant sunshine and little rainfall. The best time to visit Kumtag Desert is April to June and September and October. It is quite hot in July to August and quite cold in November to March. If you plan a Kumtag Desert in hot months, remember enter the desert in the early morning or in the late afternoon when it will be cooler. It is important to bring enough water and use a hat, sunglasses, scarf, etc. to protect you from the strong sunlight. If you visit in winter, water-proof boots are recommended because the sand might be wet in the thick mist.
Helpful Link: Turpan Weather & Seasons
Beautiful Kumtag Desert in Early Summer
Where to Stay in Kumtag Desert
There are several good hotels in Shanshan County providing travelers a comfortable stay. The most recommended are:
Shande Ruoshui Hotel (纳德弱水酒店) ★★★★
Address: No.555 Xingfu Road, Shanshan County, Turpan City (吐鲁番市鄯善县幸福路555号)
Nade Ruoshui Hotel is another 4-star hotel located in the downtown of Shanshan County. It features typical Hui-style white-walled and gray-title architecture. The exquisite courtyard offers a pleasant environment with green trees, fragrant flowers and singing birds. There are various kinds of rooms to meet different visitors' needs, including well-decorated family rooms. The breakfast is great as well.
Shanshan Wanzhou Loulan Hotel (鄯善万洲楼兰大酒店) ★★★★
Address: No.1288 Liuzhong Road, Shanshan County, Turpan City (吐鲁番市鄯善县柳中路1288号)
Shanshan Wanzhou Loulan Hotel is a 4-star hotel equipped with guest rooms, restaurants, conference reception, KTV, etc. There are 25 floors in the building and the 24th floor holds a 360° platform where you can get a wonderful view of Shanshan and Kumtag Desert. You can also book a Desert-view Room from which you can just catch a wonderful vista of Kumtag Desert easily. Both western and Chinese breakfast are available.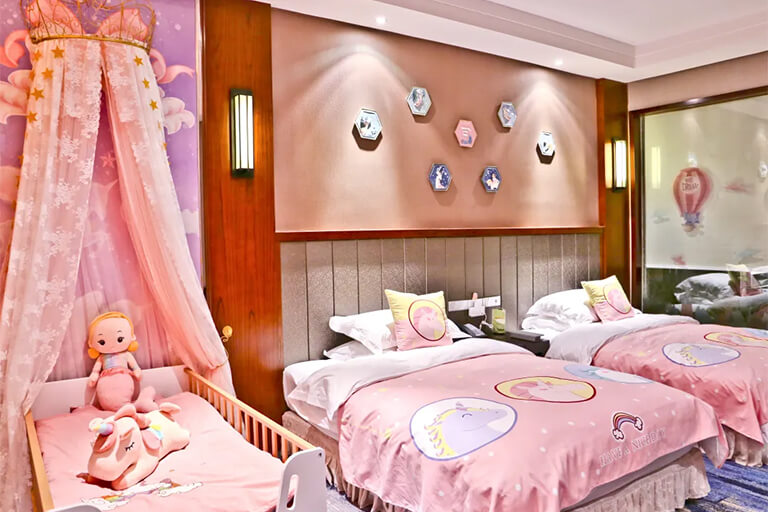 Family Room in Shande Ruoshui Hotel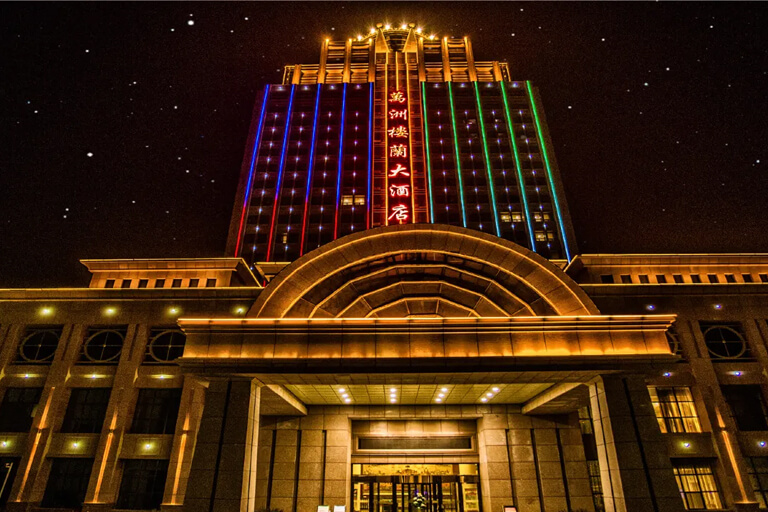 Shanshan Wanzhou Loulan Hotel
Travel with China Discovery - Worry-Free Transfer
Want to enjoy a worry-free Turpan tour? Just travel with China Discovery! China Discovery is a leading travel agency offering private China tour packages with great flexibility, comfort and personalized services for decades. We have got 1,460+ good reviews on TripAdvisor.com, and 4,050+ China travel reviews from the customers. Before your travel, our experienced travel expert will communicate with you one-to-one and organize everything (accommodation, transfer, itinerary…) well. In your trip, our local travel guide will accompany you all the way and introduce the highlights of every place to you. A private transfer service allows you to enjoy a comfortable and safe trip. All the experience can be tailor-made according to your group size, travel time, physical condition, personal interest, travel budget and other needs. >>Contact us now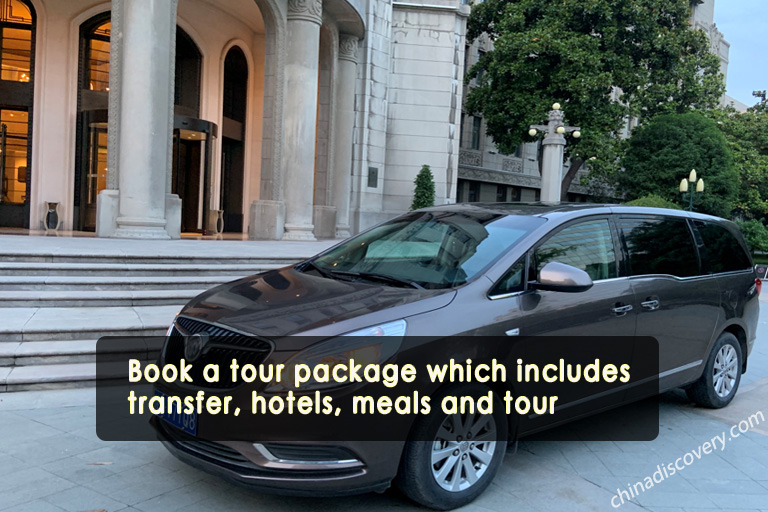 China Discovery Private Transfer
How to Plan A Turpan Tour
How to Get to Turpan: There are high speed trains to Turpan from Xian (about 12.5h), Lanzhou (about 9.5h), Xining (about 8h), Zhangye (about 6.5h), Jiayuguan (about 5h), Dunhuang (about 3.5h), etc. and flights from Urumqi (1h), Beijing (5.5h), Lanzhou (2.5h), Changsha (4.5h), Korla (1h), Burqin (1h15min), etc. Many travelers also travel to Urumqi by flight first and then transfer to Turpan.
Best Time to Visit Turpan: May to October is the best time to visit Turpan. It is cold in late autumn and winter (November ~ next February) and rather windy in early and mid-spring (March and April). The temperature is high in summer, but you will get a lot of sweet fruits.
Generally, a classic Turpan tour takes 2 ~ 3 days. If your time is limited, you can focus on the essence of Turpan City. We suggest you spend 1 day touring the highlights of Turpan City, such as Karez System - a magic project bringing out underground water to this barren land, Turpan Museum where lots of historical exhibits including mummies are collected and Jiaohe Ancient City - the world's largest and oldest city ruins, and another day exploring its attractive surroundings, including Bezeklik Thousand Buddha Cave with exquisite murals & profound Buddhist culture, Flaming Mountain Grand Canyon with breathtaking landform, and peaceful Mazar Village (in Tuyuk Valley) where people still live traditionally. If you have one more day, don't miss Kumtag Desert, a beautiful desert offering amazing desert landscape and many interesting activities (like jeep safari, desert hiking, desert surfing, etc.).
☛ 2 Days Turpan Essence Tour from Urumqi
Of course, it's far from enough if you just visit Turpan. Travelers always travel Turpan with Urumqi - the tourist center in northern Xinjiang together. It needs about 1~2 days to visit landmarks of Urumqi City, like Xinjiang Regional Museum, Red Hill Park and Erdaoqiao Grand Bazzar. Heavenly Lake, only 70 km away from Urumqi downtown is a must. If you are interested in Muslim culture and Silk Road culture, don't hesitate to go to Kashgar, one of Xinjiang's golden triangle tourist cities together with Turpan and Urumqi. In Kashgar, there is time-honored Kashgar Old City, yellow-tiled Id Kah Mosque, busy Grand Sunday Bazaar, etc.
☛ 5 Days Urumqi Discovery to Turpan and Heavenly Lake
☛ 6 Days Urumqi and Turpan Highlights Tour
☛ 8 Days Xinjiang Classic Tour (Urumqi - Turpan - Kashgar)
If your time allows, traveling along China's Silk Road is strongly recommended. You can trace the footprints of ancient travelers from Xian - China's old capital city of 13 dynasties, to Qinghai (Xining, Qinghai Lake), Gansu (Zhangye, Jiayuguan, Dunhuang) and Xinjiang (Urumqi, Turpan, Kashgar). An in-depth Silk Road tour can be 2 weeks long, but you can spend a shorter time admiring the essence at your own pace.
☛ 10 Days Classic Silk Road Tour (Xian - Dunhuang - Turpan - Kashgar)
☛ 11 Days In-depth Wild Silk Road Adventure Tour (Lanzhou - Zhangye - Jiayuguan - Dunhuang - Urumqi - Kasgar)
☛ 12 Days Silk Road Tour from Beijing (Beijing - Xian - Dunhuang - Turpan - Urumqi)
Mazar Village in Tuyuk Valley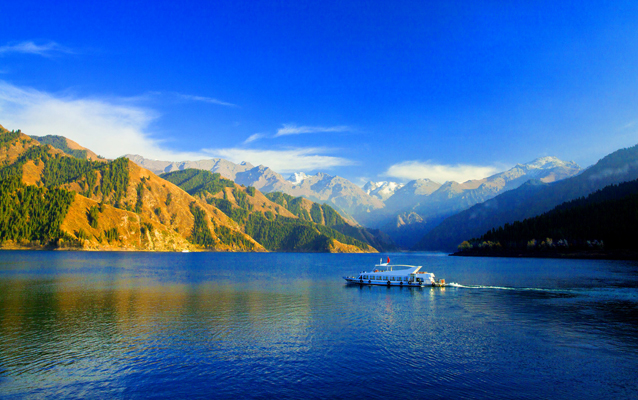 Heavenly Lake of Tianshan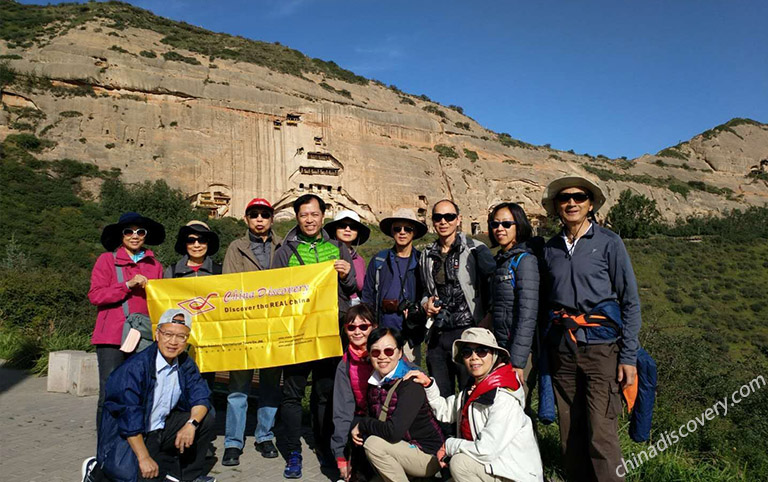 Mrs. Chan's group from Canada visited Matisi Temple along the Silk Road
Keep Reading About Turpan
Keep Reading About Xinjiang Tours & Travel Guide
Recommended Turpan Tours
Top 3 Turpan tours chosen by most customers to explore Turpan in the best way. Check the detailed itinerary, or tailor your own trip now with us.
3 Days Turpan Highlights Tour with Kumtag Desert

Turpan - Shanshan
8 Days Classic Xinjiang Tour including Urumqi Turpan Kashgar Tashkurgan

Urumqi - Turpan - Kashgar - Tashkurgan
7 Days Urumqi Turpan Highlights Tour with Kumtag Desert Adventure

Urumqi / Turpan / Kumtag Desert / Urumqi
Start planning your tailor-made holiday to China by contacting one of our specialists. Once inquired, you'll get a response within 0.5~23.5 hours.
Customize a Trip
Have a question? Get answers from our travel experts or guests
Your Question:

Your Name:

Your Email: