Turpan is a prefecture level city in the central part of Xinjiang Uygur Autonomous Region. It is a place integrating the ancient civilization and modern civilization, connecting western and eastern cultures and religions, as well as a city with abundant Silk Road legacies. Both flights and trains are available to Turpan and it is only 1 hour's high speed train from Urumqi (capital of Xinjiang). It will be an unforgettable trip no matter you visit Turpan alone or along with other cities in Xinjiang, such as Urumqi and Kashgar.
Why Visit Turpan:
Long History & Profound Culture - Human activities can be found in Turpan as early as 6000 or 7000 years ago. It is also an important city on the ancient Silk Road. In the process of thousands of years, Turpan has gone through many ups and downs and left us many historical and cultural sites such as Jiaohe Ancient City, Bezeklik Caves and Gaochang Ancient City.
Amazing Natural Landscape - Due to its location and climate, Turpan has formed spectacle landscape such as the Flaming Mountain Grand Canyon - deep canyons with fiery-red mountain surface, and the endless Kumtag Desert.  
Juicy Fruits in Summer - The fruits, especially the grapes, have become a namecard of Turpan, which makes summer Turpan's most popular travel season. Turpan Grape Festival is held in August every year. At that time, you can taste all kinds of grapes as well as other fruits such as watermelon. All of them are juicy and delicious.
Diverse Minority Folk Customs - Turpan is home to about 27 peoples including Uygur, Han, Hui, Kazak, Mongolian, Manchu, Uzbek, Tajik, Buyi... Over 70% of the population are Uygur people. Therefore, traveling in Turpan will offer you quite a different experience.
...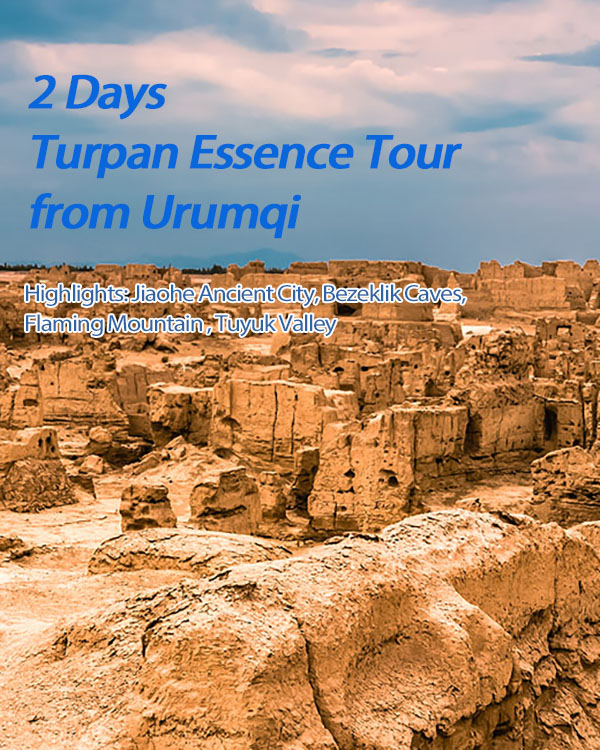 Turpan Attractions & Things to Do
Turpan is a place where you can get both natural and cultural explorations. Jiaohe Ancient City is a must to know the mysterious Cheshi people in ancient times, Flaming Mountain shows you amazing mountain landscape and Karez System offers you an interesting experience to find out how this water system works. Check the best must-visits to plan your Turpan itinerary.
Turpan Weather & Temperature - Best Time to Go
Turpan Transportation
Turpan Accommodation: Where to Stay
Useful Turpan Travel Maps
Here we provide some travel maps of Turpan to help you know its location, transportation and major attractions.
Other Popular Destinations in Xinjiang
Xinjiang is a vast land not only creates tremendous natural wodners like crystal blue Tianchi Lake, beautiful Kanas, majestic mountains, and vast grasslands, but also presents unique culture of diverse ethnic minorities and profound history of the ancient Silk Road. Besides Turpan, the following are more destinations you can choose for an in-depth exploration of the natural and cultural sepctacles of Xinjiang.
Other Popular Destinations in Western China
Though far away from the eastern and central developed cities, northwestern China is a beloved dream land for tourists to trace back to the ancient Silk Road and discover less-touristy landscape and experience the diverse minority culture. As one of the birthplace of many ancient Chinese civilizations, you can also find time-honored relics in this region. Here are four best places selected for you to enjoy the stunning plateau scenery, vast deserts and glorious culture and history, make a special, meaningful and memorable adventure. You can easily travel to these charming places from Turpan. (Check all destinations in China.)
Plan your Xinjiang Turpan Tour
Generally, a classic Turpan tour takes 2 ~ 3 days. If your time is limited, you can focus on the essence of Turpan City such as Karez System - a magic project bringing out underground water to this barren land, Turpan Museum where lots of historical exhibits including mummies are collected and Jiaohe Ancient City - the world's largest and oldest city ruins. Then you can spend another day exploring its attractive surroundings, including Bezeklik Thousand Buddha Caves with exquisite murals & profound Buddhist culture, Flaming Mountain Grand Canyon with breathtaking landform, and peaceful Mazar Village (in Tuyuk Valley) where people still live traditionally. If you have one more day, don't miss Kumtag Desert, a beautiful desert offering amazing desert landscape and many interesting activities.
Travelers always travel Turpan with Urumqi - the tourist center in northern Xinjiang together. It needs about 1~2 days to visit landmarks of Urumqi City, like Xinjiang Regional Museum, Red Hill Park and Erdaoqiao Grand Bazzar. Heavenly Lake, only 70 km away from Urumqi downtown is a must. If you are interested in Muslim culture and Silk Road culture, don't hesitate to go to Kashgar, one of Xinjiang's golden triangle tourist cities together with Turpan and Urumqi. In Kashgar, there is time-honored Kashgar Old City, yellow-tiled Id Kah Mosque, busy Grand Sunday Bazaar, etc.
The following are our most popular Turpan tours covering the best highlights, you can choose from a favorite one according to your schedule and interest or contact us to customize a special one on your own.
Recommended Tours
MORE