Value of Bezeklik Caves
Bezeklik Thousand Buddha Caves (柏孜克里克千佛洞), or Bezeklik Caves in short, is located on the cliff on the west bank of Mutougou, on the Flaming Mountain in the east of Turpan, Xinjiang. "Bezeklik" means "hillside" in Uighur and "decorative painting" in Turkic. There are originally 83 caves, 57 of which are still in existence. Among them, more than 40 have ancient murals covering a total area of 1200 square meters. Among the existing grottoes in Turpan, Bezeklik Caves has the most caves and the most abundant murals. It is one of the largest Buddhist grotto sites in Xinjiang and is also the one with the highest standard, which was once the royal temple of Huihu Kingdom (A.D. 848 - early 13th century) in Gaochang. In 1980, 134 lines of sutras and ink books with color illustrations of Manichaeism in Sogdian language were unearthed here. It is of great cultural value to the study of the existence and spread of this long lost religion in China. In 1982, with the approval of the State Council, Bezeklik Thousand Buddha Caves was listed as a national key cultural relics protection unit.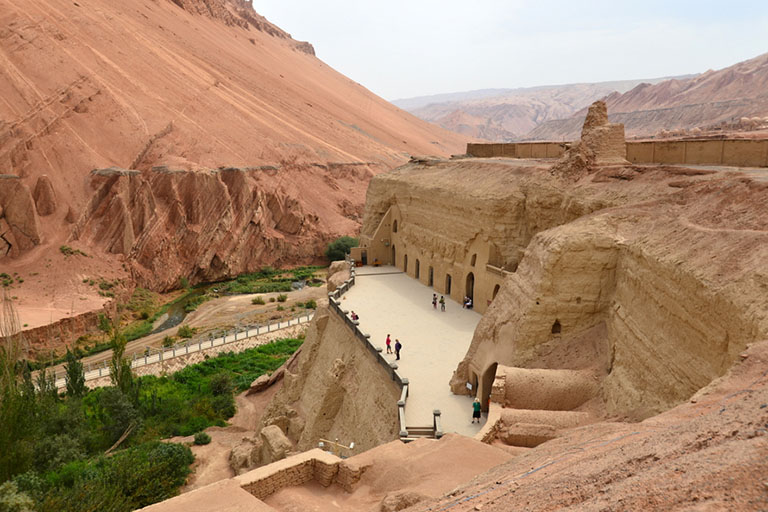 Overlooking Bezeklik Caves
History of Bezeklik Caves
Bezeklik Caves was first excavated in the Gaochang period (A.D. 499 - 640) and more caves and murals were added in following dynasties. It has been one of the Buddhist centers in the western regions in hundreds of years through the Tang, Five Dynasties, Song and Yuan Dynasties.
Huihu Gaochang (回鹘高昌) is the most prosperous period of the caves. At the end of the 13th century, the Gaochang royal family moved eastward to Yongchang, Gansu Province, and Islam was introduced into Turpan, which led to the gradual decline of Buddhism as well as Bezeklik Caves. Later, it was damaged in the pagan conflict, and the eyes of the figures in the murals were all removed. Disasters piled up on one another. From 1904 to 1913, 90% of the murals in Bezeklik Caves were cut by four expeditions and transported abroad in batches. They are now collected in the Indian Art Museum in Berlin, the Amitash Museum in St. Petersburg, the National Museum in Tokyo, the British Museum, the National Museum of India and the National Museum of Korea. In spite of all the misfortunes, it is still a treasure house of Buddhist culture and art where you can appreciate the colorful murals and see the trace of history.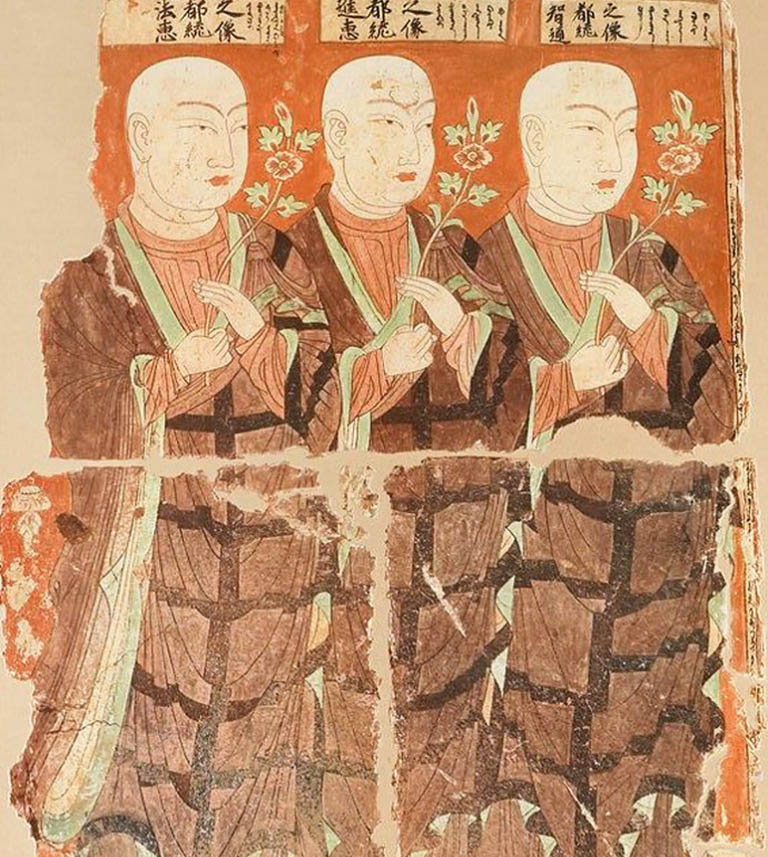 Precious Mural Destroyed in World War Ⅱ
Highlights of Bezeklik Caves - Bezeklik Murals
Bezeklik Caves is most renowned for its murals. Now only a dozen of caves are open to tourists and you can have a glimpse of its past glory through the caves in three layers scattered on the cliff.
Caves No. 18, 29 and 48 were built between A.D. 499 and A.D. 640. Cave No. 18 is a large-scale central pillar cave, which is the earliest existing cave with murals can be seen. The front chamber, corridor and the lower part of the tunnel were repainted in the early period of Gaochang Kingdom. Now only the upper part and the top of the tunnel completely preserve the early murals. On the side wall paint the Thousand Buddha in round-collar cassock with the hands holding in front of the abdomen in different gestures.
Bezeklik was named "Ningrong Temple" (宁戎寺) in the Tang Dynasty. It was an important Buddhist temple in Xinjiang and had a high reputation. Caves No. 16, 17, 25, 27, 31, 42 and 69 were built in this period. A considerable part of the murals in above caves were repainted after the 11th century. The new painting style of the prosperous Tang Dynasty entered the Gaochang grottoes, pushing the artistic skill of line modeling to the peak. With simple and smooth lines, the figures are depicted powerfully as a unity of form and spirit.
Cave No. 20 depicts the king and queen of Gaochang Kingdom. On the back wall of Cave No. 33, there is a picture showing the silent mourning of the disciples after the nirvana of the Buddha. Cave No. 38 reflects the life of ancient Manichaeism. Caves No. 82 and No. 83 are small memorial caves built for Buddhist monks during the reign of the Gaochang Huihu Kingdom from the 10th century to the 11th century.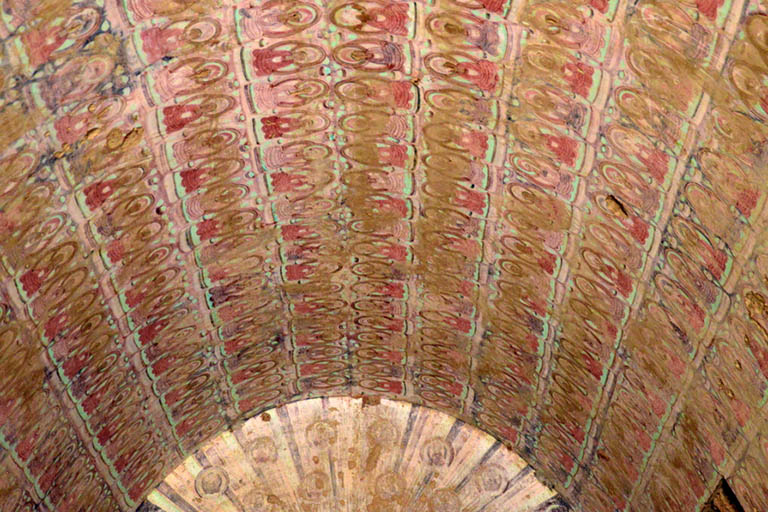 Mural of Thousand Buddha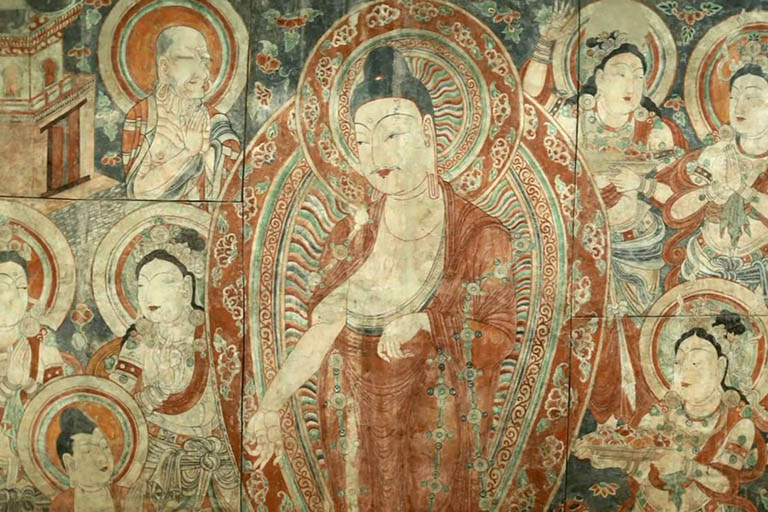 Vivid and Colorful Buddha in Bezeklik Caves
Bezeklik Caves Location & Transportation
Bezeklik Caves is located at the Flaming Mountain Area, Gaochang District, Turpan. To get to Bezeklik Caves, you need to get to Turpan first. Bezeklik Caves is about:
39 km, 45 minutes' drive from Turpan downtown;
48 km, 1 hour's drive from Jiaohe Ancient City;
18 km, 30 minutes' drive from Gaochang Ancient City;
10 km, 15 minutes' drive from Flaming Mountains;
48 km, 50 minutes' drive from Turpan North Railway Station;
50 km, 1 hour's drive from Turpan Jiaohe Airport.
Step 1: Get to Turpan First
Turpan is on the Lanzhou-Urumqi High-speed Railway. Therefore, it is convenient to get to Turpan by high speed train from cities on the Silk Road such as Urumqi (1h), Dunhuang (3.5h), Zhangye (5h), Jiayuguan (6.5), Lanzhou (9.5-10h), Xining (8-8.5h), Xian (12.5h), etc. You can also fly to Turpan from Lanzhou (2.5h), Beijing (5.5h), Chengdu (5.5h), Changsha (4.5h), Zhengzhou (4.5h), etc. But the flight schedule is not stable. It is also available to get to Urumqi (the capital of Xinjiang) first, which has more flights between major cities in China, and then transfer to Turpan. Read more about Turpan Transportation >
Step 2: Turpan to Bezeklik Caves Transfer
Bezeklik Caves is a little far from downtown. Most people get there by taking a taxi or charting a car. No direct bus is available. You can take a bus from Turpan to Shanshan County and get off at Shengjinkou (胜金口), which is about 7 km to the caves, and then find a local tuktuk to get you there.
Travel with China Discovery: If you want to get rid of hustle of public transportation and troublesome navigation, you can book a private tour package which covers sightseeing, dining and transfer from us. Our knowledgeable local tour guide and skilled driver will escort you to visit Bezeklik Caves with speed and convenience, and take care of all the details. You just need to focus on sightseeing. Contact us to customize a worry-free tour package now!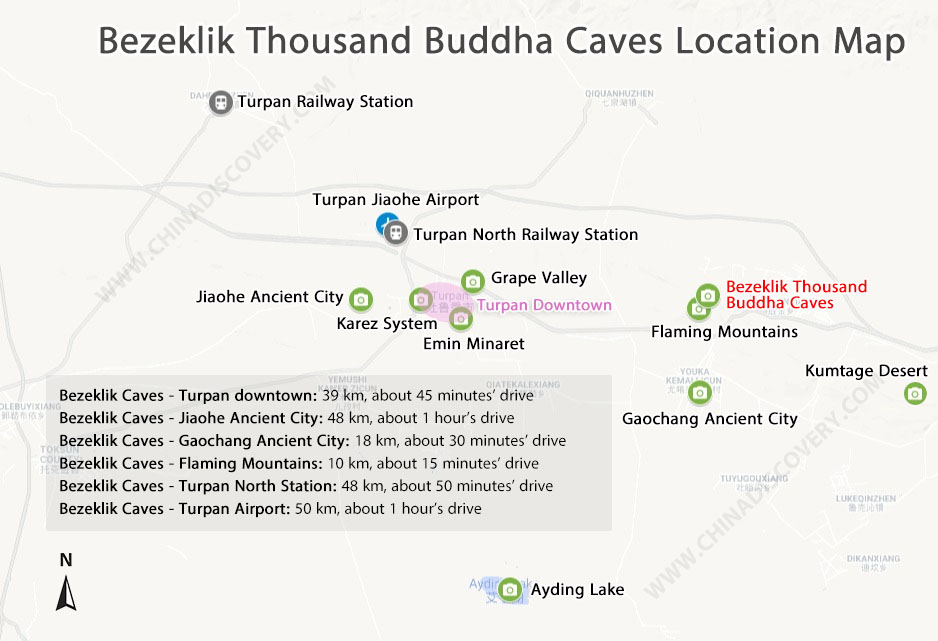 Click to enlarge Bezeklik Caves Location Map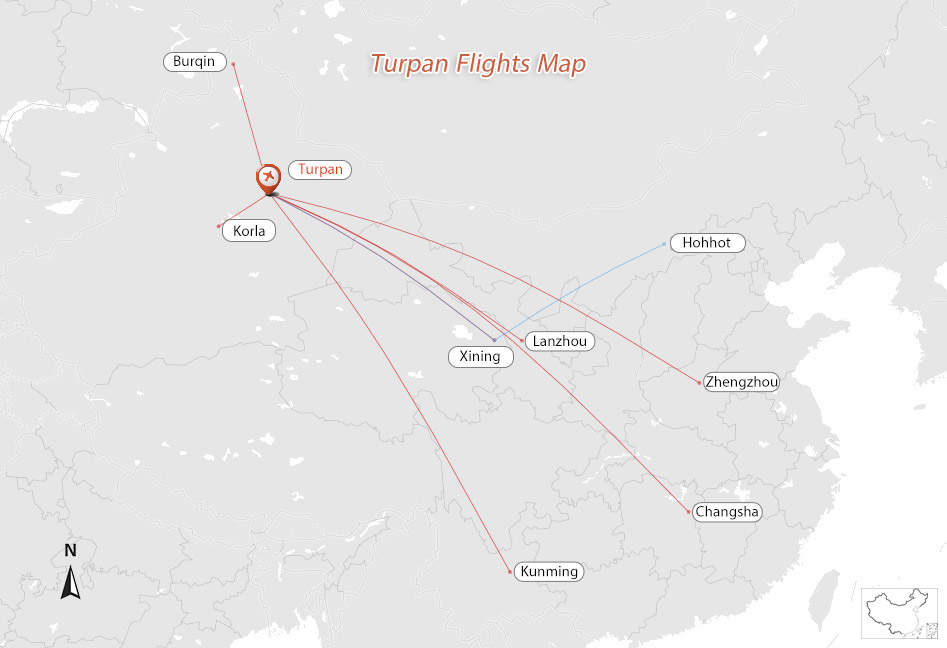 Click to enlarge Turpan Flights Map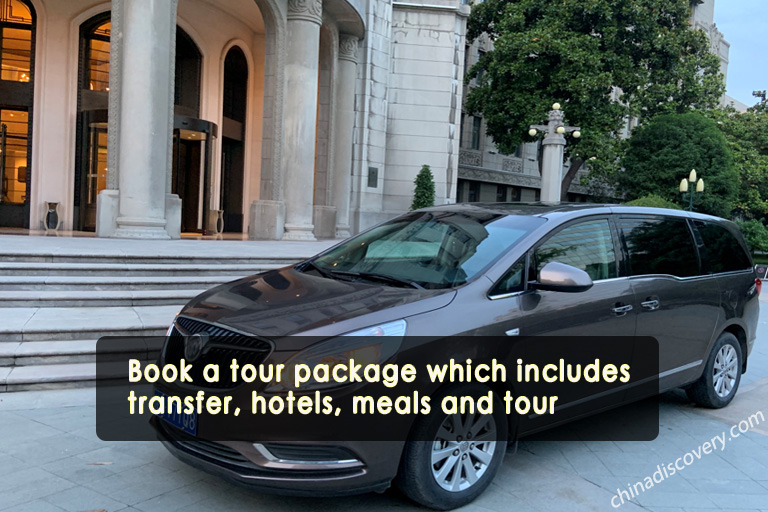 China Discovery Private Transfer
Warm Tips for Bezeklik Caves Travel
1. As Bezeklik Caves is located on the cliff, for your safety, please do not go to the unopened area during your visit.
2. It is not allowed to take photos in the caves.
3. Please don't touch the murals; smoking is forbidden in the caves.
4. Try to visit Bezeklik Caves in the early morning or late afternoon because on most days, it is very hot at noon and the ultraviolet rays are strong.
How to Plan A Turpan Tour
How to Get to Turpan: There are high speed trains to Turpan from Xian (about 12.5h), Lanzhou (about 9.5h), Xining (about 8h), Zhangye (about 6.5h), Jiayuguan (about 5h), Dunhuang (about 3.5h), etc. and flights from Urumqi (1h), Beijing (5.5h), Lanzhou (2.5h), Changsha (4.5h), Korla (1h), Burqin (1h15min), etc. Many travelers also travel to Urumqi by flight first and then transfer to Turpan.
Best Time to Visit Turpan: May to October is the best time to visit Turpan. It is cold in late autumn and winter (November ~ next February) and rather windy in early and mid-spring (March and April). The temperature is high in summer, but you will get a lot of sweet fruits.
Generally, a classic Turpan tour takes 2 ~ 3 days. If your time is limited, you can focus on the essence of Turpan City. We suggest you spend 1 day touring the highlights of Turpan City, such as Karez System - a magic project bringing out underground water to this barren land, Turpan Museum where lots of historical exhibits including mummies are collected and Jiaohe Ancient City - the world's largest and oldest city ruins, and another day exploring its attractive surroundings, including Bezeklik Thousand Buddha Cave with exquisite murals & profound Buddhist culture, Flaming Mountain Grand Canyon with breathtaking landform, and peaceful Mazar Village (in Tuyuk Valley) where people still live traditionally. If you have one more day, don't miss Kumtag Desert, a beautiful desert offering amazing desert landscape and many interesting activities (like jeep safari, desert hiking, desert surfing, etc.).
☛ 2 Days Turpan Essence Tour from Urumqi
Of course, it's far from enough if you just visit Turpan. Travelers always travel Turpan with Urumqi - the tourist center in northern Xinjiang together. It needs about 1~2 days to visit landmarks of Urumqi City, like Xinjiang Regional Museum, Red Hill Park and Erdaoqiao Grand Bazzar. Heavenly Lake, only 70 km away from Urumqi downtown is a must. If you are interested in Muslim culture and Silk Road culture, don't hesitate to go to Kashgar, one of Xinjiang's golden triangle tourist cities together with Turpan and Urumqi. In Kashgar, there is time-honored Kashgar Old City, yellow-tiled Id Kah Mosque, busy Grand Sunday Bazaar, etc.
☛ 5 Days Urumqi Discovery to Turpan and Heavenly Lake
☛ 6 Days Urumqi and Turpan Highlights Tour
☛ 8 Days Xinjiang Classic Tour (Urumqi - Turpan - Kashgar)
If your time allows, traveling along China's Silk Road is strongly recommended. You can trace the footprints of ancient travelers from Xian - China's old capital city of 13 dynasties, to Qinghai (Xining, Qinghai Lake), Gansu (Zhangye, Jiayuguan, Dunhuang) and Xinjiang (Urumqi, Turpan, Kashgar). An in-depth Silk Road tour can be 2 weeks long, but you can spend a shorter time admiring the essence at your own pace.
☛ 10 Days Classic Silk Road Tour (Xian - Dunhuang - Turpan - Kashgar)
☛ 11 Days In-depth Wild Silk Road Adventure Tour (Lanzhou - Zhangye - Jiayuguan - Dunhuang - Urumqi - Kasgar)
☛ 12 Days Silk Road Tour from Beijing (Beijing - Xian - Dunhuang - Turpan - Urumqi)
Mazar Village in Tuyuk Valley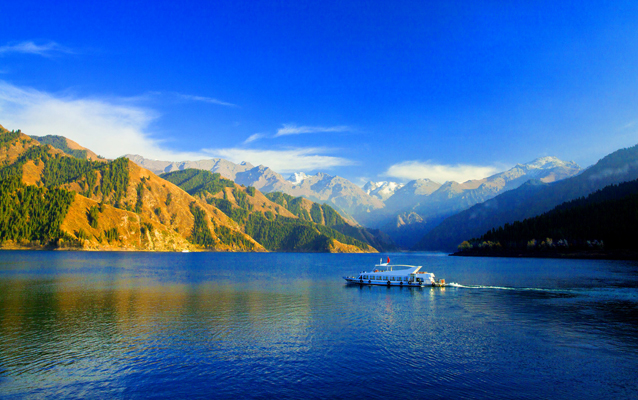 Heavenly Lake of Tianshan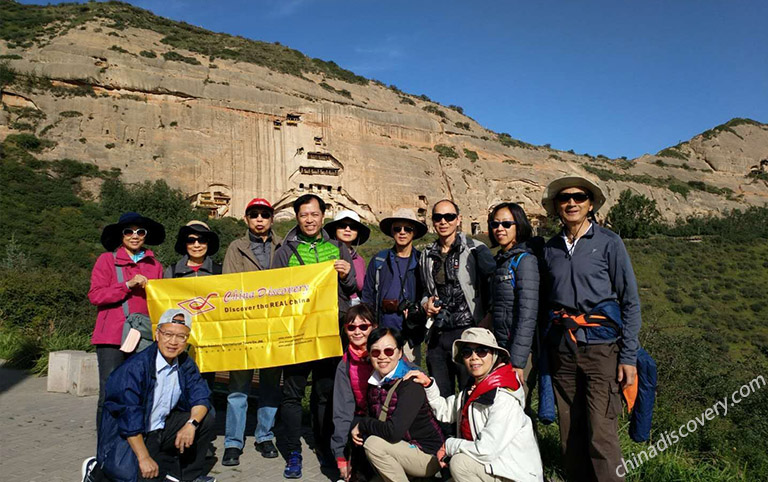 Mrs. Chan's group from Canada visited Matisi Temple along the Silk Road
Keep Reading About Turpan
Keep Reading About Xinjiang Tours & Travel Guide
Recommended Turpan Tours
Top 3 Turpan tours chosen by most customers to explore Turpan in the best way. Check the detailed itinerary, or tailor your own trip now with us.
2 Days Turpan Essence Tour from Urumqi

Urumqi - Turpan
11 Days In-depth Wild Silk Road Adventure Tour (Cultural Relic & Unrivalled Landscape)

Lanzhou / Zhangye / Jiayuguan / Dunhuang / Turpan / Urumqi / Kashgar
8 Days Classic Xinjiang Tour including Urumqi Turpan Kashgar Tashkurgan

Urumqi - Turpan - Kashgar - Tashkurgan
Start planning your tailor-made holiday to China by contacting one of our specialists. Once inquired, you'll get a response within 0.5~23.5 hours.
Customize a Trip
Have a question? Get answers from our travel experts or guests
Your Question:

Your Name:

Your Email: