Kashgar International Airport (KHG) 喀什国际机场
Since it was opened to traffic in 1953, Kashgar International Airport has been a major transfer hub in Kashgar and a tourist distribution center in southern Xinjiang. Currently, the airfield of Kashgar International Airport is equipped with six corridors, eight parking spots, one 3,200-meter-long runway and one two-storied terminal. The whole terminal covers an area of 23,000 square meters. There are 24 airlines connecting about 20 cities. Many travelers fly to Kashgar from some cities in inland China (such as Beijing, Shanghai, Xian, Chengdu, etc.) and then start a southern Xinjiang tour. Please remember to choose a seat by the wondow and the landscape seen from the above is amazing. As you land in the airport, it is convenient to take a shuttle bus, public bus or a taxi to travel to the down area.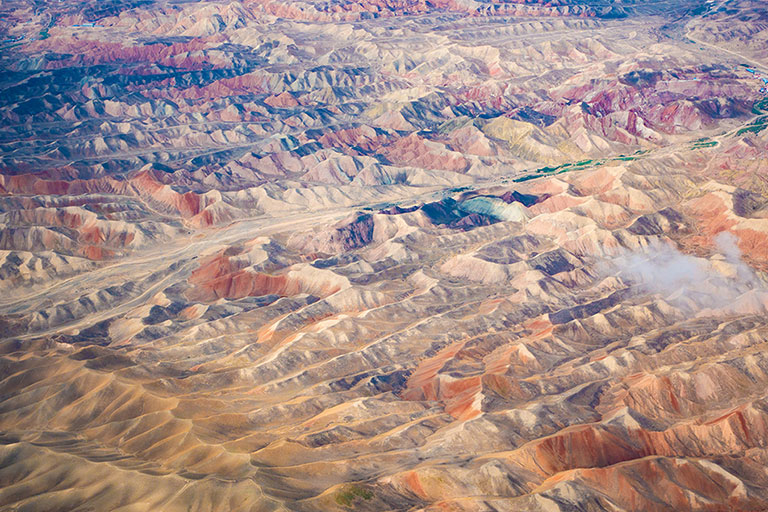 Wonderful View from the Airplane
Kashgar International Airport Flights
Kashgar International Airport runs both international flights and domestic flights. The international flights are quite limited and not fixed.
Domestic Flights to/off Kashgar International Airport
Kashgar Airport can be reached by domestic flight from many domestic cities, including Urumqi (2h), Lanzhou (4h), Beijing (4.5h), Chengdu (4.5h), Xian (4.5h), Nanjing (5h), Shanghai (8.5h), etc. Besides, you can also take a flight to many other places in Xinjiang after your Kashgar tour, such as Bole (2h), Korla (1.5h), Toumchouq (1), Yining (2h), Aksu (1h), Shache (40 m), etc.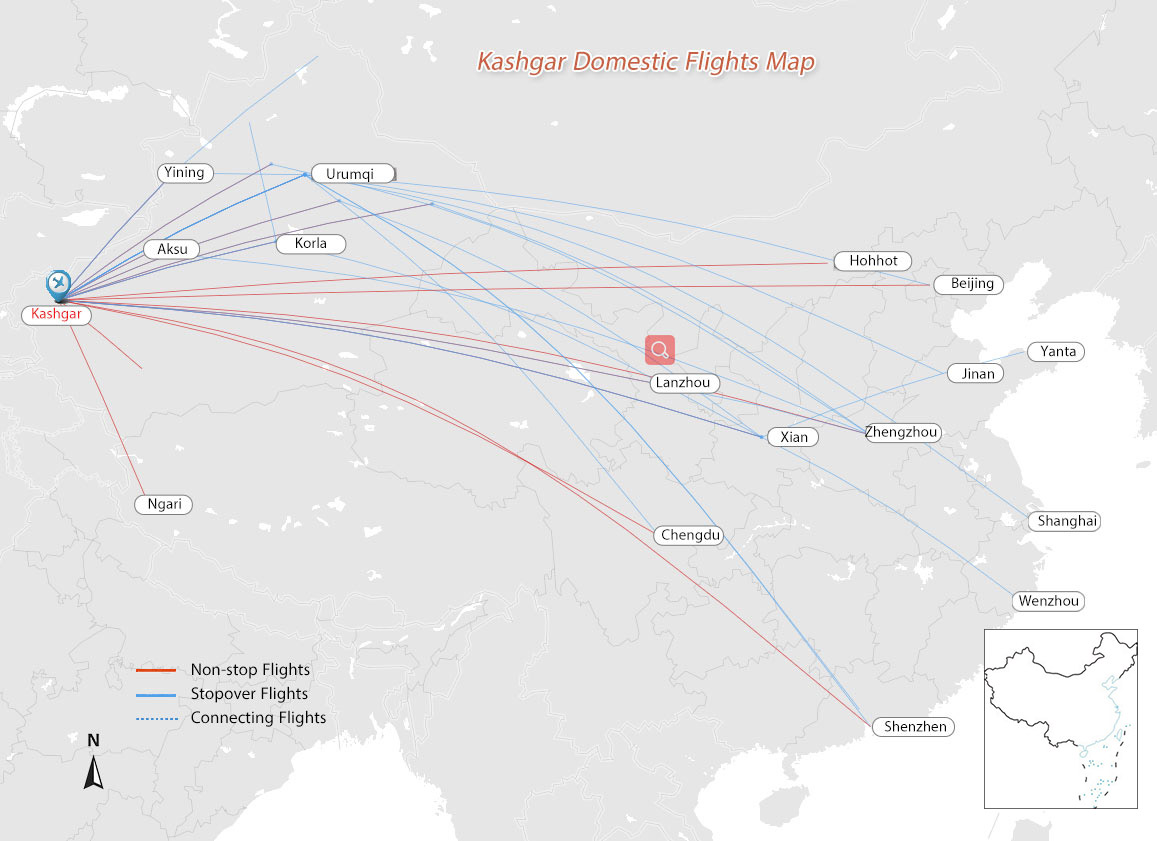 Kashgar International Airport Flights Map (updated in June, 2021)
Major Kashgar International Airport Flight Schedules:
*The above flight schedules is listed for reference only and is subject to seasonal adjustment by the airline accompanies. You can contact us to get updated, detailed flight information.
International Flights to/off Kashgar International Airport
At present, there is only one international flight (operated by China Southern Airlines) which connects Kashgar with Islamabad (the capital of Pakistan). The flying distance is 724 kilometers (450 miles) and the flying trip takes about only 1 hour. Because of the epidemic situation, the flight schedule is not fixed.
Kashgar International Airport Location & Transfer
Address: Yinbin Avenue, Kashgar City, Xinjiang Uygur Autonomous Region 中国新疆维吾尔自治区喀什地区喀什市迎宾大道
9 kilometers (about 20 minutes' drive) to Kashgar Old City;
8 kilometers (about 20 minutes' drive) to Abakh Hoja Tomb;
9.5 kilometers (about 20 minutes' drive) to Id Kah Mosque;
9 kilometers (about 15 minutes' drive) to Sunday Market;
7 kilometers (about 20 minutes' drive) to Kashgar Railway Station.
Kashgar International Airport offers a quick access to the public bus, taxi and airport shuttle bus.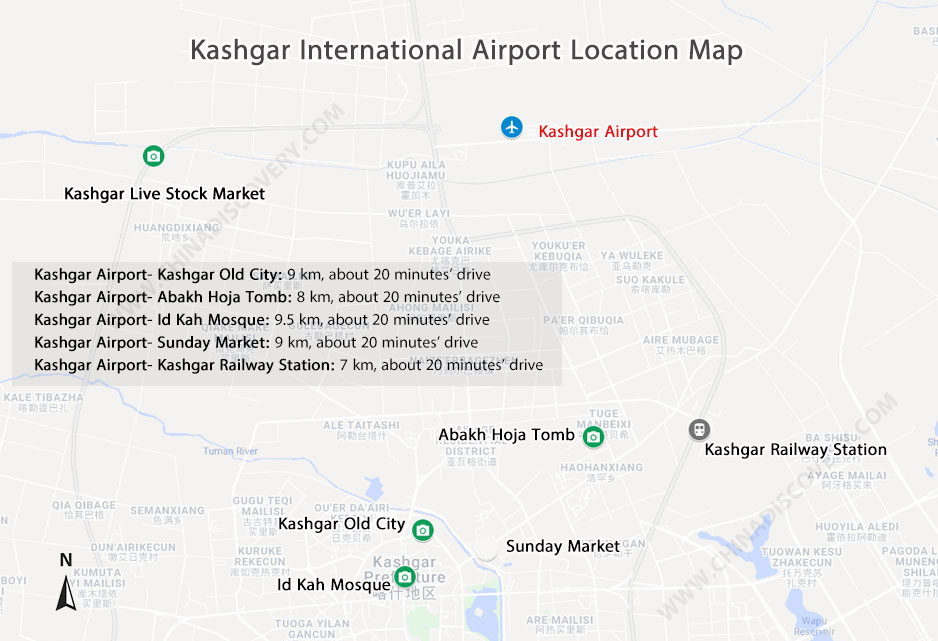 Kashgar International Airport Location Map
Public Bus: There are 3 public buses running from Kashgar Airport to different directions in Kashgar, and Sightseeing Bus No.1 and No.1 can take you from the airport to Kashgar Old City directly. The bus station is at the No.3 gate of the airport.
Taxi: Usually, it cost about CNY 30 to call a taxi from the airport to the downtown and the taxi pick-up point is between No.2 and No.3 gates.
Shuttle Bus: There are 4 shuttle buses connecting the airport and some hotels near Kashgar downtown, including Tianyuan International Hotel (天缘国际酒店), Tianyuan Business Hotel (大十字天缘商务酒店), Shenzhen Airline Hotel (深航国际酒店) and Senye Lijing Hotel (深业丽笙酒店).
Other Airports in Kashgar
Tashkurgan Pamir Airport(塔什库尔干帕米尔机场) - Now under construction, it will serve Tashkurgan County. When it is open to public, it will operate flights to some destinations in Xinjiang, such as Kashgar, Shache, Urumqi, Yining, Aksu, etc., and maybe some other big cities like Beijing, Xian, Shenzhen, etc.
Shache Yarkand Airport (莎车叶尔羌机场, IATA: QSZ, ICAO: ZWSC) - Located in Zirefuxiati Village of Zirefuxiati Tajik Township, Shache Yarkand Airport is an airport serving Shache County (Yarkant County). It operates flights to Korla (1.5h), Kashgar (40m), Urumqi (2h), Aksu (2h), Xian (4.5h), etc.
Travel with China Discovery - Worry-Free Transfer
If you don't want to wait for the bus or worry about the language barrier with taxi drivers, you can choose the private tour service provided by us. We at China Discovery provide comfortable and efficient transfer service for our clients who have booked one of our tour packages. No matter when your flight/train arrives, our friendly tour guide and driver will welcome you at the airport/train station, then escort you to your hotel or any location you want to visit with an air-conditioned and non-smoking vehicle. All the matters such as transportation, meal, accommodation, and ticket will be taken care of, and the itinerary is quite flexible, all you need to do is just enjoy your trip. >>Contact us now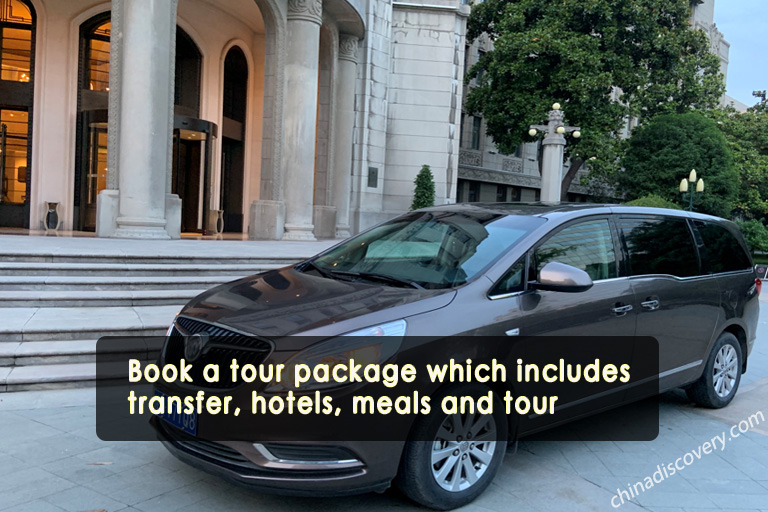 China Discovery Private Transfer
How to Plan A Kashgar Xinjiang Tour
How to Get to Kashgar: From mainland cities - you can take domestic flights from Beijing (about 6~7 hours), Xian (about 4 hours), Chengdu (about 6~7 hours), Shanghai (about 8 hours), Guangzhou (about 8 hours), Jinan (about 7 hours), Zhengzhou (about 7 hours), etc., or provincial flights from Urumqi (about 2 hours), Korla (about 1.5 hours), Yili (about 1.5 hours). From the borders - you can also get to Kashgar from land border ports, such as Kalasu Port, Irkeshtam Port, Torugart Port, Khunjerab Port. If you need transfer, we can send a tour guide and driver to pick up you from the borders.
Best Time to Visit Kashgar: suitable for travelling all year around, but May to October is most comfortable and beautiful.
Top Places to Visit Kashgar: Kashgar Old City, Karakul Lake, Tashkurgan (Stone City, Golden Grassland), Id Kah Mosque, Kashgar Bazaar
Plus arrival and departure days, you'd better plan at least 4 days for your Kashgar trip. If you want to extend your trip to Tashkurgan, you need at least 5 days. You can spend 2 days exploring attractions in Kashgar city and its old town, such as Kashgar Bazaar, Kashgar Old City, Id Kah Mosque, Abakh Hoja Tomb, Ancient Tea House, etc., then have a day trip to Karakul Lake from Kashgar. If you want to experience something more authentic, Tashkurgan, about 3.5 hours' drive from Kashgar, is strongly recommended.
☛ 4 Days In-depth Kashgar Tour to Karakul Lake
☛ 5 Days Legendary Pamirs Tour from Kashgar to Tashkurgan
After Kashgar tour, you can take a flight to Urumqi to marvel at the alluring Heavenly Lake and visit the mummy and Silk Road exhibitions in Xinjiang Regional Museum, then keep traveling to Turpan to see the grape valleys, visit historical Jiaohe Ancient City, etc. For an in-depth Silk Road journey, you can travel from Kashgar to Hotan, Kuqa, Taklamakan Desert, etc., which usually need about 8~13 days. If you love landscape, don't miss out the Kanas Lake in northern Xinjiang.
☛ 6 Days Urumqi to Kashgar Dream Tour - Best Xinjiang Tour for the First-timers
☛ 8 Days Urumqi Turpan Kashgar Xinjiang Tour
☛ 13 Days Xinjiang Silk Road Adventure Tour
Kashgar and Xinjiang regions can also be connected to other Silk Road destinations easily, such as Dunhuang, Jiayuguan, Zhangye, Xian, etc. Qinghai, Tibet, Inner Mongolia are also some recommended extensions of Kashgar Xinjiang trip. Find recommended Silk Road tours here or contact us to tailor-make a trip of your own if you want to discover more destinations.
☛ 10 Days Classic Silk Road Tour from Xian
☛ 11 Days Wild In-depth Silk Road Adventure Tour
☛ 15 Days Classic Ancient China Silk Road Tour with Bullet Train Experience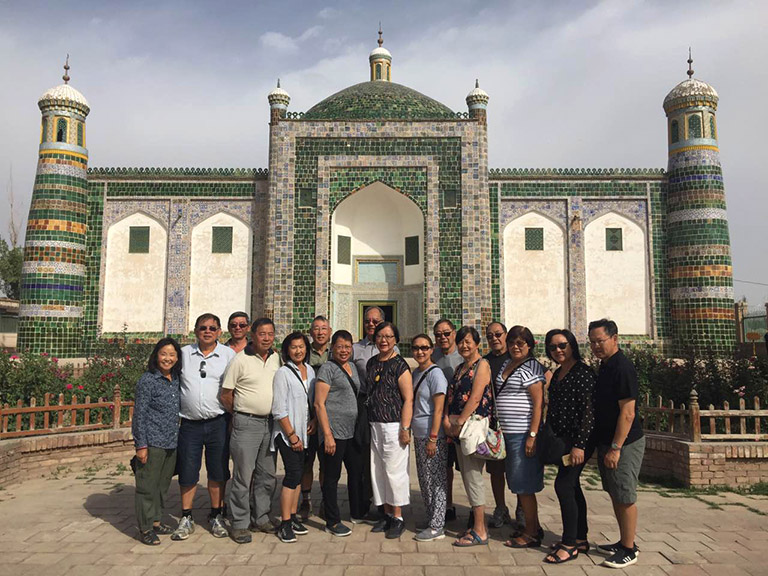 Our clients in Kashgar
Erin Family (USA) Visited Zhangye Danxia Geopark
Keep Reading About Kashgar
Keep Reading About Xinjiang Tours & Travel Guide
Recommended Kashgar Tours
Top 3 Kashgar tours chosen by most customers to explore Kashgar in the best way. Check the detailed itinerary, or tailor your own trip now with us.
4 Days In-depth Kashgar Tour to Karakul Lake

Kashgar - Karakul Lake - Kashgar
5 Days Legendary Pamirs Tour from Kashgar to Tashkurgan

Kashgar - Karakul Lake - Tashkurgan - Kashgar
8 Days Classic Xinjiang Tour including Urumqi Turpan Kashgar Tashkurgan

Urumqi - Turpan - Kashgar - Tashkurgan
Start planning your tailor-made holiday to China by contacting one of our specialists. Once inquired, you'll get a response within 0.5~23.5 hours.
Customize a Trip
Have a question? Get answers from our travel experts or guests
Your Question:

Your Name:

Your Email: