Discover The Pink Vernal Romance at Apricot Valley
Apricot Valley, aka Xinghuagou is located in Turgen Township, Xinyuan County, Ili, Xinjiang. It is a relatively complete original wild apricot forest preserved since the middle ages. It is one of the areas with relatively concentrated wild apricot forests in Xinjiang. The beauty of the apricot valley lies in its magnificence in bloom. In mid-April, apricot blossoms have been budding and flowering in Turgen township. In one week, they start to bloom either at the ridge or at the bottom of the valley, forming a vernal masterpiece of nature.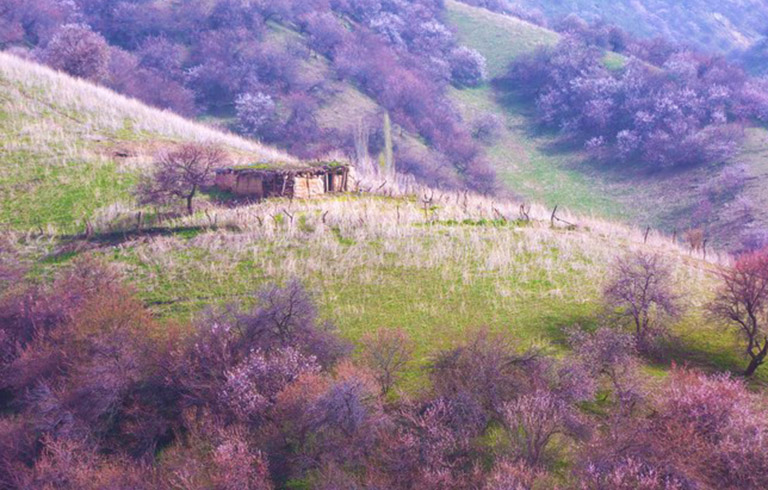 Beautiful Apricot Valley in Spring © 橙小橙橙 / mafengwo
Flowering Period - Best Time to Visit Apricot Valley
The flowering period is the best time to visit Apricot Valley in Turgen. Generally, the regular flowering period is from late March to May, which varies from year to year influenced by the solar terms, humidity, temperature, and other factors. During the flowering period, the whole valley with pink blossoms scattered around the green grassland is like a fairy tale world. Since the abnormal temperature occurs in recent years, many tourists missed the best flowering period. As the golden blooming period only lasts for one week and the flowers are influenced by the spring drizzling days, you may need to pay attention to the weather forecast and ask a local guide about the actual best time to pay a visit. Besides the spring blooming time, in June, the fruits in Xinjiang will become ripe and juicy with cool temperature, it is a good time to taste apricots here.
• Packing and Wearing Tips: The temperature varies a lot during the night time and daytime. It can be very cold at night and warm at noontime. It is recommended to bring coats, sweaters, down jackets. In addition, it often rains in Ili from March to April. Rain gear and camera waterproof equipment are necessary. During sunny days, the UV index is strong. Try to wear long clothes or apply sunscreen.
How to Visit Apricot Valley in Turgen
After entering the scenic spot, you can walk to the foot of the hill in about 10 minutes. The hill is not high and the slope is not steep. You can climb it in 20 minutes or try riding up to the hilltop. When you get to the top, you can walk around, find your favorite angle and enjoy the apricot flowers all over the mountain. In addition to apricot flowers, you can also see white and brown horses on the grassy land. If time allows, it is recommended to spend a whole day here. If you have time, you can go up the hilltop directly and go down the mountain after enjoying the afterglow of the sunset. On the next morning, you can arrive at the scenic spot at 8 o'clock to watch the sunrise, enjoy the scenery and take photos. It's best to go down to the bottom of the ditch, and then go to the opposite ridge passing apricot flowers, cattle, sheep, and pastures all the way, or sit quietly under the tree and wait for the spring breeze to blow down the apricot flowers. Don't enter the herdsman's grassland by mistake. The fence of the grassland is relatively tight. It is hard to get out, you need to go back along the same way.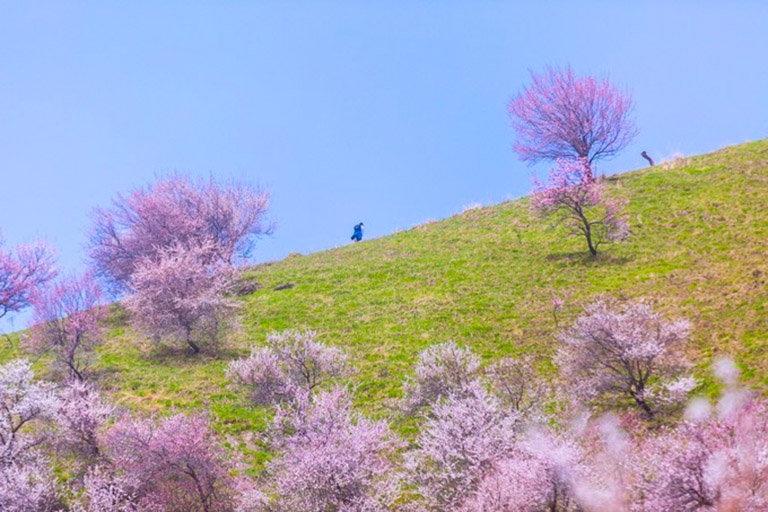 Blooming Apricot Valley © 橙小橙橙 / mafengwo
Where & When to Take a Nice Shoot of Apricot Valley
As the apricot valley faces south, there are two best photography opportunities: 1-2 hours after sunrise (about 8 o'clock) and 2-3 hours before sunset (21 o'clock), because the slopes can form a better hierarchical effect, especially in backlight hours. Besides, when it is rainy, the sunlight is exposed after the rain, it is very spectacular in the mist.
Even standing in the same place, it will be different before sunrise, during sunrise, before sunset, and during sunset. The best place to shoot Sunrise: it's on the ridge on the side of the hill. The more you go up, the better the shooting effect. The best place to shoot before sunset: on the ridge opposite the hill, and you can shoot the ridge of the slope. If the light is good (about 17-19 o'clock), the green lawn can turn golden in the sunlight.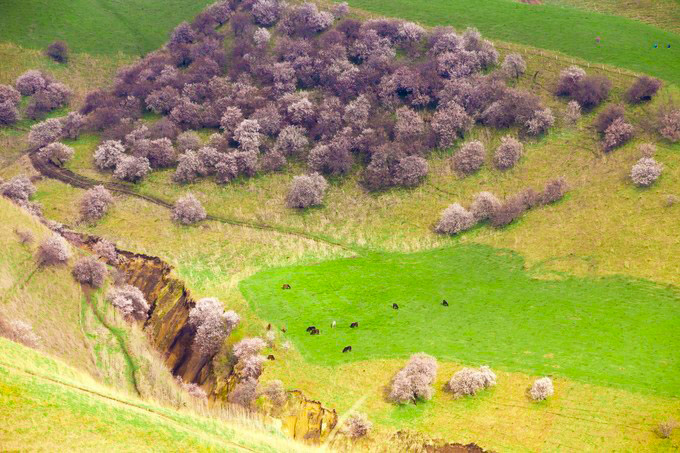 Apricot Blossoms over the Grassland © friendtian / mafengwo
Apricot Valley Location & Transportation Map
Apricot Valley is located in Turgen Township, Xinyuan County, Ili Kazakh Autonomous Prefecture, Xinjiang, 2km north of national highway 218. It is 205km away from Yining City, 32km away from Xinyuan county, and 2km away from Turgen Township. There is no public transportation bus to reach the remote Apricot Valley. Travelers usually drive or charter a private car from Xinyuan county or Yining City (downtown area of Ili). 
How to Get to Ili
There are only a few trains and flights to Ili from other provinces of China. Travelers can take a flight/train to Urumqi first, and most major and provincial cities operate trains and flights to Urumqi. From Urumqi, you can either take a one-hour flight/ 5-hour high-speed train to Yining, and Yining is the capital city of Ili. Besides Urumqi, you can also take a direct flight to Ili from Chengdu, Xian, Nanjing, etc.
Ili to Apricot Valley
You can charter a private car to Apricot Valley directly from Yining, or you can take a bus from Yining Railway Station to Xinyuan County (CNY 40, duration: 4h). And after reaching Xinyuan, you can charter a car to Apricot Valley from Xinyuan.
Travel with China Discovery: If you want to get rid of the hustle of public transportation and troublesome navigation, you can book a private tour package that covers sightseeing, dining, and transfer from us. You can enjoy much flexibility in the trip. Our knowledgeable local tour guide and skilled driver will escort you to visit Apricot Valley with speed and convenience and take care of all the details. You just need to focus on sightseeing. Contact us to customize a worry-free tour package now!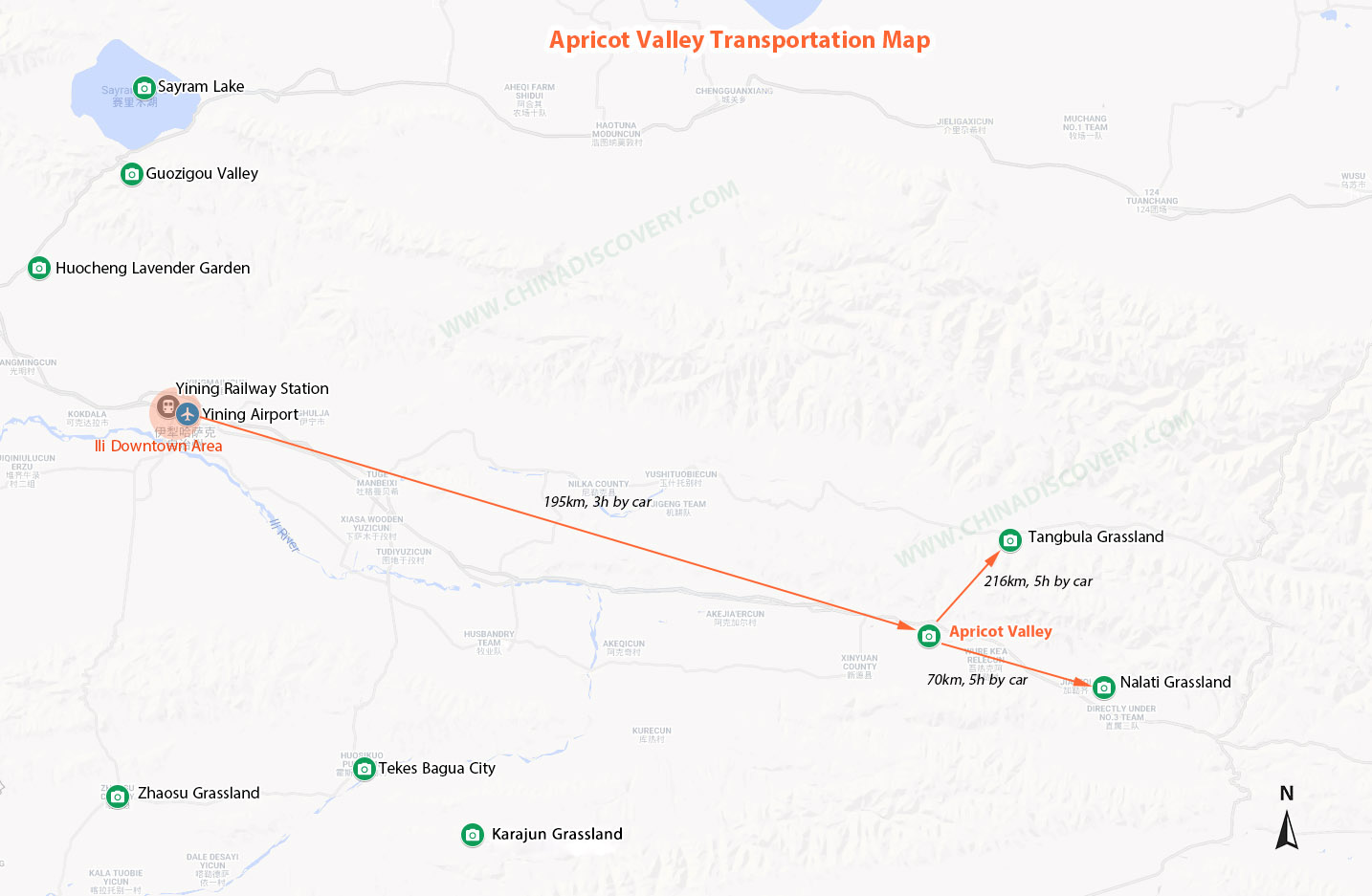 Click to enlarge Apricot Valley Transportation Map
China Discovery's Private Transfer
Where to Stay During Your Apricot Valley Trip
Usually, one day is enough for Apricot Valley visiting. If you need to shoot sunrise and sunset and the starry night, you can stay around the scenic area. There are some local yurts with basic facilities near the Apricot Valley Scenic Area. Apart from them, there is not any better accommodation provided. You can choose to stay in a hotel in Xinyuan County, which is about 30km away from the scenic area with more accommodation choices and better facilities. The flowering period is the peak season for visiting Apricot Valley, so you may need to book a room in advance. Camping is NOT allowed.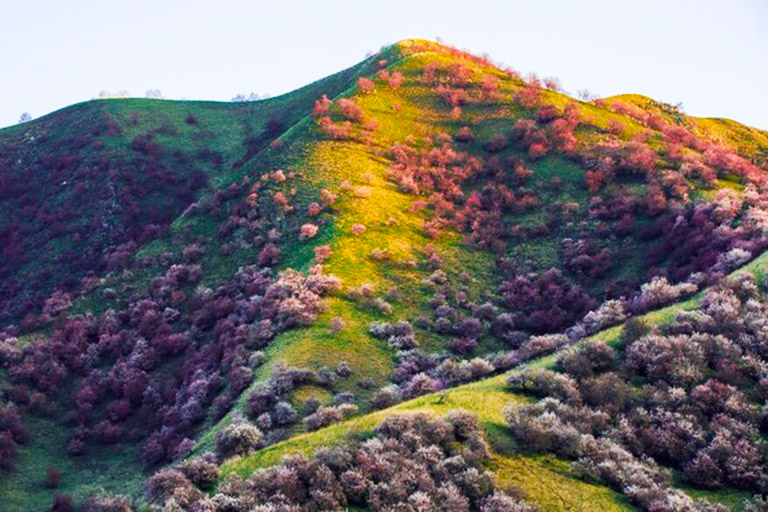 Apricot Valley at Dusk © 苡君 / mafengwo
Attractions Near Apricot Valley
Besides Apricot Valley, you can also visit nearby grasslands like Nalati Grassland and Tangbula Grassland.
• Nalati Grassland: about 70km from Apricot Valley (1.5h by car), Nalati Grassland (那拉提草原), also called Kunes Grassland, in Ili, Xinjiang is one of the six most beautiful grasslands in China and one of the four alpine and valley grasslands in the world. Tourists can appreciate the endless grassland on the rolling ridges stretching to the sky. It is a must-see when traveling Ili.
• Tangbula Grassland: about 216km from Apricot Valley (5h by car), Tangbula grassland is named after Tangbula Grand Canyon. There are many scenic spots in Tangbula grassland. It is said that there are many ditches, flowing springs, waterfalls and streams, Strange stones, spectacular grassland sunset, deep valley, and lakes.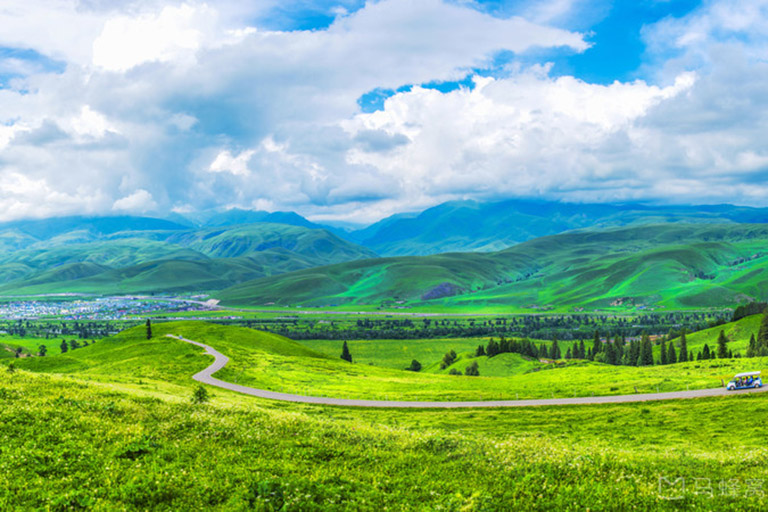 Beautiful Nalati Grassland © 陈巍伟 / mafengwo
How to Plan A Xinjiang Tour
How to Get to Xinjiang: Urumqi is the transfer hub of Xinjiang, and it receives flights from Beijing (4h), Shanghai (5h), Xian (4h), Chengdu (4h), Chongqing (4h), Changsha (4.5h), Xining (2.5h), Dalian (4h), Guangzhou (4.5h), Lanzhou (2.5h), Yinchuan (3h), etc., as well as high speed trains from Xian (13.5h), Lanzhou(10.5h), Xining (9.5h), Zhangye (7.5h), Jiayuguan (6h), Dunhuang (4h), etc.
Best Time to Visit Xinjiang: It is available to visit Xinjiang all year round, but May ~ October is the best time for the most comfortable weather and most beautiful scenery
A longer Xinjiang trip is more recommended and worthwhile because of its large scale. Most travelers start a Xinjiang tour from Urumqi – the tourist distribution center equipped with convenient airlines. Some travelers also unveil a Xining experience from Kashgar – the transfer hub in southern Xinjiang.
A classic Xinjiang tour takes 6 ~ 8 days, including 2~3 days in Urumqi (Xinjiang Regional Museum, Nanshan Passture) and Heavenly Lake, 1~2 days in Turpan (Jiaohe Ancient City, Karez System, Bezeklik Thousand Buddhas… ), and 3 ~ 4 days in Kashgar (Kashgar Old City, Karakul Lake, Tashkurgan Fort…). Don't miss Kanas - the God's private garden, and it takes at least 3 full days to enjoy its beautiful lakes, bays, forests, rivers and villages.
☛ 6 Days Urumqi Turpan Kashgar Efficient Tour
☛ 8 Days Xinjiang Classic Tour (Urumqi - Turpan - Kashgar)
☛ 9 Days Kanas Lake Fairyland Tour from Urumqi
Many travelers prefer a Silk Road tour involving Gansu and Xinjiang discovery together. It needs about 2~3 days to explore Dunhuang highlights, 2~3 days to visit Zhangye essences and 1~2 days to enjoy Jiayugan landmarks. It is also recommended to spend 1 ~2 days visiting Xining and Qinghai Lake.
☛ 10 Days Classic China Silk Road In-depth Tour (Xian – Dunhuang – Turpan – Urumqi - Kashgar)
☛ 411 Days In-depth Wild Silk Road Adventure Tour (Lanzhou - Zhangye - Jiayuguan - Dunhuang - Turpan - Urumqi - Kashgar)
In fact, the Silk Road broke into three routes in Xinjiang, and they passed through many cities in Xinjiang. For adventurous travelers looking for something different along the glorious road, just spend about 2 weeks visiting legendary Turpan, Korla, Kuqa, Kashgar, Tashkurgan, etc.
☛ 13 Days In-depth Xinjiang Silk Road Adventure Tour (Urumqi - Turpan - Korla - Kuqa - Takilamakan Desert - Minfeng - Hongtan - Kashgar - Tashkurgan)
☛ 6 Days Qinghai Lake Zhangye Danxia Rainbow Mountains Tour (Xining - Qinghai Lake - Chaka Lake - Zhangye)
☛ 9 Days Taklamakan Desert Ancient Silk Road Tour (Kashgar - Karakul Lake - Hotan - Ala'er - Kucha - Urumqi)
Many travelers visit Xinjiang for the extraordinary scenic beauty. It is easy to find some places to envelop yourself in nature or capture some excellent photography, such as grasslands, lakes, villages, and some other geographical wonders in 1 ~ 2 weeks.
☛ 10 Days Stunning Ili Apricot Blossom and Naraty Grassland Tour (Urumqi - Sayram Lake - Qingyuan - Naraty - Kuitun - Urumqi)
☛ 11 Days Best Xinjiang Landscape Tour (Urumqi - Burqin - Kanas - Karamy - Sayram Lake - Karajun Grassland - Kuitun - Urumqi)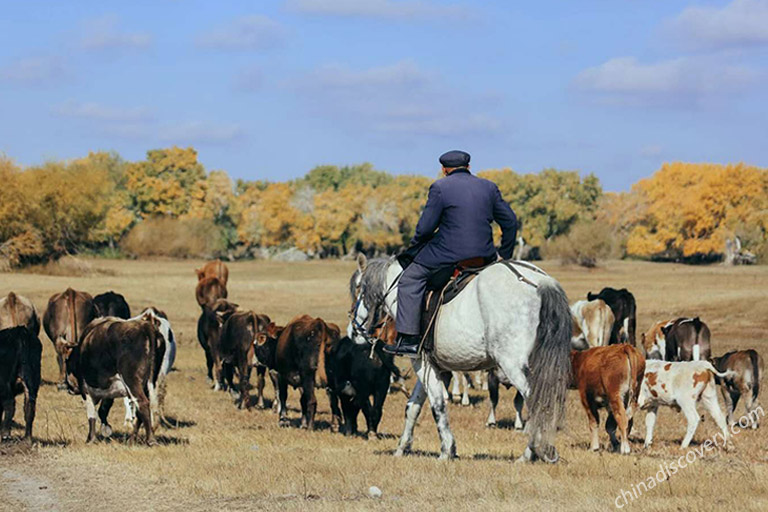 Florian Visited Five Colors Beach Shared with China Discovery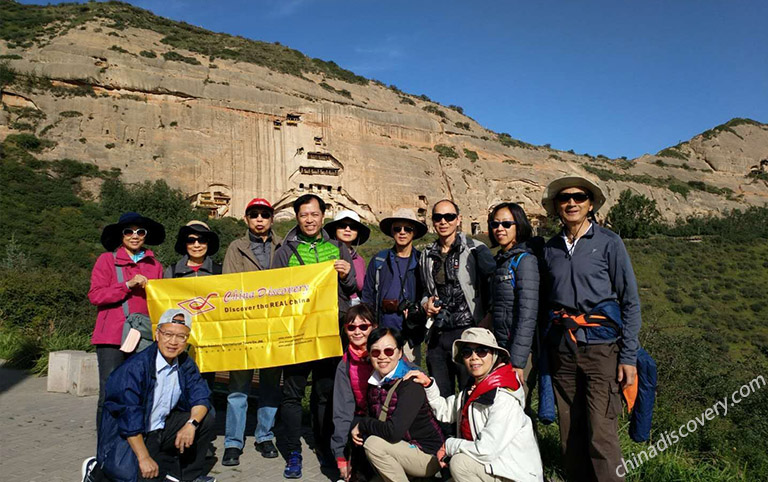 Mrs. Chan's group visited Matisi Temple with China Discovery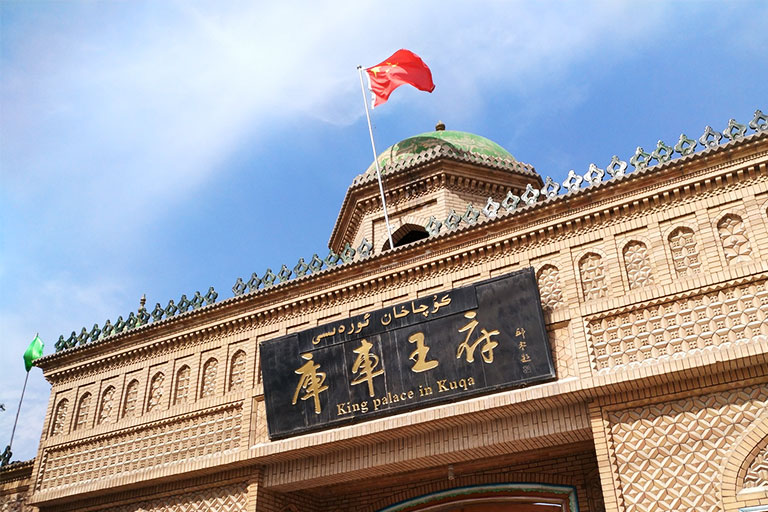 Kucha Palace © 在路上... / mafengwo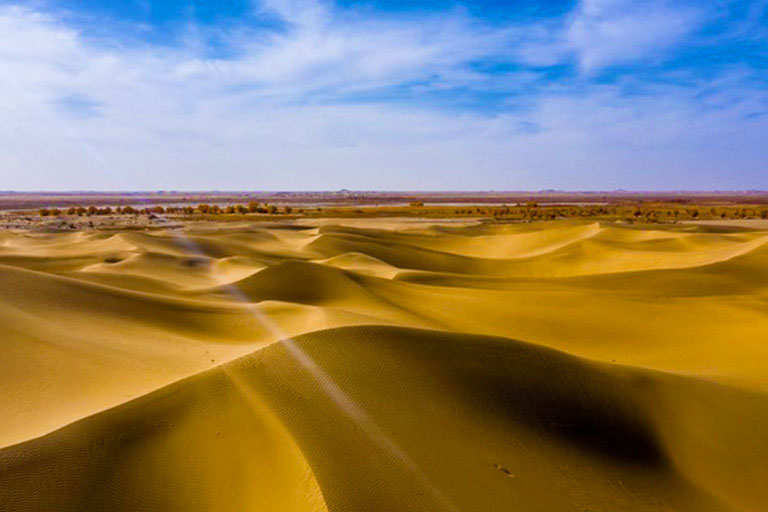 Taklamakan Desert Scenery © 托尼star / mafengwo
Keep Reading About Xinjiang Tours & Travel Guide
Recommended Ili Tours
Top 3 Ili tours chosen by most customers to explore Ili in the best way. Check the detailed itinerary, or tailor your own trip now with us.
13 Days In-depth Xinjiang Silk Road Adventure Tour

Urumqi / Turpan / Korla / Kuqa / Taklimakan Desert / Minfeng / Hongtan / Kashgar / Tashkurgan
10 Days Stunning Xinjiang Tour including Ili Apricot Blossom and Naraty Grassland

Urumqi / Sayram Lake / Qingyuan / Naraty / Kuitun / Urumqi
9 Days Kanas Lake Fairyland Tour from Urumqi

Urumqi - Wu'erhe - Kanas - Burqin - Urumqi - Turpan - Urumqi
Start planning your tailor-made holiday to China by contacting one of our specialists. Once inquired, you'll get a response within 0.5~23.5 hours.
Customize a Trip
Have a question? Get answers from our travel experts or guests
Your Question:

Your Name:

Your Email: