Ili Kazakh Autonomous Prefecture (also as Yili or Ili) is a prefecture level city in the northern part of Xinjiang Uygur Autonomous Region. Historically, Ili was an important outpost of the ancient Silk Road. It is known as the "hometown of melons and fruits" with abundant rain and warm weather, and the vegetation coverage of grassland and forest reaches 67.7%. There are famous Tangbula grassland, Nalati grassland, and Zhaosu grassland, and heavenly Sayram Lake; Also, there are fields of apricot blossoms, blooming lavenders, and rapeseed flowers that can be seen here during spring and summer.
Why Visit Ili:
Picturesque Grasslands - Ili has a large geographical span and obvious natural geomorphic characteristics. Among them, the most famous is the grassland there including Gongnaisi grassland, Tangbula grassland, Nalati grassland, and Zhaosu grassland. You can roam around on the grassland or ride a horse to gallop in the daytime and look up to the starry sky at night.
Beautiful Lake - Sayram Lake, known as "the Atlantic's Last Tears", is one of the most beautiful lakes in Xinjiang. It is convenient to reach from Ili. From May to the end of June is the golden sightseeing time here. Flowers are in full bloom on the grassland. The lake is like a pearl inlaid on the Ili grassland. 
Flowering Fields - Every spring and summer, Ili becomes a sea of flowers. In March and April, you can go to see the apricot flowers dotted on the grassland in Turgen; in June, the Huocheng lavender garden turns purple and romantic; and in July and August, you can go to see the golden rape flowers in full bloom in Zhaosu.
...
Top Attractions & Things to Do
Ili is known for its picturesque grasslands here. In spring and summer, Ili becomes a sea of flowers. Apart from the most famous lavender in Huocheng, the rape flowers of Zhaosu, the safflower of Tangbula, and the colorful wildflowers around Sailimu, Nalati will also surprise you. Ili will show you the most gentle side of Xinjiang. Check the following best must-visits to plan your Ili itinerary.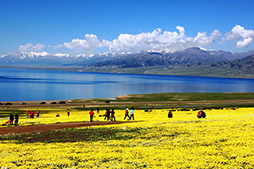 Sayram Lake
Sayram is the Kazakh language, which means "wish". The beautiful lake is located about 90km southwest of Bole City, 130km away from Yining City. The calm water gives you a sense of serenity. There are shuttle buses in the park that brings you from one viewpoint to the next.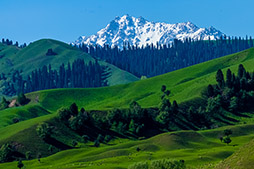 Nalati Grassland
The Nalati grassland is one of the best grasslands in China. From June to September, all kinds of wildflowers bloom all over the hills. The river flowing through the grassland like a silk scarf, and the Mongolian Yurt, with a flock of sheep, scattered far in the distance.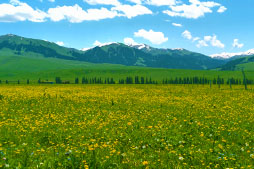 Tangbula Grassland Scenic Area
Tangbula was named because there is a huge rock on the ridge on the east side of the valley. The natural landscape area includes forests, grassland, and beautiful mountain. The most distinctive red flowers here will bloom there from the end of May and the beginning of June.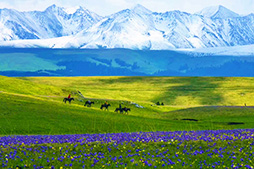 Karajan Grassland
Kalajun Grassland is 56km away from Tekes Bagua City and 175km away from Yining City. Karajan is the Kazakh language, which means "black wilderness". Here is a typical mountain meadow grassland with gentle terrain and broad vision.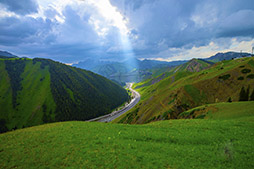 Guozigou Valley
Located 40km northeast of Huocheng, Ili, Xinjiang, Guozigou valley or "fruit ditch" is a famous Canyon channel that goes up to Sayram Lake in the north and down to Ili River Valley with many fruits here - apples, apricots and walnuts, etc.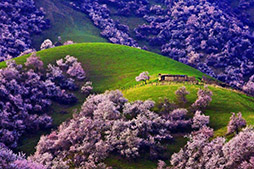 Apricot Valley
Apricot Valley is located in Turgen Township, Xinyuan County, Ili, covering a large area with the densest wild apricot forests in China. The wild apricot trees on the hillside and grassland bloom from March to early May with romantic pink blossoms dotted everywhere.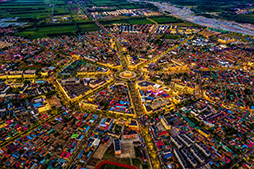 Tekes Bagua City
Tekes Bagua city is very unique shaped and well preserved. It is said that it was first arranged by Taoists with many ancient tombs and murals. You can go up to the 50m high sightseeing tower in the center of the city to overlook the city's panorama.
Huocheng Lavender Festival
As the largest Lavender producing area in China, Ili holds a lavender festival in mid-June every year in Huocheng. Lavender has a short flowering period. In recent years, large lavender fields have become a purple sea in June.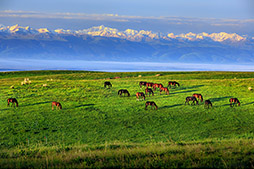 Zhaosu Grassland
On the vast grassy highland of Zhaosu, large tracts of yellow rape flowers and sunflowers are inlaid, like a huge oil painting. There are continuous snow mountains in the distance. July is the peak season for the flowering period and horse festival.
Ili Weather & Temperature - Best Time to Go
Ili Kazakh Autonomous Prefecture has a temperate continental climate, which is obviously cool in the north and hot in the south. The mountainous areas are humid and rainy, and the plains are dry. The coldest month is January and the hottest month is July. There is a large difference between the north and the south. In summer, the average temperature is about 23 °C and the avg low temperature is 16 °C and the avg high temperature is about 30 °C. By the end of September, the temperature had dropped rapidly. It is usually below 0 °C after October. Until April and may next year, the temperature will gradually go up. 
The best time to visit Ili is from June to October, especially in July and August when the grassland is beautiful in bloom. From the end of March to the beginning of April, the apricot blossoms are scattered over the grassland of Xinyuan, and the lavender is in full bloom in mid-June. In July, the yellow rapeseed flowers also start to bloom in Zhaosu.
Tips: Ili is dry throughout the year and has strong sunlight in the day, it is recommended to bring facial cream, lip cream, hand cream, sunhat, sunglasses, and sunscreen accordingly. Also, there is a large temperature difference between morning and evening in Xinjiang. Always remember to bring some extra layers.
Ili Transportation
Get to Ili
Ili is in the northwest of Xinjiang. Both flights and trains (high-speed trains and normal trains) are available. But the flight schedule is not stable and the connected cities are mainly provincial and flights are very limited, so most people choose to get to Ili by train or get to Urumqi first and then take a 5-hour high-speed train or one hour flight to Ili.
By Air: Yining Airport (IATA:YIN 伊宁机场) is about 3.5 km, 10 minutes' drive from Ili downtown. It operates mainly provincial flights between Urumqi (1h), Korla, Kuqa, etc. You can take a taxi or airport shuttle bus (CNY 10) to downtown.
By Train: Yining Railway Station (伊宁火车站) is about 10 km, 30 minutes' drive from Ili downtown. It receives daily high-speed trains from Urumqi (5.5h). There are also normal trains available to Ili from Hotan, Kashgar, Aksu, Korla, Turpan, and other cities in Xinjiang.
Get around Ili
You can get around Ili downtown by public bus. But if you are going to attractions such as Nalati Grassland, Gouzigou Valley, Kalajun Grassland, Sayram Lake, it is more convenient to charter a private car. But most taxi drivers in Ili don't understand English or other foreign languages and you need to write down your destination in Chinese in advance.
China Discovery's Private Transfer is Top Recommended
As attractions in Ili are scattered in different directions, traveling with a private vehicle and a local guide is quite helpful. To better acclimatize yourself to the local environment and get a better travel experience, it's highly advised to get around Ili by private car. Please feel free to contact us for transportation help.
Ili Accommodation: Where to Stay
In general, the accommodation condition in Ili can not measure up to hotels with the same star rate in big cities like Beijing and Shanghai. But you can still find several well-decorated 4-star hotels. When you are traveling to Ili, it is most recommended to stay in Ili downtown with convenient transportation and various hotel choices. What's more, main attractions such as Nalati Grassland, Gouzigou Valley, Kalajun Grassland, Sayram Lake are all not around Ili downtown area, and there are mainly local resorts and homestays around with basic accommodations facilities. If you want to stay close to Ili Airport or Ili Railway Station, there are also some choices, but most are 3-star and 2-star hotels.
Recommend Hotels in Ili Downtown: Hotel Yili (伊宁伊犁大酒店 ★★★★) He Xie Hotel (伊宁和谐大酒店 ★★★), Nalati Grassland Hotel (那拉提草原酒店 ★★★★), Wenzhou International Hotel (霍尔果斯温州国际大酒店 ★★★)
Other Popular Destinations in Xinjiang
Xinjiang is a vast land not only creates tremendous natural wonders like crystal blue Tianchi Lake, beautiful Kanas, majestic mountains, and vast grasslands but also presents the unique culture of diverse ethnic minorities and the profound history of the ancient Silk Road. Besides Ili, the following are more destinations you can choose for an in-depth exploration of the natural and cultural spectacles of Xinjiang.
Other Popular Destinations in Western China
Though far away from the eastern and central developed cities, northwestern China is a beloved dreamland for tourists to trace back to the ancient Silk Road and discover the less-touristy landscape and experience the diverse minority culture. As one of the birthplaces of many ancient Chinese civilizations, you can also find time-honored relics in this region. Here are the four best places selected for you to enjoy the stunning plateau scenery, vast deserts, and glorious culture and history, make a special, meaningful, and memorable adventure. You can easily travel to these charming places from Ili. (Check all destinations in China.)
Plan your Xinjiang Ili Tour
Usually, tourists travel to Ili from Urumqi, Xinjiang's gateway and the most important transfer center. In Urumqi, you can take 1 day to visit the Xinjiang Museum and other landmarks, one more day for the Heavenly Lake of Tianshan Mountains. Spending a one-day trip in the Nanshan Pasture is strongly recommended during summer. The most popular Ili trip itinerary is to spend 2 or more days exploring the highlights like the Sayram Lake, Kalajun Grassland, Nalati Grassland, lavender ocean of Huocheng, Guozi Valley, Tekes Town, etc. Most travelers like to extend the Ili tour to cover the northern Xinjiang including the famous Kanas Lake.
Xinjiang is a vast land full of natural wonders and ethnic cultural treasures. We strongly recommend extending your journey to more wonderful places. If you love nature, there are many destinations in Northern Xinjiang worthy of a exploration, such as the fairyland Kanas Lake and serene Hemu Village nearby, Turpan with Flaming Mountains, Jiaohe Ancient City, Karamay (Ghost City), Sayram Lake, etc. Culture fans can travel to other regions in Southern Xinjiang, like Hotan, Taklamakan Desert, Lop Nor, Korla, etc. A classic Xinjiang discovery with Urumqi, Turpan and Kashgar takes 8 days. In-depth Xinjiang exploration requires a longer holiday. If time allows, you can follow the ancient Silk Road from Xian, across the Hexi Corridor in Gansu (Lanzhou, Zhangye, Jiayuguan and Dunhuang) to Xinjiang, continue to visit holy land Tibet and beautiful Qinghai and other lands of China.
As a reliable and professional travel agency with many years' experience, We China Discovery masters first-hand and comprehensive travel guide. Traveling with us, you can enjoy a memorable Xinjiang trip as our other guests. Select a suitable itinerary from our most popular Kashgar tours below, or contact us to customize a special trip on your own.
Recommended Tours
MORE