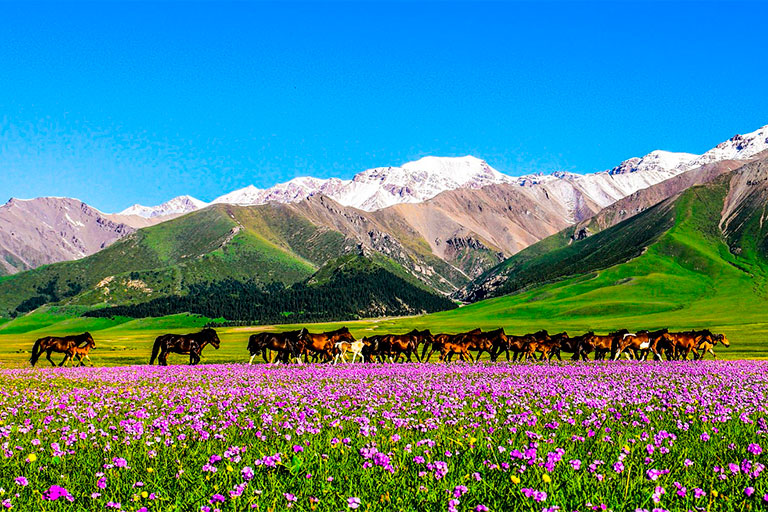 How To Plan A Trip To Xinjiang: Xinjiang Trip Planner 2023/2024
It is impossible to travel to Xinjiang but not be awestricken by its long-lasting cultural fragrance of the ancient Silk road, scenic beauty of diverse landforms, as well as the colorful life of the ethnic minority groups. Owning an unmanageable wealth of attractions, Xinjiang offers explorers a once-in-a-lifetime journey. You can follow the ancient traders' footsteps and explore the prosperous trading towns (such as Kashgar, Turpan, Hami, Kuche, Aksu, etc.) along the Silk Road in Xinjiang, and immerse yourself in the by far most extraordinary landscapes like alpine lakes in emerald green or blue, rolling grasslands dotted with nomadic herds, magnificent grand canyons with distinct landforms, glaciers-encrusted mountain areas, etc. Besides, Xinjiang is the perfect place to probe into China's diversity in that you are able to see the lifestyle of lots of ethnic groups, including Uyghur, Han, Kazak, Hui, Mongolian, Tatar, Russian, etc.
Xinjiang's riveting beauty demands immediate action. In fact, traveling to Xinjiang is not as easy as other cities, because of its large area. This Xinjiang Trip Planner helps you focus on what to do and see, where to stay, when to go and more practical information you need to know and travel to Xinjiang in an efficient way. Just browse our top Xinjiang tours or contact us to customize your own Xinjiang trip.
As the largest province in China, Xinjiang covers an area of 16% of China's total land area. Generally, Xinjiang can be divided into Northern Xinjiang and Southern Xinjiang by the Tianshan Mountains. The top tourist destinations in Southern Xinjiang include Kashgar, Korla, Kuqa, Hotan, Aksu, etc., while the recommended places to visit in Northern Xinjiang include Urumqi, Turpan, Altay (Kanas), Ili (Yining), Karamy, Bortala, etc.
◆ Kashgar - Essence of Xinjiang: It is said that a Xinjiang tour is not completed without a visit to Kashgar. Kashgar once was a major market city along the Silk Road and both the northern and the southern silk routes crossed here. Kashgar Old City with a history of over 2,000 years is the best place to experience local life and customs. In Id Kah Mosque and Abakh Hoja Tomb, you can feel the strong religious atmosphere and listen to the old story of legendary Xiang Fei and her family. Don't miss Tashkurgan (Taxkorgan) where the old tradition of China's only Caucasian ethnic group is preserved. On your way to Tashkurgn from Kashgar City, you will view stunning Karakul Lake, White Sand Lake, Muztagh Ata, grasslands, valleys, etc. Learn more>
◆ Turpan - Important Outpost on the Silk Road: Turpan used to be one of the political, economic and cultural centers of Northwestern China and many cultural heritage sites can be admired here. The Karez System, still used today, is a brilliant irrigation project which makes Turpan an oasis in the desert. Jiaohe Ancient City is a precious ruin telling the history of the disappeared kingdom. The precious murals in Bezeklik Caves and Mazaar Village hidden in Tuyuk Valley also deserve your time. If you are interested in wild nature, just go to Kumtag Desert, which is quite close to Turpan City. Learn more>
◆ Kanas - God's Private Garden: Kanas with turquoise lake, zigzag rivers and bays, dense forests and pristine Tuva villages is praised as the Switzerland of the Oriental and God's Garden. There are different ways to appreciate the beauty of Kanas, including climbing to Guanyu Pavilion for a panoramic vista, taking a boat on the lake, hiking along the three beautiful bays, etc. If you want to capture the best colors of Kanas, just go in September and early-October when Kanas are dotted with colorful birch trees. Learn more>
◆ Urumqi - Tourist Distribution Center: Equipped with convenient airlines and several railways, Urumqi is the major transfer hub in Xinjiang. Most travelers start their Xinjiang tours from Urumqi. In addition to its pivotal role in transportation, it also has something to delight visitors. Nanshan Pasture is a popular summer resort to breathe fresh air and enjoy natural scenery. Xinjiang Regional Museum offers a glimpse of the history and culture of Xinjiang. Xinjiang International Grand Bazaar is a popular site to view Xinjiang-style handicrafts and feel ethnic market culture. Besides, it is available to take a half day's side trip to Heavenly Lake of Tianshan Mountain (Tianchi).
◆ Hotan - Another Historical Legacy of the Silk Road: Hotan (Heitan) is another place to explore the mystery of the ancient Silk Road, and many technologies, religions and philosophies were exchanged here. Hotan Museum with treasured collections is the best place to learn the history and culture of Hotan and the Silk Road. It is also available to visit some family workshops to see how Hotan carpets are made. Traveling along the Hotan-Altar Desert will be an awesome experience. Learn more>
In addition to these key locations, there are still many other places to visit in Xinjiang, including Takamakan Desert - the largest desert in China, Ili - a summer resort with numerous grasslands and flowering fields, Sayram Lake - the largest alpine lake in Xinjiang, Karamy - a mysterious site with unique landform, Kucha - one cultural center in Southern Xinjiang, Hami - the microcosm of Xinjiang, etc.
Keep Reading: Kashgar Tour Packages | Turpan Tour Packages | Urumqi Tour Packages | Kanas Tour Packages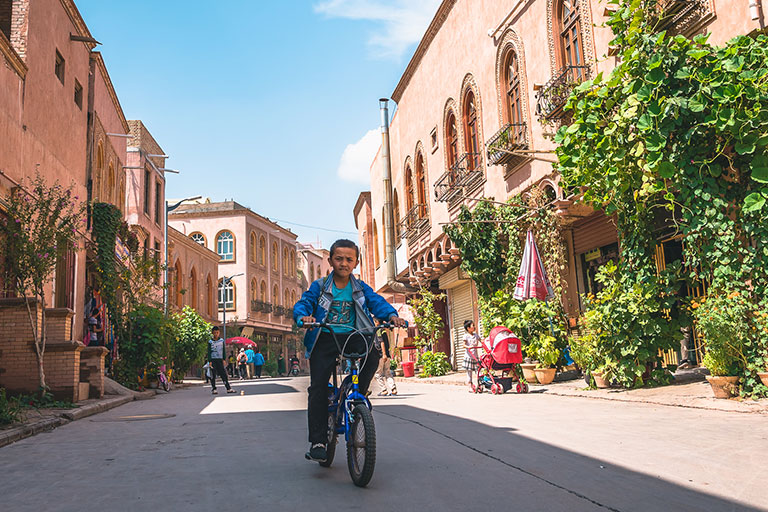 Kashgar Old City © 文刀四火 / mafengwo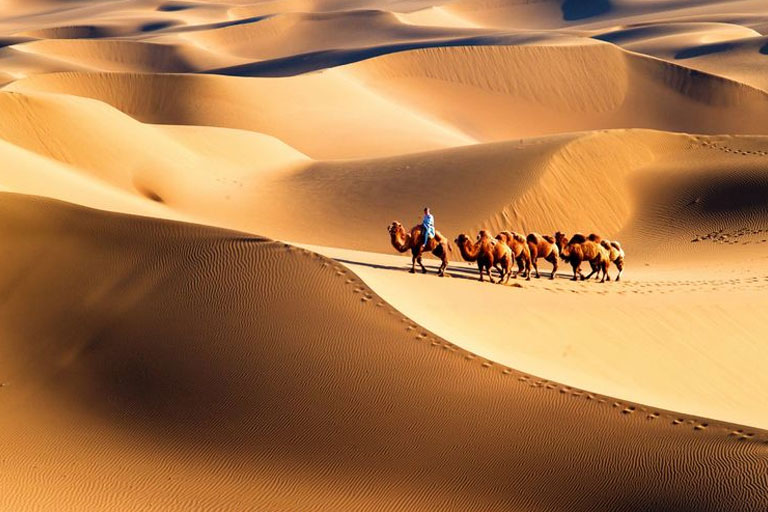 Kumtag Desert © 老乐 / meipian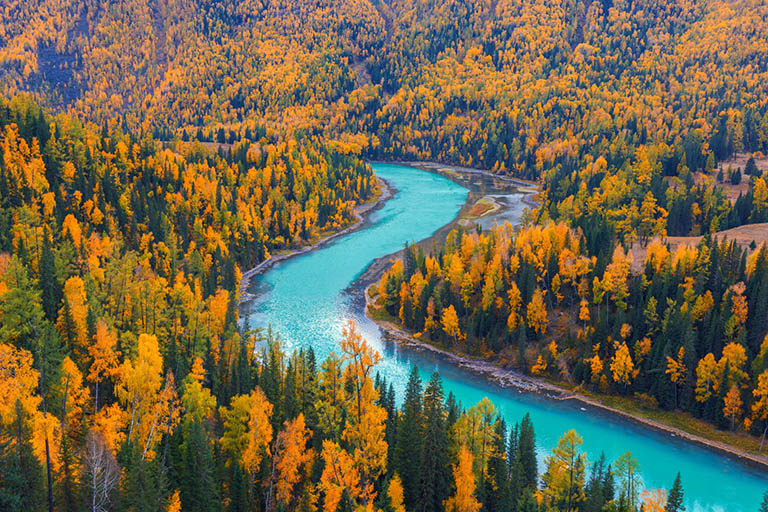 Autumn Scenery of Kanas Lake © GOOM果果 / mafengwo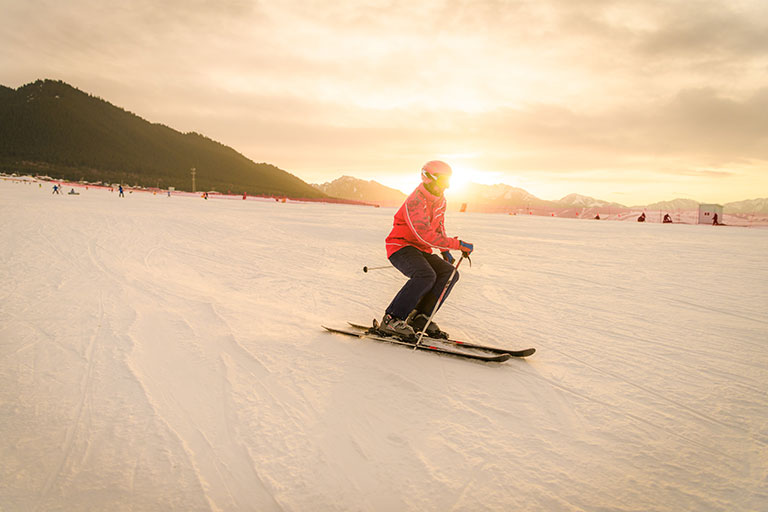 Silk Road International Ski Resort ©少年环游记 / kuaibao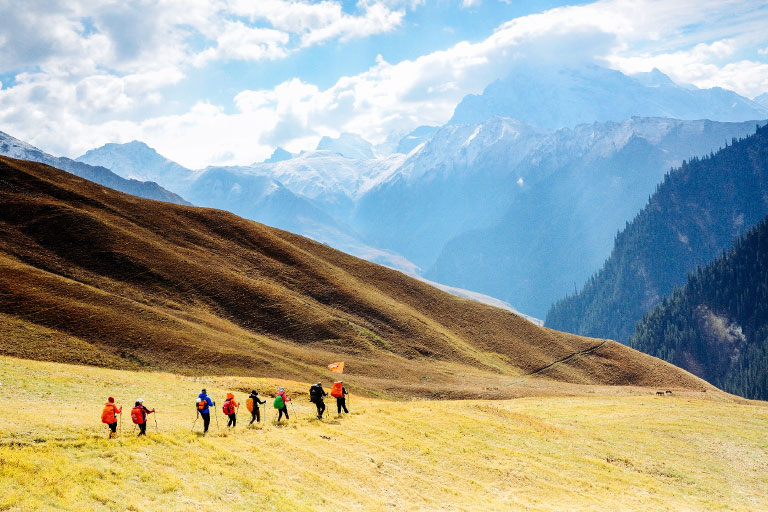 Hiking on Wusun Ancient Road ©穆羽Grace / mafengwo
The great Xinjiang experience is about so many things: sightseeing, photography, hiking, biking, camping, etc. No matter if you are shutterbug, hiking fan, cyclist, or other outdoor activities enthusiast, Xinjiang definitely meets your expectations.
Photography: Whether you are a professional photographer or not, it is just a piece of cake to get some nice photography works in Xinjiang. The most preferred sites are Kanas studded with multi-colored birch trees in autumn, Kucha Grand Canyon covered with reddish brown rock in various shapes, Karamy Ghost City (Wuerhe Ghost City)- China's most beautiful Yardang landform geopark with numerous earth formations, Dushanzi Grand Canyon - a deep canyon with far-reaching views, Karajun Grassland - a less obvious but no less impressive grassland with amazing Human Grassland, etc.
Hiking: For anyone who wants to stretch your legs, Xinjiang doesn't disappoint you. Kanas is an ideal hiking destination for travelers in different physical conditions. You can enjoy a comfortable hike around Hemu Village first, and then a full day's hike in Kanas Lake Scenic area. Turpan Grapes Valley also offers a nice hiking route if you are interested in involving some historical sites in your itinerary. You can also hike on Wusun Ancient Route, which is the throat connecting the north and south of Tianshan Mountain. Moreover, it is also available to hike around Karajun Grassland and enjoy the incredible grassland scenery on the way.
Skiing: Xinjiang is a wonderful place for winter fun as well. If you are fond of skiing, there are many great ski resorts for you. Silk Road International Ski Resort located in Urumqi is the largest ski resort in northwestern China and different trails are equipped to meet different skiers' needs. General Ski Resort in Altay is China's only alpine ski resort connected to the city. Koktokay International Ski Resort located in Koktokay Scenic Area offers both a skiing experience and a fascinating snowscape. Besides, Naraty International Ski Resort (in Ili), Baiyun International Ski Resort (in Urumqi), Xuelianshan Golf and Ski, Weisite Happy Town Ski Resorts, etc. are also available.
Biking: Xinjiang is not a famous destination for biking, but the biking experience around Sayram Lake is enough. Especially in summer when the nearby grasslands are covered with wild flowers, you will enjoy a never-tiring trip. If you are confident in your strength, biking from Burqin to Kanas Lake is a nice choice. Or spend 1 to 2 days biking from Karamy Ghost City to Karamy City and indulge yourself in the unbelievable desert trails.
As numerous attractions are scattered across 1,660,000 square kilometers, even one month is not enough to get an in-depth discovery of Xinjiang. However, it is possible to organize a smart itinerary to make full of your time.
For first timers, we suggest you spend 6 ~ 8 days enjoying Xinjiang highlights by visiting the most classic destinations - Urumqi, Turpan and Kashgar, which blend cultural features with natural landscapes. Usually, it takes 2 days to explore Urumqi City highlights (Nanshan Pasture, Xinjiang Grand Bazaar and Heavenly Lake of Tianchi), 2 ~ 3 days for Turpan essences (Karez System, Jiaohe Ancient City, Turpan Museum, Beziklik Caves and Kumtag Desert), and 3 ~ 4 days Kashgar highlights (Id Kah Mosque, Kashgar Old Town, Kashgar Bazaar, Ancient Tea House and Karakul Lake and Tashkurgan Fort).
☛ 6 Days Urumqi Turpan Kashgar Efficient Tour
☛ 8 Days Xinjiang Classic Tour(Urumqi - Turpan - Kashgar)
Of course, other destinations are also worthy of you exploration. If you have more days to stay in Xinjiang, or you get an opportunity to stay in some specific destinations for a few days, it is advised to enjoy the sublime scenery of Kanas Lake and Hemu Village in 1 ~ 2 days, visit the vast grasslands and flowering fields of Ili in 2 ~ 3 days, feel scenic splendor of Sayram Lake in 1 day, take an adventure through the desert highway in Taklamakan Desert in 1 day, admire the historical charm of Kucha in 1 ~ 2 days, experience the Silk Road glories of Hotan in 1 ~ 2 days, feast on the unique landforms in Karamy in 1 ~ 2 days, etc.
☛ 10 Days Stunning Ili Apricot Blossom and Naraty Grassland Tour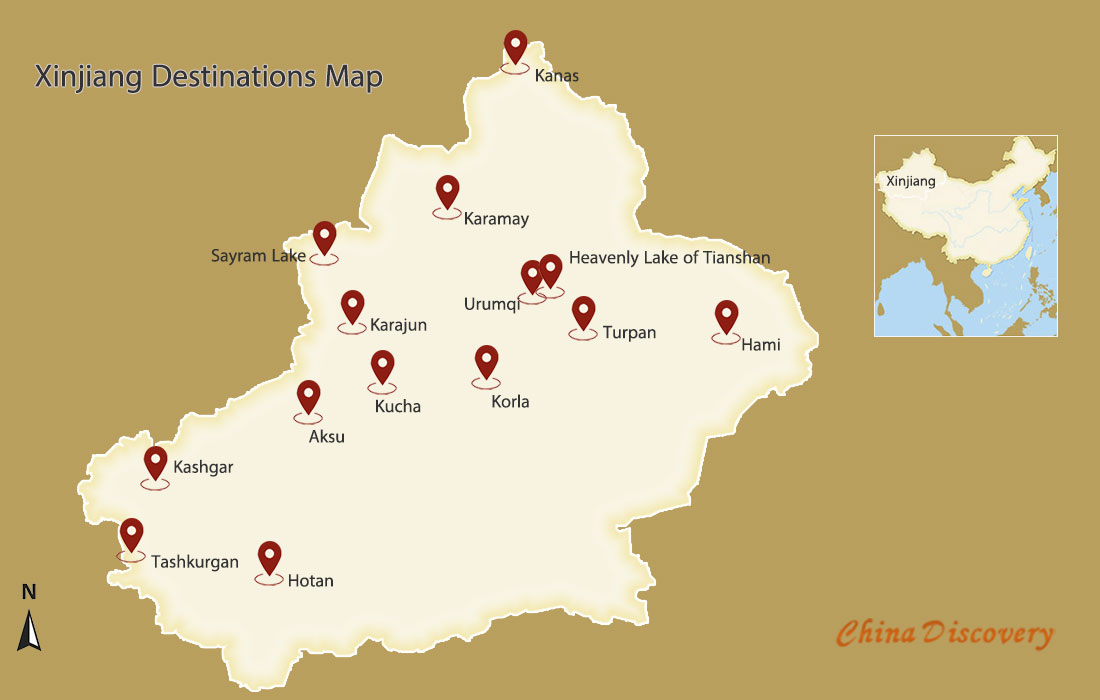 Xinjiang Destinations Map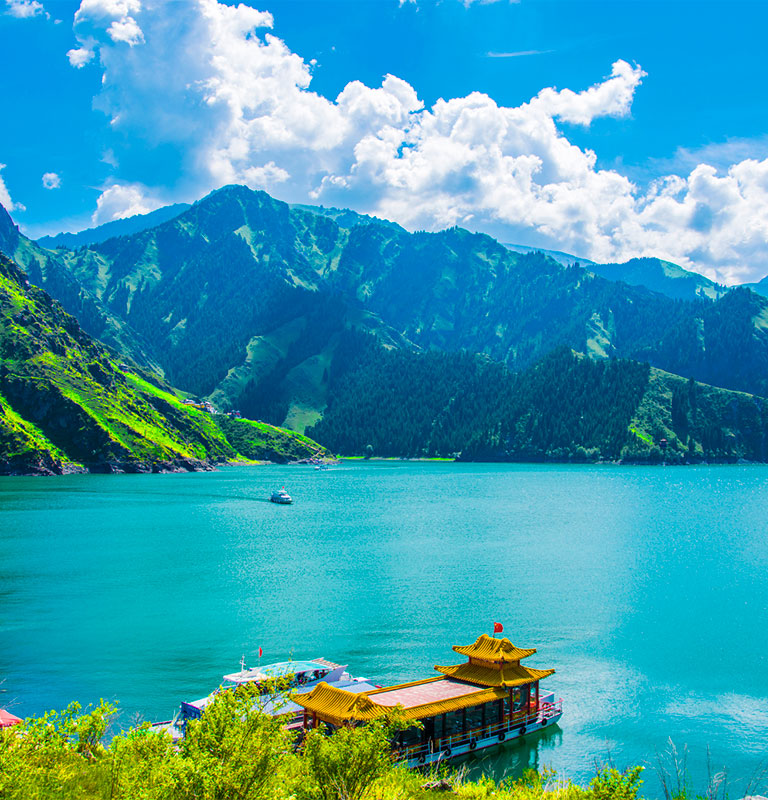 Heavenly Lake of Tianshan © 陈巍伟 / mafengwo
Some travelers want to enjoy a classic tour with different experiences packed in one tour, while some travelers have strong interests in a special tour with a specific theme. Usually, this kind of tour takes a longer time.
Landscape Tour: It takes about 10 days to view the best landscape of Xinjiang, including primitive grasslands, alpine lakes, peaceful villages and geographical wonders. Recommended attractions are Kanas Lake, Wuerhe Ghost City, Sayram Lake, Karajun Grassland and Dushanzi Grand Canyon.
☛ 11 Days Xinjiang Landscape Tour
Silk Road Tour: As everyone knows, Xinjiang is the top place to trace the Silk Road mystery. The Silk Road broke into three routes in Xinjiang and there are many places to explore the glorious past. You are advised to spend about 12 days visiting can't-be-missed Silk Road destinations, including Turpan, Korla, Kucha, Hotan, Kashgar and Tashkurgan.
Adventure Tour: Want to feel the adrenaline rush? Just take an adventure through the desert highway in Taklamakan Desert, which is also favored by culture and nature lovers. It is rather popular to have a 9 ~ 10 days tour with Taklamakan Desert adventure and Silk Road exploration.
☛ 9 Days Taklamakan Desert Ancient Silk Road Tour
Winter Tour: Winter is the best time to join snow activities and indulge in snow scenery. Kanas is a wonderful winter destination and a Kanas winter tour involving sightseeing and skiing experience takes at least 4 ~ 5 days.
In addition, China Discovery has well-designed different travel styles for hiking, foodies, culture lovers, students and family as well. Contact us for your own Xinjiang experience.
The beauty of Xinjiang is beyond your imagination, but traveling to Xinjiang only is not enough. If your time permits, extending your Xinjiang tour to its alluring neighbors and other top destinations in China is strongly recommended. The most popular choice is traveling along the frightens of the Silk Road in China, such as Xian, Lanzhou, Xining, Zhangye, Dunhuang, Jiayuguan, etc. For excitement seekers, traveling Xinjiang with Tibet is the ultimate experience of China's unworldly scenery.
Gansu - Golden Part of The Silk Road: Xinjiang is always traveled with Gansu to fully discover the splendor of the Silk Road. It offers several world-class cultural heritage sites, including Mogao Grottoes, Maijishan Grottoes, Jiayugaun Great Wall, Binglingsi Grottoes, etc., as well as countless natural draws. A classic Gansu tour takes 6 ~ 8 days, including 2 ~ 3 days in Dunhuang, 2 ~ 3 days in Zhangye, 1 ~ 2 days in Jiayuguan and 1 ~ 3 days in Lanzhou. Check Gansu Tours>
Qinghai - High Plateau with Unique Culture: Qinghai is also a big province, but travelers usually visit its key locations - Qinghai Lake, Chaka Salt Lake and Xining which take about 4 days. It is also available to visit some other not obvious but no less impressive sites, such as Kanbula National Forest, Tongren, Amne Machin in 1 ~ 3 more days. Check Qinghai Tours>
Tibet - The Roof of The World: Located in the Qinghai-Tibet Plateau, Tibet features unbelievable high plateau scenery of turquoise lakes, snow peaks and glaciers… as well as a holy Buddhist land with lots of temples and palaces. For the first timers, 4 ~ 8 days are suitable to have a classic tour. The top destinations must be Lhasa, Shigatse, Everest, Namtso and Ngari. Check Tibet Tours>
Not enough? Many big surprises await, like UNESCO-recognized heritage sites in Beijing (3 ~ 4 days), thousand-year old miracles in Xian (2 ~ 3 days) skyscrapers and lively night view of Shanghai (2 ~ 3 days), stunning karst landscape in Guilin (3 ~ 4 days), cute Giant Pandas in Chengdu (1 ~ 2 days), strange rocks and peaks in Huangshan (3 ~ 4 days), Avatar World in Zhangjaijie (3~4 days), etc.
☛ 10 Days Classic Silk Road Tour (Xian/Dunhuang/Turpan/Kashgar)
☛ 11 Days In-depth Wild Silk Road Adventure Tour (Lanzhou/Zhangye/Jiayuguan/Dunhuang/Turpan/Urumqi/Kashgar)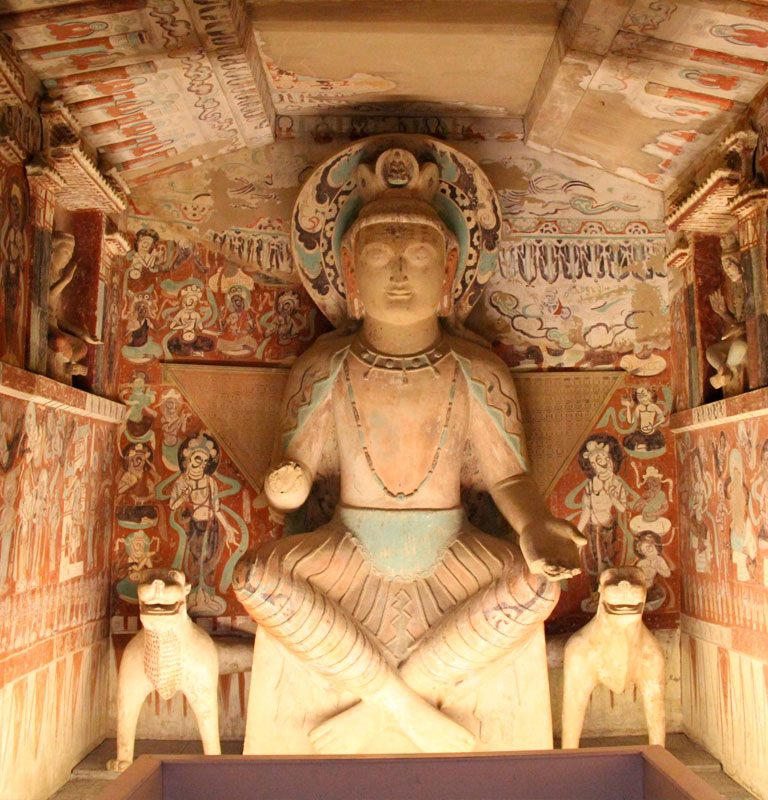 Mogao Grottoes ©ctrip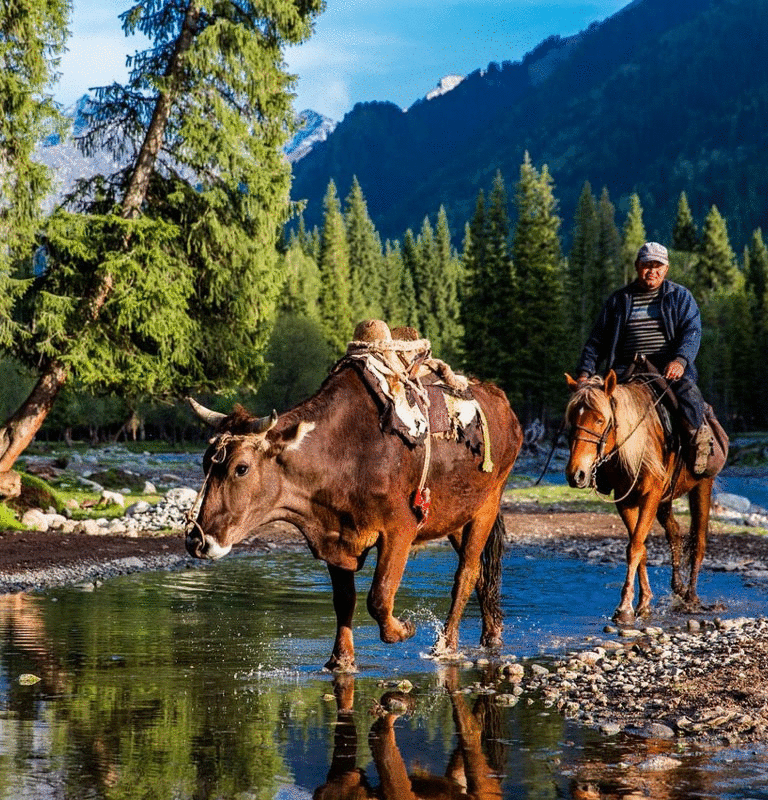 Seasonal Landscape in Xinjiang ©travelxj
As a landlocked land located in the middle Asia and far away from oceans, Xinjiang belongs to the typical Temperate Continental Climate. Xinjiang is obviously characterized by an arid climate, low rainfall and evaporation. The monthly average precipitation is about 150 mm and the monthly average sunshine hour is 200 ~ 300 hours. The temperature difference between day and night is usually 10 ~ 15°C. The highest average temperature is above 33°C in July and the lowest average temperature is below -20°C. The best time to visit Xinjiang is May ~ October, but visiting different seasons allows you to see different sceneries.
Spring (March ~ May): Generally, the temperature rises in March, but it is still cold in Xinjiang. Strong winds and dust storms may casually attack Xinjiang. In April and May, the icy lakes begin to melt, the grass begins to turn green and the flowers begin to bloom. Late spring is the best time to enjoy a vivifying scene.
Summer (June to August): Summer is the peak season to visit Xinjiang. Except for Turpan and some deserts, many places in Xinjiang are rather cool in summer. It is the best time to visit grasslands, mountains and some lakes for the greens and flowers. Besides, don't miss the opportunity to enjoy the various fruits.
Autumn (September ~ October): Xinjiang must be one of the top destinations in China for autumn colors. In Kanas, birch trees covered with colorful leaves make the lake more enthralling in September. October is the best time to enjoy the populus euphratica forests. If you want a peaceful environment, you'd better avoid visiting Xinjiang in China's golden week (first week of October).
Winter (November ~ next February): The low temperature of winter frightens many travelers away and it is a good time to enjoy a less-crowded Xinjiang. If you are interested in skiing, just spend 1 week touring Altay.
Keep Reading: Urumqi Weather | Turpan Weather | Kashgar Weather | Kanas Weather | Xinjiang Weather
Urumqi and Kashgar are two tourist distribution centers in Xinjiang. Most travelers start a Xinjiang tour from Urumqi because of the frequent flights and convenient high speed trains. Some travelers interested in visiting Southern Xinjiang may only travel to Kashgar first. There are many other airports serving different cities in Xinjiang, but only several flights are available to reach Xinjiang from limited cities outside Xinjiang.
Get to Urumqi: Urumqi Diwopu International Airport receives flights from Beijing (4h), Shanghai (5h), Xian (4h), Chengdu (4h), Chongqing (4h), Changsha (4.5h), Xining (2.5h), Dalian (4h), Guangzhou (4.5h), Lanzhou (2.5h), Yinchuan (3h), etc., and Urumqi receives high speed trains from Xian (13.5h), Lanzhou(10.5h), Xining (9.5h), Zhangye (7.5h), Jiayuguan (6h), Dunhuang (4h), etc. There are some normal trains available but not recommended because of the long duration.
Get to Kashgar: Kashgar International can be reached by flight as well, and the connected cities include Lanzhou (4 h), Beijing (4.5 h), Chengdu (4.5 h), Xian (5 h), Nanjing (5 h), Shanghai (8.5 h), etc. At present, no high speed train is accessible and the normal train trips to Kashgar are rather long as well.
Xinjiang Inner Transportation: There are provincial airlines and railways connecting different cities in Xinjiang. For travelers who want to go to Northern Xinjiang and Southern Xinjiang together, taking a flight is efficient. It is necessary to use the private transfer service with which you can easily transfer between the attractions which are scattered far away from each other.
Keep Reading: Get to/around Urumqi | Get to/around Turpan | Get to/around Kashgar | Get to/around Kanas | Xinjiang Transportation Guide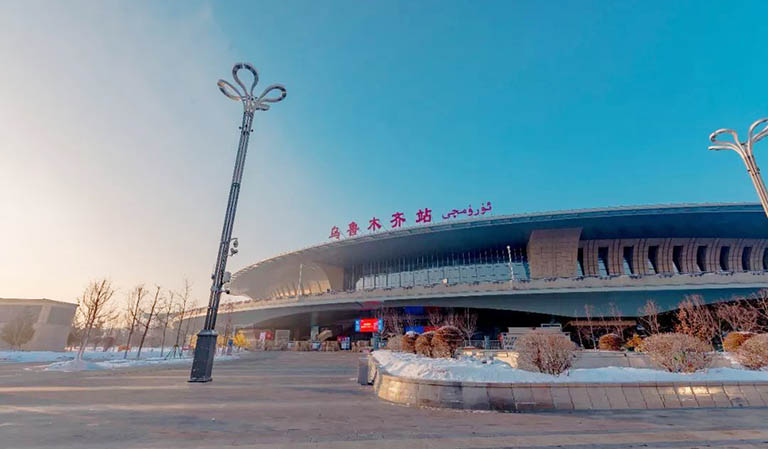 Urumqi Railway Station
Many cities in Xinjiang don't have plenty of luxury hotels, compared with the developed areas such as Beijing, Shanghai, Guangzhou, etc. However, it is easy to find comfortable accommodation in most cities. In Urumqi and Kashgar, you can find more kinds of hotels. However, the hotels in some remote areas may be in rather basic conditions.
Urumqi Accommodation: The major accommodation sites in Urumqi are the downtown area and the Urumqi Airport area. Accommodating in the downtown area, you can easily get to public transportation means, good restaurants and markets. If you need to take an early flight, accommodation around the airport is recommended.
Kashgar Accommodation: Kashgar Old City, equipped with different hotels, top scenic spots and many restaurants, is the main accommodating area for travelers. The choices in Kasghar are much less than in Urumqi, but you can easily find various hotels ranging from 5-star luxury ones to comfortable homestay as well. For travelers in Tashkurgan, there are also comfortable 3-star hotels available.
Turpan Accommodation: Turpan has several 5-star and 4-star hotels as well and most of them are located in the downtown area where there are many restaurants, shopping malls, snack streets around.
Kanas Accommodation: If you want to get quick access to Kanas Scenic Area, you can stay in Jadengyu near Kanas Ticket Office. Hemu Village also offers many homestays with a great environment. If you want to extend your tour to Koktokay, you can stay in Koktokay town near the geopark or Fuyun County.
Keep Reading: Urumqi Accommodation | Turpan Accommodation | Kashgar Accommodation | Kanas Accommodation
Xinjiang cuisine is dominated by halal cuisine, but it also has the features of the cuisine of northwestern China. The main materials used in Xinjiang food are mutton, beef, camel, chicken, carrots, onions, peppers, eggplant, various dairy foods and fruits and they are made with fried, grilled, shabu-shabu, braised, sauced, grilled, and steamed ways. If you are a carnivore or a fruit lover, Xinjiang is a paradise for you.
Top Xinjiang Dishes: 1) Xinjiang-Style Braised Chicken - the top dish served on a big plate. It is an entire chicken cut up and cooked with potatoes, onions and other vegetables. 2) Uyghur Polo (Pilaf) - the quintessential food of the East. It isa tasty m concoction ix of rice, carrots and lamb meat cooked in oil, quite popular among both travelers and locals. 3) Lamb Kebabs - lamb meat on a stick. There are meat and pieces alternating on the stick, usually seasoned with salt, ginger, scallions and pepper. 4) Lagman - featured pulled noodles. Also called Hui BanMian, Laghman is covered in a mix of meat and vegetables. 5) Naan - Uyghur Bread. It is a delicious type of flatbread baked in a special clay. Naan is great to carry on your long trip because of the dryness and no need for heat.
Top Xinjiang Fruits: Xinjiang is the land of melons and fruits. Many fruits of Xinjiang are famous all over China, even the whole world, including seedless grapes in Turpan, red apples in Aksu, sweet melons in Hami, bergamot pears in Korla and crisp jujubes in Hotan. Besides, it is possible to enjoy the best mulberries, figs, apricots, pomegranates, etc. There are many dried fruits which are easy to preserve and available to take home.
In numerous bazaars in Xinjiang, you can easily find some food and fruits to satisfy your appetite.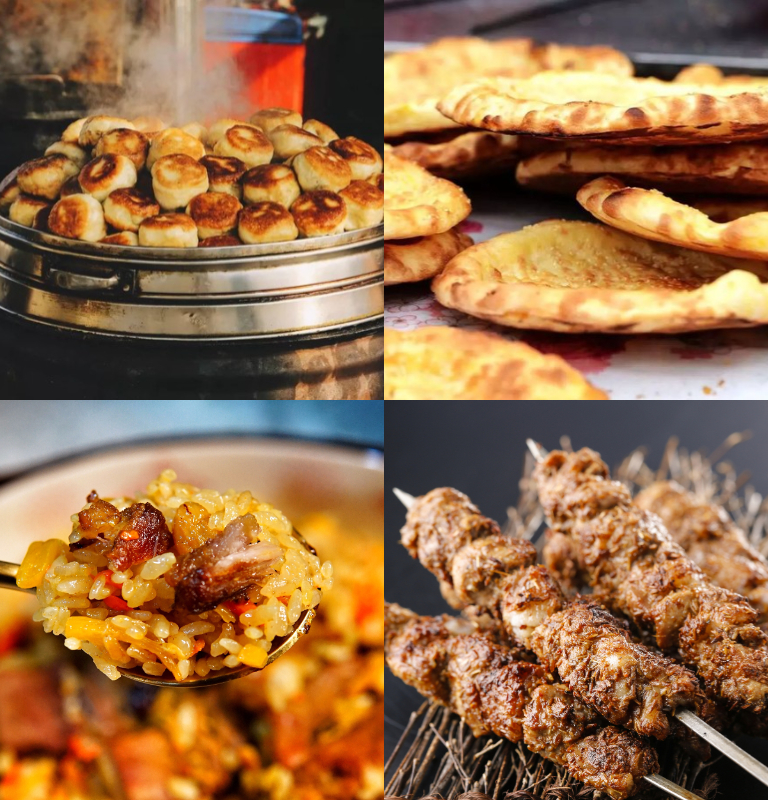 Popular Xinjiang Dishes