How to Get from Xian Railway Stations to Terracotta Warriors 2023/2024
There are three railway stations in Xian. Xian North Railway Station is the High Speed Train Station, Xian Railway Station is the oldest one located in Xian downtown, and Xian South Railway Station mainly serves Xian - Ankang Railway and is not that must frequently used. If you are taking a train to Xian, this article will be helpful in showing you how to get to Terracotta Warriors from the three train stations.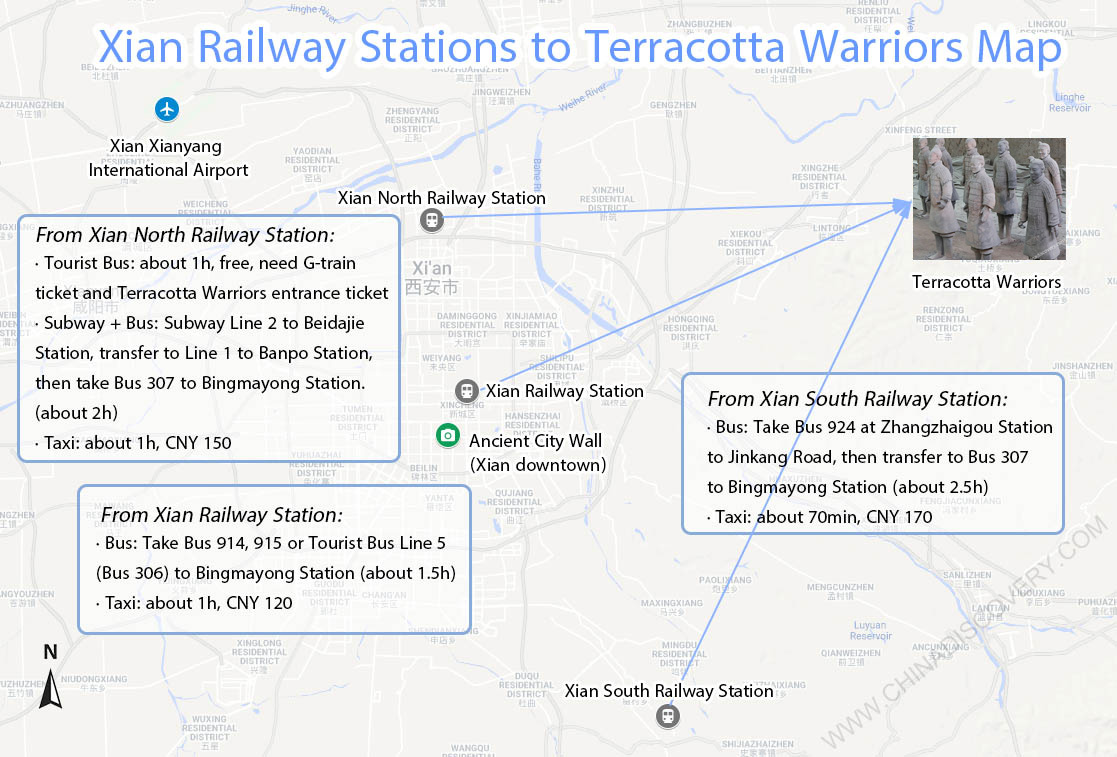 Xian Railway Stations to Terracotta Warriors Map
Xian North Railway Station to Terracotta Warriors
Xian North Railway Station is at Yuanshuo Road, Weiyang District, Xian City (陕西省西安市未央区元朔路), about 20km from downtown and 48km from Terracotta Warriors. It is the only train station in Xian that operates high speed trains, thus is the one you are most likely to use in a Xian train trip. To get to Terracotta Warriors, you need to get to Xian downtown first. You can take Metro Line 2 to Beidajie Station (北大街站), and transfer to Line 1 to Banpo Station (半坡站), then get out of the metro station from Exit A and take Bus 307 to Bingmayong Station (兵马俑站). The whole journey will take at least 2 hours. Of course this is only one of the several subway and bus routes, but it is the one with fewer transfers and less time. Taking a taxi there will cost about CNY 150 and need 1 hour.>>Xian North Railway Station
Bonus: If you take the G-trains to Xian North Railway Station, you can get a bus card at Xian Travel Consultation & Distribution Service Center 西安旅游咨询集散服务中心 (B1, entrance of Metro Line 2) with your high speed train ticket and Terracotta Warriors entrance ticket (can be bought online). With the bus card, you can take Lintong Tourist Bus to Terracotta Warriors from Xian North Railway Station for free. The bus operates hourly from 8:00 – 16:00.
Xian Railway Station to Terracotta Warriors
Xian Railway Station is located at No. 44 Huancheng North Road, Xincheng District (西安市新城区环城北路44号), in the downtown area of Xian with the most convenient transportation among the three. It only operates normal trains (like K-trains, Z-trains and T-trains) to other cities like Beijing, Shanghai, Guangzhou, Chengdu, Tianjin, Lanzhou, Dunhuang, etc. It is about 37km from Terracotta Warriors and you can take Bus 914, 915 or Tourist Bus Line 5 (Bus 306) to Bingmayong Station (兵马俑站) without transfer. Then you will find the Terracotta Warriors is about 500m away. The bus will take about 1.5 hours and the ticket fare is CNY 7. Taking a taxi there will cost about CNY 120 and need 1 hour.
Latest News:
From 24 October, 2019, for the comprehensive upgrading construction of Xian Railway Station East Square, all the original tourist buses there will be transferred to other bus stations. The ones to Terracotta Warriors are adjusted as below:
1. Tourist Bus Line 5 (Bus 306) will be transferred to Fangzhicheng Bus Station (纺织城客运站). You can take Bus 42 or metro Line 1 to get there (about 1h) from the railway station.
2. Bus 914 and 915 will be transferred to Sanfuwan Bus Station (三府湾客运站). You can take bus 20, 28, 49, 176, 191, 286, 719, 912, etc. to get there or just walk there (1.5km, 20min on foot).
Xian South Railway Station to Terracotta Warriors
Xian South Railway Station is at No.222, Tielu Ercun, Huangjueping, Jiulongpo District (黄桷坪铁路二村龙吟路附近). It is about 30km to downtown area and 60km to Terracotta Warriors. To make the fewest transfers, you can take Bus 924 at Zhangzhaigou Station (张寨沟站) to Jinkang Road (金康路) first, then transfer to Bus 307 and get off at Bingmayong Station. It will take at least 2.5h in total. Taking a taxi there will cost about CNY 170 and need 70 minutes.
Note:
1. The public transportation information above updated in August, 2019 is for your reference only. Please remember to double check in case there is some change in the schedules or operation routes.
2. If you plan to take a taxi, it is advised to make a note of the place you want to go in Chinese in advance and show it to the taxi driver in case there is some language obstacle, and make sure that you get on the legal and licensed ones with a taximeter, or you may be charged with a higher rate.
Travel with China Discovery
We at China Discovery provide comfortable and efficient private transfer service for our clients who have booked one of our tour packages. No matter when your train arrives and which train station you are in, our friendly tour guide and skilled driver will hold a sign with your name and welcome you at the arrival hall, then escort you to your hotel or any location, for example, the Terracotta Warriors, you want to visit with an air-conditioned and non-smoking vehicle. Travelling with China Discovery, all the problems such as transfer, tickets, meals, accommodation, etc. will be well taken good care of. All you need to do is just enjoying your trip! >>Contact us now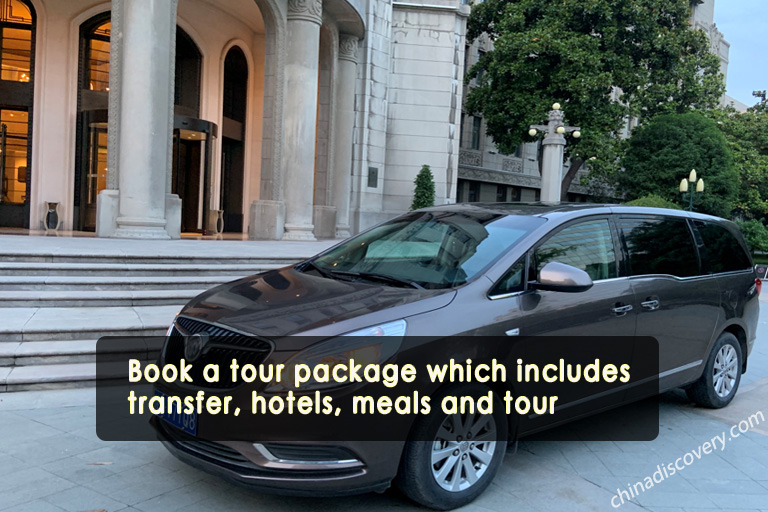 China Discovery Private Transfer
How to Plan a Xi'an Tour
As the ancient capital city for 13 dynasties in China's history, Xi'an has always been a hot tourist destination in China. Terracotta Warriors and Horses buried for more than 2000 years is definitely a must-see. After that, take a stroll or rent a bike on the Ancient City Wall, the largest and best-preserved ancient city wall in China, to enjoy panoramic views of modern Xi'an. Then try some local snacks at the bustling and lively Muslim Quarter. On the next day, you can head to Da Cien Temple and Giant Wild Goose Pagoda to feel the Buddhist culture in Xi'an, then get a deeper understanding of the past of this city in Shaanxi History Museum. If you are interested in mountain climbing, don't miss the challenging Mount Huashan which is famous for lofty peaks and steep paths.
If you have other ideas or questions about a Xian tour, please feel free to contact us. We are also specialized in customized tours according to your own requirements, interests, travelling budgets, etc.
Biking on Xian Ancient City Wall
Recommended Xian Tours
Top 3 Xian tours chosen by most customers to explore Xian in the best way. Check the detailed itinerary, or tailor your own trip now with us.
Start planning your tailor-made holiday to China by contacting one of our specialists. Once inquired, you'll get a response within 0.5~23.5 hours.
Customize a Trip
Have a question? Get answers from our travel experts or guests
Your Question:

Your Name:

Your Email: