How to Get from Xian Xianyang International Airport to Terracotta Warriors 2023/2024
The over 2200-year-old Terracotta Warriors lie about 66km to the east of Xian Xianyang International Airport. As the Terracotta Warriors is absolutely a highlight of a Xian tour and many people can not wait to see it upon arrival, we have gathered the transportation information about how to get to this site from the airport to help you better plan your tour.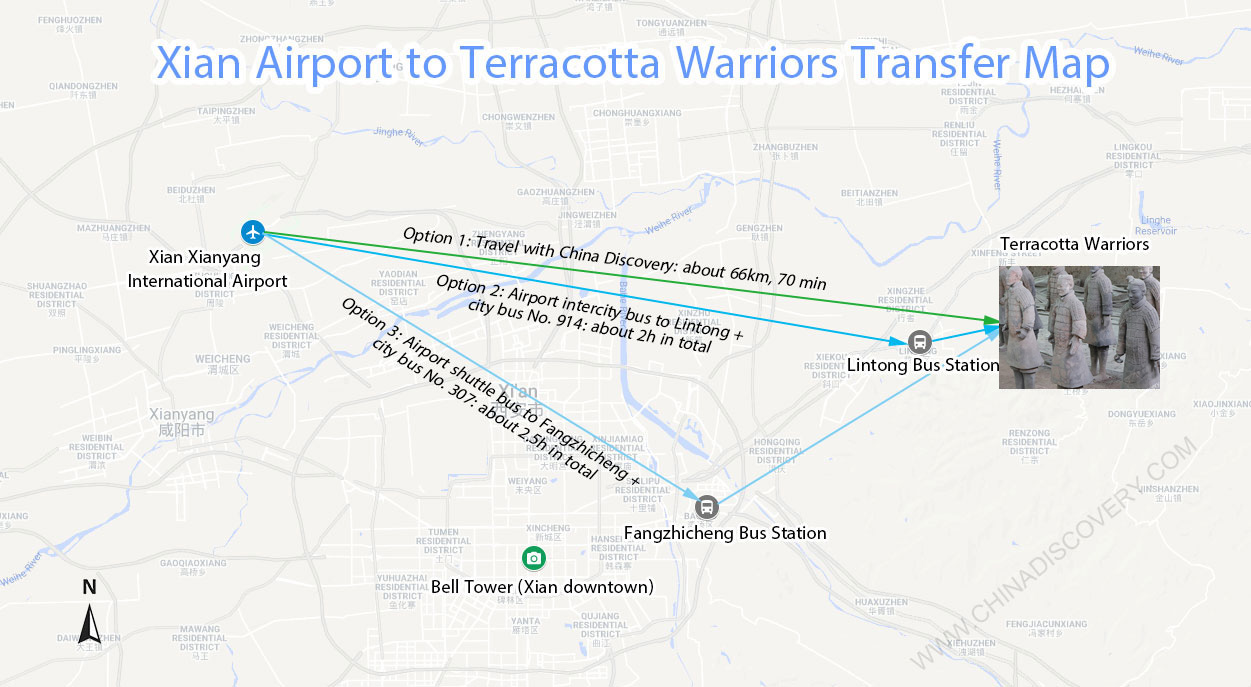 Xian Airport to Terracotta Warriors Transfer Map
Xian Xianyang International Airport (IATA: XYI)
Location: Dizhang Town, Weicheng District, Xianyang City, Shaanxi (陕西省咸阳市渭城区底张镇)
Xi'an Xianyang International Airport (西安咸阳国际机场) is actually located in Xianyang city, but you can get to Xi'an downtown conveniently by Airport Shuttle Bus (subway is not available at the airport). The airport connects Xi'an with most major cities in China and many cities abroad. So far (July, 2019), there are 62 airline companies running 313 lines covering over 170 cities such as Beijing, Tianjin, Chengdu, Shanghai, Guangzhou, Hangzhou, Kunming, Chongqing, Nanjing, Xiamen, Hong Kong, Macau, Seoul, Bangkok, Kuala Lumpur, Nagoya, etc. There are 3 terminals in total. T1 and T2 are for domestic flights, while T3 is for both domestic and international flights. Passengers can walk (about 10 minutes) or take free buses (3-5 minutes) to transfer between the terminals.>>More about Xian Xianyang International Airport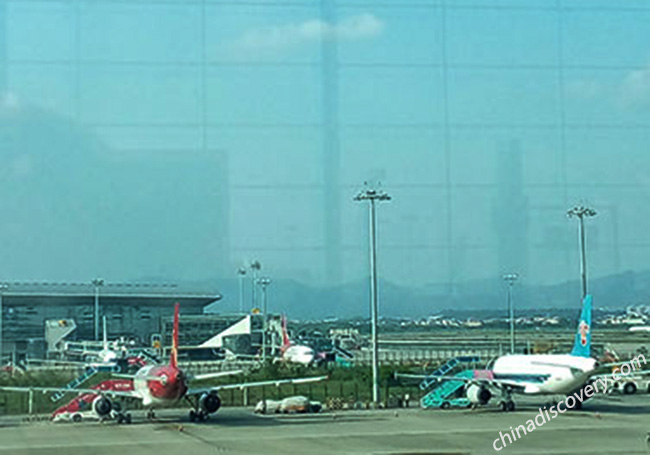 Xian Xianyang International Airport
Terracotta Warriors and Horses
Location: Qinling North Road, Lintong District, Xi'an (西安市临潼区秦岭北路)
The Terracotta Warriors and Horses lie about 40km from Xian downtown (Ancient City Wall). They are the funeral objects of the China's first feudal emperor – Emperor Qinshihuang, which have been buried underground for over 2200 years. The whole mausoleum covers an area of 2180000 square meters. The large scale, vivid figure, and long history have caused a great sensation when discovered in 1974. And they are reputed as one of the greatest archaeological finds in the twentieth century and the Eighth Wonder of the World. Since they were open to the public in 1979, they have attracted millions of tourists every year. >>More about Terracotta Warriors and Horses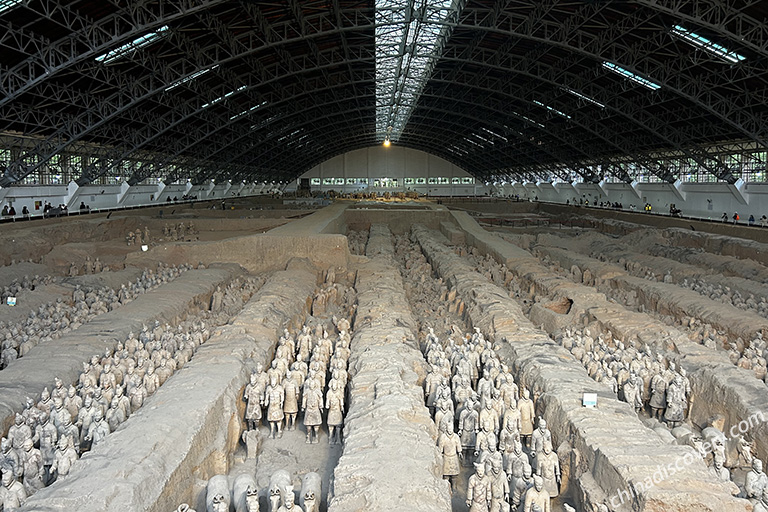 Terracotta Warriors
Get from Xian Xianyang International Airport to Terracotta Warriors
Independent tourists can take bus or taxi to the Terracotta Warriors from Xian Xianyang International Airport. But you need to make a transfer by taking the bus and the taxi is a little expensive. If you prefer a worry-free tour, travelling with a reliable travel agency like China Discovery will be a good choice.
Private Transfer of China Discovery (about 70min) - Most Recommended
We at China Discovery provide comfortable and efficient private transfer service for our clients who have booked one of our tour packages. No matter when and which terminal your flight arrives, our friendly tour guide and skilled driver will hold a sign with your name and welcome you at the airport arrival hall, then escort you to your hotel or any location, for example, the Terracotta Warriors, you want to visit with an air-conditioned and non-smoking vehicle. Travelling with China Discovery, all the problems such as transfer, tickets, meals, accommodation, etc. will be well taken good care of. All you need to do is just enjoying your trip! >>Contact us now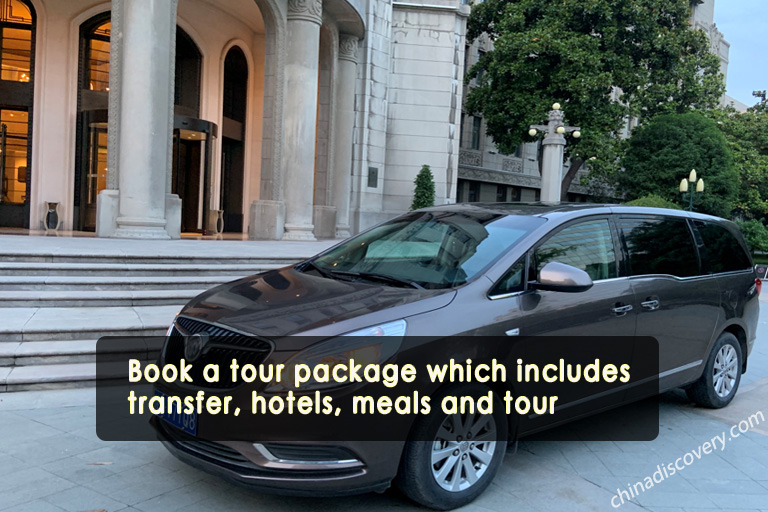 China Discovery Private Transfer
Airport Intercity Bus + City Bus (about 2h in total) - Recommended
Xian Xianyang International Airport operates intercity buses to Lintong district, Xian. So you can take the airport intercity bus to Lintong (临潼) first at the first floor of GTC (Ground Transportation Center) at T3. Then transfer to Bus 914 and get off at Bingmayong Station (兵马俑站). In this way, you don't need to make a detour at Xian downtown and can save some time.
Xian Xianyang International Airport to Lintong Intercity Bus
Departure: 9:30 10:30 11:30 12:30 14:00 15:30 17:00 18:00 19:30
Duration: about 70 minutes
Ticket: CNY 31.5
Airport Shuttle Bus + City Bus (about 2.5h in total)
Tourists can take Airport Shuttle Bus Fangzhicheng Bus Station Line to Fangzhicheng Bus Station first and then transfer to Bus 307 and get off at Bingmayong Station. The shuttle bus operates from 7:30 to 19:30 and departs hourly. The ticket fare is CNY 25 per person. This option is suitable for those who plan to get to Xian downtown first before visiting the Terracotta Warriors.
Note: The information above is for your reference only. The route and schedule of public transportation are sometimes changeable. Please remember to double check before your trip.
Taxi (about 70min)
If your flight doesn't fit the bus schedule, you can consider taking a taxi to Terracotta Warriors, which is more time-saving but will cost about CNY 200. There are fixed taxi stands where you can find legal and licensed taxis at the Exit Arrival of T1, Exit 211 of T2, and 1st floor of Ground Transportation Center (GTC) of T3. You can make a note of the place you want to go in Chinese in advance and show it to the taxi driver in case there is some language obstacle. Another problem of taking a taxi is that when you arrive at the terminals, you may find people approaching you and providing you with taxi services. But they usually don't have a proper commercial taxi license and will charge higher than normal rate. So you need to distinguish them from the legal ones.
How to Plan a Xi'an Tour with Terracotta Warriors
As the ancient capital city for 13 dynasties in China's history, Xi'an has always been a hot tourist destination in China. Terracotta Warriors and Horses buried for more than 2000 years is definitely a must-see. After that, take a stroll or rent a bike on the Ancient City Wall, the largest and best-preserved ancient city wall in China, to enjoy panoramic views of modern Xi'an. Then try some local snacks at the bustling and lively Muslim Quarter. On the next day, you can head to Da Cien Temple and Giant Wild Goose Pagoda to feel the Buddhist culture in Xi'an, then get a deeper understanding of the past of this city in Shaanxi History Museum. If you are interested in mountain climbing, don't miss the challenging Mount Huashan which is famous for lofty peaks and steep paths.
If you have other ideas or questions about a Xian tour, please feel free to contact us. We are also specialized in customized tours according to your own requirements, interests, travelling budgets, etc.
Biking on Xian Ancient City Wall
Recommended Xian Tours
Top 3 Xian tours chosen by most customers to explore Xian in the best way. Check the detailed itinerary, or tailor your own trip now with us.
Start planning your tailor-made holiday to China by contacting one of our specialists. Once inquired, you'll get a response within 0.5~23.5 hours.
Customize a Trip
Have a question? Get answers from our travel experts or guests
Your Question:

Your Name:

Your Email: