Travel from Shanghai to Terracotta Warriors: By Train or Flight 2023/2024
Looking through all cities in China, Shanghai is the best place to trace back century-long look and modernization of China, while Xian is, undoubtedly, the perfect destination to catch a glimpse of China's over millennial old history. The Terracotta Warriors, notable as "The Eight Wonder of the Ancient World", strongly proved Chinese making glorious and great achievement and artistic merits even in rough times. Visiting the modern Shanghai and ancient Terracotta Warriors in Xian is truly one of the best contrast tours in China.
Would like to watch the lifelike and magnificent Terracotta Army after seeing skyscrapers in Shanghai? Currently, taking a Shanghai to Xian flight or train is the most popular and frequently used ways to choose. What's better convenient and suggested? Read detailed transportation guide below to select the perfect one.
Shanghai to Terracotta Warriors Transportation Map (click to enlarge)
How Far is Terracotta Warriors from Shanghai?
Where is Shanghai Located
Shanghai, the largest city in China, lies at Yangtze River estuary, Eastern China, neighboring Jiangsu Province and Zhejiang Province to the north and west, Hangzhou Bay to the south, East China Sea and Kyushu (Japan) to the east. It takes only about 0.5 hour to nearby Suzhou and 1 hour to Hangzhou from Shanghai by high speed bullet train. Find more Shanghai arrival ideas in How to Get to Shanghai >>
Where is Terracotta Warriors Located
The Terracotta Wariiors, or called Terracotta Army, is currently exhibited in pits 1.5km east of the Emperor Qinshihuang's Mausoleum Site Museum, Lintong District, east suburb of Xian City, Shaanxi Province, central China.
Shanghai to Terracotta Warriors Distance: about 1,358KM (844MI) - by highway driving
The Terracotta Warriors are located in northwest of Shanghai, crossing Jiangsu, Anhui and Henan Province. Since the army is located in farside outskirts of Xian, travelers or have to take flight or train from Shanghai to get to Xian first, and then make additional transfer from the airport or train station to the spot. What kinds of transport are available? How to get the Terracotta Warriors fast and conveniently? We will do the introduction for you in the following.
Shanghai to Terracotta Warriors By Flight
Flying from Shanghai to Xian just takes about 2.5 hours, less than half of the train journey, and that's why plenty of tourists choose it, especially who are in rush, travel with old people or carry big baggage. Another advantage is, there are many choices, fairly flexible and cost-effective. Upon arrival at airport in Xian, you can use our private pick-up service or public transportation (longer time) to reach the Terracotta Warriors.
Step 1: Take Shanghai to Xian Flight
Each day, over 10 airlines run up to over 40 non-stop flights from Shanghai Hongqiao International Airport (上海虹桥国际机场, IATA:SHA) and Pudong International Airports (上海浦东国际机场, IATA: PVG) to Xian Xianyang International Airport (西安咸阳国际机场, IATA: XIY). You may choose from big and good airline company like China Eastern Airlines, Air China, Sichuan Airlines and many other, and select a appreciate schedule from 06:45am in early morning to 23:00pm in late evening.
Most time, the Economy Class ticket price is nearly same as the Second Class Seat of Shanghai-Xian High Speed Train during on sale season.
Useful Links:
Shanghai Pudong Airport/ Shanghai Hongqiao Airport/ Xian Airport and Flights
Top Popular Shanghai Xian Tours (by Flight):
>>5 Days Shanghai Xian Contrast Tour
>>8 Days Best Shanghai, Xian & Beijing Tour
>>7 Days Shanghai Xian Tour with Luoyang & Kungfu
Step 2: Get from Xian Airport to Terracotta Warriors
You may land at different terminal, Terminal 1, 2 or 3, which is based on which airline you will take. Since the airport is located in northwest suburb, you have to spend about 1hour (by taxi or direct tourist bus) or much longer (by public vehicles) transferring from the airport to 70-km far Terracotta Warriors in east side.
Warm Tips: Travel with China Discovery, you can enjoy worry-free pick-up service at the airport, our local tour guide and driver will meet you and send you to the site directly or escort you to rest well in your downtown hotel.
●By Taxi: about 1h, CNY 200
●By Airport Shuttle Bus + City Bus/Tourist Bus: first take airport bus (Line Lintong) to Lintong Bus Station 临潼汽车站 (ticket price: CNY 30, distance: 70km, duration: about 1.5 hours), get off and walk 40m to the Huaqing Pool, and then take city bus or tourist bus to reach the Terracotta Warriors (about 12km/40 minutes).
●By Airport Shuttle Bus + Train Station Tourist/City Bus: take airport bus Line 2 to get to Xian Railway Station (about 40km/1h ~ 1.5 hours), and then take through tourist bus Line 5, or public bus No.914, No.915 to Terracotta Warriors (42km/2 hours).
Visit Xian Airport to Terracotta Transportation Guide to get more details!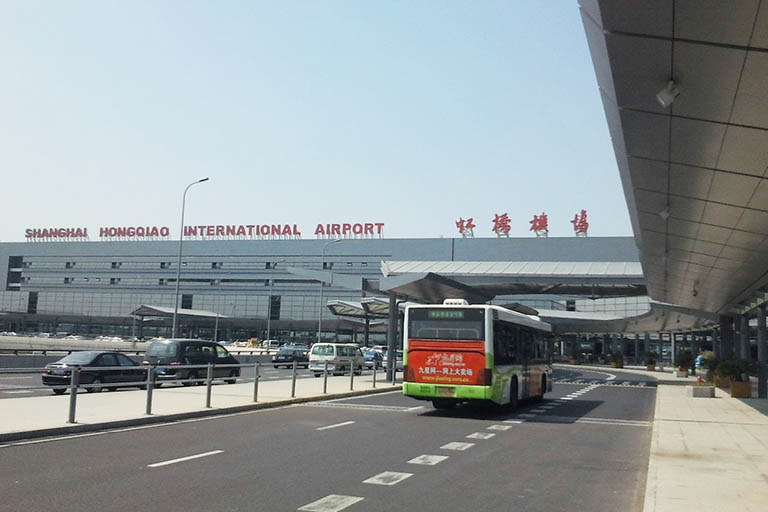 Shanghai Hongqiao International Airport
Xian Xianyang International Airport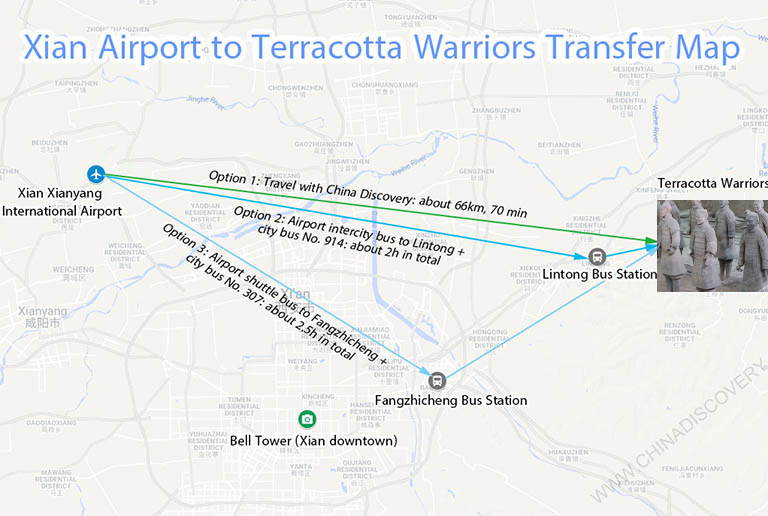 Xian Airport to Terracotta Warriors Transfer Map (click to enlarge)
Shanghai to Terracotta Warriors By Train
Train travel is a romantic and leisure way to explore vast China. Meanwhile, it's super convenient and makes trip of variety, and more local. So far, Shanghai runs fast-speed advanced high speed trains, special overnight bullet trains and traditional trains with pretty long journey to Xian. If you have a relaxed schedule, don't mind the longer duration (than air travel), have a budget plan or want to meet friends on the way, taking a train could be a good choice.
Step 1: Take Shanghai to Xian Train
◆By Same-day High Speed Train: There are nearly 10 G trains departing from Shanghai Hongqiao Railway Station (上海虹桥站) to Xian North Railway Station (西安北站), from around 06:00am to 17:00pm. The earliest train arrives at about 13:00pm and the last train gets to Xian nearly midnight. Ticket prices range from CNY 670 ~ CNY 2,120 for different class seats, including Second, First and Business Class Seat.
◆By Overnight Bullet Train: Two D trains leaves from Shanghai Railway Station at late night (nearly 23:00) and arrives in Xian next morning after about 11 hours' travel. Sleeper (CNY 700) is highly recommended with private space and considerate facilities. You could save one night accommodation if take the overnight train. Second Seat (CNY460) is a bad idea, real suffering.
◆By Ordinary Overnight Train: Normal trains (K, T, Z trains) are the cheapest option, Soft Sleeper costs less than CNY 500. There are over 10 such trains available per day, with a quite long duration of 15 hours to 22 hours. Note that the ordinary trains all start from Shanghai Railway Station (上海火车站) to Xian Railway Station (西安火车).
Useful Links: Shanghai Xian High Speed Train/ Shanghai to Xian Bullet Trains
Related Shanghai Xian Tour (by Train):
>>4 Days Shanghai Xian Overnight Train Tour
Step 2: Get from Xian Train Station to Terracotta Warriors
Xian North Railway Station is situated in about 48km west of Terracotta Warriors and Xian Railway Station lies in downtown area, nearly 37km southwest of the army. Once exit the train station, another tedious transfer (at least 1h) is needed to travel to the Terracotta Warriors. If you travel Xian with China Discovery, we will provide you with train station pick-up service, our local travel guide and driver will meet you at the train station and accompany you to visit the soldiers directly or send you to hotel in downtown to rest.
【Xian North Railway Station to Terracotta Warriors】
1.By Taxi: about 1hour ~ 1.5hours, CNY 150.
2.By Direct Tourist Bus: passengers holding same-day high speed train tickets and buying entrance tickets of attractions in Lintong can take free tourist bus (1 hour)from the station.
3.By Public Transportation: it takes 2.5 hours to 3 hours by multiple transfers from subway to city bus or tourist bus. Better not going like this, time-wasting and easy to get lost.
【Xian Railway Station to Terracotta Warriors】
1.By Tourist Bus: Bus Line 3(No.306) directly sends you to the Terracotta Army with 1 hour's driving.
2.By City Bus: Bus No.914 or 915 both can lead you to the site.
3.By Taxi: about 1 hour, CNY 120.
Attention: Xian Railway Station will make reconstruction since October 24, 2019, so Tourist Bus Line 5, city bus 914, 915 and some buses have been already moved to other bus stations. There are buses transfer from Xian Train Station to the new places. (Tourist Bus 5 → Fangzhicheng Bus Station 纺织城客运站; Bus 914 & 915 → Sanfuwan Bus Station 三府湾客运站)
Useful Link: Xian Railway Stations to Terracotta Warriors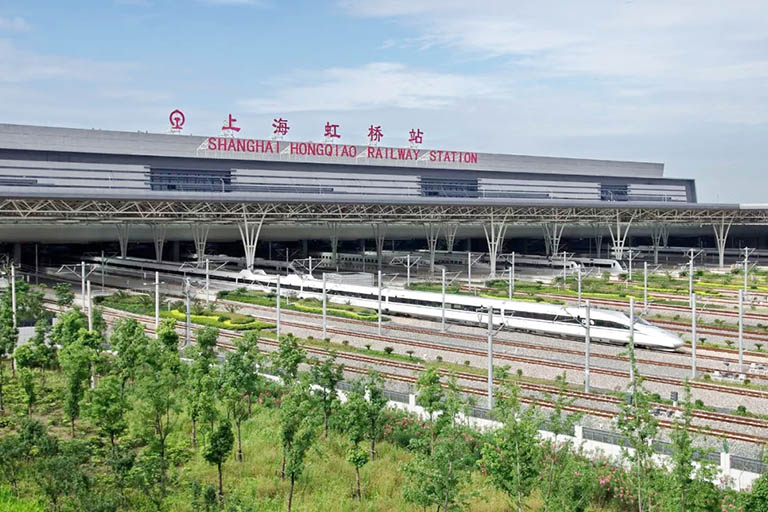 Shanghai Hongqiao Railway Station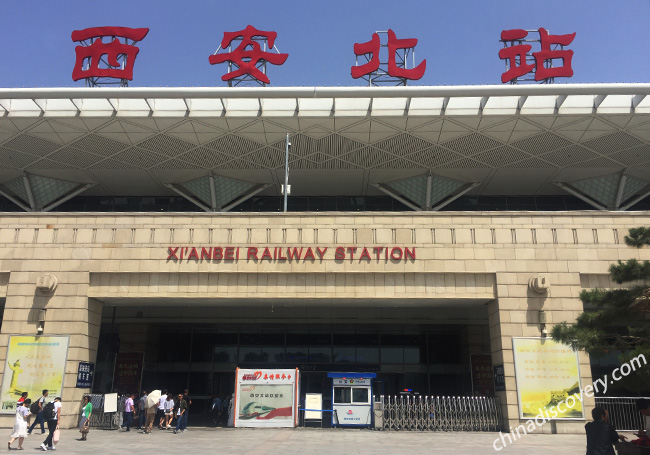 Xian North Railway Station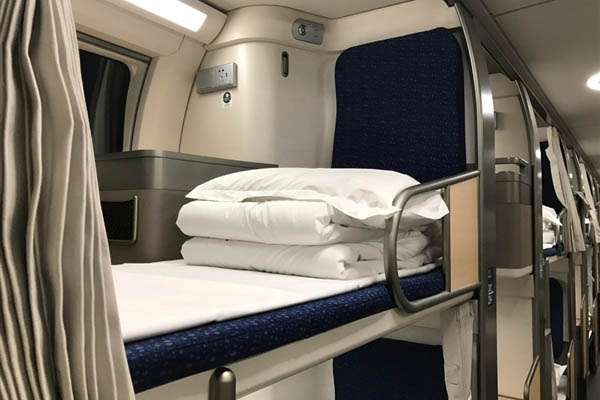 Shanghai Xian Bullet Train Sleeper
Shanghai to Terracotta Warriors Train or Flight - Which One to Take
To help you better choose a suitable way to visit Terracotta Warriors from Shanghai, we listed major factors and make a comparison between their advantages and not so favorable parts. Mostly, we recommend the much faster air travel to save your time for sightseeing in Xian, but high speed train is also a nice option to take if time permits.
Content
Air Travel
Train Travel
Number of Schedules
over 40 non-stop flights per day
over ver 20 daily trains per day
high speed train: 9; overnight bullet train:2; overnight normal train: over 10
Travel Time
about 2.5 horus
about 6.5 hours (high speed train) ~ 22 hours (normal train)
Free Baggage Allowance
free check in luggage: 20KG
free carry on luggage: 10KG
(take China Eastern Airlines as example)
adult: 20KG
(no weight, no charge for over weighted baggage actually)
Timetable of Departure
about 06:45~23:00
about 06:00~23:00
Distance from Arrival Point to Terracotta Warriors
about 70km - 1h by driving
taxi, airport+city/tourist bus
from Xian North: about 48km
from Xian Station: about 37km
from Xian South: about 60km
tourist bus, city bus...
Ticket Fares
economy class: CNY 600~1,700
(autumn season)
CNY 200 (Normal Train Hard Seat) ~ CNY2,200 (High Speed Trains Business Class Seat)
Other Advantages:
amazing aerial views; baggage hassle free;
child and old friendly;
less crowded, more quiet;
air-conditioned; paid luggage storage service in Xian Airport
different landscape along the rail; shorter waiting time;
closer to Terracotta Warriors; lower price (most classes); air-conditioned; more comfortable seat & movement space;
paid luggage storage service at Xian North Station
Other Disdvantages:
arrival at airport at least 2 hours before departing; longer transfer to Terracotta Warriors
more crowded and noisy;
walk up or down stairs with luggage (at old station)
Note: The flight ticket fares are listed only for reference, and they are subject to actual price.
How to Plan A Shanghai Terracotta Warriors (Xian) Tour
Touring Shanghai and Xian together seems like a trip travelling through time, bring you from the dazzling modern metropolis to the quiet ancient capital of deep and strong history. Both cities has irreplaceable features and a lot of things to explore.
Well-known as an international metropolis, Shanghai is an international mega city presenting the current and future visions of China. Usually, tourists spend 2 to 3 full days to discover main spots in Shanghai, such as must-visit landmarks - The Bund, amazing skyscrapers - World Financial Center, cultural and historical spots - Shanghai Museum and Yu Garden, etc. Having a side trip to Suzhou, Hangzhou to see scenic West Lake, water towns and classic Chinese gardens is another plan if you have more time. Popular Shanghai Tours>>
While in Xian, 2 or 3 days would be reasonable to visit the Terracotta Warriors and other UNESCO World Cultural properties and more type of sites in downtown area, such as biking on the Ancient City Wall, viewing beautiful night view of Bell and Drum Tower, tasting local food and snacks in Muslim Quarter, watching ancient music and dance shows, learning past splendor in Shaanxi History Museum. Interested in Chinese culture? We suggest a day trip to Luoyang, see the exquisite Buddha art in Longmen Grottoes or get to Shaolin Temple, realized a Chinese Kung Fu dream. Top Xian Tours>>
Recommended Shanghai Xian Tours with Beijing:
>> 10 Days China Family Tour with Panda Fun
>> 13 Days China Landscape Tour including Zhangjiajie & Guilin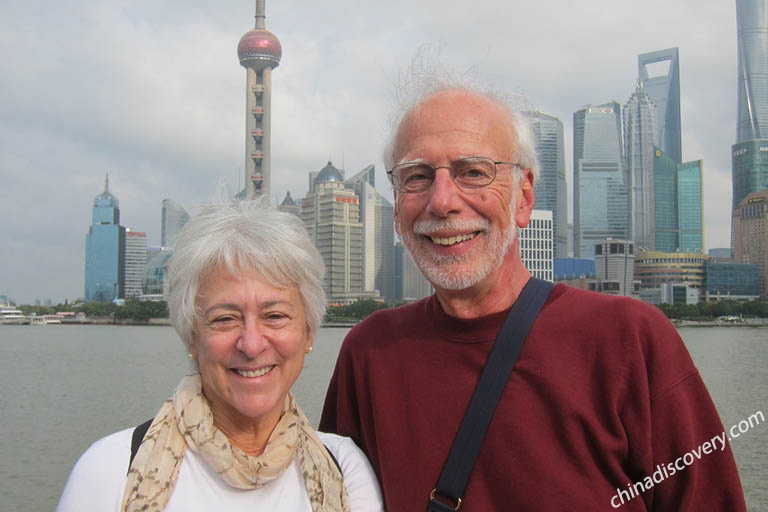 Our US Clients Visit the Bund in Shanghai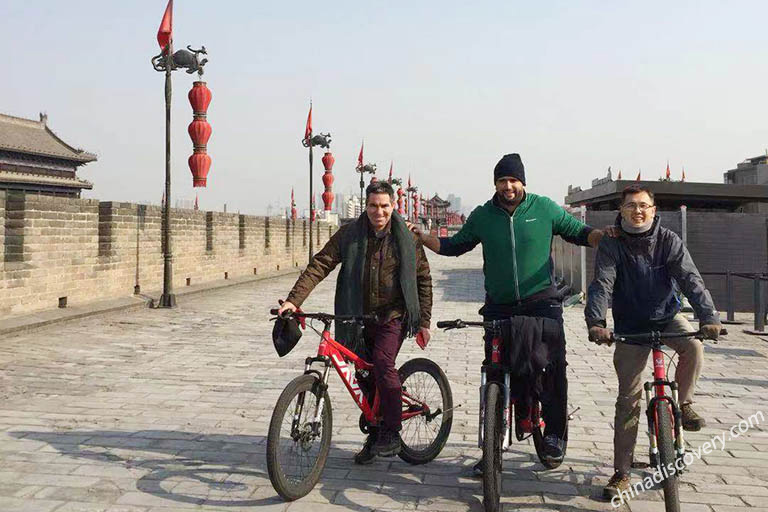 French Guests Enjoyed Biking on Ancient City Wall, Xian
Travel with China Discovery
China Discovery is a professional and experienced travel companion devoting ourselves to offering you worry-free tour in Xian and China. We not only help you plan a best travel itinerary, but also support your sightseeing, transportation, accommodation and every detail to fully see the beauty and touch culture and history of China. Travel with us, you can more focus on the travel itself, save energy and time doing researches, pick up the most important and worthy parts during the travel. You may choose from our most popular tour or contact us to customize a special one, all we do is making sure you enjoy the trip and keep a good memory in your whole lifetime.
Recommended Shanghai Xian Tours
Top 3 Shanghai Xian tours chosen by most customers to explore Shanghai Xian in the best way. Check the detailed itinerary, or tailor your own trip now with us.
4 Days Shanghai Xian Overnight Bullet Train Tour

Shanghai / Xian
5 Days Classic Xian Shanghai Tour (by Flight)

Xian / Shanghai
6 Days Shanghai Xian Tour with Suzhou Gardens

Shanghai / Suzhou / Shanghai / Xian
Start planning your tailor-made holiday to China by contacting one of our specialists. Once inquired, you'll get a response within 0.5~23.5 hours.
Customize a Trip
Have a question? Get answers from our travel experts or guests
Your Question:

Your Name:

Your Email: