Updated and Downloadable Leshan Maps 2023
It's very convenient and popular to make a side trip from Chengdu to Leshan to witness the Giant Buddha sitting by riverside and have a combined tour with Mount Emei, two UNESCO World Natural & Cultural Heritage spots nearby Chengdu. To help you better know about the location of Leshan City and Leshan Giant Buddha between Chengdu and Emeishan, we have collected the following useful Leshan maps for your Leshan trip planning. They are all updated and free to download. Please feel free to use them when planning your Leshan tour.
Leshan Location Maps
Leshan City is a prefecture-level city in central Sichuan, southwest of Sichuan Basin and south of Chengdu City (about 150km). The world-famous Leshan Giant Buddha and Mount Emei are both inside the Leshan jurisdiction. In Sichuan Province, Leshan City borders Meishan City in the north, Ya'an in the west, Zigong and Yibin in the east and Liangshan Yi Autonomous Prefecture in the south.
Most Recommended Leshan Tours:
Leshan Transportation Maps
Chengdu is used as the main and most recommended gateway city to travel to Leshan for visiting Leshan Giant Buddha and Mount Emei. You can take fast intercity high speed train to Leshan from Chengdu East Railway Station (about 50 minutes ~1 hour, over 30 trains every day), Chengdu South Railway Station (about 50 minutes, 3 daily trains), Chengdu Shuangliu International Airport (about 40 ~ 50 minutes, over 10 daily trains), or take long-distance bus to Leshan City & Leshan Giant Buddha from Chengdu Xinnanmen Bus Station, Chadianzi, Shiyangchang and Chengdu East Bus Stations and then transfer to Leshan Giant Buddha by local city bus and a taxi.
Useful Leshan Transportation Links:
Leshan Tourist Maps
In Leshan City, the Leshan Giant Buddha and Mount Emei, two UNESCO World Natural & Cultural Heritage sites are top must-visit attractions where tourists can enjoy both stunning sights, marvellous ancient crafts and symbolic significance. Besides, travelers can visit the World Irrigation Project - Dongfengyan and Qianfoya in Jiajiang, former residence of Guo Moro (a famous Chinese archaeologist, historian and poet, writer), ancient towns, tea gardens, etc. Check the frequently-used travel maps below to plan your Leshan Giant Buddha tour and Mount Emei tour.
Most Recommended Leshan & Emeishan Tours:
How to Plan Your Leshan Tour
Beyond the downtown Chengdu sightseeing with panda visit, a majority of tourists like to enjoy a UNESCO World Heritage trip to Leshan Giant Buddha and Mount Emei, either for 1-day brief tour or 2-day in-depth exploration. Normally, you can visit the Leshan Giant Buddha within half a day, choose a suitable way (by walking or boat sightseeing) and then transfer to Mount Emei, spend at least 1 full day to 2 days to hike Mount Emei up to the Golden Summit, appreciate the amazing Buddhist culture and wild views there. Stay overnight on the Mount Emei, you may see the gorgeous sunrise jumping from grandiose sea of cloud. After your Leshan and Emeishan tour, most tourists return back to Chengdu for continue travel or expanded trip to Chengdu nearby destinations, such as Dujiangyan (Panda Base, Mount Qingcheng, Irrigation System), Jiuzhaigou and farther western Sichuan.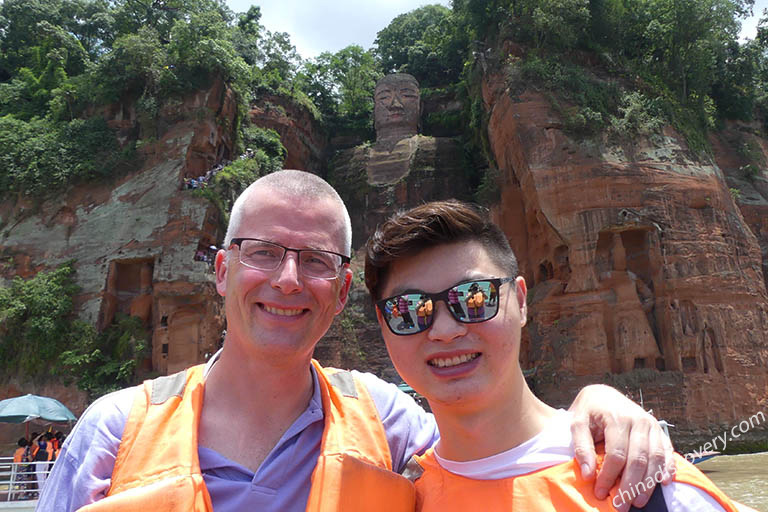 China Discovery Customized Chengdu Leshan Tour
Travel Leshan with China Discovery
To help you fully enjoy Leshan Giant Buddha Tours from Chengdu or extended trip to Leshan Giant Buddha and Mount Emei without transfer worry, China Discovery, a Chengdu based local best travel operator, offers you the most convenient way to go. We will not only drive you to tour Leshan Buddha and Mount Emei accompanied by personal tour guide and safe, clean and comfortable private car, but also provide you high-quality tour services including ticket and hotel booking, best travel plans and visa help. If you are interested in such a private Leshan trip, you can contact us to plan your Leshan Giant Buddha tour with Mount Emei hiking trip.
Top Leshan Tours
Extension Readings of Leshan Travel Guide
Other Destinations in Sichuan
Recommended Leshan Giant Buddha Tours
Top 3 Leshan Giant Buddha tours chosen by most customers to explore Leshan Giant Buddha in the best way. Check the detailed itinerary,or tailor your own trip now with us.
2 Days Best Chengdu Leshan Giant Buddha Tour

Chengdu / Leshan Giant Buddha / Chengdu
4 Days Classic Leshan Buddha & Mount Emei Tour from Chengdu

Chengdu / Leshan / Mt. Emei / Chengdu
1 Day Panda Visit & Leshan Giant Buddha Tour

Chengdu / Leshan Giant Buddha / Chengdu