How to Travel from Xian to Jiuzhaigou: By Train, Flight & Bus 2023
Jiuzhaigou National Park, often called Jiuzhaigou Valley, is a paradise-like UNESCO World Natural Heritage, a national 5A scenic spot and a national nature reserve and geopark, in Jiuzhaigou County, northern Sichuan. After seeing the man-made wonder of Terracotta Army and visiting major cultural and historical sites in ancient capital Xian, some travelers love to visit Jiuzhaigou Natioanl Park to discover amazing natural miracle and characteristic minority culture. To visit Jiuzhaigou National Park, tourists need to get to Jiuzhaigou County. Currently, there is no direct bus, flight and train getting to Jiuzhaigou from Xian. With fast frequent daily flights and scenic driving journey, Chengdu is the best gateway city and most recommended transfer center to travel to Jiuzhaigou. That way offers great chance to enjoy a Chengdu layover tour for Panda and leisure lifestyle. Below is detailed and useful transportation guide to plan your Xian Jiuzhaigou tour.
Note: Before the Earthquake happened Jiuzhaigou in 2017, there were fast and convenient non-stop flights from Xian to Jiuzhaigou every day. The flight only took 1.5 hours from Xian Xianyang International Airport to Jiuzhai Huanglong Airport (九寨黄龙机场, IATA: JZH).
Where is Jiuzhaigou Located? How far is Jiuzhaigou from Xian?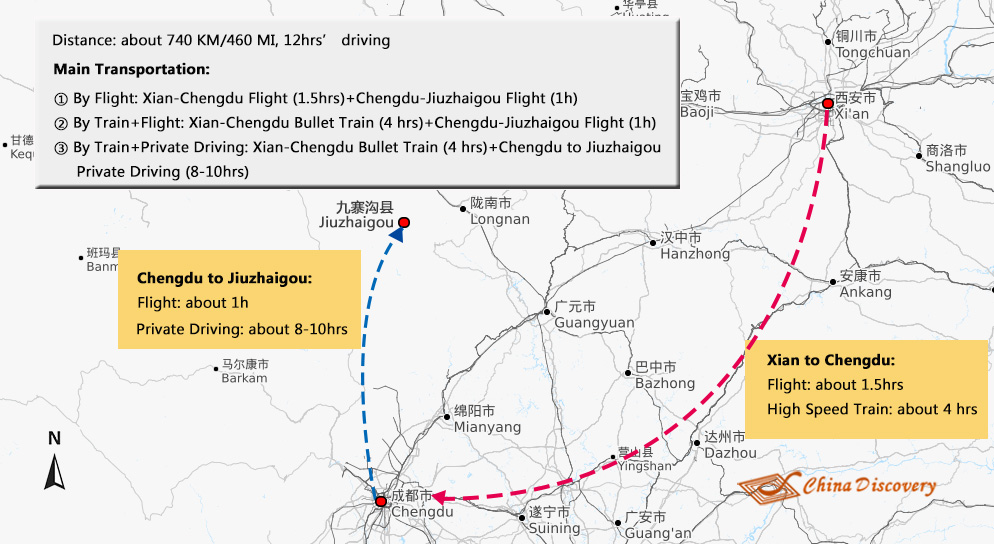 Xian to Jiuzhaigou Transportation Map
Jiuzhaigou National Park is located in Zhangzha Town, Jiuzhaigou County, Ngawa (Aba) Tibetan and Qiang Autonomous Prefecture, north of Chengdu, northwest of Sichuan. The park is located in south section of Min Mountains, about 420 KM/8 hours' driving from downtown Chengdu and about 110 KM/ 2 hours' driving of the south Huanglong National Park. And Jiuzhaigou County lies in east edge of Qinghai-Tibet Plateau, northeast of Aba Prefecture, north of Chengdu, borders Gansu in north and east and Ruoergai, Songpan in the west and south.
Xian, capital of Shaanxi Province, is situated in central Guanzhong Plain, southern Shaanxi, northeast of Chengdu. It faces Wei River and Loess Plateau in the north, and Qing Mountains in the south.
Jiuzhaigou is in southwest of Xian, with a driving distance about 740 KM (over 12 hours).
1. Xian to Jiuzhaigou by Flight (Transfer via Chengdu to Jiuzhaigou Flight)
After the Jiuzhaigou earthquake in 2017, only Southern Airlines, Air China and Sichuan Airline offer connected flights (limited number) from Xian to Jiuzhaigou with over 10~20 hours' transfer or stopover in Chengdu. Such long duration and rapid rise of elevation from Xian to Jiuzhaigou makes it a unpopular way to go. If you prefer air travel all the way, there has a Plan B for you, you can buy flight tickets separately, first fly about 1.5 hours from Xian to Chengdu (frequency: about 3-4 flights; duration: nearly 1.5 hours) and then take another non-top flights from Chengdu to Jiuzhaigou (daily, about 1 hour).
Best Chengdu Jiuzhaigou Tours by Flight:
√ 3 Days Classic Jiuzhaigou Tour from Chengdu
√ 5 Days Classic Chengdu & Jiuzhaigou Tour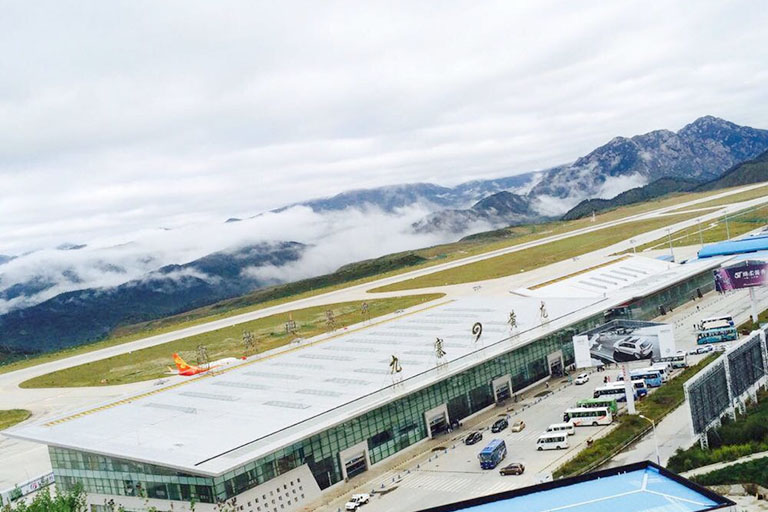 Jiuzhai Huanglong Airport
Flight Route
Schedule
Flight Type
Duration
Airline Company
Xian→Jiuzhaigou
06:00-19:05
connecting flight
(10.5hrs layover in Chengdu)
about 13hrs
Sichuan Airline+
Air China
Xian→Jiuzhaigou
10:30-17:45
connecting flight
(2hrs layover in Beijing)
about 7.5hrs
Hainan Airlines+
Air China
Xian→Chengdu
06:00-07:40
16:55-18:35
20:55-22:35
23:05-00:40
direct flights
about 1.5hrs
Sichuan Airline
Southern Airlines
Tibet Airline
Chengdu→Jiuzhaiugou
18:05-19:05
21:05-22:05
direct flights
about 1hr
Sichuan Airline
Air China
Airport Information:
Xian Xianyang International Airport (西安咸阳国际机场, IATA: XIY)
Location & Transportation: Dizhang Town, Weicheng District, Xianyang City, Shaanxi (陕西省咸阳市渭城区底张镇) It is located about 40 KM/1 hour's driving to Xian City center; 60 KM/ 1.5hours' driving to Terracotta Warriors Museum; about 40 KM/ 1hour's driving from Xian Ancient City Wall; about 60 KM/ 1 hour's driving to Giant Wild Goose Pagoda.
Chengdu Shuangliu International Airport (成都双流国际机场, IATA:CTU)
Location & Transportation: Airport Road, Shuangliu District, Chengdu, Sichuan (四川省成都市双流区机场路)The airport is located in southwest suburb of Chengdu, about 20 KM/1 hour's driving to city center; 30 KM/1.5 hours' drive to Chengdu Panda Base.
Jiuzhai Huanglong Airport (九寨黄龙机场, IATA:JZH)
Location & Transportation: As the only and nearest airport serving tourist to Jiuzhaigou, the airport so far only has non-stop flights with Chengdu. So if you want to fly to Jiuzhaigou, a Chengdu layover tour is highly suggested.
2. Xian to Jiuzhaigou by Train - Xian to Chengdu Train + Chengdu to Jiuzhaigou by Flight or Land Driving
Up till now, there is NO train running to Jiuzhaigou and northern Sichuan. (Chengdu to Jiuzhaigou Train on Chengdu-Lanzhou Railway is under construction and is estimated to shorten Chengdu-Jiuzhaigou travel to only 2 hours after opening.) Train travel lovers can take a 3-4 hours high speed bullet train from Xian to Chengdu and then transfer to Jiuzhaigou from Chengdu by flight or land driving.
By High Speed Bullet Train - Every day, Xian sends more than 40 high speed bullet trains from Xian North Railway Station to Chengdu East Railway Station, which takes just about 4 hours. Tourists can choose from Second Class Seat, First Class Seat or the most luxury - Business Class Seat.
By Normal Train - Meanwhile, there are a few normal trains (including overnight trains) from Xian Railway Station, Xian South Railway Station to Chengdu Railway Station in Chengdu. You need to spend longer, about 11 hours ~ 16 hours on the ordinary train with simple and basic facilities. Soft Sleeper, Hard Sleeper and Hard Seat are provided.
Useful Link: Xian to Chengdu Train Schedules
Most Popular Xian Chengdu Bullet Train Tour:
√ 5 Days Classic Tour by New Xian Chengdu High Speed Train
There are 1-2 daily flights flying from Chengdu to Jiuzhaigou every day. Both departs in the afternoon and arrive at night for 1 hour. Meanwhile, you can take a long-distance bus to get to Jiuzhaigou, costing around 8 to 10 hours, more time is needed if you visit some sites en route.
Popular Chengdu Jiuzhaigou Tours (by Private Car):
√ 5 Days Jiuzhaigou Dujiangyan Tour via Tangping Qiang Viallage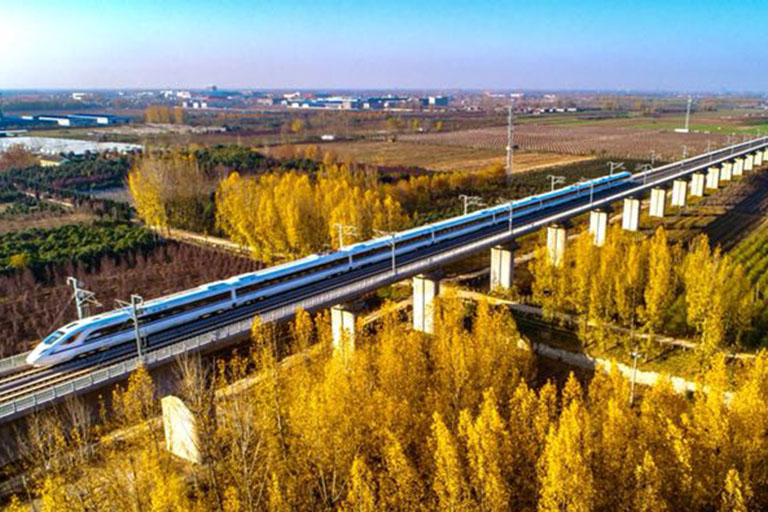 Xian to Chengdu High Speed Bullet Train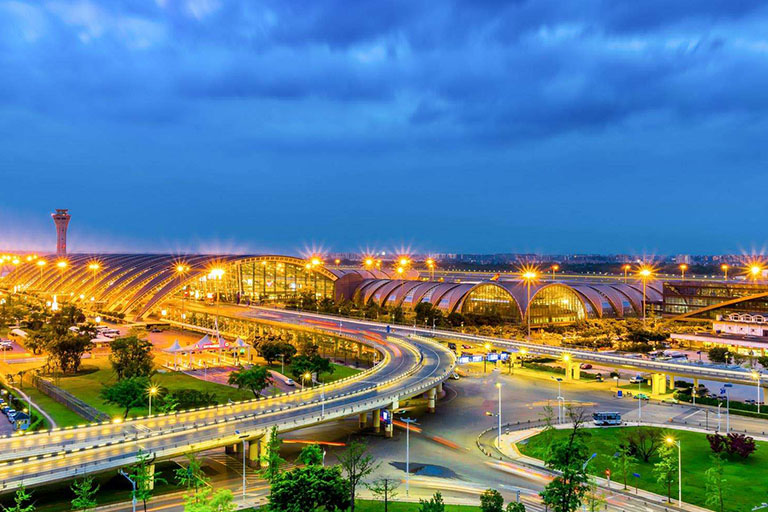 Chengdu Shuangliu International Airport
3. Xian to Jiuzhaigou By Bus - Not Available Now
Driving is a unique and meaningful way to appreciate landscape along the road, however, there is no direct bus running from Xian to Jiuzhaigou at present. The total driving is expected to be about 12.5 hours long. Private driving via Guangyuan is doable, but very few tourists go this way because the journey is long and tedious without much attractions en route.
How to Plan Your Xian Jiuzhaigou Tour
According to accessible transportation between Xian and Jiuzhaigou, the most ideal and popular way is to travel from Xian to Jiuzhaigou via Chengdu. Depending on your itinerary and budget, your Xian Chengdu Jiuzhaigou tour can be short or long, brief or in-depth and in different themes. (Note: Taking a high speed train from Xian to Chengdu is more recommended than flight, because it takes same time, borading process is simpler and more convenient and quite fresh to experience a modern China bullet train travel!)
First, you can spend 1 to 4 days in Xian on visiting the Terracotta Warriors, Ancient City Wall and top landmarks, or extend 1 day for a side trip to Mount Huashan, witness precipitous mountain formation and challenge the cliff side Plank Walk. Then, take a high speed train to Chengdu then within half a day. While in Chengdu, 1 to 3 days is enough to see the cute Giant Pandas, experience local culture and history in downtown attractions, like People's Park, Wenshu Monastery, etc. Plenty of tourists extended the city trip to the UNESCO Heritage exploration to Leshan Giant Buddha and Mount Emei for 1-3 days. For a Jiuzhaigou tour from Chengdu, two days is suitable for a classic walking tour. You're highly advised to visit Huanglong with 1 day more. Once finishing your Jiuzhaigou tour, you can travel back to Chengdu by a flight or over 8 hours' driving to continue your China travel.
Most Recommended Xian/Chengdu/Jiuzhaigou Tours:
√ 3 Days Classic Xian Tour with Best Highlights
√ 4 Days Xian Highlights Tour with Mount Huashan Hiking
√ 1 Day Chengdu Relaxing Panda Highlights Tour
√ 2 Days Best Chengdu Leshan Giant Buddha Tour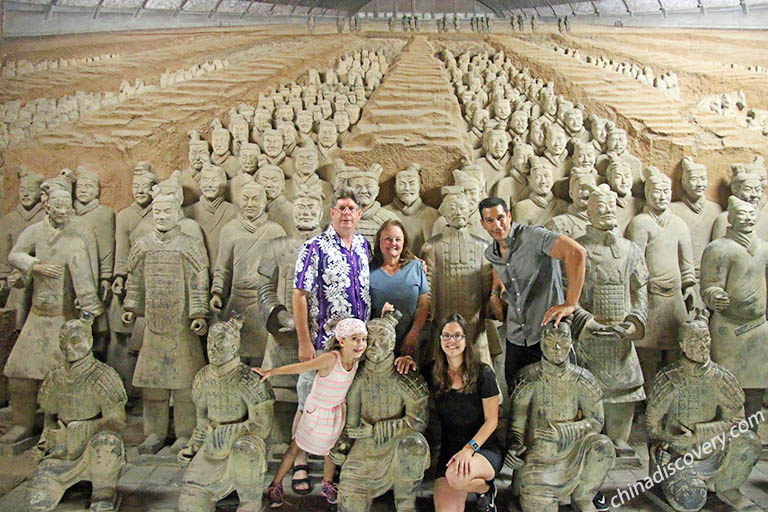 China Discovery Customized Xian Family Tour visiting Terracotta Warriors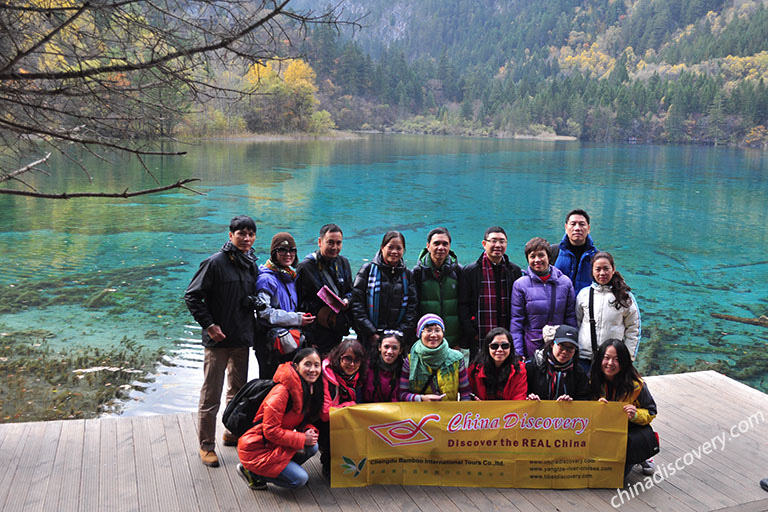 Jiuzhaigou Tour from Chengdu
Travel Xian & Jiuzhaigou with China Discovery
As an experienced, professional and reliable travel agency based in Chengdu, China Discovery are trying our best to make every clients' tour in China interesting, unique and memorable, and at the best value. Travel with us, you can enjoy a worry-free tour covering airport/train station pick-up services, knowledgeable tour guide and safe private transfer, accommodation and ticket booking help, visa application assistance and other needed services. Just contact us, tell your schedule and travel ideas, we will do the rest to tailor-make a wonderful tour for you!
Keep Reading about Jiuzhaigou Tour and Travel Guide
Jiuzhaigou Transportation Guide
Jiuzhaigou Weather Guide
Recommended Jiuzhaigou Tours
Top 3 Jiuzhaigou tours chosen by most customers to explore Jiuzhaigou in the best way. Check the detailed itinerary, or tailor your own trip now with us.
3 Days Classic Jiuzhaigou Tour (Flight Arrival)

Chengdu / Huanglong / Jiuzhaigou
6 Days Jiuzhaigou Fairyland Tour from Xian by Flight

Xian / Jiuzhaigou
4 Days Jiuzhaigou Huanglong Highlights Tour from Chengdu by Private Car

Chengdu / Huanglong / Jiuzhaigou / Chengdu
Start planning your tailor-made holiday to China by contacting one of our specialists. Once inquired, you'll get a response within 0.5~23.5 hours.
Customize a Trip
Have a question? Get answers from our travel experts or guests
Your Question:

Your Name:

Your Email: