How to Get from Jiuzhaigou Airport to Huanglong National Park 2023
For Travelers who head to Jiuzhaigou usually spend another half day at Huanglong scenic area. Famous for colorful travertine lakes and ponds, sinuous deep mountain valleys, magnificent snow mountains, Huanglong National Park is only about 40km to Jiuzhaigou Airport and flight is the most convenient way to reach the two sites. So far, there are only Chengdu and Chongqing operating flights to Jiuzhaigou Airport. Air routes from Beijing, Shanghai, Hangzhou to Jiuzhaigou airport are about to open soon.
Passengers landed in Jiuzhaigou Airport can take the direct airport shuttle bus and head to Huanglong Scenic area (Huanglong National Park), and the duration by car is about 1 hour.
The followings are detailed information on how to get from Jiuzhaigou Airport to Huanglong National Park and the transferring ways to the opposite direction.
▶ Jiuzhaigou Airport Location: Chuanzhusi Town, Songpan County, Aba Tibetan and Qiang Autonomous Region, Sichuan Province 四川省阿坝藏族羌族自治州松潘县川主寺镇
▶ Huanglong National Park Location: Songping Rd, Huanglong, Songpan County, Aba Autonomous Prefecture, Sichuan Province 四川省 阿坝藏族羌族自治州松潘县黄龙乡平松路
▶ Useful Links: Jiuzhaigou Airport & Flights to Jiuzhaigou | Jiuzhaigou Airport to Jiuzhaigou National Park
★ Recommended Tours: 5 Days Classic Chengdu & Jiuzhaigou Tour (by Flight) | 6 Days Chengdu & Jiuzhaigou In-depth Tour (by Flight)
Travel with China Discovery
Out of the airport shuttle bus serving time, you may need to take a taxi or charter a car to get from one to the other. The distance is about 40km. it takes about 1 hour by car and costs around CNY 200. Due to the long distance and complicated road conditions, the actual price might be higher and sometimes you may need to negotiate with the driver. You can choose the licensed private car service provided by China Discovery. We will pick you up from your hotel, airport, train station and send you to Huanglong Scenic area safely with comfortable vehicles, skilled drivers, and professional guides. >>Contact us now
How to Get from Jiuzhaigou Airport to Jiuzhaigou National Park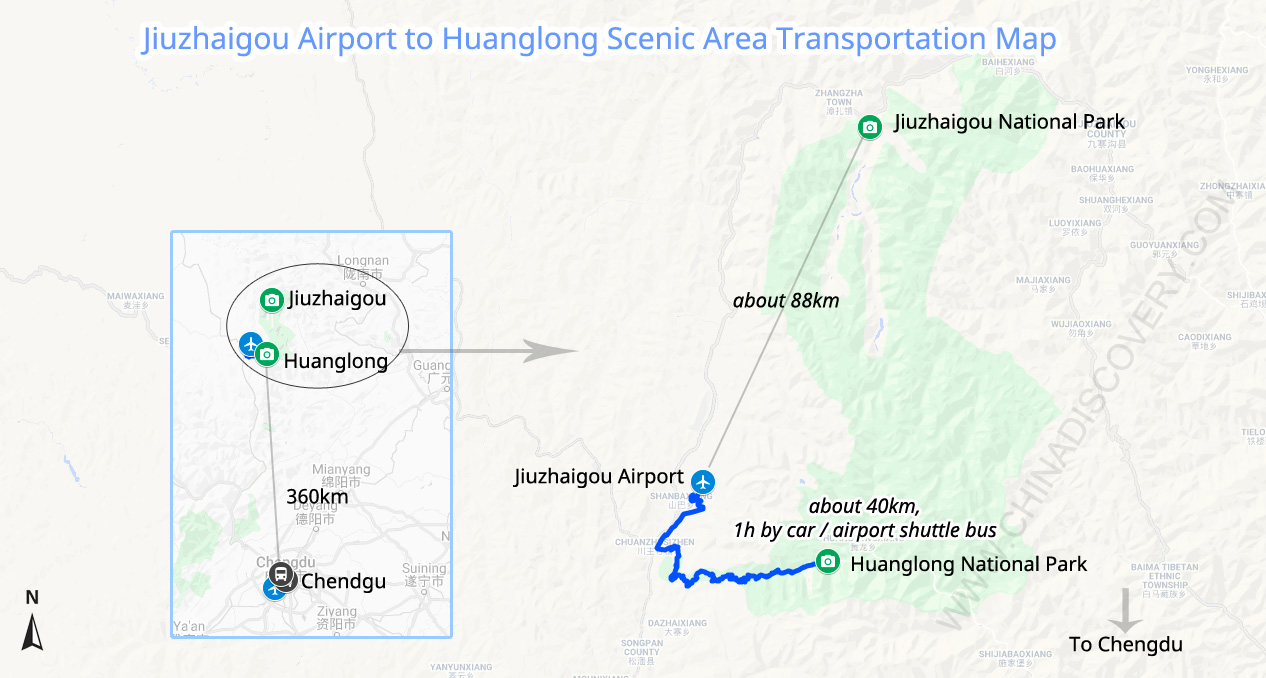 Jiuzhaigou Airport to Huanglong Scenic Area Transportation Map
There is direct bus from Jiuzhai Huanglong Airport to Huanglong scenic spot. It's about 1 hour' drive. The ticket price is about CNY 22, and CNY 40 for a round trip. However, the departure schedule of the bus depends on the flight and it is not very frequent. If there is no airport bus, you can only charter a car to Jiuzhaigou which may cost about CNY 200. If you need to take a bus back to the airport from Huanglong the next day, and the bus is not very frequent, and please purchase tickets in advance at the station you get off near the scenic area.
Note: Jiuzhaigou airport is located in the plateau area, and the flight may be cancelled or delayed due to the weather. It is recommended that tourists make more plans on transportation when getting back.
How to Plan Your Jiuzhaigou Huanglong Tour
Travelers usually spend one or two days in Jiuzhaigou Valley, and explore Huanglong Valley in a half day, excluding the arrival and departure days. Most travelers transfer to Jiuzhaigou from Chengdu by flight or driving. Some other cities also have flights to Jiuzhaigou, such as Beijing, Chongqing, etc. After arrival, spend a half day to tour the Huanglong Valley, and another full day to visit Jiuzhaigou. If you want to take a walking or photography tour, we recommend spend one more day.
Besides Jiuzhaigou and some other attractions around it such as Huanglong, Songpan, Mounigou, and Ruoergai, you can also travel Jiuzhaigou with other hot destinations in Sichuan, such as Chengdu, Mount Emei, Leshan Giant Buddha, etc.
★ Recommended Jiuzhaigou Huanglong Tours
>>3 Days Classic Jiuzhaigou Tour by Flight
>>4 Days Classic Jiuzhaigou Tour from Chengdu
Our Clients in Jiuzhaigou
Keep Reading about Jiuzhaigou Tour and Travel Guide
Jiuzhaigou Transportation Guide
Jiuzhaigou Weather Guide
Recommended Jiuzhaigou Tours
Top 3 Jiuzhaigou tours chosen by most customers to explore Jiuzhaigou in the best way. Check the detailed itinerary, or tailor your own trip now with us.
3 Days Classic Jiuzhaigou Tour (Flight Arrival)

Chengdu / Huanglong / Jiuzhaigou
6 Days Jiuzhaigou Fairyland Tour from Xian by Flight

Xian / Jiuzhaigou
4 Days Jiuzhaigou Huanglong Highlights Tour from Chengdu by Private Car

Chengdu / Huanglong / Jiuzhaigou / Chengdu
Start planning your tailor-made holiday to China by contacting one of our specialists. Once inquired, you'll get a response within 0.5~23.5 hours.
Customize a Trip
Have a question? Get answers from our travel experts or guests
Your Question:

Your Name:

Your Email: