Mount Emei Maps 2023
To help you have a better understanding about Emeishan City and enjoy your Mount Emei tour , we have collected some very useful Emeishan maps, including Emeishan China Map, Mount Emei Tourist Map, Mount Emei Attractions Map, etc, all of which are downloadable and printable.
Mount Emei Location Map
Emei Mountain (103˚10΄ - 103˚37΄ E, 29˚16΄-29˚43΄ N) is located in Emei City, Leshan City, Sichuan Province, on the southwest edge of Sichuan Basin, China. Located to the south of Chengdu, it is about 150km away from it, about 50km away from Leshan City. It is part of southern Qionglai mountain, stretching for 23km, covering an area of 154 square kilometers.
★ Useful Links: >>Mount Emei Tour | >>Mount Emei | >>Mount Emei Transportation
★ Recommended Mount Emei Tours: >>3 Days Mount Emei Classic Walking Tour with Moderate Pace | >>2 Days Mount Emei Leisure Hiking Tour from Chengdu (
Mount Emei Tourist Map
Emei Mountain is one of the "four famous Buddhist mountains" in China, with steep terrain and beautiful scenery. The highest peak reaches an altitude of 3099 meters. There are more than 20 Buddhist temples with a long history, a variety of rare plants and wild animals. It is a world cultural and natural heritage site. Hiking on Mount Emei, you can enjoy the beautiful scenery, learn about the Buddhist culture, have close contact with the wild monkeys, and enjoy the hot spring and local cuisines at the foot of the mountain.
★ Recommended Mount Emei Tours: >>4 Days Mount Emei In-depth Hiking Tour including Leshan Giant Buddha | >>3 Days Mount Emei Buddhist Pilgrimage Tour
Mount Emei Transportation Map
Emei Mountain is about 150km to Chengdu, about 2.5h by car. You can also choose to take the Intercity High Speed Train from Chengdu East Station / Chengdu South Station to Mount Emei Railway Station, or take the bus from Chengdu Xinnanmen station to Mount Emei Tourist Center.
How to Plan Your Mount Emei Tour
A Mount Emei tour usually starts from Chengdu, and combine visits to both Leshan Giant Buddha and Mount Emei. You can set out for tour at morning from your hotel in Chengdu, then drive about 2.5 hours to Leshan City to visit the Giant Buddha (about 2hrs), then go to stay a night at the foot of Mount Emei. After that, you can spend one day to visit the highlighting part (Leidongping to Golden Summit), or 2 days to hike from Wannian Temple to Golden Summit, or 3 days to have an in-depth hiking from Qingyin Pavilion to Golden Summit. Eco-bus and cable cars can be used to save energy if you want. After Mount Emei tour, you can transfer back to your hotel in Chengdu, or directly to the airport/train station to continue your trip.
★ Recommended Mount Emei Tours:
☛ 2 Days Mount Emei Leshan Giant Buddha Smart Tour
☛ 3 Days Mount Emei Classic Walking Tour
☛ 3 Days Mount Emei Leisure Hiking Tour from Chengdu
If you plan to spend more days travelling, you can try some popular panda volunteer programs, go to the wonderland Jiuzhaigou, see the Leshan Giant Buddha, or expand your trip to Beijing - capital of China, Shanghai - modern metropolis, and Xian - time-honored ancient capital to have a deeper understanding of China.
★ Recommended Tours including Mount Emei:
☛ 7 Days Sichuan Discovery Tour (Chengdu / Leshan / Emei / Chengdu / Jiuzhaigou)
☛ 6 Days Leshan, Mount Emei & Panda Volunteer Tour
If you have more questions about a Chengdu trip, please feel free to contact us. We are specialized in customized tours according to your interests, budget, traveling time, etc. Just tell us your needs, and we will provide you with a satisfactory tour.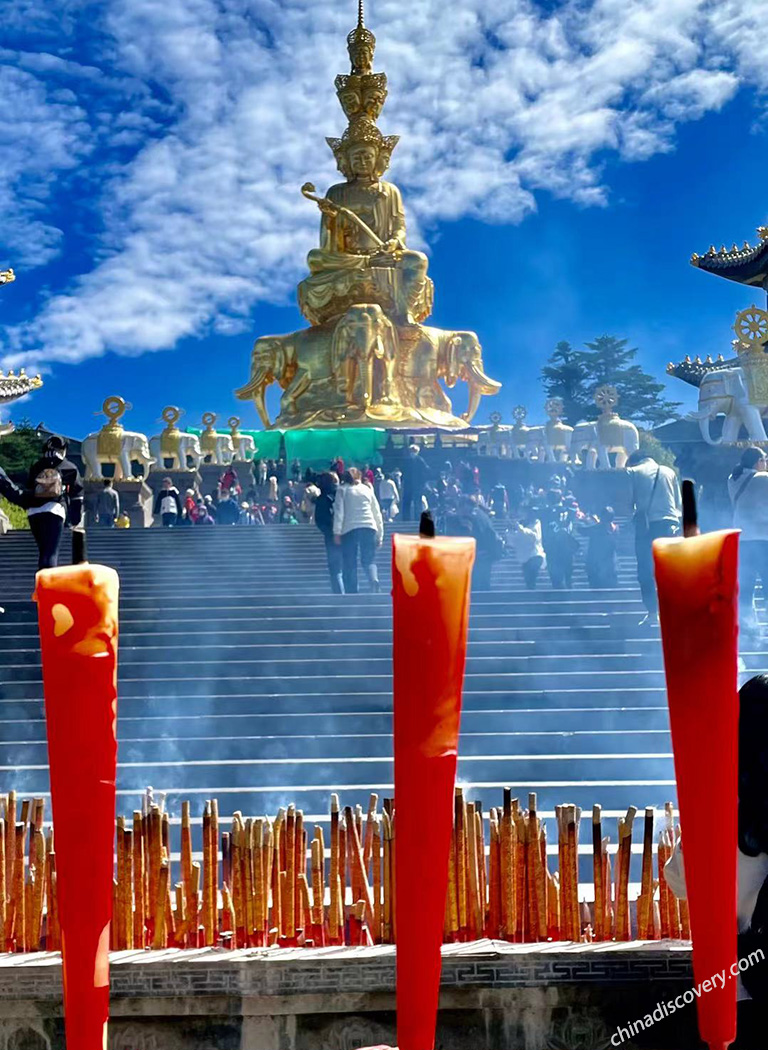 Mount Emei Scenery
Top Emeishan Tours
Extension Readings of Mount Travel Guide
Recommended Mount Emei Tours
Top 3 Mount Emei tours chosen by most customers to explore Mount Emei in the best way. Check the detailed itinerary,or tailor your own trip now with us.
4 Days Classic Leshan Buddha & Mount Emei Tour from Chengdu

Chengdu / Leshan / Mt. Emei / Chengdu
5 Days Chengdu, Leshan & Mount Emei Tour

Chengdu / Leshan / Mt. Emei / Chengdu