Emeishan city, situated at the edge of Southwest Sichuan Basin, 190 km from Chengdu downtown, is an ancient city with rich culture and long history of more than 1,400 years. And it is named for its world famous Mount Emei within. Mount Emei is one of the "Four Great Buddhist Mountains in China" for its profound Buddhist culture. In 1996, it was listed as World Heritage Site by UNESCO for both cultural and natural heritages. Since it is abundant with rare plants and precious animals, such as monkeys, and also enjoys eye-catching sightseeing view, like the Sunrise, Cloud Sea, Light of Buddha, etc., Mount Emei is reputed as "vegetable kingdom", "animal paradise" and "National AAAAA Scenic Area". Since long ago, Emeishan has attracted numerous visitors to enjoy the beautiful landscape in this tourist city.
Why Visit Emeishan:
Rich Buddhist Culture. As a world renowned Buddhist mountain, Mount Emei in Emeishan is rich in Buddhist culture with numerous Buddhist temples along the way to the peak as well as groups of Buddhist monks living here.
Peculiar Natural Scenery. Since Mount Emei is more than 3,000 m above the sea level, a lot of breathtaking scenery can be enjoyed here, like the Sunrise, Cloud Sea, Light of Buddha, red leaves, azaleas, and so on.
Paradise of Rare Animals. Various types of animals live in Emeishan for the fertile environment, and among them, the monkeys here in Mount Emei are especially very adorable and intelligent.
Top Attractions
As a sacred Buddhist mountain for more than 1,400 years, there are a series of charming attractions in Emeishan for tourists to discover. In Mount Emei, the Golden Summit, Wannian Temple, Qingyin Pavilion, and Baoguo Temple are the most special spots that you should not miss. Check them below for details. For more attractions info, please see all Attractions in Mount Emei.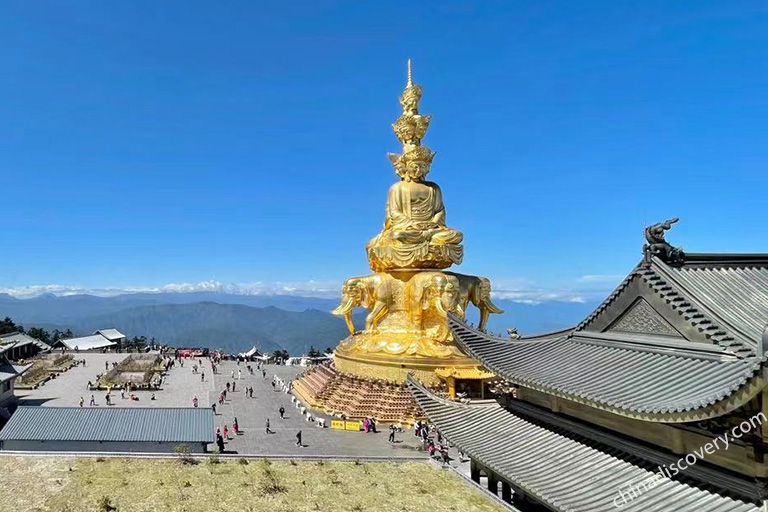 Golden Summit
The Golden Summit is the essence of Mount Emei for it enjoys the exquisite giant gold statue of Samantabhadra Bodhisattva, which is 48 m high and designed with delicate patterns. As the highest peak of the mountain, it is the best place to appreciate the rare scenery, namely, the Sunrise, Sunset, Cloud Sea, Light of Buddha, etc.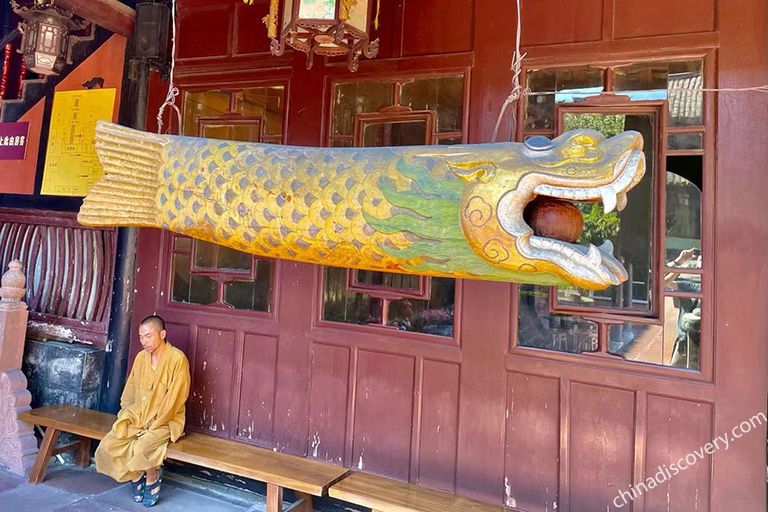 Baoguo Temple
Baoguo Temple is not only the start of Mount Emei tour, but also, it performs as the important place for holding Buddhist activities in Mount Emei. Visitors can feel its grand and solemn features with towering trees covering, magnificent temples, vivid animal statues, circling incense, crispy chime, etc.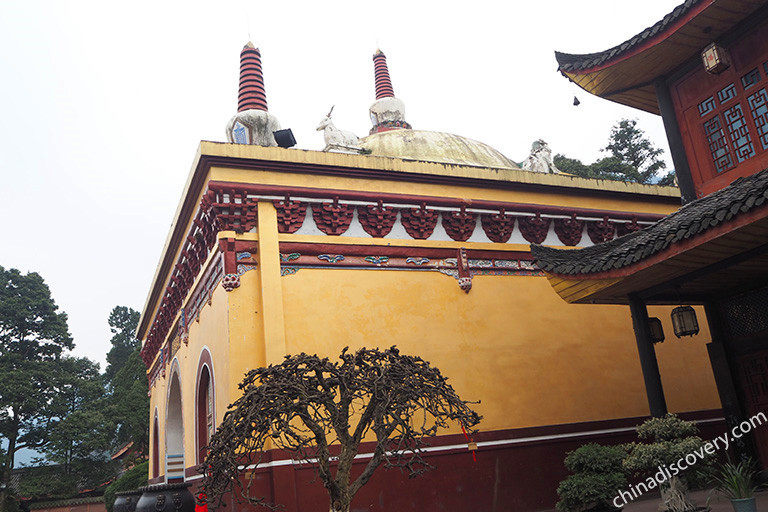 Wannian Temple
Wannian Temple is 15 km upper from Baoguo Temple and it is also the largest temple in Mount Emei for its many Buddhist buildings, gardens, pavilions, pools, etc. moreover, the three treasures in Mount Emei are collected in this temple, namely, the tooth relic of the Buddha, palm-leaf manuscript, and the imperial seal.
Qingyin Pavilion
Qingyin Pavilion is particular at its eye-pleasing natural sightseeing with singing ravines, dancing fragrant blossoms, echoing water, and so on. Though this pavilion is not very large, its elegant scenery like a Chinese brush painting due to the precipitous topography is the symbol of the beauty of Mount Emei.
Featured Activities
Visiting Mount Emei in Emeishan, tourists can have fun in various kinds of interesting activities, among which the most special ones are hiking, pilgrimage, photography, hot spring, skiing, monkeys watching, azalea seeing, etc. Check the following to see more detail information.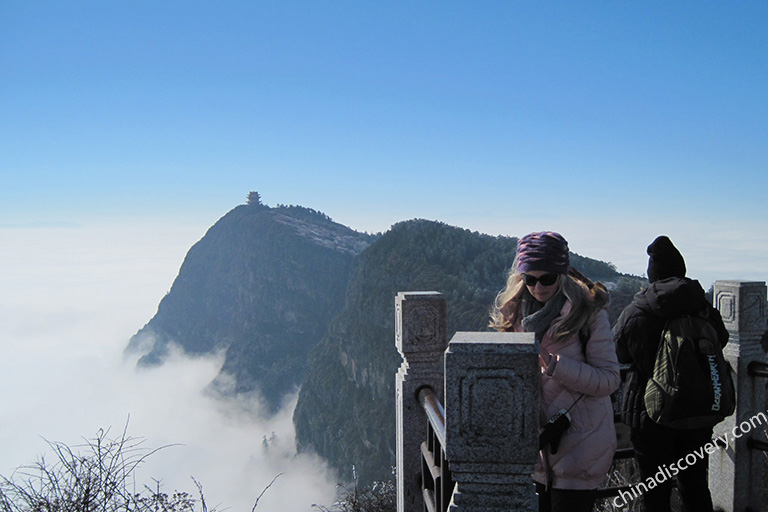 Hiking
Mount Emei is a really good place to take a hike, since it has steep terrain and a high altitude of more than 3,000 thousand meters. Long steps, paths covered with snow, and stone way in the water, etc. spread along the way up to the Golden Summit, so you can explore the harshness of Mount Emei.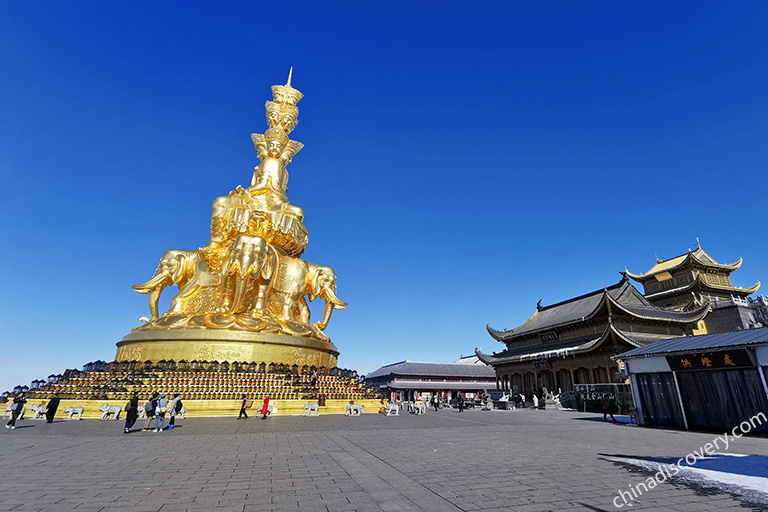 Pilgrimage
Since Mount Emei is a sacred Buddhist mountain all over the world, continuous groups of Buddhist believers come here to experience the rich Buddhist culture and purify their mind. Numerous Buddhist temples, solemn chime sound, and curling up incense will be the best catalyst in your pilgrimage.
Photography
Due to the high altitude, Mount Emei has long become a great place for photography-likers to capture a series of beautiful images, like the azalea blossoms, red leaves, snow covering trees, night sky filled with stars, Cloud Sea, sunrise, Buddha statues, ancient temples, lush forests and clear ravines and falls, etc.
Hot Spring
Enjoy the hot spring in Mount Emei that is the best in Sichuan province after your visit here is really relaxing and unforgettable. Since it belongs to the rare radon hot spring that is both healthy for the skin and can drive away many diseases, the hot spring here is very popular among visitors.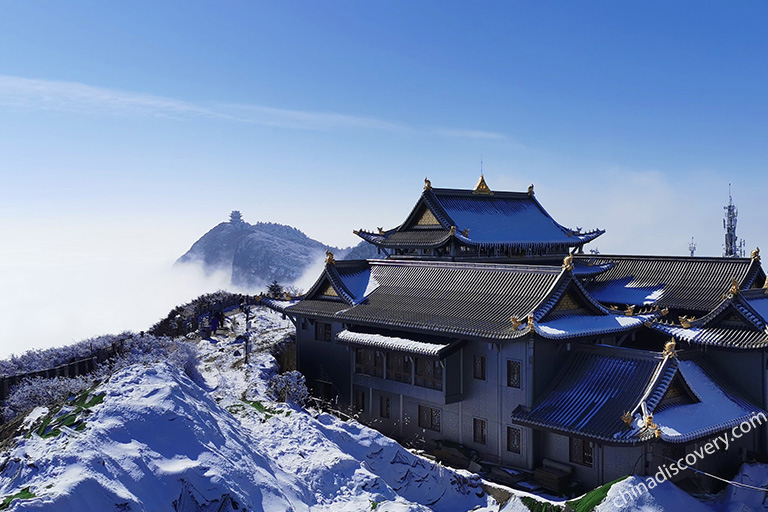 Skiing
This ski resort is built at the right of Leidongping parking lot, covering a very wide area of 10,000 square meters. It also is an especially standard ski resort with ski slopes of different kinds and professional coaches, so skiers from beginner to advanced level can totally have a good time at this white wonderland.
Monkeys Watching
The monkeys in Mount Emei represent the vigor of this mountain attraction. Nearly every tourist comes to Mount Emei chooses to watch the monkey and photograph with them here for they are adorable and intelligent, the best place to watch the monkeys are Qingyin Pavilion, between Yixiantian and Hongchunping.
Azalea Seeing
The azalea flowers are the special sightseeing in Mount Emei. From middle April to June every year, the sea of azalea of nearly 30 types of more than 100 li is in full bloom, painting the mountain into red, white, purple, yellow and pink. You will not only be amazed by its large scale but drunk into its fragrance as well.
Weather & When to Go
Emeishan belongs to the subtropical monsoon climate area. Since Mount Emei has a high altitude, it shows different weather according to the height. 1500-2100 m belongs to the warm temperature zone, 2100-2500 m the middle temperature zone, above 2500 m the subfrigid zone. And there is about half a year for snow covering above 2000 meters, from Oct. to the next Apr. Mount Emei shows cloud and mists for most time, with a little sunshine and rich rainfall. Having a moderate climate, its annually average temperature is 17℃, with the highest of 39℃ and the lowest of 4.6℃ below zero. And it has an average annual precipitation of 1033.9 millimeters.
It is recommended to visit Mount Emei in spring and the fall, since the temperature is moderate and the azalea blossoms from April to May and the best month to enjoy the red leaves is October.
Learn more about Mount Emei Weather >>
Transportation
By Flight
There is no airport in Emeishan city till now. There are two large international airports near this city for you choice. Chengdu Shuangliu International Airport about 150 km away has opened more than 70 international airlines and Chongqing Jiangbei International Airport about 270 km away has opened 58 airlines to and from Europe, American, Australia, and Asia…
By Train
Since the completion of the Chengdu-Mianyang-Leshan Intercity Railway, the transportation from Chengdu to Emeishan has changed a lot. Visitors can take a bullet train from Chengdu downtown or Shuangliu International Airport passing this railway for only 1 to 1.5 hours to get to the scenic area.
By Coach
Choose to take a long-distance coach to Emeishan is also very convenient. You can buy a ticket at Xinnanmen Bus Station at Chengdu downtown to Emeishan Tour Passenger Transport Center, costing about 2.5 hours. The buses start about every 20 minutes before 19:00 every day.
Getting Around
In Emeishan city, taking a regular bus or a taxi to travel is very convenient and cheap. You can also find many long-distance buses to other cities like Ya'an, Leshan, Yibin, Mianyang, Chengdu, Chongqing etc.
For more information, please see Mount Emei Transportation>>
Emeishan Hotels
As a super famous tourist destination, Emeishan has all kinds of hotels and hostels for visitors to select. If you plan to finish your Mount Emei trip in one day, you are more advised to stay in Emeishan downtown or at the mountain foot. If you are to spend a night on the mountain, Leidongping (about 2.5 hours' hiking to the mountain top) is more chosen by hikers and Golden Summit has better view for sunset and sunrise. Apart from that, some temples on Mount Emei also provide tourists with accommodation.
Learn more about Emeishan Hotels >>
Emeishan Maps
We have selected some very useful maps of Mount Emei to help you visiting this attractive place. Please feel free to use if you want to know the location and other information while in Mount Emei! View more Emeishan maps >>
Other Destinations in Sichuan
After your visit to Emeishan, you'd better spend some time to go to other attractive destinations in Sichuan province and Chongqing district, like Giant Buddha in Leshan, Jiuzhaigou Valley, Dujiangyan Irrigation System in Dujiangyan, Research Base of Giant Panda Breeding in Chengdu, Shunan Bamboo Forest in Yibin, and so on. Discovery now!
Chinese Name: 峨眉山市
English Name: Emeishan City
Chinese Pinyin: é méi shān shì
English IPA: /'ə 'meɪ 'ʃʌn/
Population: 433.7 thousand
Language: Mandarin & Sichuan Dialect
Tel Code: 0833
Zip Code: 614200
Time Zone: (UTC+8)
Plan your Emeishan Tour
Spend 3 days to visit Mount Emei to experience its rich Buddhist culture and see all its rare sightseeing, like the Golden Summit, Baoguo Temple, Wannian Temple, Qingyin Pavilion, etc.
If you do not have enough time, it is recommended to spend at least one day to take a cable car to the Golden Summit to see the Cloud Sea and the Buddha Statue.
And if you want to choose some themed tours, like pilgrimage tour, hiking tour, photographic tour, classic Mount Emei tour, etc. you can see the following recommended tours.
You can feel free to contact our professional travel consultants to customize your own itineraries which would perfectly suit for your likes and requirements.
Recommended Tours
MORE