Top 8 Things to Do in Mount Emei | Emeishan Bucket List 2023
Mount Emei, located about 150 km (about 2 hours' driving) from Chengdu, is a World Natural & Cultural Heritage site (combing with Leshan Giant Buddha) recognized by UNESCO as well as one of China's Four Sacred Buddhist Mountains in Sichuan. In addition to its cultural significance, its nature is also stunning because of its alpine subarctic climate and unique landform. The reasons to visit Mount Emei are more than one and things to do in Mount Emei are also more than one. Here is Emeishan bucket list with best things to do in Mount Emei to guide you plan a better Mount Emei experience.
No. 1 Take Buddhist Exploration in Buddhist Temples
As a sacred Buddhist mountain, Mount Emei is immersed in thick Buddhist fragrance. There were more than 30 temples in the whole mountain in ancient times and 28 of them are well-preserved. Each temple owns its own feature and cultural story. Mount Emei is the ashram for Samantabhadra Bodhisattva, so you can easily worship a statue of Samantabhadra Bodhisattva in the temples. Important temples include Baoguo Temple, Fuhu Temple, Qingyin Pavilion, Wannian Temple, Hongchunping, Xianfeng Temple, Xixiangchi and Huazang Temple. On these temples, you can observe different statues of Buddha and Buddhist figures as well as some cultural relics. Taking a pilgrimage to these temples, you may find real happiness and brightness. Apart from Buddhist temples, Golden Summit is also a wonderful site for pilgrims because the statue of Ten-faced Samantabhadra Bodhisattva stands here.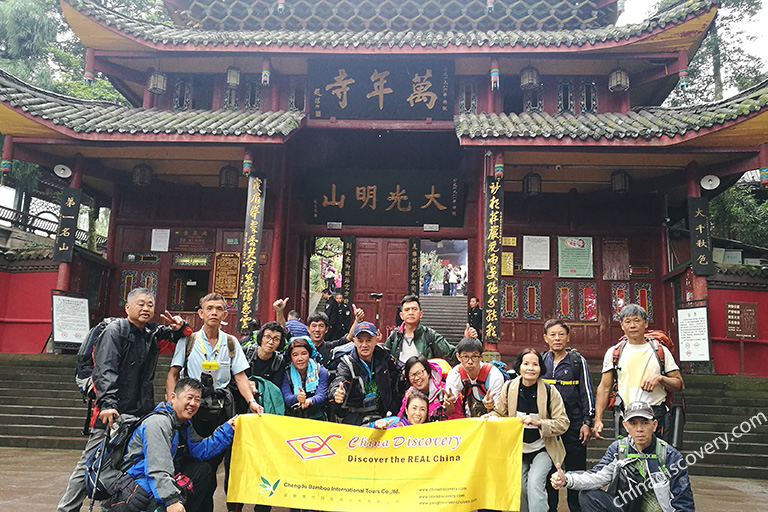 Beautiful Mountains in Mount Emei
If you follow Buddhism or you are interested in Chinese Buddhism, feel free to contact us to start a Buddhist pilgrimage experience. Read more about Top 8 Temples in Mount Emei>
√ 3 Days Mount Emei Buddhist Pilgrimage Tour
No. 2 Appreciate Breathtaking View at Golden Summit
It is well-known that Golden Summit is the symbol and cultural essence of Mount Emei. Moreover, the landscape seen from Golden Summit is incredibly beautiful. When the sun shines in the golden statue of Samantabhadra Bodhisattva, you may feel a mystical force from him. For shutterbugs, it's a piece of cake to take a nice shot from any angle. In a sunny day, you can feast on the sea of clouds easily. If you accommodate in the Hotels at Golden Summit, you get a precious opportunity to see the most fantastic sunrise, sunset and starry sky. Far more than that, you may also get a far-reaching view of snow-capped mountains in the distance, including Mount Gongga and Mount Wawu.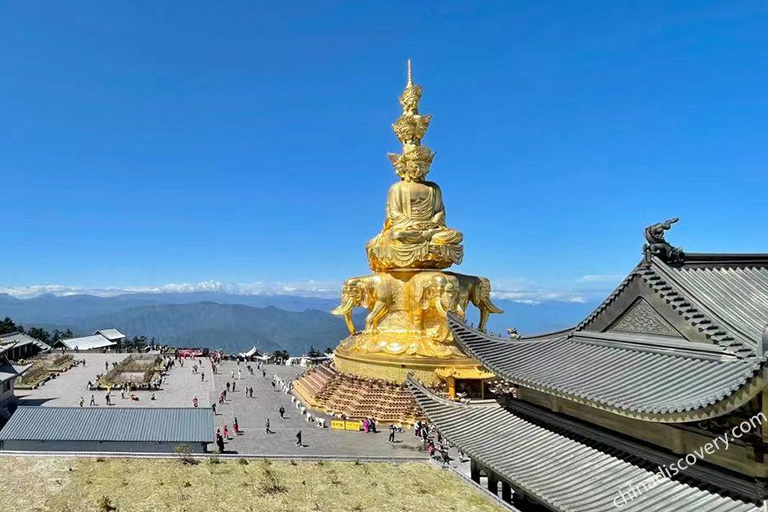 Breathtaking Vista of Golden Summit
Warm Tip: 1) The best time to watch sunrise is 07:30-08:00 in winter time and 06:00-06:30 in summer time; the best time to enjoy sea of clouds is 09:00-10:00 and 15:00-17:30; to see the Buddhist Halo is 09:00-10:00, 15:00-16:00. 2) If you want to get to Golden Summit quickly, you can take an Eco-bus from the tourist center to Leidongping, then walk to Jieyin Hall and take a cable car to Golden Summit.
√ 2 Days Mount Emei Highlights Tour with Sunrise and Sunset
No. 3 Take a Once-in-a-lifetime Hiking
If you are a mountain hiking enthusiast, don't miss Mount Emei. There is a winding hiking footpath more than 60 kilometers. Most of the hiking trails are well-paved with stones and easy to walk for hikers at different ages, but some sections might be serous and steep which needs you to walk carefully. Taking the challenging steps from the bottom up to the top of the mountain usually needs about 3 days. It's a physical demanding but spiritual and visual rewarding experience. During your hiking time, you will walk into the deep forest, pass by waterfalls and lakes, meet with some rare-to-see fauna and flora, as well as see some big or small temples.
Mount Emei is well-equipped with eco-bus and cable cars which help shorten the climb. For hikers with a tight schedule, you are suggested to get a head start on the ascent or to bypass some of the descent. Read more about Mount Emei Hiking>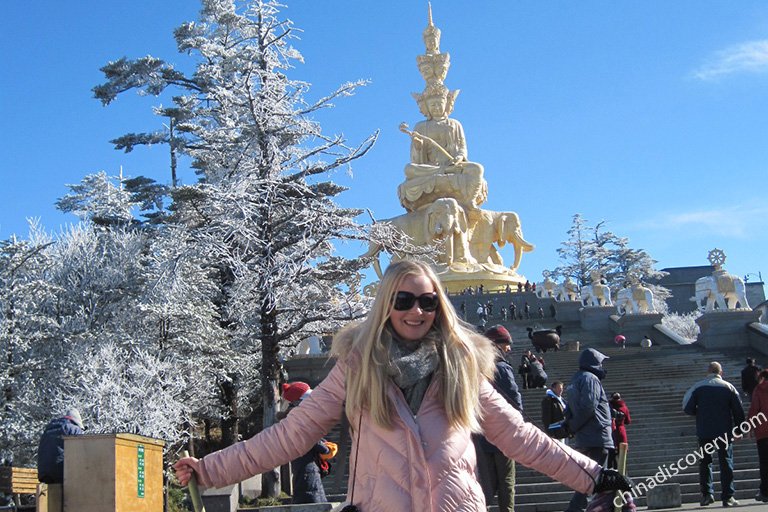 Hiking into the Nature of Mount Emei
Warm Tip: 1) The best two periods are April to June and September to November when the weather is most comfortable, and you can avoid the crowds. 2) It's important to pack light and prepare a pair of comfortable hiking shoes. Hiking sticks will also be helpful.
√ 3 Days Mount Emei Classic Walking Tour with Moderate Pace
√ 4 Days Mount Emei In-depth Hiking Tour including Leshan Giant Buddha
No. 4 Seek for Fairyland in Winter
It's not enough to travel Mount Emei in one time. If you travel Mount only once, don't miss the winter (December ~ February) when Mount Emei takes on its most stunning scenery. Witnessing the change from green at the bottom to white in high altitude is truly magical. The upper mountain becomes a dreamy fairyland just like the beautiful scene in the movie FROZEN.
In addition to the snowscape which catches your breath, you can also visit Emeishan Ski Resort (in Leidongping) for snow fun. Interesting activities like skiing, making snowman, snowball fighting, seeing snow sculptures… never fail to entertainment. It is equipped with three wide snow tracks and dog ski paths to satisfy the needs for different skiers – new or experienced. See more about Mount Emei Winter>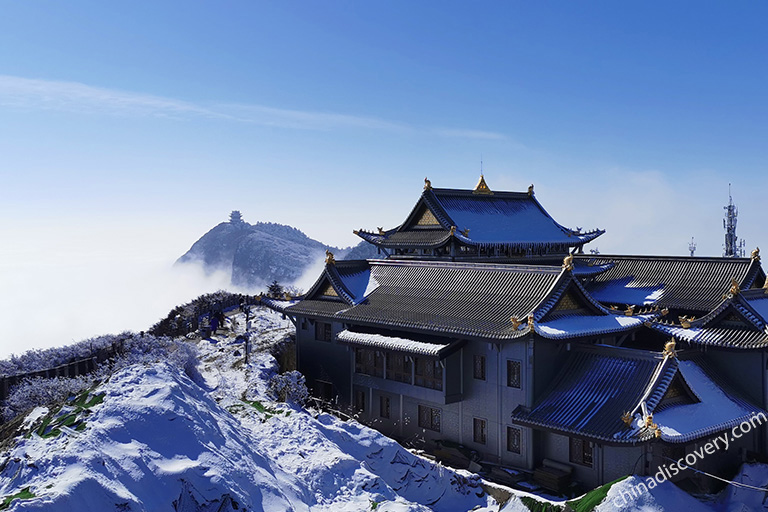 Winter Fun in Mount Emei
Warm Tips: 1) Covered with thick snow, the road may be very slippery, and it will be helpful to wear anti-slip and waterproof shoes before your hiking. 2) Please get prepared with extra layers like a down jacket, hat, scarf, and gloves, for the temperature is much lower in the upper mountain.
√ 3 Days Mount Emei Winter Tour
No. 4 Enjoy Hot Spring to Smooth Your Body and Mind
After your hiking or pilgrimage experience to Mount Emei, hot spring is recommended to dissipate your fatigue and tiredness as well as smooth your mind. No matter you want outdoor or indoor spring, you have many choices. You are suggested to accommodate in a spring hotel, so you can enjoy yourselves much better. A relaxing and enjoyable spring experience will undoubtedly help you have a nice sleep. Or just get up early in the morning and head to the outdoor springs when steam is rising off water and no one else is around. You can immerse yourself in the water and listen to the birds.
There are many hotels equipped with hot springs and great facilities. Four best hot springs in Emeishan contain Lingxiu Hot Spring, Hongzhushan Forest Hot Spring, Tianyi Hot Spring and Yoga Hot Spring.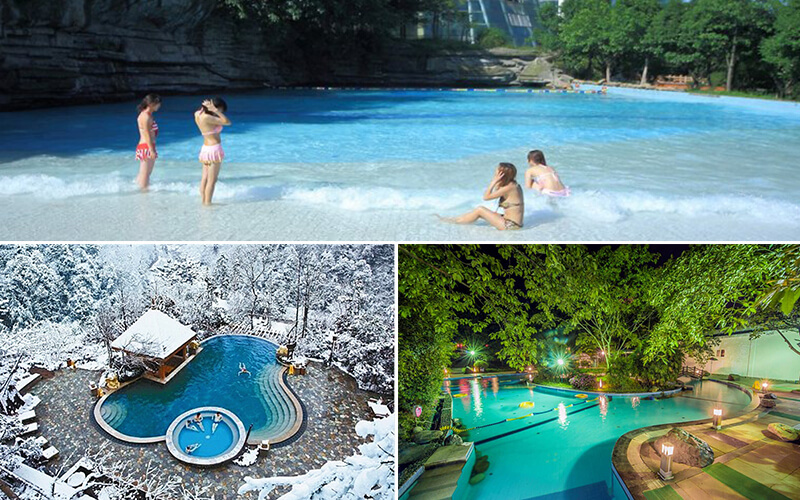 Hot Springs in Mount Emei
√ 3 Days Mount Emei Winter Tour Hot Spring Experience
No. 5 Learn Kung Fu in Emeishan
Emei Kung Fu, Shaolin Kung Fu and Wudang Kung Fu are three greatest Martial art sects in China. Emei Kung Fu absorbed the essence of other martial art and developed its own myth-generating sect. It has a concept of using a soft approach to subdue a tough opponent.
If you are a Kung Fu fun, don't miss this chance to learn more about Emei Kung Fu. China Discovery can arrange you a Kung Fu experience by joining a one day's Kung Fu class in Baoguosi Museum. Here you are able to get an understanding of history, theory and philosophy of Emei Kung Fu as well as some traditional regimen, and then learn Emei Kung Fu under the guidance of a professional master with over 30 years' teaching experience.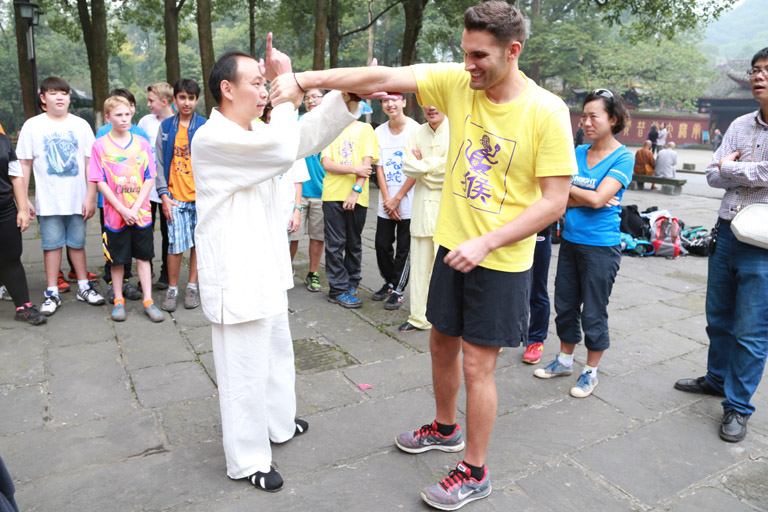 Enjoy Emei Kung Fu
No. 7 Having a Bite of Local Snacks & Vegetarian Feast
Just like other cities of Sichuan, Emeishan enjoys a wide range of the popular snack and local dishes. Almost all popular Leshan Food and Snacks can be found in Emeishan city, including Toufu Jelly, Cold Pot with Skewers, Spiced Sweet Crispy Duck, etc. To seek the real taste of Leshan, you can go to Delicacy Street.
While traveling in Mount Emei, you can also taste the famous vegetarian feasts that made by local Buddhist monks in different temples, including Baoguo Temple, Wannian Temple, Fuhu Temple, etc. According to the Buddhism believes that taking vegetarian food may cleanse one's heart, limit his desires, as well as strengthen his health. So Buddhist monks are particular about vegetarian food. All the dishes are made of vegetarian foods, such as noodles, vermicelli, melons, beans and vegetables, by steaming, boiling, stir-frying or stewing.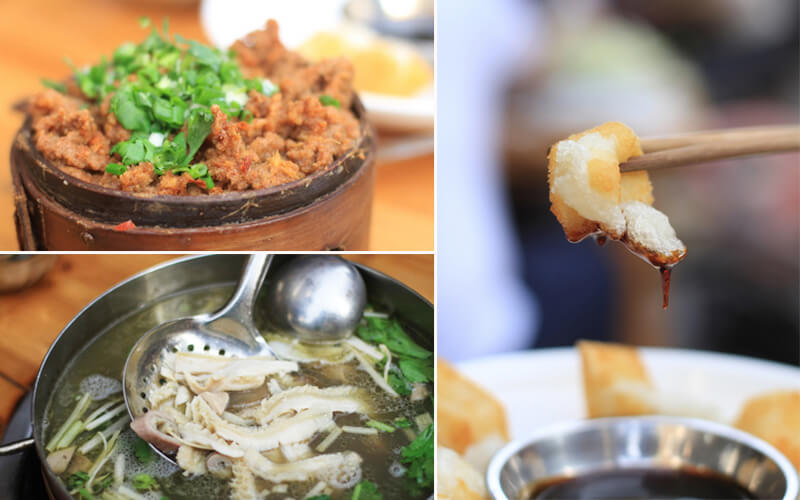 Delicious Emei Food
No. 8 Explore Emei Tea Culture
Emeishan's featured natural environment, rich tea resources and long-standing religious culture have formed a wide range of high-quality tea production and tea culture. Famous tea produced in Mount Emei includes Emei Maofeng, Bitanpiaoxue, Emei Xueya, etc. among which Zhuyeqing (Bamboo Green Tea) is the most famous one.
Zhuyeqing is one of the famous teas in China that grows in the areas of Mount Emei at the altitude from 800 to 1200 meters. The name "Zhuyeqing" is given by Marshal Chen Yi in 1964, when he visited Mt. Emei, for the tea looks like the leaves of bamboo, glossy green in color. The flavor is fresh and sweet with a hint of brisk bouquet in the aroma, which earns world praise. Nowadays, the Zhu Ye Qing Company is one of the largest trademarks in Chinese tea industry. The tea harvested before Qingming Festival (Tomb Sweeping Day) is supposed to be the best, which is also called "New Tea".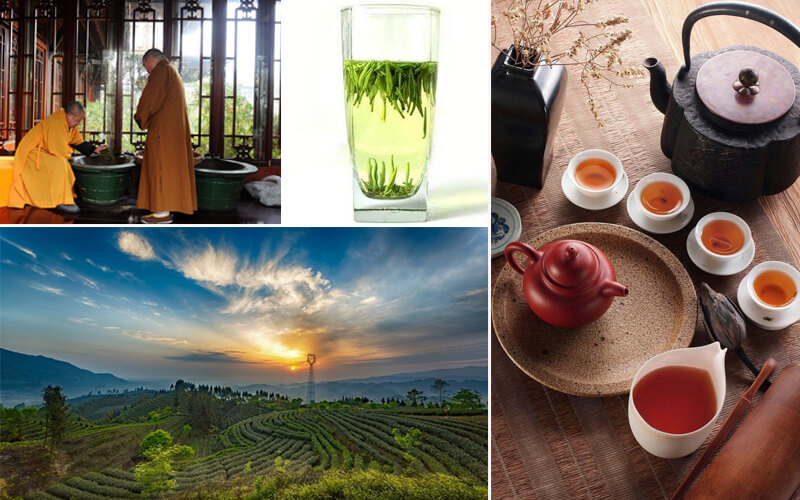 A Taste of Fresh Emei Tea
How to Plan A Tour to Mount Emei
A classic Mount Emei tour always starts from Chengdu with combination of Leshan Giant Buddha visit. It is reasonable to spend 2 ~ 3 days touring Leshan and Emeishan together. You drive from Chengdu to Emeishan via Leshan Giant Buddha firstly, and then pay a short visit to Baoguo Temple at the foot of Mount Emei in the first day. The next one or two days is for Mount Emei highlights according to your interest and physical condition. Read more about How to Plan An Emeishan Trip>
Travel with China Discovery – Top Recommended
Based in Chengdu, we are specialized in offering high-quality private tour packages to all travelers who have desires to have an authentic Mount Emei discovery. No mater you are fond of hiking, sightseeing, photography, Buddhism, Kung Fu or others, we can customize a tour according to your own needs. All details will be taken care of, and you just need to enjoy the scenery. Please be free to contact us to get your Emeishan tour started.
If you are planning a longer China tour including Chengdu and Mount Emei, you can find a suitable tour with China Discovery. Check our best-selling Emeishan China tours:
√ 6 Days Chengdu Xian City Enjoyments with New Bullet Train Experience Tour (Chengdu / Leshan / Emeishan / Xian)
√ 9 Days Pandas Terracotta Warriors Great Wall Encounter (Chengdu / Leshan / Emeishan / Xian / Beijing)
√ 10 Days Classic Sichuan & Yunnan Highlights Tour (Chengdu / Leshan / Mount Emei / Lijiang / Shangri-La / Kunming)
Top Emeishan Tours
Extension Readings of Mount Travel Guide
Recommended Mount Emei Tours
Top 3 Mount Emei tours chosen by most customers to explore Mount Emei in the best way. Check the detailed itinerary, or tailor your own trip now with us.
3 Days Mount Emei Winter Tour with Skiing and Hot Spring Experience

Chengdu / Leshan Giant Buddha / Chengdu / Mount Emei
3 Days Mount Emei Buddhist Pilgrimage Tour

Chengdu / Mount Emei / Leshan Giant Buddha / Chengdu
Start planning your tailor-made holiday to China by contacting one of our specialists. Once inquired, you'll get a response within 0.5~23.5 hours.
Customize a Trip
Have a question? Get answers from our travel experts or guests
Your Question:

Your Name:

Your Email: