Visit Mount Emei in Summer - Weather, Scenery, Packing List & Tips
During the summer break, many people in Sichuan would like to travel Mt. Emei to escape the sultriness in the urban area. Hiking in the lush mountain, encountering the Emei monkeys, slowing down yourself with the local monks, and witnessing the wonders of sunrise and sunset of Mount Emei, you will completely cool down here and have a wonderful travel experience with the comfortable temperature on the mountain.
As a professional travel agency that is exactly based in Chengdu (only 156km to Mount Emei, 2.5h by car), here we have provided you with some useful information about Mount Emei in summer, such as the weather, scenery, packing suggestions and travel tips to help you better plan a Mount Emei trip.
Mount Emei Weather in June, July, and August
The temperature is cool and comfortable between June and August and it is cool in the daytime and a little cold at night. It is also humid and cloudy all the time with abundant rainfall. The average temperature of Mount Emei in June is between 4°C / 39°F and 20°C / 68°F; in July is between 7°C / 45°F and 20°C / 68°F, and in August is between 5°C / 41°F and 23°C / 73°F. The chart below shows the day by day temperature of Mount Emei from June to August, 2019.
❉ Tips: The temperature at different altitudes in Emei Mountain scenic spot varies a lot. Generally, the difference between the top of the mountain and the foot of the mountain is about 14℃ / 57°F. Therefore, it is necessary to bring extra clothes to keep warm (there is also a coat renting shop at the top of the mountain).

Mount Emei Temperature from June to August, 2019 (Measured at the foot of the mountain)
☼ Mount Emei Sunsrise and Sunset in Summer
| | | | |
| --- | --- | --- | --- |
| | June | July | September |
| Sunrise | 6:05am-6:09am | 6:09am-6:25am | 6:25am-6:42am |
| Sunset | 8:01pm-8:10pm | 8:00pm-8:10pm | 7:30pm-7:59pm |
What to See & Do in Mount Emei in Summer
Summer is a comfortable season to visit Mount Emei. Escaping the summer heat from the urban cities, feeding the wild monkeys and trying the local snacks and food in Emeishan, you will have a strenuous but worthwhile travelling experience in Emeishan Mountain.
Escape the Summer Heat on Mount Emei
When Chengdu is in the sultry summer, the temperature of Emei Mountain is only around 20 °C, and it has become a good site to escape the summer heat. The vegetation here is luxuriant and the humidity is high. Emei Mountain is often shrouded in the cloud and fog, like a dwelling place for celestial beings. The cloud and fog brought by abundant rainfall in summer, although the sunny days are relatively few, but it is easy to observe the cloud sea and halo of Buddha in such weather conditions. However, please note that due to the low temperature in the mountain area especially at night, please take extra clothes to keep warm and raincoats and umbrellas during your hiking.
☁ Cloud Sea: Summer is the good season that you can encounter the cloud sea at the golden summit. Especially in the evening, the floating cloud sea is like a white sea. In the distance, Gongga Mountain and Wawu mountain are presented with golden silhouettes, like the fairy mountain island floating in the water, which has an indescribable beauty. The best time to watch the cloud sea is from 9:00 to 10:00 in the morning or from 15:00 to 17:30.
❁ Halo of Buddha: The Buddha's halo in Emei Mountain is a peculiar sight produced by the diffraction of the light. Most of the Buddha's light in Emei appears in the Golden Summit area, Jinding. When the sun shines from the back of the observer to the boundless sea of clouds, the deep clouds reflect the sun. After the diffraction and differentiation of light through the cloud or fog particles, a huge iridescent halo is formed, bending over the rock in Jinding and floating in the clouds. Many Buddhists believe that this is a manifestation of Buddha, so it is called Buddha light. Some tourists believe that seeing Buddha light will bring good luck.
★ Recommended Mount Emei Tour:
Halo of Buddha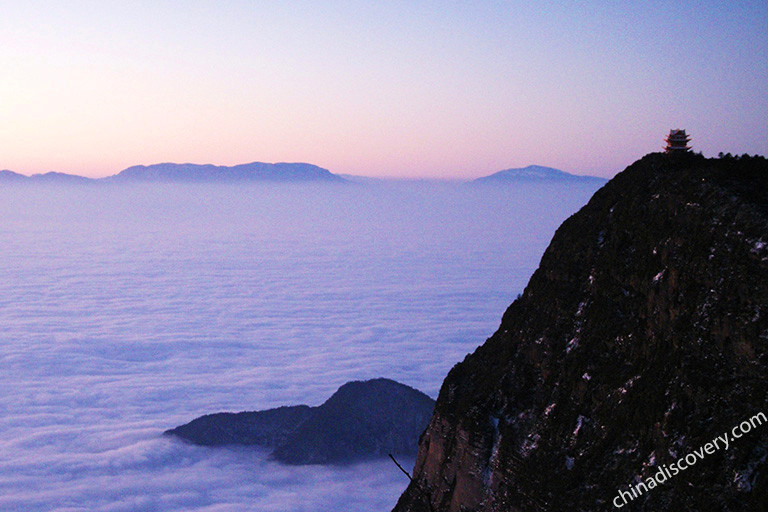 Cloud Sea
Feed the Monkey "Robbers"
The monkeys in the Mountains of Emei are well-known,and they are very active during the summertime. For they get along with tourists all-year-round, most of them have got well used to be fed by people and like to interact with the tourists. The wild monkeys mainly inhabit in the sites around Qingyinge (清音阁), YixianTian (一线天) and Hongchunping (洪椿坪), Jiulaodong (九老洞) and Xixiangchi (洗象池). The wild Emei monkeys will surprise you. They are the masters of Emei Mountain. They swaggered on the road, not fearing the tourists, robbing food, water, doing the "barbaric deeds". However, these wonderful creatures have become a mascot of Emei Mountain. If you like to feed the monkeys and take a picture with them, you may go to the natural ecological monkey area (生态猴区) of Emei Mountain for a stroll. However, please note the monkey group is still very wild and untamed. Please refer to the tips below when entering the natural ecological monkey area.
★ Recommended Mount Emei Tour: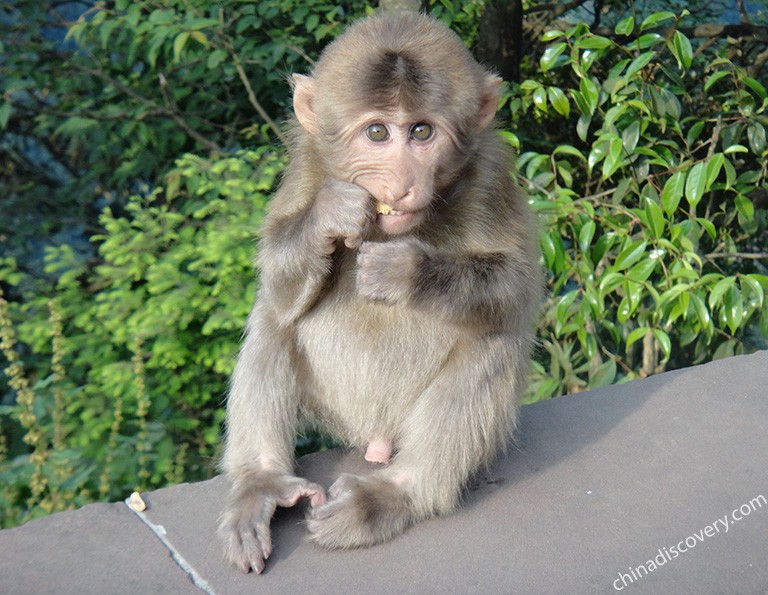 Feed Monkey Mother and Baby
• Tips: ① Don't take plastic bags or carry bags, and any valuable personal belongings with your hand when entering the monkey area (if you must bring them with you, please ensure to grasp them firmly); ② Your backpack should be carried in front of you; After entering the monkey area, don't touch and eye contact with the monkeys especially the baby monkeys; ③ If a monkey is approaching you, be calm, don't scream; ③ Don't be too close to the monkey; ④ There will be guards in this area in case any emergent situations.
Enjoy the Local Cuisine of Mount Emei
After enjoying the beautiful scenery of Emei Mountain and understanding the Buddhist culture, do not miss the unique local delicacies of Emei Mountain. There are mainly two categories: Buddhist vegetarian dishes and Sichuan cuisine. Baoguo Temple, Fuhu temple and Wannian temple in Emei are recommended vegetarian catering sites on the mountain. Most of the vegetarian dishes are made of bean products, flour, vegetables, nuts, and fruits, some of which imitate the category and shape of meat meal. Although there are that many boutique and fancy restaurants like in Chengdu, there are many Emei snacks at the foot of the mountain and downtown Emei city, such as tofu jelly, iced jelly with brown sugar, fried skewers, cold pot skewers, sticky rice ball wrapped with leaves, etc. There are two recommended food streets: one is near Baoguo Temple where the variety of snacks is relatively limited compared with the downtown area, and the other is in Dongxing Street, the downtown area, about 7km from the mountain with more restaurants and interesting snacks.
★ Recommended Mount Emei Tour:
Emeishan Snack: Iced Jelly in Summer
What to Wear & Pack for Emeishan Summer Trip
• What to Wear: The temperature is comfortable and humid on Mount Emei during daytime in summer, but it is still cold on the mountain especially at night. It is recommended to wear windbreakers, jackets, sweaters, trousers, long sleeve, sweater, for the daytime and overcoats, sweaters, woolen jacket, gloves, down jacket and scarfs if feel cold at night. As you are hiking upward to the top, you need to wrap yourself with more warm-keep clothes or rent a winter coat / down jacket at Leidongping.
• What to Pack for Hiking: Besides the Weather-appropriate clothing and the necessities such as your passport, visa, credit card, etc. you can also pack some essential hiking gears: hiking backpack, hiking boots or shoes, navigation (map, compass), sunglasses and suncream, umbrella, raincoat, first aid, water bottle, warm paste, knife or multi-tool, necessary food and water package for the emergent situation, extra food and water (optional, purchasable on the mountain but a little pricey with limited choices), extra clothes for high altitude area and nighttime.
How to Plan Your Mount Emei Summer Tour
A Mount Emei tour usually starts from Chengdu, and combine visits to both Leshan Giant Buddha and Mount Emei. You can set out for tour at morning from your hotel in Chengdu, then drive about 2.5 hours to Leshan City to visit the Giant Buddha (about 2hrs), then go to stay a night at the foot of Mount Emei. After that, you can spend one day to visit the highlighting part (Leidongping to Golden Summit), or 2 days to hike from Wannian Temple to Golden Summit, or 3 days to have an in-depth hiking from Qingyin Pavilion to Golden Summit. Eco-bus and cable cars can be used to save energy if you want. After Mount Emei tour, you can transfer back to your hotel in Chengdu, or directly to the airport/train station to continue your trip.
★ Recommended Mount Emei Tours:
☛ 2 Days Mount Emei Leshan Giant Buddha Smart Tour
☛ 3 Days Mount Emei Classic Walking Tour
☛ 3 Days Mount Emei Leisure Hiking Tour from Chengdu
If you plan to spend more days travelling, you can try some popular panda volunteer programs, go to the wonderland Jiuzhaigou, see the Leshan Giant Buddha, or expand your trip to Beijing - capital of China, Shanghai - modern metropolis, and Xian - time-honored ancient capital to have a deeper understanding of China.
★ Recommended Tours including Mount Emei:
☛ 7 Days Sichuan Discovery Tour (Chengdu / Leshan / Emei / Chengdu / Jiuzhaigou)
☛ 6 Days Leshan, Mount Emei & Panda Volunteer Tour
And for those travelers visiting China in summer for the second or third time, most of them prefer to discover Zhangjiajie (3-5 days), Jiuzhai Valley (2-3 days), Yangtze River Cruise (4-5 days), Emeishan (1-2 days), Tibet (3-11 days), Guilin / Yangshuo / Longsheng (3-6 days), Huangshan (3-5 days), etc. to see the emerald top landscape and brilliant culture in China with lower temperature. If you want to enjoy a cool summer vacation with refreshing nature like mountains, forests, grassland, water, and other seasonal landscapes, you are recommended plan an itinerary to Guizhou (3-7 days), Yunnan (5-9 days), Inner Mongolia (3-6 days) and Qinghai (3-6 days), etc. to escape from the summer heat. Check all China Summer Tours >>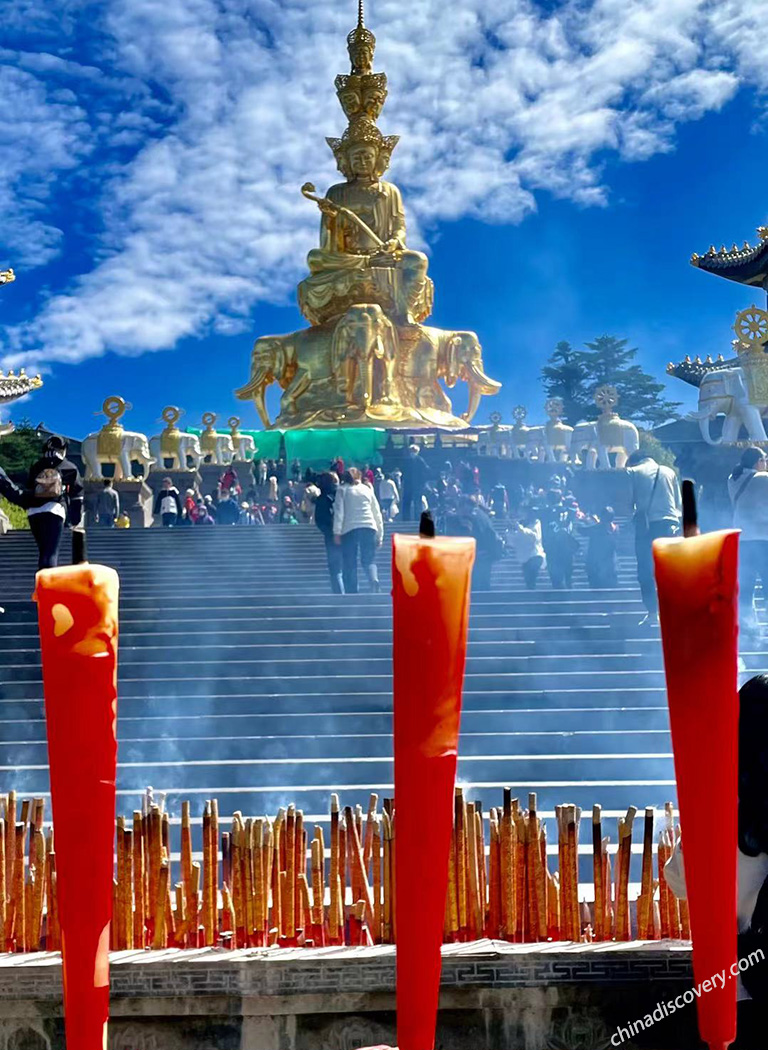 Mount Emei Scenery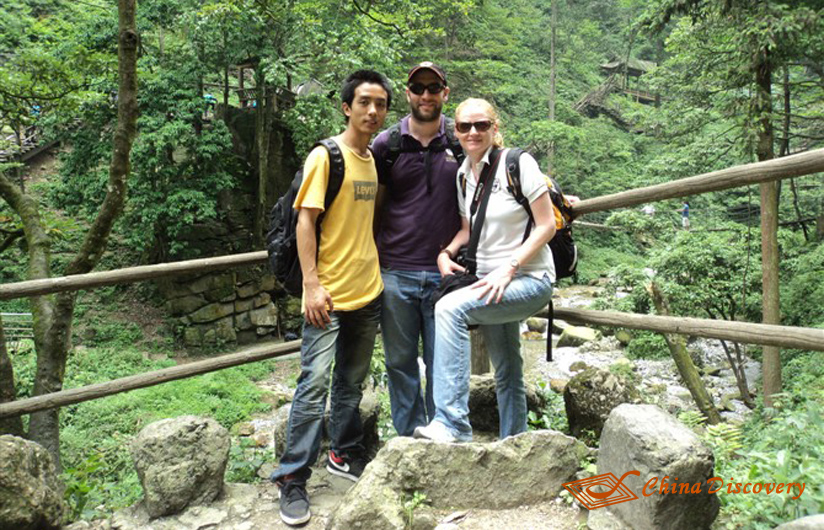 Our Customers Visited Mount Emei in Sichuan in Summer
Travel with China Discovery
If you have other ideas or questions about Emei Mountain tours, please feel free to contact us. We are also specialized in tailor-made tours that fit you best according to your own interests, requirements, traveling time, etc. We will provide you with reliable drivers, professional guides and comfortable vehicles. You don't need to worry about the tickets, meals, accommodation or any other problem; all you need to do is just enjoying your trip!
We have helped many global travelers enjoy their memorable trips to Chengdu for the past few years. Among them, Lawson's Family from UK enjoyed their 19 days China family vacation with Chengdu with our customized tour pacakge, our warm guest Ronald from USA enjoying 3 China trips with us also dicovered Chengdu and met us... They all shared us their memorable travel stories after the trips! Travel with China Discovery to create your wonderful Chengdu trip memories!
Extension Readings of Mount Travel Guide
Recommended Mount Emei Tours
Top 3 Mount Emei tours chosen by most customers to explore Mount Emei in the best way. Check the detailed itinerary, or tailor your own trip now with us.
4 Days Classic Leshan Buddha & Mount Emei Tour from Chengdu

Chengdu / Leshan / Mt. Emei / Chengdu
Start planning your tailor-made holiday to China by contacting one of our specialists. Once inquired, you'll get a response within 0.5~23.5 hours.
Customize a Trip
Have a question? Get answers from our travel experts or guests
Your Question:

Your Name:

Your Email: