Visit Mount Emei in Spring - Weather, Scenery, Packing List & Tips 2023
Spring and autumn are the best seasons for Emei Mountain hiking. The climate is moderate and the scenery is great. As a professional travel agency that is exactly based in Chengdu (only 156km to Mount Emei, 2.5h by car), here we have provided you with some useful information about Mount Emei in spring, such as the weather, scenery, packing suggestions and travel tips to help you better plan a Mount Emei trip.
Mount Emei Weather and Temperature in March, April, and May
Mount Emei is generally humid and a little bit cold in spring. It is often immersed in the mist and fog, and rainy almost all year round. The humidity is relatively high, especially in the halfway mountain area, and the relative humidity is 85%. The average temperature of Mount Emei in March is between -1°C / 30°F and 7°C / 45°F; in April is between 3°C / 37°F and 11°C / 52°F, and in May is between 7°C / 45°F and 14°C / 57°F. The chart below shows the day by day temperature of Mount Emei from March to May, 2019.
❉ Tips: The temperature at different altitudes in Emei Mountain scenic spot varies a lot. Generally, the difference between the top of the mountain and the foot of the mountain is about 14℃ / 57°F. The foot area of the mountain (under 2000 meters altitude) has obvious seasonal changes. The dressing items there are the same as that of other places in the whole year. Although the temperature is lower in the halfway mountain and you may feel even cooler after sweating as you hiking on. Therefore, it is necessary to bring extra clothes to keep warm (there is also a coat renting shop at the top of the mountain).
Mount Emei Temperature from March to May, 2019 (Measured at the foot of the mountain) (Zoom in to enlarge)
☀ Mount Emei Sunsrise and Sunset in Spring
| | | | |
| --- | --- | --- | --- |
| | March | April | May |
| Sunrise | 6:58am-7:32am | 6:25am-6:56am | 6:07am-6:24am |
| Sunset | 7:05pm-7:23pm | 7:24pm-7:42pm | 7:42pm-8:01pm |
What to See & Do in Mount Emei in Spring
Spring is the best time to hike on Mount Emei with the blooming flowers and gentle breeze, especially from March to early June. Though it is still a little cold in the early spring with some sites are still snow-covered, the vegetation has begun to revival and the elusive wild creatures have become more active from the bottom of the mountain to the peak.
Indulge in the Sea of Flowers of Mount Emei
Spring to Emei, it is the season of azalea blooming, you can enjoy a sea of azalea flowers. Mount Emei in Sichuan has been entitled as the "Kingdom of azalea". From Baoguo temple (an altitude of 500 meters) to the Summit (an altitude of 3099 meters), all kinds of azalea are blooming during the springtime. At present, up to 30 kinds of azalea have been found in Emei Mountain, many of which are unique species to Mount Emei. Besides enjoying flowers, you can also attend the Buddhism Emei Mountain Fair (lasting for one month in March and April), and observe thousands of candles lit up by the Buddhist believers for the Bodhisattvas.
✿ Best Site to Appreciate Azalea Flowers: Leidongping (March to May)
★ Recommended Mount Emei Tour:
Azalea Blossom in Spring
Pick Fresh Spring Tea on Emei Mountain
Emei is beautiful in spring, with green trees and continuous clouds. At the same time, it also contains a rich tea culture. Picking the spring tea, and drinking the freshest spring tea, do not miss the tea garden there. With the increase of temperature, the tea garden on Emei Mountain has entered the picking period. No matter where you start from at the foot of Emei Mountain, you can steps along the zigzag mountain road, seeing the sprouts and buds on your side. The climate in the middle and bottom mountain areas is getting warm and gentle, while in the high mountain areas, snow may recur in the early April. There are new sprouts of tea trees waking up in the chilly spring at the tea garden around Wannian Temple. At this time, the monks of the temple, and the tea farmer on the mountain, walked into the snowy garden, picking these sprouts, and that is how the tea on mountain Emei was named, Xueya, "Snow Sprouts", then carefully frying them, to make a cup of the most poetic and exquisite "Emei snow sprout tea". With the taste of the freshness, the winter of Emei is over, and spring is coming.
Emei Xueya Heishui tea garden is located between the high mountains with an altitude of 1000-1200 meters in the core scenic area of Emei Mountain. A large tea garden is hidden in the deep mountains and dense forests. It integrates tea production and processing, tea production and visiting, tea picking experience, and tea tasting. The annual tea tour of Emei Mountain lasts only from March to early June. Tourists can have a tour in the "snow sprout" tea base of Mt. Emei, participate in tea picking and tea making activities, interacting with the local villagers.
★ Recommended Mount Emei Tour:
Pick the Spring Tea
Make the Green Tea
Relieve Your Tiredness in the Hot Spring
There are many hot spring hotels at the foot of Emei mountain. After going down from Emei Mountain, you can relieve your tiredness in the hot spring water. Lingxiu hot spring is the largest open-air spa in Asia. There are indoor hot springs and outdoor hot springs. The outdoor area covers a total of more than 1000 cubic meters of hot springs and the hot springs harmoniously coexist with of natural environment. Enjoying an outdoor spring at night here is the best choice, with the moon and stars upon your head and trees and bushes around you. The indoor hot spring health center has combined with traditional Chinese medicine concepts, which also benefit for your health condition. If you choose to stay at the VIP villa area, you can enjoy the free hot spring pool in front of your villa.
★ Recommended Mount Emei Tour:
☛ 4 Days Classic Leshan Giant Buddha & Mount Emei Tour from Chengdu
Lingxiu Hot Spring
• Lingxiu Hot Spring Opening Hours: 14:00-24:00 (Monday to Friday); 13:00-24:00 (Saturday, Sunday and legal holidays); The indoor hot spring center only opens until 23:00.
• Ticket Price: CNY 248 Per Person
♨ Tips: ① Do not bathe in the hot spring for too long; ② Don't go to the hot spring when you feel hungry, too full. ③ Please take off the metal ornaments on your body before entering the water; ④ It's better to bring your swimsuits otherwise the purchasable items in the hot spring center may be limited.
What to Wear & Pack for Emeishan Spring Trip
In the early March and sometimes even April, you can still encounter the snow-covered areas in Mount Emei, especially in the shady side of mountain.
• What to wear: In March, it is recommended to wear a sweater and coat. When it enters April, a long-sleeved shirt with a light coat will usually be sufficient in the normal days if you only stay at the foot area. With the temperature going up, you can change your heavy boots to light comfortable shoes. For the temperature drops a lot at night and in the mountain area, you may need to bring a down jacket, gloves, hat, scarf or rent a winter coat around Leidongping as you keep going atop the summit.
• What to pack: Besides the Weather-appropriate clothing and the necessities such as your passport, visa, credit card, etc. you also need to pack some essential hiking gears: Hiking backpack, Hiking boots or shoes, Navigation (map, compass), Sun protection (sunglasses, sun-protective clothes, and sunscreen), First aid, Knife or multi-tool, Extra clothes for high altitude and nighttime, Necessary Food and Water Package for the emergent situation, Extra Food and water (optional, purchasable on the mountain but a little pricey with limited choices)
How to Plan Your Mount Emei Tour
A Mount Emei tour usually starts from Chengdu, and combine visits to both Leshan Giant Buddha and Mount Emei. You can set out for tour at morning from your hotel in Chengdu, then drive about 2.5 hours to Leshan City to visit the Giant Buddha (about 2hrs), then go to stay a night at the foot of Mount Emei. After that, you can spend one day to visit the highlighting part (Leidongping to Golden Summit), or 2 days to hike from Wannian Temple to Golden Summit, or 3 days to have an in-depth hiking from Qingyin Pavilion to Golden Summit. Eco-bus and cable cars can be used to save energy if you want. After Mount Emei tour, you can transfer back to your hotel in Chengdu, or directly to the airport/train station to continue your trip.
★ Recommended Mount Emei Tours:
☛ 2 Days Mount Emei Leshan Giant Buddha Smart Tour
☛ 3 Days Mount Emei Classic Walking Tour
☛ 3 Days Mount Emei Leisure Hiking Tour from Chengdu
If you plan to spend more days travelling, you can try some popular panda volunteer programs, go to the wonderland Jiuzhaigou, see the Leshan Giant Buddha, or expand your trip to Beijing - capital of China, Shanghai - modern metropolis, and Xian - time-honored ancient capital to have a deeper understanding of China.
★ Recommended Tours including Mount Emei:
☛ 7 Days Sichuan Discovery Tour (Chengdu / Leshan / Emei / Chengdu / Jiuzhaigou)
☛ 6 Days Leshan, Mount Emei & Panda Volunteer Tour
If you have more questions about a Chengdu trip, please feel free to contact us. We are specialized in customized tours according to your interests, budget, traveling time, etc. Just tell us your needs, and we will provide you with a satisfactory tour.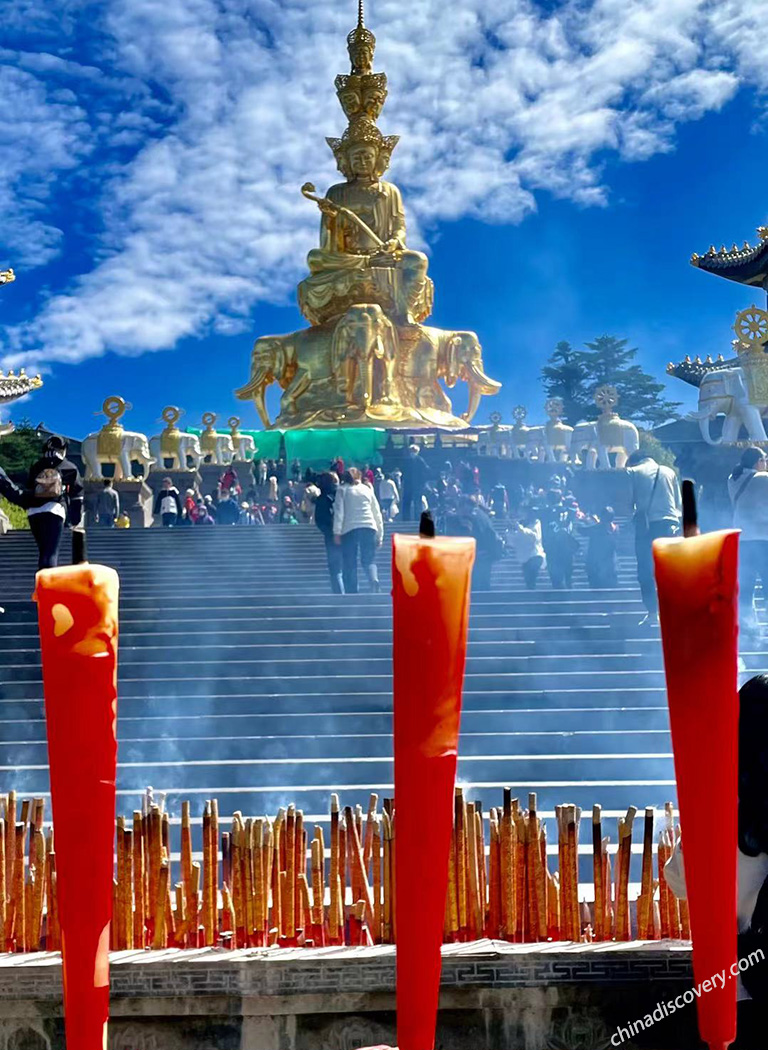 Mount Emei Scenery
Extension Readings of Mount Travel Guide
Recommended Mount Emei Tours
Top 3 Mount Emei tours chosen by most customers to explore Mount Emei in the best way. Check the detailed itinerary, or tailor your own trip now with us.
4 Days Classic Leshan Buddha & Mount Emei Tour from Chengdu

Chengdu / Leshan / Mt. Emei / Chengdu
Start planning your tailor-made holiday to China by contacting one of our specialists. Once inquired, you'll get a response within 0.5~23.5 hours.
Customize a Trip
Have a question? Get answers from our travel experts or guests
Your Question:

Your Name:

Your Email: