Mount Qingcheng Map, Qingchengshan Map
As one of the four intellectual and spiritual centers of Taoism Culture, Mount Qingcheng, or called Qingchengshan, is always ready to show its charm of elegance and rigorous for visitors. Besides that, Mount Qingcheng also feats tourists' eyes with amazing serene beauty created by comely natural streams, forests, caves and lakes…
To help global visitors better navigate this sacred and secluded mountain, here we offer useful English Mount Qingcheng maps for you, including location maps, tourist attractions maps and transportation maps from Chengdu & Dujiangyan. Browse and download these latest helpful maps to better plan your Mount Qingcheng tour!
Mount Qingcheng Location Maps - Where is Mount Qingcheng on Map?
Mount Qingcheng (Qingchengshan) is situated in the southwest part of Dujiangyan City, Chengdu, Sichuan, China. It is about 63km and 1.5~2 hours away from Chengdu downtown by car. For more detailed location info of Mount Qingcheng, you can check the Mount Qingcheng China Map, Mount Qingcheng Sichuan Map and Mount Qingcheng Dujiangyan Map below!
Mount Qingcheng Tourist Maps - Maps of Front Mountain and Back Mountain
The whole Mount Qingcheng Tourist Area is divided to two separate parts with separate entrance gates and tickets, including the Front Mountain and Back Mountain (also known as Rear Mountain). The Mount Qingcheng Front Mountain is more popular among tourists, because it gathers almost all the sacred Taoism pavilions and temples. While for the locals, the Back Mountain is more attractive, because the natural forest, streams and waterfalls there are more beautiful for leisure family hiking. >> Check out the 2 Best Hiking Routes in Mount Qingcheng
Mount Qingcheng Transportation Maps - How to Get from Chengdu & Dujiangyan
Mount Qingcheng is the closest tourist mountain from Chengdu downtown, which needs only 1.5~2 hours by drive. Tourists usually get to Mount Qingcheng from Chengdu downtown by private car, high speed train or coach. Private cars are the best and most convenient choices, because you can travel to any one of the entrance gates from your Chengdu hotel directly. High Speed Trains from Chengdu to Mount Qingcheng depart from Xipu Railway Station (犀浦站) near the northwestern edge of Chengdu 3rd Ring Road and arrive at Qingchengshan Station (青城山站). Qingchengshan Station is about 4km away from Front Mountain and 17km away from Back Mountain. Chengdu Xinnanmen Coach Station also operates 2~5 daily trains to Mount Qingcheng. For the visitors who head to Dujiangyan Irrigation System first, you're suggested to take a private car or taxi to Mount Qingcheng.
Check more transportation info from Dujiangyan & Mount Qingcheng Transportation Map below or How to Get to Dujiangyan & Mount Qingcheng from Chengdu >>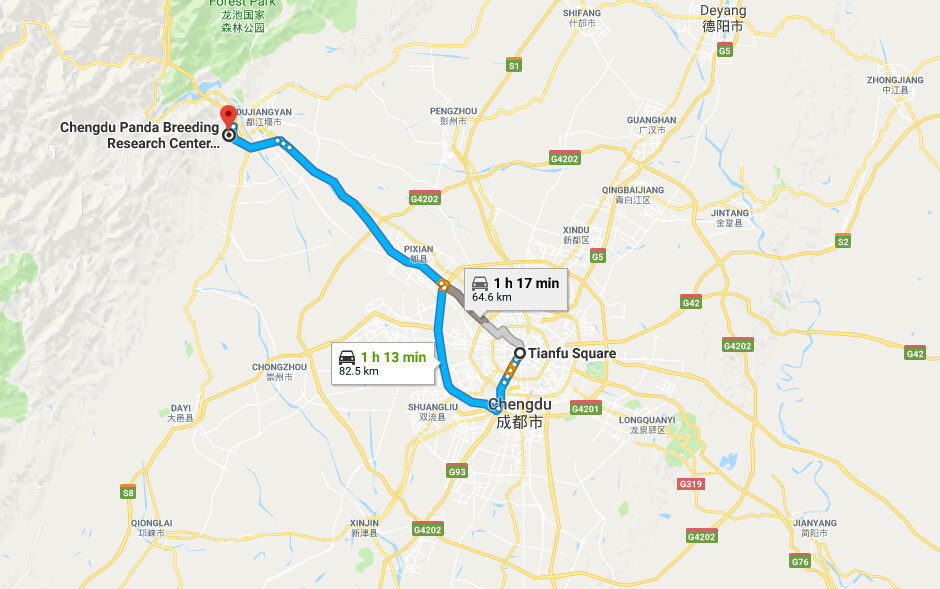 Click to Enlarge Chengdu to Dujiangyan & Mount Qingcheng Transportation Map
How to Plan a Mount Qingcheng Tour?
Since almost all the Taoist Culture relics gather at Front Mountain of Mount Qingcheng, most visitors prefer Front Mountain than Back Mountain. And normally they spend half day around exploring the Front Mountain. During the rest of the day, they will visit the nearby magical Dujiangyan Irrigation System. To start the Dujiangyan & Mount Qingcheng day in a more time-saving and energy-saving way, you are suggested to travel Dujiangyan first and then make a transfer to Mount Qingcheng after lunch.
>> 1 Day Dujiangyan-Qingcheng Mountain Tour
Before or after your Dujiangyan & Mount Qingcheng tour, you are highly suggested to spend 1~2 days more soaking the unique slow-paced lifestyle and savor mouth-watering delicacies. Adorable pandas living in the downtown area also await your greeting!
>> 4 Days Chengdu, Mt. Qingcheng & Dujiangyan Tour
For Big Panda Fans, Dujiangyan Panda Base in only 15 minutes' car ride from Mount Qingcheng will give you a special chance to live with and even feed cuddly pandas up-close! Join in the full-day Panda Volunteer Program, and your panda dream will perfectly come true there!
Mount Qingcheng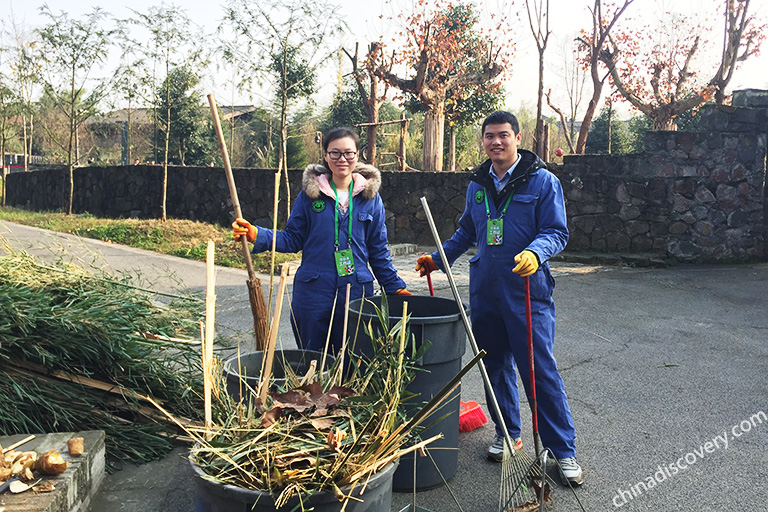 Love Panda Feeding of Panda Volunteer Program
Travel Mount Qingcheng with China Discovery
Looking for a hassle-free way to travel Mount Qingcheng? How about travelling with we China Discovery based in Chengdu? If traveling with us, you will get rid of all the hassles of hotels, transportations, hiking routes, restaurants, etc. Our experienced local driver will escort you from your Chengdu hotel to the entrance gate of Mount Qingcheng directly. And our English-speaking guide will accompany you all the way, telling you profound Taoist culture, story and other inside tips of traveling Mount Qingcheng!
If you are interested, please feel free to contact us and tell us your needs! The tour can be tailor-made according to your group size, interests, physical condition, time, plan, budget and every special need!
Mount Qingcheng
Keep Reading on Mount Qingcheng
Other Useful Chengdu Travel Articles
Read More about Western Sichuan Small Tourist Loop
Recommended Dujiangyan Tours
Top 3 Dujiangyan tours chosen by most customers to explore Dujiangyan in the best way. Check the detailed itinerary,or tailor your own trip now with us.
1 Day Dujiangyan & Mount Qingcheng World Heritage Tour

Chengdu / Dujiangyan / Chengdu
2 Days Panda Volunteer Tour with Dujiangyan Highlights

Dujiangyang Panda Base, Mount Qingcheng, Dujiangyan Irrigation System
3 Days Chengdu, Mount Qingcheng & Dujiangyan Tour

Chengdu / Dujiangyan / Chengdu