How to Travel from Shanghai to Zhouzhuang 2023
For many travelers, Shanghai is the No.1 tourist destination in China. There are highly towering skyscrapers, European neoclassical buildings, top-class informative museums, fashionable shows and displays, old busy bazaars, etc. Apart from Shanghai City itself, it is worthwhile to enjoy a short trip to Shanghai's surroundings. If you are interested water towns, Zhouzhuang Water Town is a very nice choice.
Zhouzhuang, located in Kunshan, Suzhou, is an attractive water town famous for its beautiful watery views made by rivers, lakes, bridges and riverside local residential houses. The distance between Zhouzhuang and Shanghai is 70 km (about 1.5 hours' drive). There are several ways to get to Zhouzhuang from Shanghai for your choice:
Our best-selling Shanghai Zhouzhuang Tour:
√ 5 Days Essence of Shanghai & Suzhou Tour with Zhouzhuang
√ 9 Days East China & Mt. Huang Tour by High Speed Train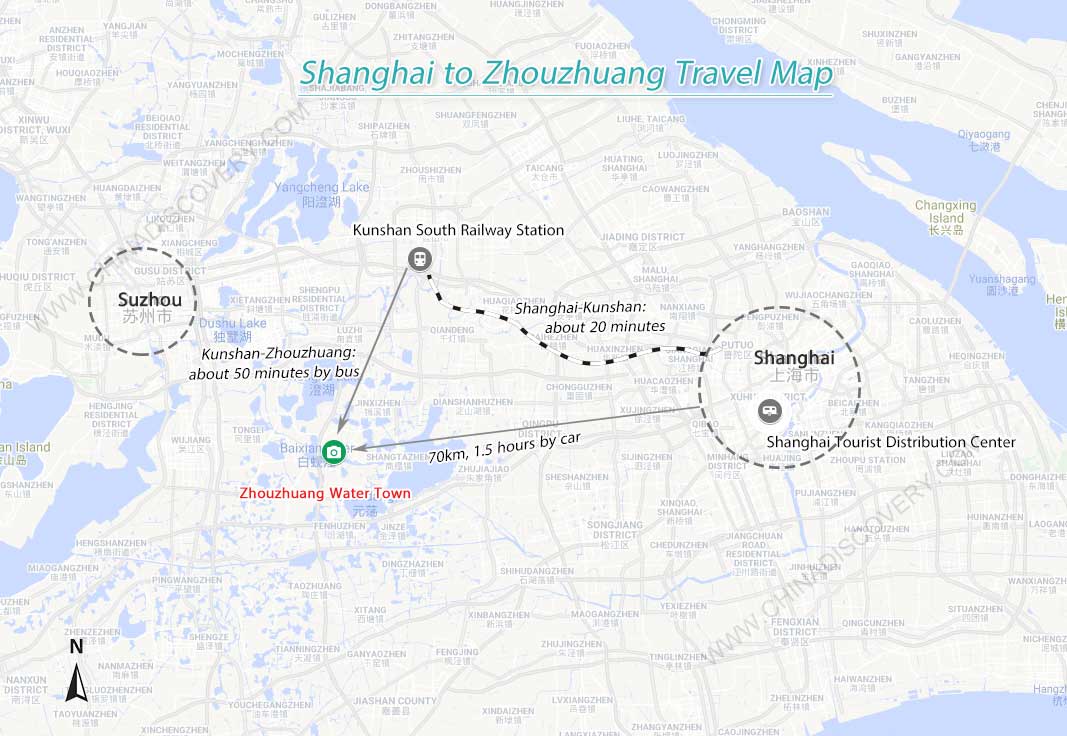 Shanghai to Zhouzhuang Water Town Map
Option 1: Shanghai to Zhouzhuang Private Transfer with China Discovery
If you want to travel from Shanghai to Suzhou efficiently and comfortably, traveling with a local travel agency like China Discovery is top recommended. Booking a tour package from China Discovery, you can enjoy the best transfer service. As you arrive in the airport, railway station or port, our local travel guide will meet you here. Then you will be escorted to your hotel or attraction in a spacious, neat and air-conditioned car which is equipped with a skilled and reliable driver.
More than transfer service, you will be guaranteed with a flexible customizable itinerary and great hotels based on your preference. Our travel consultant will keep in touch with you all the time and take care of every detail. There is no need to worry about the transfer, accommodation, meal, tickets, or something else. Your knowledgeable travel guide will also give you enough information of every attraction to make your trip more memorable. Want a Shanghai Zhouzhuang tour now? Feel free to contact us to start your Shanghai Zhouzhuang tour now!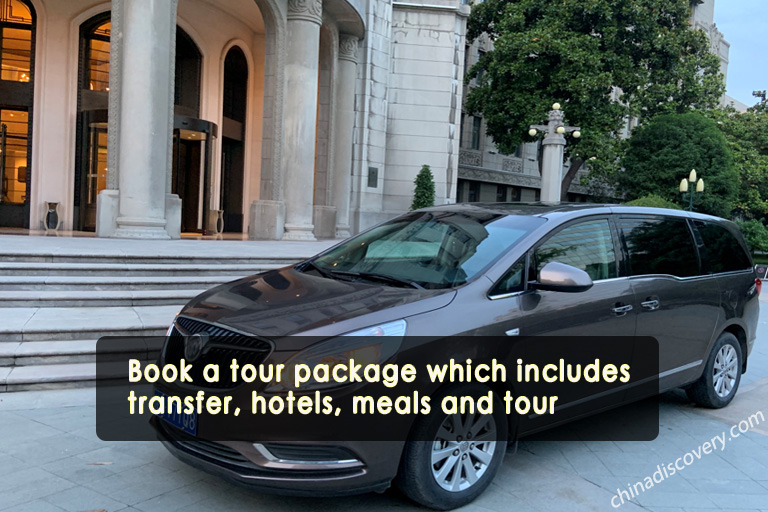 China Discovery Private Transfer
Option 2: Shanghai to Zhouzhuang High Speed Train
Many travelers prefer a high speed train journey in China, but there is no high speed train from Shanghai to Zhouzhuang directly. Therefore, you need to make a transfer in Suzhou or Kunshan.
Shanghai – Kunshan – Zhouzhuang:It is also available to take a high speed train from Shanghai Hongqiao Railway Station or Shanghai Railway Station to Kunshan South Railway Station first and then transfer to Zhouzhuang Water Town. There are over 25 high speed trains available and the fastest one takes only 17 minutes. From Kunshan South Railway Station, you can take a public bus to Zhouzhuang Water Town and the bus journey takes about 50 minutes.
Shanghai – Suzhou - Zhouzhuang: There are frequently high speed trains from Shanghai Hongqiao Railway Station and Shanghai Railway Station to Suzhou Railway Station and Suzhou North Railway Station. The fastest train takes only 25 minutes. We suggest you get to Suzhou Railway Station first, and then take a bus from Suzhou Beiguangchang Railway Station (just located in the north square of Suzhou Railway Station) to Zhouzhuang. The bus trip takes about 1.5 hours. Learn more about Suzhou to Zhouzhuang Transfer>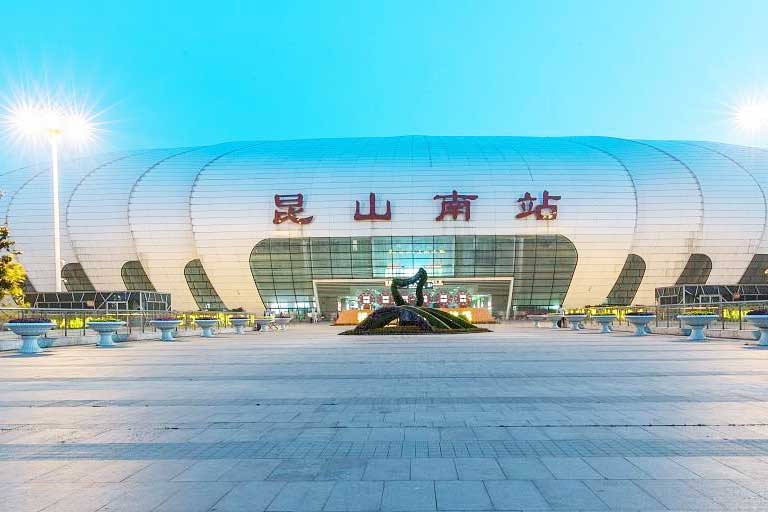 Kunshan South Railway Station
Option 3: Shanghai to Zhouzhuang Coach
If you want to use public transportation means but don't want to make transfer, you can take a bus to Zhouzhuang Water Town directly. There are many bus stations in Shanghai running buses to Zhouzhuang, including Shanghai Tourist Distribution Center (上海旅游集散中心), Shanghai Bus Terminal (上海长途汽车总站), Shanghai South Bus Terminal (上海长途客运南站), Shanghai West Bus Terminal (上海长途客运西站), etc. Most travelers choose Shanghai Tourist Distribution Center because of the convenience to reach and the frequent buses.
Shanghai Tourist Distribution Center (上海旅游集散中心)
Address: No.2409, Zhongshan South Road, Xuhui District, Shanghai (上海市徐汇区中山南二路2409号)
Shanghai Tourist Distribution Center is about 10 km away from the Bund, about 9 km away from Shanghai Museum and about 10 km away from Yuyuan Garden. It can be got to easily by metro Line 3 and many public buses.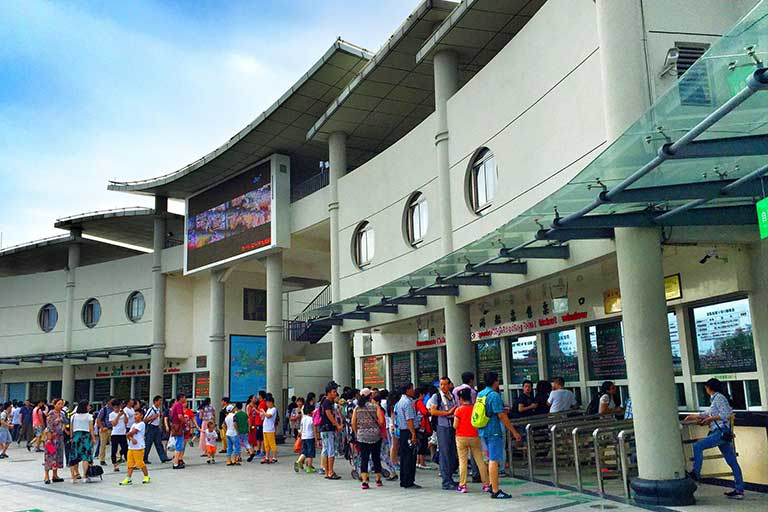 Shanghai Tourist Distribution Center
How to Plan A Shanghai Zhouzhuang Tour
A classic Shanghai Zhouzhuang tour takes 3 days. You can first spend 2 full days visiting Shanghai's highlights, like the eyes-catching skyscrapers, informative Shanghai Museum, old Shanghai blocks, delicate European buildings in the Bund, etc. where you can fully appreciate how old meets modern and eastern meets western. After that, turn to Zhouzhuang Water Town to admire the beautiful bridges and buildings in traditional style.
After your delighted trip in Zhouzhuang, we strongly recommend extending your tour to Suzhou and Hangzhou. Touring Suzhou City in 1 short day, you can admire the exquisite gardens, explore Suzhou silk culture in interesting Suzhou No.1 Silk Factory as well as visit most popular historical sites – Tiger Hill. Next, spending 2 other days touring Hangzhou is also suggested. You are able to the most picturesque view of West Lake, enjoy a cup of tea and probe into tea culture in Meijia Dock Dragon Well Tea Village and taste distinctive Hangzhou Food. If you want more natural beauty or some hiking experience, don't miss Huangshan where one of China's most breathtaking mountains is located.
√ 5 Days Shanghai Hangzhou Suzhou Highlights Tour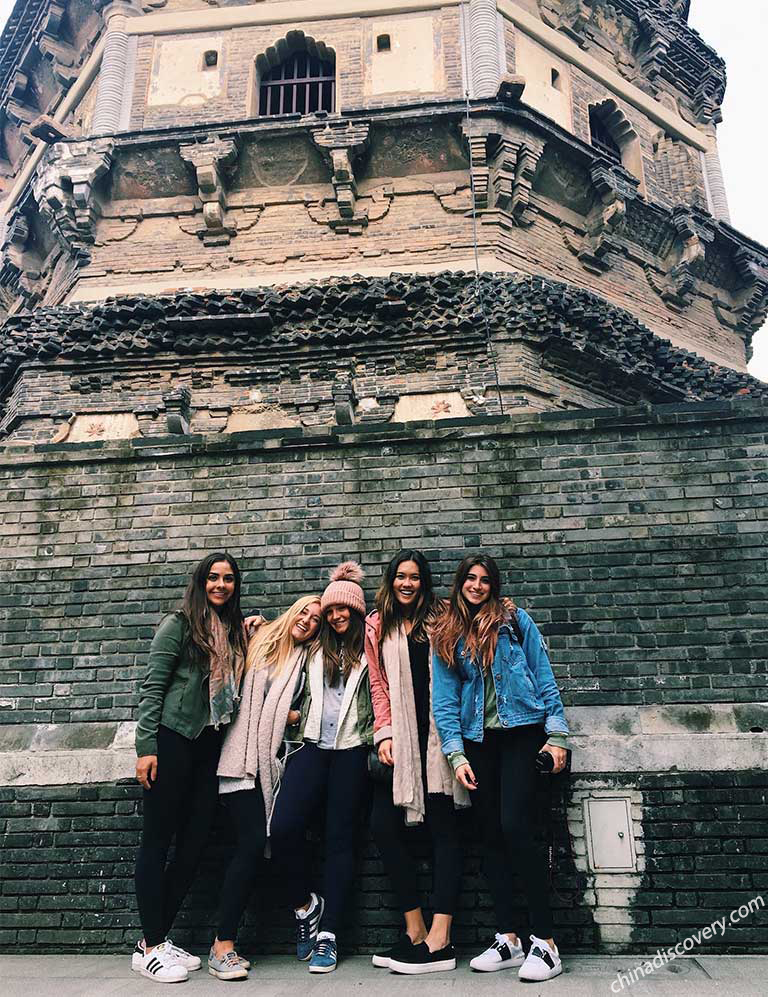 Our Customers visited Tiger Hill, Suzhou
Get Inspired by Real Travel Stories of Our Customers
Since 2012, we have helped numerous customers visit Suzhou and surroundings. With our fully-inclusive private tour packages, all of our customers enjoyed their trips to the exquisite gardens, peaceful watertowns, informative silk factory or museum, old Suzhou streets, etc. Some of them kindly shared their precious photos and stories about their Suzhou journey, just get inspired now.
"We were lucky for being able to watch Chinese dancers at the Lingering Garden at the time of visit…" - shared by Nguyen (Check her The Pursuit of Natural Beauty with the Beloved one - 14 Days Beautiful China Exploring Tour>)
"Suzhou was the real treat at the end of the trip! Everything about Suzhou was perfect…" - shared by Elizabeth from Britain (Check her Long-lasting Memory brought by First Trip to China - 16 Days well-Organized and Wonderful First Visit to China>
Besides the wonderful travel stories, many customers who visited Suzhou with China Discovery also send us their first-hand feedbacks about their trip, feel free to read the Suzhou Reviews and learn what they say about their experience. If you want to start your Suzhou tour now, don't hesitate to contact us.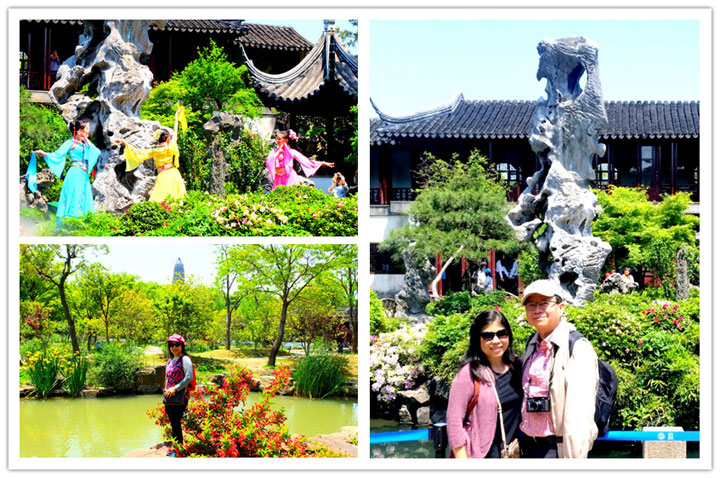 Our Customers Mrs. Nguyen and her husband from Canada visited Suzhou, customized by Wonder Wang
Recommended Suzhou Tours
Top 3 Suzhou tours chosen by most customers to explore Suzhou in the best way. Check the detailed itinerary, or tailor your own trip now with us.
5 Days Shanghai Hangzhou Suzhou Highlights Tour

Shanghai / Hangzhou / Suzhou / Shanghai
9 Days East China & Mt. Huang Tour by High Speed Train

Shanghai / Suzhou / Hangzhou / Huangshan
5 Days Essence of Shanghai Suzhou Tour with Zhouzhuang Water Town

Shanghai / Suzhou / Zhouzhuang / Shanghai
Start planning your tailor-made holiday to China by contacting one of our specialists. Once inquired, you'll get a response within 0.5~23.5 hours.
Customize a Trip
Have a question? Get answers from our travel experts or guests
Your Question:

Your Name:

Your Email: