How to Get to & around Suzhou
Suzhou is a beautiful and poetic city recorded in many Chinese literary people' works. Its elaborately-designed gardens is a big highlight for travelers. Plus its attractive silk factory and museum, charming water towns, great Kunqu Opera, many tourists especially those who are interested in Suzhou culture, are attracted to Suzhou City.
Suzhou is seldom to be planned as the first destination of a China tour. Therefore, many travelers choose to get to Suzhou from some other cities in China. It is convenient to get to Suzhou from many major domestic cities by high speed train or flight. Here we provide you with specific transfer information about Suzhou, including how to get to Suzhou from major gateway cities, such as Shanghai, Hangzhou, Nanjing, etc., as well has how to get around Suzhou.
√ 1 Day Suzhou City Highlights Tour
√ 2 Days Best Suzhou & Zhouzhuang Water Village Tour
√ 5 Days Shanghai Hangzhou Suzhou Highlights Tour
Where is Suzhou
Suzhou is a small city located in southern Jiangsu Province of East China, about 230 km away from Nanjing – the provincial capital city of Jiangsu Province and about 100 km away from Shanghai – one of the best starting places of a China tour. As a city near Shanghai, Suzhou is quite easy to get to.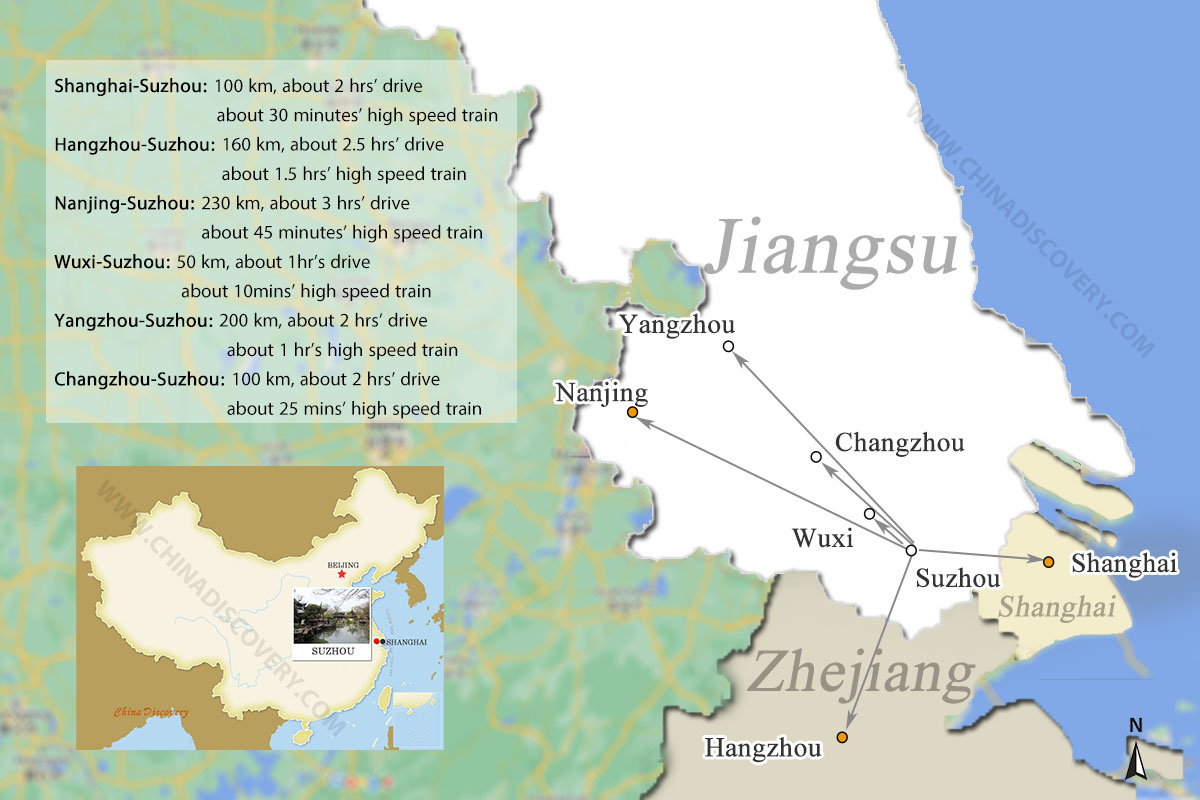 Click to Enlarge Suzhou Location Map
Click to Jump to:
Travel with China Discovery
How to Plan Your Travel in Suzhou
Get Inspired by Real Travel Stories of Our Customers