Suzhou Maps 2023: Suzhou China Map, Suzhou Google Map, Suzhou Tourist Map...
Suzhou is an attractive city with poetic and pictorial splendor in eastern China. It features with meticulously-designed gardens, canal-side old towns as well tasteful Suzhou silk. In order to enjoy an efficient Suzhou tour, it will be better if you know Suzhou's location, transfer way, and attractions distribution well. China Discovery here collects the most helpful maps for you, including Suzhou China Maps, Suzhou Transfer Maps, Suzhou Tourist Maps, etc. Feel free to download these maps and plan your Suzhou trip in a smarter way.
√ 1 Day Suzhou Brief Essence Tour
√ 3 Days Hangzhou & Suzhou Beauty Tour by High Speed Train
√ 5 Days Shanghai Hangzhou Suzhou Highlights Tour
Suzhou Location Maps – Where is Suzhou
Suzhou is located in the southern part of Jiangsu Province, bordering Taizhou (Jiangsu) in north, Jiaxing (Zhejiang Province) in south, Shanghai in the east , Wuxi in the west and Huzhou (Zhejiang Province) in the south and west, while Jiangsu Province is located in the east of China, bordering Shangdong Province in the north, Zhejiang Province in the south, Anhui Province in the west and Shanghai in the southwest.
Suzhou Transfer Maps – How to Get to/around Suzhou
Since Suzhou has no airport at present, so taking a high speed train is the best way to get to Suzhou. You can get to Suzhou by high speed train from Shanghai (about 0.5h), Hangzhou (1.5~2h), Nanjing (45min ~ 1.5h), Huangshan (3~3.5h), Beijing (4~4.5h), Xian (6~8h), Wuhan (3.5~5h), Chengdu (11 h), etc. If you want to travel from some cities in the distance, you can take a flight to Shanghai first, and then travel to Suzhou. Getting around Suzhou by taking public transport is also possible, but we suggest you use private transfer service for a more comfortable experience. Check the detailed transfer maps below. Check detailed maps of how to get to/around Suzhou here:
Suzhou Tourist Maps – How to Travel Suzhou
In Suzhou, you really get plenty of places to visit. The Classical Gardens of Suzhou is a must, and highly recommended gardens include Humble Administrator's Garden, Lingering Garden, Master of the Nets Garden, Lion Grove, Canglang Pavilion, etc. After Suzhou gardens, you can explore Suzhou Silk in Suzhou No.1 Silk Factory and Suzhou Silk Museum. Besides, many water towns are also worthwhile to visit, such as Zhouzhuang Water Town, Tongli Water Town, Luzhi Water Town, etc. Check the detailed travel Suzhou maps here:
How to Plan Your Travel in Suzhou
How to Get to Suzhou: You can easily get to Suzhou by high speed train from Shanghai (about 0.5 hour), Hangzhou (about 1.5 hours), Nanjing (about 1 hour), Beijing (about 4.5 hours), etc.
Best Time to Visit Suzhou: April to October, especially April and May in spring and September and October in autumn
Generally, a classic Suzhou tour takes about 1~2 days. Visiting Suzhou, you can't miss elegant Suzhou gardens, like Humble Administrator's Garden, Lingering Garden, Master of the Nets Garden, etc. You can choose one or two of them for a great garden delight. Other must-be-visited sights in Suzhou City include Suzhou No.1 Silk Factory from which you can watch the process of silk making from silkworms to elegant products, Tiger Hill which is known as the first sight in Suzhou, Suzhou Museum which is designed by I. M. Pei and Suzhou's old canalside roads (like Pingjaing Road and Shantang Street), etc. If you like Jiangnan watertowns, you can visit Tongli, Zhouzhuang or Luzhi to have a wonderful time.
☛ 1 Day Suzhou City Highlights Tour
☛ 1 Day Suzhou Zhouzhuang Tour
☛ 2 Days Best Suzhou & Tongli Water Village Tour
If you want to explore more about Jiangsu Province, you can travel to Nanjing - the old capital city of 6 ancient dynasties, Wuxi - a beautiful lakeshore city, Yangzhou - old culture center of southern China, etc. Check more about Jiangsu Tours>
☛ 5 Days Jiangsu Tour (Suzhou, Wuxi & Nanjing)
In fact, most people travel Suzhou with Shanghai - the best gateway city to Suzhou, and Hangzhou which has long been on a par with Suzhou since ancient times. Generally, it needs 2~3 days enjoying Shanghai's highlights and another 2~3 days appreciating the poetic beauty. Check more about Shanghai Suzhou Hangzhou Tours>
☛ 3 Days Hangzhou & Suzhou Beauty Tour by High Speed Train
☛ 4 Days Shanghai Suzhou Excellent Tour
☛ 5 Days Shanghai Hangzhou Suzhou Highlights Tour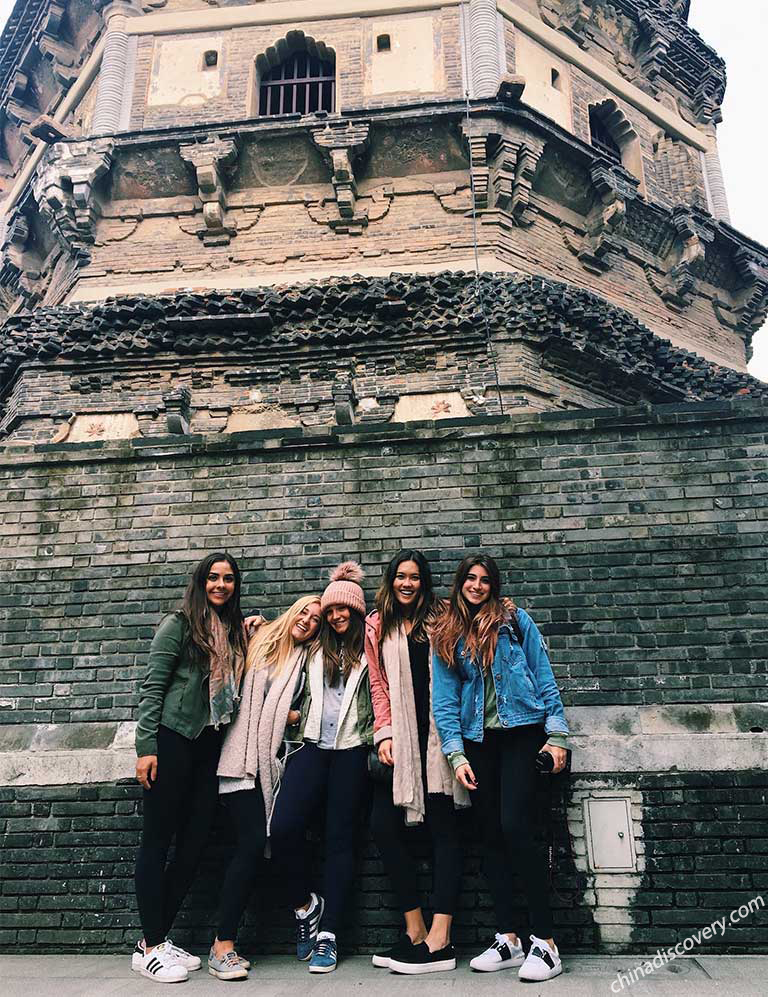 Our Customers visited Tiger Hill, Suzhou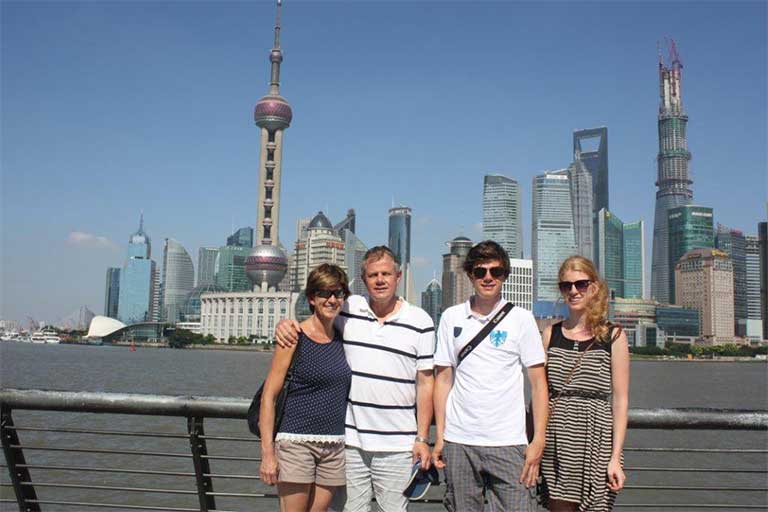 Our Customers visited the Bund, Shanghai
Get Inspired by Real Travel Stories of Our Customers
Since 2012, we have helped numerous customers visit Suzhou and surroundings. With our fully-inclusive private tour packages, all of our customers enjoyed their trips to the exquisite gardens, peaceful watertowns, informative silk factory or museum, old Suzhou streets, etc. Some of them kindly shared their precious photos and stories about their Suzhou journey, just get inspired now.
"We were lucky for being able to watch Chinese dancers at the Lingering Garden at the time of visit…" - shared by Nguyen (Check her The Pursuit of Natural Beauty with the Beloved one - 14 Days Beautiful China Exploring Tour>)
"Suzhou was the real treat at the end of the trip! Everything about Suzhou was perfect…" - shared by Elizabeth from Britain (Check her Long-lasting Memory brought by First Trip to China - 16 Days well-Organized and Wonderful First Visit to China>
Besides the wonderful travel stories, many customers who visited Suzhou with China Discovery also send us their first-hand feedbacks about their trip, feel free to read the Suzhou Reviews and learn what they say about their experience. If you want to start your Suzhou tour now, don't hesitate to contact us.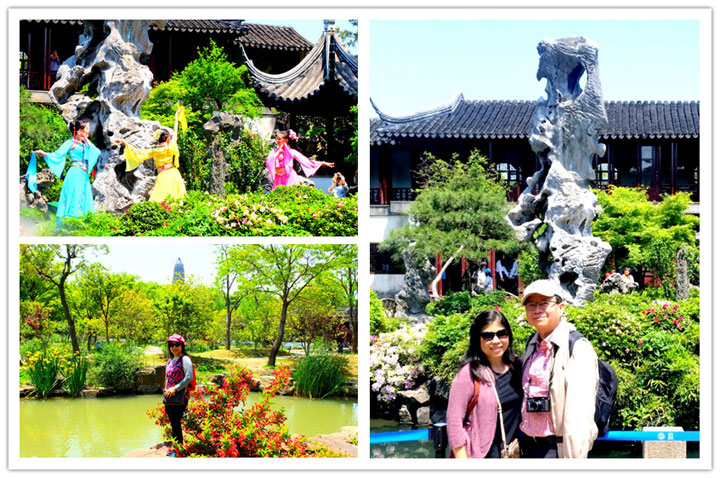 Our Customers Mrs. Nguyen and her husband from Canada visited Suzhou, customized by Wonder Wang
Travel with China Discovery
In order to get a Suzhou tour, It is strongly recommended to travel with China Discovery. Our local travel guide and driver will pick you up at the airport or train station as you arrive with an air-conditioned and non-smoking vehicle, and then escort you to your hotel or every attraction listed in your itinerary. Great freedom will be given to you whenever you need to stop for sightseeing and photograph. You are sure to enjoy a comfortable, safe and efficient experience.
Far more than that, China Discovery is professional to provide high-quality customizable tour. Before your tour, our travel expert will communicate with you one to one and make an itinerary according your own interest, need and budget. Every detail – transfer, hotels, attractions, etc. will be arranged well for you and you just need to focus on sightseeing. Feel free to contact us to start your worry-free private tour now!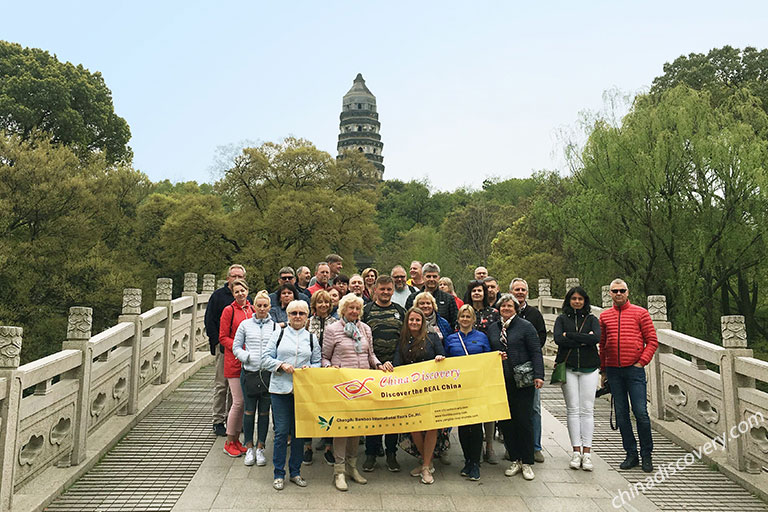 Our Customers in Tiger Hill, Suzhou
Recommended Suzhou Tours
Top 3 Suzhou tours chosen by most customers to explore Suzhou in the best way. Check the detailed itinerary,or tailor your own trip now with us.
2 Days Relaxing Suzhou Vacation with Tongli Water Town

Suzhou / Tongli Water Town
5 Days Shanghai & Suzhou Highlights Tour with Tongli Water Town

Shanghai / Tongli / Suzhou / Shanghai