Located in the south part of Sichuan,Yibin is a junction of Sichuan, Yunnan and Guizhou. People repute Yibin as The First City along Yangtze River because Minjiang River and Jinshajiang River converged into Yangtze River here. Being the origin of South Silk Road, there is no any doubt that it is listed in National Historical & Cultural City.
Why visit Yibin:
Picturesque Natural Landscape. The special geography makes Yibin an Eco-Eden full of forest-clad mountains and limpid streams. In Yibin, you are not only able to view three magic wonders in Xingwen Stone Forest and Caves, but also get an opportunity to take a deep breathe in Shunan Bamboo Forest-a natural oxygen bar. More natural sites worthy of traveling include Mount Laojun, Mount Hibiscus, Yuntai Mountain Forest Park and Qixingshan Forest Park.
Historical & Cultural Sites. Many historical and cultural sites are located in Yibin. If you want to explore the Chinese history of folk art, folk customs and folk architecture in South Sichuan, you can visit the Xijiashan Local-style Dwelling Houses of the Ming and Qing dynasty and they enjoy the reputation of "The Fossils of Chinese Folk Architecture". If you want to explore Bo, the disappeared ancient ethic group, you can visit Xingwen Stone Forest and Caves. If you want to explore more Taoist culture, climb to Zhenwu Mountain and visit Zhenwu Temple.
Featured Delicious Food.Tasty Wuliangye is a type of aromatic liquor which you can't miss in China if you have any interests in Chinese liquor. Another must-eat is whole bamboo feast which is a tableful of food all made by bamboos. Other local delicious food like Lizhuang white meat, Yibin burning noodles, Nanxi dried bean curd, Xufu egg in rice wine and so on must satisfy your stomach. In addition to different kinds of specialties, Yibin is also prolific in the production of fruit. Glutting yourself with different kinds of fresh friuts in different seasons in Yibin will be a sweet experience.
Top Attractions
Yibin is an ecological city where you may appreciate natural beauty as well as places of historical interest. There are 2704 cultural treasures included in the list of cultural protection in China. Check the top attractions listed below and get to know deeply about them.
The Shunan Bamboo Forest is the oldest and largest bamboo forest in China which covers 120 square kilometers. As one China's Biosphere Reserve and one Top 10 Beautiful Forest in the world, it features the fresh air and the beauty of natural bamboo, limpid lake, winding path as well as numerous streams and waterfalls.
Xingwen Stone Forest
Xingwen Stone Forest is a National Scenic Area and World Geographic Park with a karst landform. It differs from other karst landform in its long-stretched stone forest, hundreds of natural karst caves and naturally formed pits which are described as three wonders. Historical relics and site of Bo's civilization are still well-preserved here.
Lizhuang Ancient Town
Known as "the first town on the Great Yangtze River", Lizhuang Ancient Town is a small town with historical sediment and cultural influences. It witnessed the old history and reflects the traditional culture of the Han nationality. Compared with other ancient towns, Lizhuang has more atmosphere of humanism and less commercial element.
Wuliangye Liquor Distillery
NWuliangye Liquor wins a high reputation among the consumers at home and abroad and its garden distillery also becomes a tourist attraction. Here you can have a sight of well-planed distillery, unique and outstanding statues, magnificent buildings and evergreen plants. Most famous is Fenjin Tower, the largest-scale Liquor Culture Museum.
Weather & When to Go
The geographic location of Yibin is the intersection of Sichuan Basin and Yunnan-Guizhou Highland, so Yibin bears a subtropical humid monsoon climate with a moderate weather, abundant rainfall, just-the-right-amount sunshine, and long frostless period. Annual temperature is about 18 ℃ while annual rainfall ranges from 1050 – 1618 mm.
Because of this climate, the rainfall displays an uneven characteristic, mainly focus on summer and sometimes the rainstorm and hailstone occur. As a result, the best time for Yibin is late spring and early summer or late summer and early autumn, namely in May, June, August or September.
Transportation
Yibin is a famous transport hub in south Sichuan for its convenient air transportation, land transportation and water transportation.
From Chengdu: It is commendable to choose Chengdu as a transfer station to Yibin. Catching a bus to Yibin in Chengdu Beimen Station and Shiyangchang Station may cost a little more than 4 hours which covers 270 km. The tickets price range from 93 RMB to 105 RMB and the tour. In Yibin South Station, you can choose one of two buses which leave for Shunan Bamboo Forest in 10:00 and 16:30 at a cost of 22 RMB.
By Air: Yibin Caiba Airport is situated in Caiba Town of Cuipin District, 8 km away from Yibin downtown. There are several routes open at present and you can fly to Yibin from some key cities such as Beijing, Shanghai, Guangzhou and Shenzhen. Yibin International Airport is under construction now.
By Train: Neijiang-Kunming Railway is constructed so getting to Yibin after your Yunnan tour is easy. Many other railways are under construction.
By Bus: Enough highways scattered in Yibin and they connect Chongqing, Yunnan and other cities in Sichuan with Yibin closely.
By Water: There are more than 10 rivers cruising in Yibin with a 96.3 km cruising range. Having a cruise and getting along with the Yangtze River, you will arrive in Yibin in a comfortable way.
Accommodation
As a tourist city, Yibin is equipped with sufficient great hotels and small hostels. Here we selected several hotels for you according to the good service and best scenic locations. As each hotel provides pleasant environment and reasonable price, any of your choice will be worthwhile.
Crown Plaza Hotel & Resorts is a five-star luxury hotel managed by IHG. It is located in Cuipin District and enjoys many bus transportation lines. It has got the prize of "Golden Panda" which means highest honor in Tourists' service industry. 249 rooms in this hotel are designed meticulously on customers' needs. The spacious interior and florid decoration will makes a comfortable accommodation for you.
Zhuhai Eden Resort Hotel is a five-star hotel located in Changning County from which you can easily get to Shunan Bamboo Forest and Xingwen Stone Forest. Here you can smell the mellow Wuliangye Liquor and listen to the croon of three rivers. Zhuhai Eden Resort Hotel has everything that you expect to find, including excellent spa, yacht club, aquatic golf and countryside landscape.
Kelton Haoting Hotel covers an area of 23,000 square meters and possesses many river view rooms. The gym center makes four-star Kelton Haoting Hotel a good place to have a leisure holiday. To provide more customers with perfect service is the staff's persistent pursuit of the goal.
Huarong Hotel is also a four-star hotel with complete facilities and graceful environment. It features as a digital modern hotel with 100 MBPS internet access. Lofty styles, spotless and comfort of Huarong hotel build a home away from home.
Yibin Maps
Top help you learn better about Ya'an's location, attractions, etc, we have collected following tourist maps which are latest, downloadable and printable.
Other Destinations in Sichuan
Besides Yibin, there are some other destinations in Sichuan well worth your visit. Transfer to the following destinations and explore Sichuan cultural sites - Leshan Giant Buddha & Mount Emei for Buddhist culture, Mount Qingcheng for Taoist culture, Giant Panda Breeding Research Base for panda culture. Discover now!
Chinese Name: 宜宾
Chinese Pinyin: yíbīn
English IPA: /iː'bɪŋ/
Population: 54.3 million
Language: Mandarin & Sichuan Dialect
Tel Code: 0831
Zip Code: 644000
Time Zone: (UTC+8)
Logo: three rivers and green forest
Plan your Yibin Tour
At least 3 days are needed to explore Yibin and surrounding. The highlights of Yibin include Shunan Bamboo Forest, Xingwen Stone Forest and Lizhuang Ancient Town all of which are not far from the downtown and can be visited in 3 days.
From Yibin, you can extend your trip to Zigong-the kingdom of dinosaur, Chengdu-the land of abundance or Yunnan- the most colorful and majestic region in China
Recommended Tours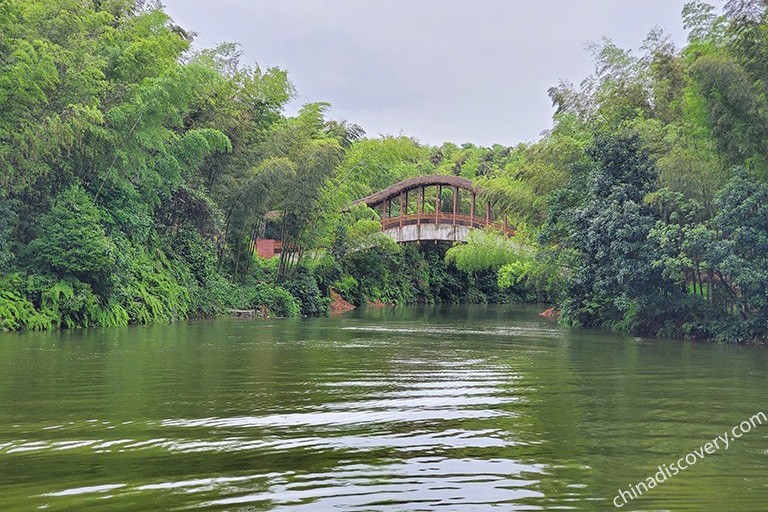 MORE