Sichuan Tibet Railway: Chengdu Lhasa Railway Under Construction
Qinghai Tibet Railway has facilitated easier entry and convenient tour of Tibet for many tourists, and now China are building several more railways connecting Tibet and other regions in China. The ongoing Sichuan Tibet Railway is the second rail getting to Tibet and it starts from Chengdu, Sichuan to Lhasa, Tibet. Once the direct rail completed, the 36-hour Chengdu to Lhasa train journey will be shortened to merely 13 hours, passing many breathtaking scenery in west Sichuan and east Tibet.
Introduction to Sichuan Tibet Railway Project
With a total length of 1,838KM (1,142mi), Sichuan Tibet Railway is planed as one of the most important rail in southwestern China, which begins from Chengdu, spread to Ya'an, Kangding, Litang in west Sichuan and goes westward to Qamdo, Nyingchi, Shannan and arrivals in Lhasa, Tibet finally. Being one of China's super engineering projects, Sichuan Tibet Railway has attracted lots of attentions, not only for the extremely complicated geology conditions (like sharp elevation rise of over 3,000m from basin to plateau, high proportion of long tunnels and bridges, sensitive ecological environment, poor local infrastructures...), high investment of more than 270 billion RMB, but also for its milestone role linking south, west and northwest China in the future.
According to official reports, Sichuan Tibet Railway is a east-west railway designed with an running speed of 160km to 200km per hour. The full line is under construction in four separate segments along the existing south Sichuan Tibet Highway, including:
1.Chengdu-Ya'an Section 成都-雅安段
Length: about 140KM
Train Journey: about 1 hour
Current Status: already in service
Serving as the first part of Sichuan Tibet Railway, Chengdu Ya'an Railway has started at the end of 2014 and has already completed and put in to operation on December 28, 2018. It is a national I level double-line electrified rail with a design speed of 160-200km per hour, used both for passenger and freight. Now, there are over 10 high-speed intercity C trains running from Chengdu West Railway Station to southwestward Ya'an Railway Station in Ya'an. Train travels about 1 hour only.
Useful Links: Chengdu to Ya'an Trains / Ya'an to Chengdu Trains
Popular Chengdu Ya'an Tours with Panda Volunteer Experience:
√ 2 Days Inspiring Ya'an Bifengxia Panda Volunteer Experience
√ 3 Days Bifengxia Panda Volunteer Tour with Ya'an Essence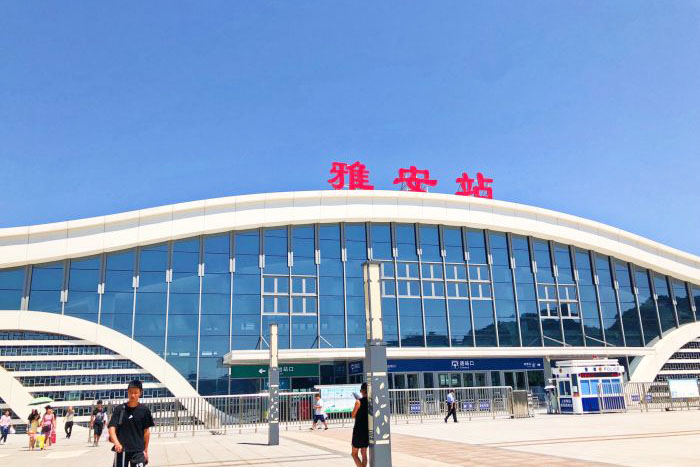 Ya'an Railway Station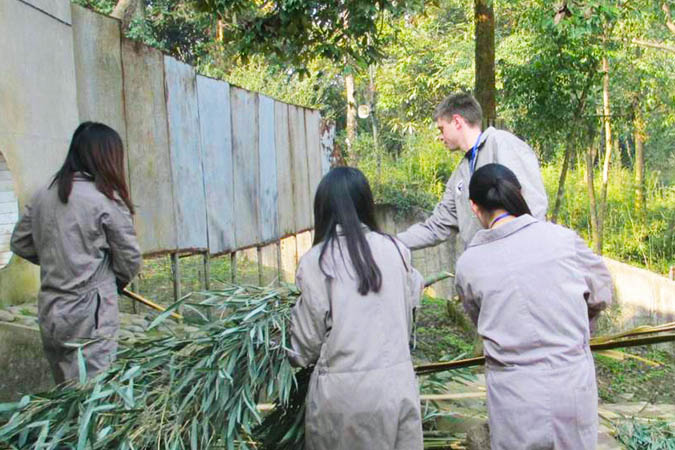 Bifengxia Panda Volunteers in Ya'an
2.Ya'an-Kangding Section 雅安-康定段
Length: about 344KM
Train Journey: about 2 hours
Current Status: Under Construction Now
Ya'an to Kangding Railway is the second segment of Sichuan Tibet Railway within Sichuan. It has been built from 2016 and planned to be complete after 7.5 years. The Ya'an-Kangding Section will be a double-line railway running at a speed of 160km per hour. Once finished, it will bring rail transport to Garze Tibetan Autonomous Prefecture for the first time and decrease train travel from Chengdu to Kangding to just over 1 hour, nearly 4 to 5 hours shorter than by bus.
3.Lhasa-Nyingchi Section 拉萨-林芝段
Length: about 435.48KM
Train Journey: about 3 hours
Current Status: Under Construction Now
The Lhasa Nyingchi Railway is the first electrified railway in Tibet, and it will conveniently connect capital city Lhasa and Nyingchi. This part is designed as a single-line level I railway, with a speed of 160m per hour. It is on operation now.
4.Kangding-Nyingchi Section 康定-林芝段
Estimated Length: about 1,000KM
Train Journey: about 7 hours
Current Status: Under Construction Now
Kangding Nyingchi Railway is the last, the longest and the most difficult segment on Sichuan Tibet Railway, because the rail will run through China's longest and widest Hengduan Mountains with many rivers and valleys inside. It is designed to start from Kangding, pass Litang, Mangkang, Zuogong, Basu in Qamdo to Bomi in Nyingchi. The construction has begun since 2018 and predicted to complete in 2025.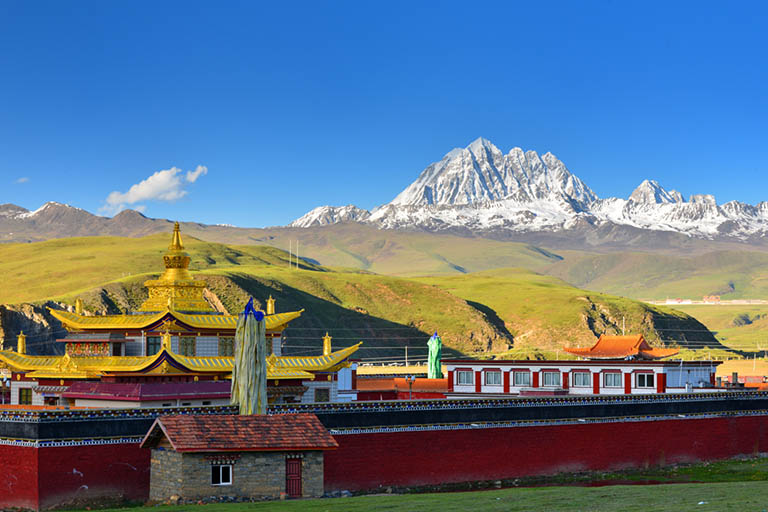 Tagong Temple in Kangding, Garze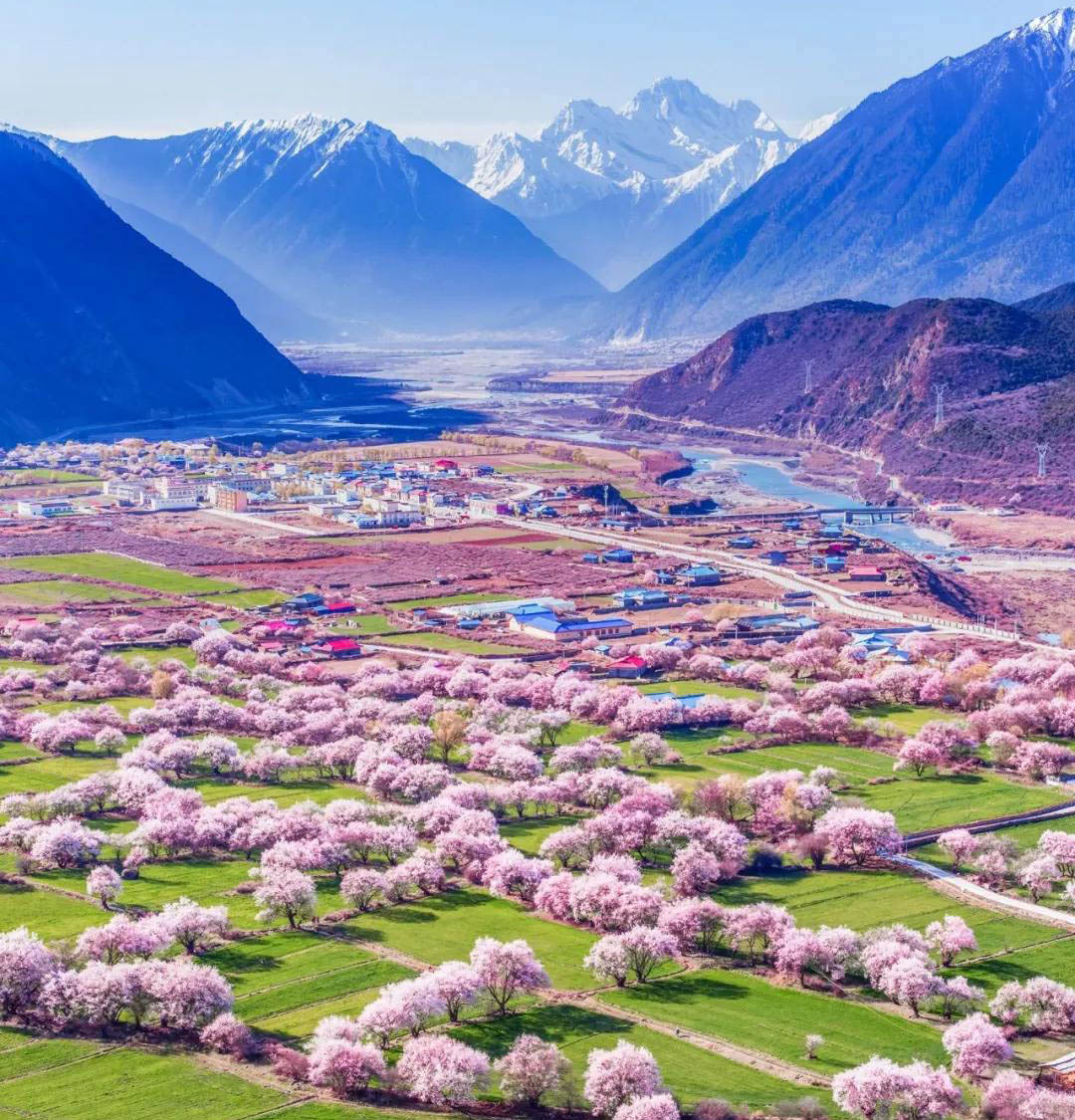 Pink Sea of Peach Blossom in Nyingchi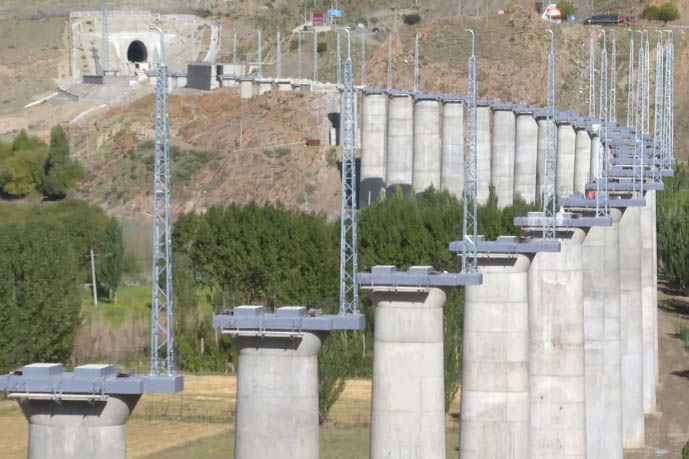 Viaduct Constructed on Lhasa Nyingchi Railway
How to Travel from Sichuan to Tibet by Other Transportation
China Discovery will pay close attention to the latest news of Sichuan Tibet Railway and keep updated for you. If you're planning to get to Tibet from Sichuan, you can get to Tibet from Chengdu by flight or train. Below is the detailed transportation guide for your Sichuan Tibet Tour.
Sichuan to Tibet by Flight - Most Recommended Choice
So far, there are 3 cities in Sichuan operating non-stop flights to Lhasa, Tibet, they are Chengdu, Mianyang and Yibin. Clearly, Chengdu is the most recommended city to fly to Tibet in Sichuan, for it has more than 20 flights scheduled every day, available option of taking a train to Tibet (Chengdu to Lhasa Train) and itself is a very popular destinations with lots of interesting things to do, such as the adorable Giant Pandas, famous Hotpot and various Sichuan dishes, unique local leisure lifestyle, convenient transportation to Dujiangyan, Leshan Giant Buddha, Mount Emei and Jiuzhaigou Valley, etc.
Flight Route
Departure Airport
Arrival Airport
Frequency
Duration
City Attractions
Chengdu → Lhasa, Tibet
Chengdu Shuangliu International Airport (CTU)
Lhasa Gonggar International Airport (LXA)
over 20 daily flights
about 2.5 hours
Chengdu Panda Base, Wenshu Monastery, Renmin Park...
Mianyang → Lhasa, Tibet
Mianyang Nanjiao Airport (MIG)
about 2 daily flights
about 2.5 hours
Fule Mountain, Yuewang Tower, Holy Water Temple...
Yibin → Lhasa, Tibet
Yibin Wuliangye Airport (YBP)
about 1 daily flight
about 2.5 hours
Shunan Bamboo Sea, Lizhuang Ancient Town, Wuliangye Wine History Museum...
Most Recommended Chengdu Tibet Tours:
√ 4 Days Best of Lhasa Tour from Chengdu (by flight)
√ 6 Days Classic Chengdu & Lhasa Highlights Tour (by flight)
√ 7 Days Lifetime Tibet Train Tour from Chengdu
Sichuan to Tibet Highway (Not Available Now)
Sichuan Tibet Highway usually refer to Chengdu Lhasa Highway is one the most dangerous and beautiful highways in China, which starts from Chengdu in the east and ends in Lhasa in the west. It has two main routes: the Southern and Northern Routes, consisting of China National Highway 318, 317, 214 and 109. The 2146-km-long Southern Sichuan Tibet Highway departing from Chengdu to Ya'an, Kangding, Litang, Qamdo, Nyingchi and terminating in Lhasa, Tibet, is the main reference of the upcoming Sichuan Tibet Railway. It is recognized as a thrilling and mysterious highway in China where plenty of splendid landscape hidden. However, foreigner travelers are currently not allowed to enter Tibet via this highway. At present, taking a flight or a train to Lhasa are the only two ways to travel to Tibet from Sichuan. So you either choose the above mentioned flight or take a 36-hour Chengdu to Lhasa train trip to visit Tibet.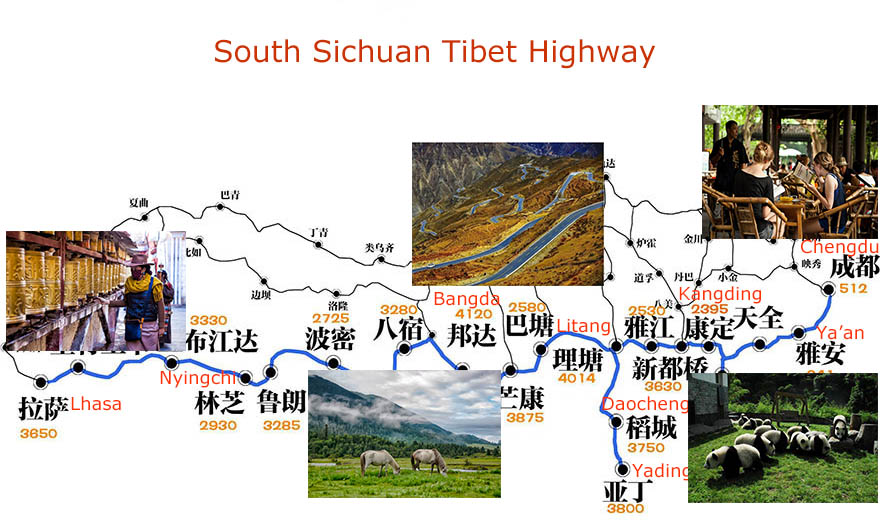 South Sichuan Tibet Highway Map
How to Plan Your Sichuan Tibet Tour
Sichuan borders Tibet in the east and both regions have rich tourism resources presenting its unique nature scenery, local culture and history. The most popular and best suggestion is visiting Chengdu and nearby areas in Sichuan, and then travel to Lhasa, Tibet from Chengdu, by a direct flight (about 2.5 hours) or 36-hour train trip.
There are plenty of great things to do in Sichuan, such as you can visit up to 6 UNSECO World Heritages (Sichuan Giant Panda Sanctuaries, Mount Qingcheng & Dujiangyan Irrigation System, Mount Emei, Leshan Giant Buddha, Jiuzhaigou Valley and Huanglong Scenic Area), discover mysterious Sanxingdui Culture and distinctive Three Kingdoms Culture of ancient Shu, enjoy beautiful nature scenery, delicious Sichuan food and various Chengdu snacks and leisure local life, go to paradise-like nature reserves (Daicheng Yading). Better prepare 1 to 3 days for a Chengdu city tour with morning Giant Panda visit. With extra 2 days, you can extend trip further to surrounding attractions, to Leshan Giant Buddha, Mt Emei, Jiuzhaigou Valley. Usually you need about 1 week to visit major attractions in Sichuan, deeper tour takes more time to farther places, like Mt Siguniang in western Sichuan.
√ 1 Day Chengdu Relaxing Panda Highlights Tour
√ 5 Days Chengdu Leshan Mount Emei Tour
√ 6 Days Chengdu Jiuzhaigou In-depth Tour
For your Tibet trip, you can have 2 days' highlights tour to Potala Palace, Jokhang Temple and other landmarks. Leave extra time to visit Gyantse, Shigatse, Mount Everest, epic tourist areas with marvellous landscape and Tibetan Buddhist culture. Normmaly 1 week is required. It would be a holy pilgrimage to Mount Kailash and Mansarovar. You can return to Lhasa for leaving or right travel overland to Kathmandu, Nepal for in-depth exploration of the Himalayas.
√ 8 Days Classic Mount Everest Tour from Lhasa
√ 8 Days Lhasa to Kathmandu Overland Tour via Mount Everest
Travel with China Discovery
As an experienced, professional and reliable travel agency based in Chengdu, China Discovery will try our best to make every clients' China tour interesting, unique and memorable, and at the best value. Travel with us, you can enjoy a worry-free tour covering airport/train station pick-up services, knowledgeable tour guide and safe private transfer, accommodation and ticket booking help, visa application assistance and other needed services. Just contact us, tell your schedule, we will do the rest to creat you a wonderful Chengdu tour.
Most Popular Chengdu Lhasa Tours:
√ 7 Days Lifetime Tibet Train Tour from Chengdu
√ 4 Days Best of Lhasa Toru from Chengdu by Flight
√ 6 Days Classic Chengdu & Lhasa Highlights Tour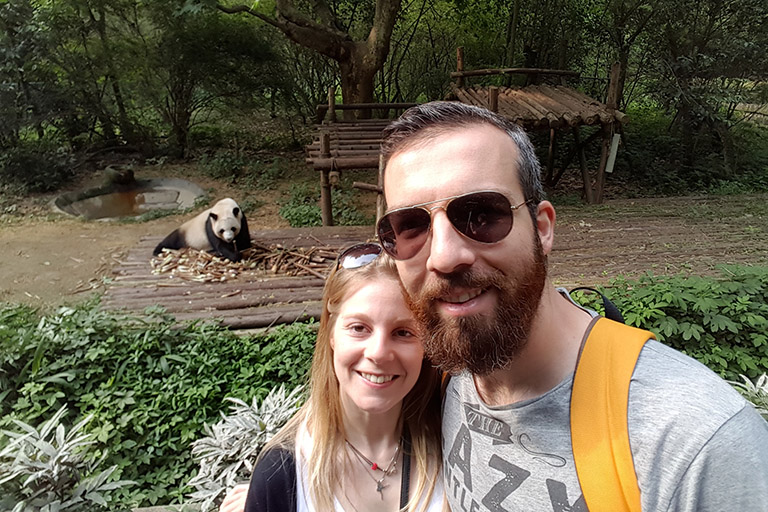 China Discovery's Customzied Chengdu Tour with Giant Panda Visit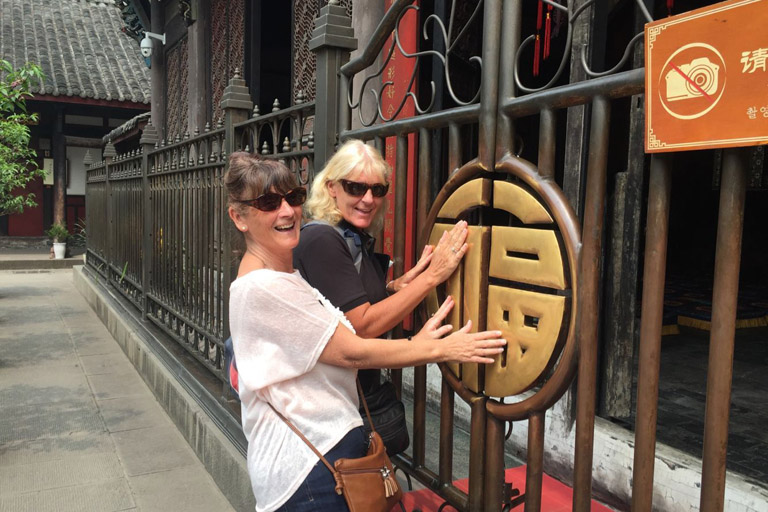 Our Tourists Visited Wenshu Monastery in Chengdu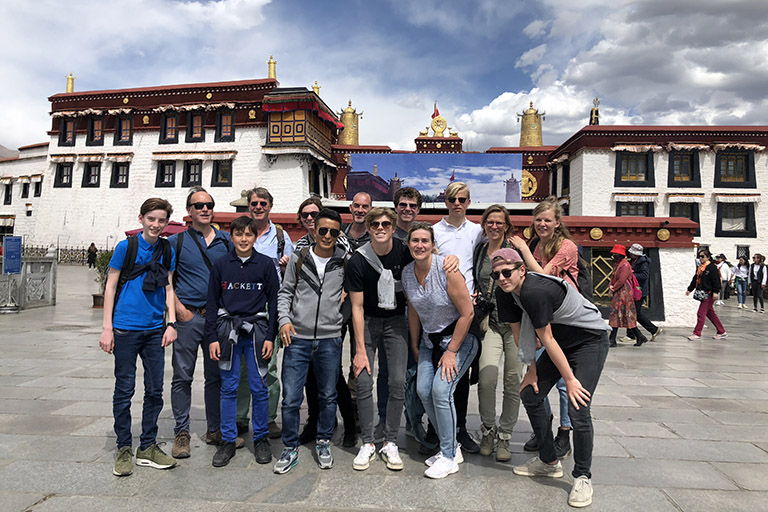 Our Tourists Enjoyed Tibet Tour to Jokhang Temple
Recommended Chengdu Lhasa Tours
Top 3 Chengdu Lhasa tours chosen by most customers to explore Chengdu Lhasa in the best way. Check the detailed itinerary, or tailor your own trip now with us.
10 Days Panda & Qinghai Tibet Railway Memorable Tour

Chengdu / Xining / Qinghai Lake / Lhasa / Namtso
9 Days Chengdu & Lhasa Tour with Yangtze Cruise

Chengdu / Lhasa / Chongqing / Yangtze Cruise / Yichang
10 Days Chengdu Lhasa Everest Overland Tour

Chengdu / Lhasa / Shigatse / Mount Everest / Lhasa
Start planning your tailor-made holiday to China by contacting one of our specialists. Once inquired, you'll get a response within 0.5~23.5 hours.
Customize a Trip
Have a question? Get answers from our travel experts or guests
Your Question:

Your Name:

Your Email: