Leshan Giant Buddha Travel Guide, History & Facts
Near from the hometown of Giant Pandas - Chengdu in Sichuan, China, sits the Leshan Giant Buddha which is one of the most popular destination for both tourists and Buddhists. Carved in the 8th century AD out of the hillside, the stone Buddha is the tallest Buddha sculpture in the world with a height of 71 meters, 8 meters taller than Bamyan Buddhas in Afghanistan. Also, it is much taller than the famous the tall Buddha of Yungang Grottoes and Vairocana Buddha of Longmen Grottoes. It was listed as UNESCO World Heritage Site together with Mount Emei in 1996.
Where is Leshen Giant Buddha exactly located and How to get there
Leshan Giant Buddha is located in central Leshan city, about 140km from Chengdu downtown in north, 150km to Chengdu Shuangliu International Airport, 45km from Mount Emei in south. Currently, travelers can get there from Chengdu, Emeishan by high speed train, long distance bus and China Discovery's private transfer.
TraLeshan Giant Buddha of Location and Transportation
How to Get to Leshan Giant Buddha from Chengdu
By Driving: about 2 hours, most recommended, especially for family, seniors and quality travel experience, getting rid of crowded public transportation, comfortable and worry free.
By High Speed Train: there are about 30 high speed trains departing from Chengdu East Railway Station to Leshan Railway Station each day, some of which will make a stop at Chengdu Shuangliu International Airport. The earliest train usually departs around 6:30 A.M. The train ride is fast and comfortable, only taking about 1 hour to get to Leshan. Try to book those train without stopping at the airport, which will save some time for you too. If you stay near to Chengdu South Railway Station, you can also catch a high speed train to there, but the schedule is much less East Railway Station. Learn more about Chengdu's railway stations here >
Leshan Railway Station (Location:Baolian Rd, QingjiangXin District, Shizhong District, Leshan City -乐山火车站 乐山市中区清江新区宝莲路)is about 13km to Leshan Giant Buddha for 30 minutes driving. After getting off the railway station, you can take a taxi, or local Bus 605 or Bus 3 to Leshan Giant Buddha directly.
By Bus: Chengdu Xinnanmen Bus Station runs frequent tourist buses to Leshan. The bus ticket is cheap, but taking about 2.5 hours to reach Leshan, which is not as efficient as high speed trains but still an option if you haven't had your train ticket booked successfully. Learn more about Xinnanmen Bus Station here >
How to Get to Leshan Giant Buddha from Emeishan
Mount Emei is located in the south of Leshan, approximately 45mins' driving from each other. After Emeishan tour, you can take a taxi or tourist bus to Leshan from tourist center area. The quicker way is to take high speed train from Emeishan High-Speed Railway Station (Location: Xiuhu Avenue, Emeishan City, Leshan City峨眉山高铁站 峨眉山市秀湖大道) which is only about 2km away from the tourist center of Mount Emei. There are usually three trains departing to Leshan, usually one in the moring, one in the noon and one in the late afternoon, with duration about 15~20mins.
4 Days Classic Leshan Buddha & Mount Emei Tour from Chengdu

Highlights: Leshan Giant Buddha, Mount Emei, Chengdu Giant Panda Base,Wenshu Temple

A great tour of a visual feast to explore two magnificent World Heritage Sites around Chengdu - Leshan Giant Buddha and Mount Emei in a leisure way, also visit the adorable Giant Pandas in Chengdu Research Base of Giant Panda Breeding and get other Chengdu highlights. Airport (train station) pick up and drop off, English-speaking guide, private cars are covered.
How to Visit Leshan Giant Buddha
You can choose "on foot" or "by boat" to visit the Giant Buddha according to arrival time, schedule, crowdedness and physical condition.
Visiting Leshan Giant Buddha on Foot
This is the most popular way to visit Giant Buddha but time-energy-demanding. After purchasing ticket, enter the gate of the scenic area (usually north gate), then walk along gradually-rising paths to reach the top area of the mountain which is a small square equal high to the head of the Giant Buddha. From the square, you can see the right face of the Buddha, or walk to another side to see the left side of the Buddha and look down upon the chest, arms and feet of the Buddha. There is a narrow plank road carved on the right cliff which allows you to walk down slowly to the bottom area of the Buddha to find a good location to take photo with the Buddha. Please note the plank road is one-way, you need to walk back to the top of the mountain from left side. The whole walking from the left square to the bottom then right square needs about 1 hour to finish, but you usually need to wait at least 1 hour in line to enter the plank road as most tourists wanting to walk down to the bottom area, unless you visit the Giant Buddha very early when there are not many travelers. If you don't want to spend much time waiting in the line, you can take photos from the right side of the Buddha then walk to the left side to take photos. Generally speaking, you can see the Buddha very clearly from both sides.
Walking down along the plank road to the bottom of the Buddha
Viewing Leshan Giant Buddha by Boat
Taking a boat to see the Giant Buddha is recommended for those who want to save energy or don't want to spend much time waiting in line of entering the plank road. The boat, mid-sized and shared by a group of tourists, departs from the pier, take tourists to cruise to the river in front of the Buddha and stop for a while for tourists to take the panoramic views of the Buddha, then return to the pier.
There are two piers available to board a boat to see the Buddha: Baxiandong Pier next to the scenic area, and Leshangang Pier located at the riverside facing the Giant Buddha. Both two piers are not far away from the city and train station, you can get there by public bus or taxi. If you want to do both walking and boat sightseeing, Baxiandong Pier is more recommended.
There are two kinds of boat tickets, sightseeing boat (bigger) and speed boat. The prices are ¥70 and ¥50 separately. Please note you don't have to buy the entrance ticket of Leshan Giant Buddha if you only take the boat sightseeing.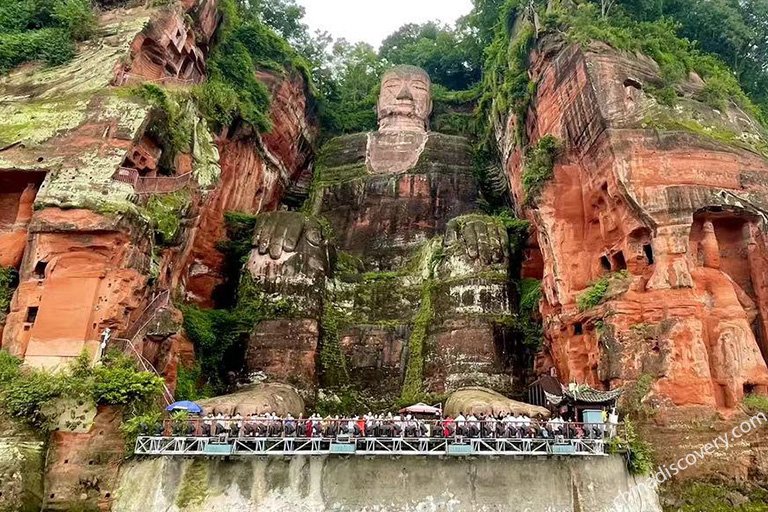 Enjoy panoramic view of Leshan Giant Buddha from a sightseeing boat
Tips: 1) life vest is provided by ship company; 2) there is no toilet on the sightseeing boat and steam boat; 3) boat sightseeing is more recommended in afternoon when the sunlight shines on the Buddha; The reflected light in the morning is not good for photography.
2 Days Best Chengdu Leshan Giant Buddha Tour with Boat Sightseeing

Highlights: Leshan Giant Buddha, Chengdu Panda Base, Jinli Old Street, People's Park

This 2 days tour with unique itinerary will take you to enjoy an in-depth exploration of Leshan Giant Buddha as well as the best of Chengdu. You will have a full day to discover the mystery of Leshan Giant Buddha and appreciate his magnitude from different angles – close sight, panoramic view and distant view and in two different ways – hiking and boating. Subsequently, drive back to Chengdu and immerse yourself in the relaxing & pleasurable time of Chengdu – to stay with the most attractive Giant Pandas and experience the slow-pace life in Chengdu's popular sites, like People's Park, Wenshu Temple and Jinli Old Street. A lot of fun is ready for you.
Best Time to Visit Leshan Giant Buddha
- Leshan city has abundant rainfall with four clear-cut seasons. Weather in Leshan is mild with an annual average temperature between 16.5℃ and 18℃. It is suitable for travel all year around. Generally speaking, the best times: March to June and September to November when it is comfortable and less -crowded. It's always a good idea to avoid public holidays. Opening hours are 7:30 a.m. to 6:30 p.m. in April to Oct and 8 a.m. and 5:30 p.m in November to March. Try to arrive in the morning for the best views and smaller crowds.
- Seasonal wearing ideas - light, quick-dry and easy to wear clothes, hat, sunscreen, rain jacket and comfortable shoes in summer; Double layer jacket, long underwear pants and tops, sweaters, long sleeve shirts, wool blend socks, boots, winter jacket, winter hat, winter gloves, winter scarf in winter; Long underwear, fleece outer layer,, light hat, scarf in spring and autumn.
Why and How Was Leshan Giant Buddha Built
The construction of Big Buddha started in 723 AD (Tang Dynasty) where floods wreaked frequently in Leshan area where Min River, Qingyi River and Dudu River joint. Chinese monk Haitong decided to lead people to construct a Buddha statue to calm the turbulent waters that plagued the shipping vessels traveling down the rivers, which is super project in that ancient time that demanded a hug number of money. He went to many places to raise funds, and after years' ribution all over the kingdom, he finally raised enough funds to star the construction. When he got back to Leshan, the greedy government of Leshan wanted to force Haitong to hand the fund in the government. Haitong refused even though the government sent solders threaten many times. He gouged out his own eyes to show his piety and sincerity, scared the solders away.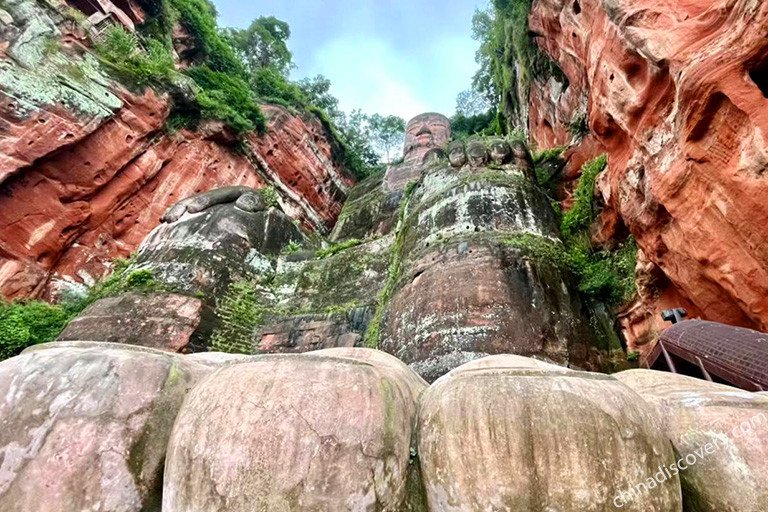 Monk Haitong constructed the Giant Buddha to calm the turbulent waters
In the year 713 AD, Haitong started the construction of the Buddha, but he passed away when the Big Buddha was cultivated to shoulders and. The construction was stuck due to insufficient funding. Some years later, the highest governor of Sichuan area (Jie Du Shi) Zhang Chou Jian Qiong sponsored the project with his owe money. Haitong's disciple began to continue construction. Unfortunately, when the construction reached the knees of the Buddha, Zhang Chou Jian Qiong moved back to the capital Xian. The project was halted again. About 40 years late, another Jie Du Shi whose name is Wei Gao donated his salary to continue the project. Finally the construction was completed by Haitong's disciples in 803. It took 90 years to complete this world's largest stone Buddha under the hard work by three generation of craftsmen for 90 years. Till now, this engineering masterpiece has sit in the river bank of Leshan over 1300 years.
Leshan Giant Buddha Buddhism Facts
Fact 1: Largest Stone Buddha
"The Mountain is a Buddha and the Buddha is a Mountain". The solemn Leshan Giant Buddha is calmly sitting on the cliff of Xijiao Hill, putting his hands on his knees, with the rivers flowing below his feet…Standing 71 meters tall, Da Fo is the tallest Buddha statue in the world. His head is 14.7 meters in height and 10 meters in width. The Buddha's hair is arranged in special spiraled curls with 1,021 twists that have been skillfully embedded in the head. He has 7-meter long ears which is capable of holding two people inside, 5.6-meter long nose, 5.6-meter long eyebrow. While, the width of mouth and eye is 3.3 meters. His neck is 3 meters tall, shoulder is 24 meters wide, finger is 8.3 meters long. It is 28 meters from his knees to his instep. Moreover, his instep is about 8.5 meters in width where can accommodate about a hundred people and even his smallest toenail can accommodate a seated person.
Leshan Giant Buddha is the larggest stone Buddha in the world
Fact 2: Maitreya Buddha
According to Buddhist tradition, Maitreya is a bodhisattva who will appear on Earth in the future, achieve complete enlightenment, and teach the pure dharma. According to scriptures, Maitreya will be a successor to the present Buddha – Gautama Buddha (also known as Śākyamuni Buddha).
The statue of Leshan Buddha is believed to be Maitreya Buddha. It was popular to construct the statue of Maitreya before Song Dynasty. But, it was reduced in Tang Dynasty for the political reason. In Sichuan, the earliest Maitreya Statue was Thousand-Buddha Cliff in Guangyuan which was built in 706. There are many other Maitreya Buddha in Sichuan, including Thousand-Buddha Cliff in Jiajiang, Thousand-Buddha Village and Sleeping Buddha Valley in Anyue, etc. Leshan Giant Buddha is the mark of popularity of Maitreya Buddha in Chinese Buddhism history.
Fact 3: Sleeping Buddha
A few years ago, it was discovered that Wuyou Mountain, Lingyun Moutain and Guicheng Mountain behind the Giant Buddha had composed a shape of sleep Buddha, thus this was called the Giant Sleeping Buddha. The head of the Giant Sleep Buddha is Wuyou Mountain, while the stone, bamboo forest and temple on the mountain have composed the five senses organs on the head. The body of the Sleeping Buddha is the Lingyun Mountain, and Guicheng Mountain is the foot. The whole Sleeping Buddha is over 4000 meters from south to north, with its head in the south direction.
After having a basic understanding about the Leshan Giant Buddha history and Buddhism facts, you can go ahead to Leshan Giant Buddha Travel Guide for more attraction info, how to get there and travel tips.
How to Plan Your Leshan Giant Buddha Tour
Generally speaking, your Leshan Giant Buddha trip can be done in a brief day. If your time is on budget, you can have a day tour to the Giant Buddha from Chengdu, i.e. 1 day Giant Panda - Giant Buddha tour or 1 day Giant Buddha - Huanglongxi Ancient Town. 2 days is most recommended as you can have one full day visiting the Buddha in a leisure pace either walking or boat sightseeing, and another day explore Chengdu's city highlights. Traveling with the Giant Buddha with Mount Emei in 2 days is the most classic itinerary of the region which is very popular among first-timers. Jiuzhaigou is another option if you have 3 or more days after Giant Buddha visit. As a Sichuan based travel agency, you can always find an ideal trip with us no matter where you want to explore and when you come.
- 1 Day Panda Visit & Leshan Giant Buddha Tour
- 1 Day Giant Buddha Tour from Chengdu
- 2 Days Chengdu & Leshan Tour
Travel with China Discovery
As an experienced, professional and reliable travel agency based in Chengdu, China Discovery are try our best to make every clients' tour to Chengdu interesting, unique and memorable, and at the best value. Traveling with us, you can enjoy a worry-free tour covering airport/train station pick-up services, knowledgeable tour guide and safe private transfer, accommodation and ticket booking help, visa application assistance and other needed services. Just contact us, tell your schedule, we will do the rest to make sure a wonderful Chengdu tour.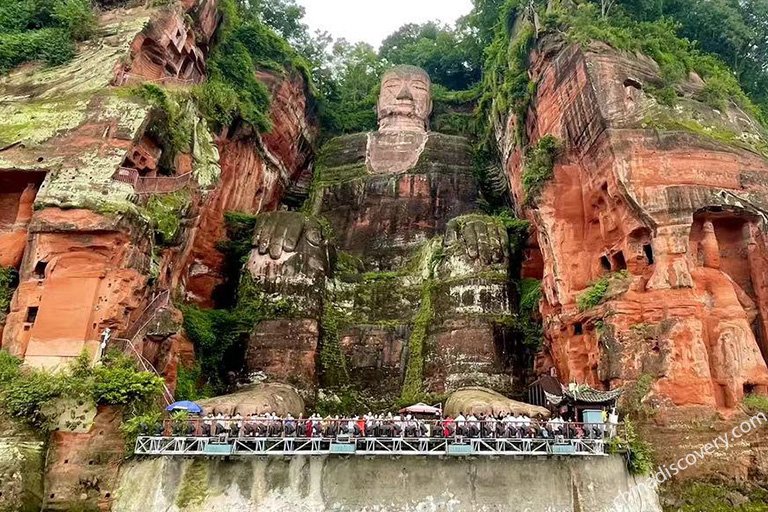 Leshan Giant Buddha Boat Sightseeing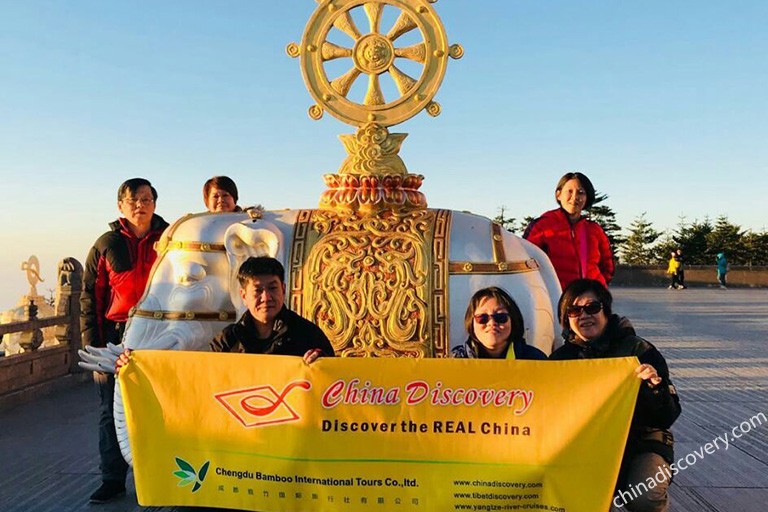 Our dear clients from Singapore visited Golden Summit of Mount Emei
Top Leshan Tours
Extension Readings of Leshan Travel Guide
Other Destinations in Sichuan
Recommended Leshan Tours
Top 3 Leshan tours chosen by most customers to explore Leshan in the best way. Check the detailed itinerary, or tailor your own trip now with us.
2 Days Best Chengdu Leshan Giant Buddha Tour

Chengdu / Leshan Giant Buddha / Chengdu
4 Days Classic Leshan Buddha & Mount Emei Tour from Chengdu

Chengdu / Leshan / Mt. Emei / Chengdu
3 Days Mount Emei Buddhist Pilgrimage Tour

Chengdu / Mount Emei / Leshan Giant Buddha / Chengdu
Start planning your tailor-made holiday to China by contacting one of our specialists. Once inquired, you'll get a response within 0.5~23.5 hours.
Customize a Trip
Have a question? Get answers from our travel experts or guests
Your Question:

Your Name:

Your Email: