Where to Stay in Kangding, Best Kangding Hotels
Kangding, the capital city of Sichuan's Garze Tibetan Autonomous Prefecture, is one of the most attractive tourist destinations of Western Sichuan, and also a vital gateway for tourists go further west to Tibet from Chengdu. The beautiful Kangding cradled in the Plateau Mountains was little known by the world before the Love Song of Kangding became a big hit. However, with the influence of the love song and the construction of airport and highway, this hidden world with amazing alpine sceneries and a taste of both Han culture and Tibet culture has gradually become a hot tourist destination for holiday.
In this Kangding hotels guide, I will answer your questions of where to stay in Kangding and Best hotels to stay in Kangding, with recommended lists of hand-picked hotels for you to select. Whether you are going to visit Kangding by direct flights, or along highways from Chengdu, you will find right places and hotels to stay to better plan your Kangding tour here!
Best Areas to Stay in Kangding - Top 4 Places
Coming from Sichuan's capital Chengdu, there are two main driving routes into the Tibetan Sichuan, where you could find breathtaking alpine landscape and get a taste of Tibet without a Tibet Entry Permit! One route is the Northern Line via Dujiangyan, Mount Siguniang, Danba and Tagong, another is the Southern Line via Ya'an, Luding and Kangding (康定). The two lines meet together at Xinduqiao Town, which is known as "paradise for photographers and painters".
Tagong and Xinduqiao are two most popular tourist towns of Kangding. Therefore, the two towns and Kangding downtown area are usually the best areas to stay in Kangding for tourists. Aside from the above top 3 places to stay, sometimes tourists going to have an in-depth visit of Kangding Mugecuo Scenic Area (Kangding Love Song Resort) may choose to stay in the nearby Yala Village (雅拉乡). There is no hotel near Kangding Airport as it sits at a daunting elevation of over 4,000m.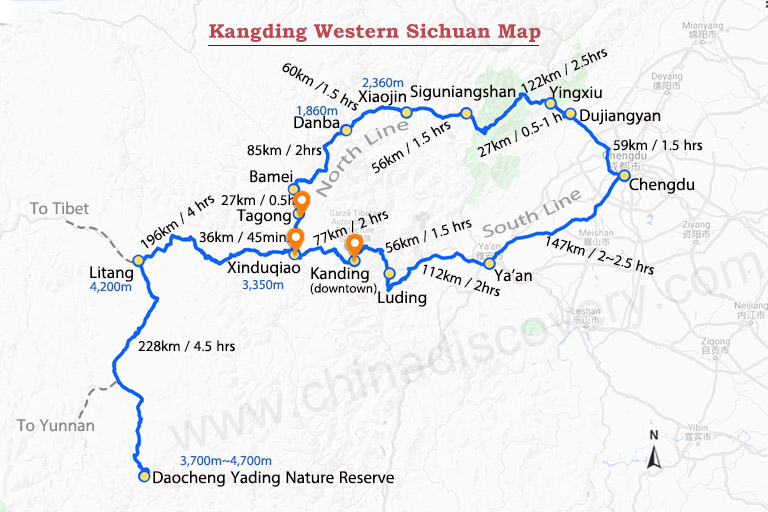 Kangding in Western Sichuan
Top 1: Kangding City - Hot-chosen Place with Best Hotels in Kangding
Kangding City downtown area on the southern line of Sichuan-Tibet Highway is the culture and transportation center of whole Garze region and offers travelers from both Chengdu side and Tibet side many good hotels to take a break. In Kangding downtown area, you could find the best hotels of Kangding, with lots of nearby options for entertainment, shopping and dining. And since the cool climate at an elevation of 2,600m (lowest in Kangding), the hotels there are the best choices for tourists who want to adapt to the alpine trip gradually, especially for whose getting to Kangding from Kangding Airport at a dizzying 4,280m.
Based on opinions of travelers have been to Kangding before, hotels in Kangding downtown can be real surprises if you compare them with most other options in this remote area of Western Sichuan. There are 300+ hotels for you to choose, most of which are of 2 star and 3 star with basic but comfortable facilities like beds, shower, free Wi-Fi, etc. There are also about ten hotels of 4-star with more modern comforts.
Besides, the Kangding downtown area also houses some of Kangding and even Garze's best monasteries, such as Nam Mu Monastery (or called Nanwu Temple 南无寺), Dordrak Monastery (金刚寺) and Anjue Monastery (安觉寺). And Paoma Mountain that mentioned in the Love Song of Kangding also sits in Kangding downtown area.
Recommended Hotels in Kangding Downtown:
Minshan Sun Tribe Hotel (康定岷山太阳部落大酒店) ★★★★
Liu Liu City Gesanghua Hotel (康定溜溜城格桑花大酒店) ★★★★
Orange Hotel Select (桔子酒店·精选) ★★★
Suiton Plus By Paxton Kangding (康定柏栎荟舍酒店) ★★★
Kangyun Large Hotel (康定康运大酒店) ★★★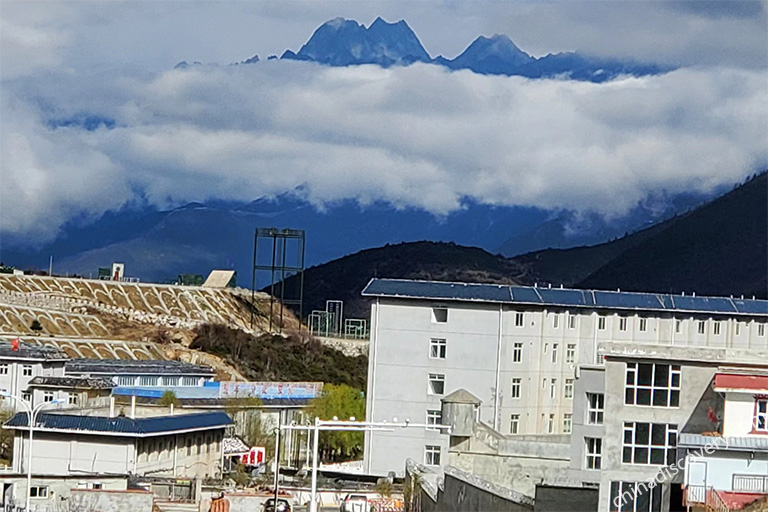 Kangding Downtown
Suiton Plus By Paxton Kangding
Top 2: Xinduqiao - Best Alternative Option and also Photography Paradise
Being the paradise for photographers and painters, Xinduqiao is another popular place to stay in Kangding. Beyond the famed epic surroundings, Xinduqiao Town also enjoys a closer distance to Litang and Daocheng Yading. We would recommend staying in Xinduqiao if you do not ask for much about accommodation and want to stay with more appealing natural surroundings or have extending plans to Daocheng Yading.
The accommodation option in Xinduqiao is relatively limited than Kangding downtown. And majority of the hotels around Xinduqiao are in budget. However, the price of hotels there is not that cheap as you think, because its location is hard to beat, with oil-painting-like streams, grassland, mountains, forest just a few steps away. For a CNY 200/night hotel in Kangding downtown, you need to pay at least CNY 260/night in Xinduqiao to get the same level of hotel service and value. If you happen to visit Kangding and Xinduqiao during Chinese holidays like first week of May and October, the spread may be more pronounced. And during the Chinese holidays, hotels in Xinduqiao usually sold out weeks in advance.
Recommended Hotels in Xinduqiao Town:
Elsa Hotel (康定伊莎酒店) ★★★
Xinshukang Hotel (康定新都桥凯逸酒店) ★★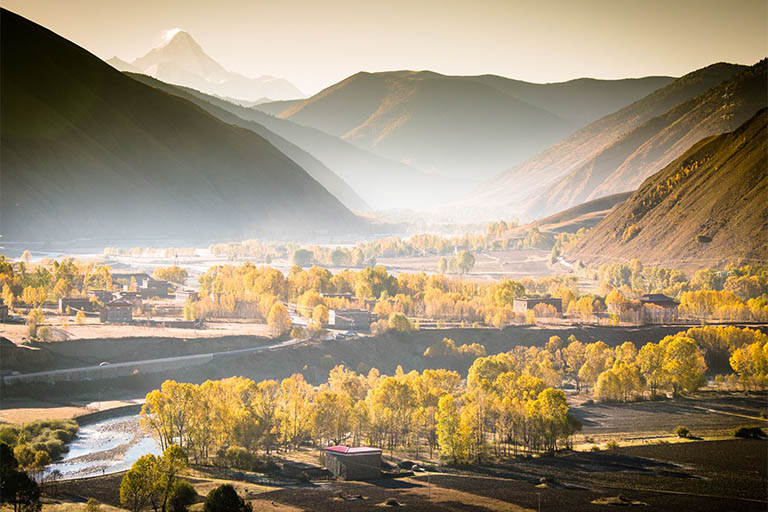 A Corner of Xinduqiao Town
Elsa Hotel in Xinduqiao
Top 3: Tagong - Nearest Area to Visit Tagong Grassland and Tagong Monastery
Your first stop will be Tagong if you comes from Chengdu to Kangding along the Northern Driving Route. Tagong is about 45 minutes' drive to Xinduqiao Town and 2.5 hours' drive to Kangding downtown. It is mostly famed for its spectacular rolling Tagong Grassland dotted with yaks, alpine flowers, monasteries and full of hiking possibilities. For tourists arriving at Tagong late, you are suggested to stay in a hotel near the Tagong Grassland, instead of venturing further to Xinduqiao or Kangding downtown in the darkness.
There are about 10 hotels of 2-star and 3-star near Tagong Grassland for you to choose. Tagong Grassland is within walking distance from all these hotels there. And around the hotels, there are also several restaurants for dining and minimarkets for shopping goods.
Hotels near Tagong Grassland are very basic, but much better than your expecting of hotels in such a remote area. They all meet your basic needs like bed, hot water and parking. Some may offer free Wi-Fi service, while some may not. However, if you prefer rooms of better facilities and services, the hotels in Kangding downtown are greater choices for you.
Recommended Hotels in Tagong:
Ake Droba Boutique homestay (塔公阿克卓巴精品民宿) ★★★
甘孜康定塔公草原松珠林酒店 ★★
Dengba Hostel Tagong (登巴国际连锁客栈康定塔公店)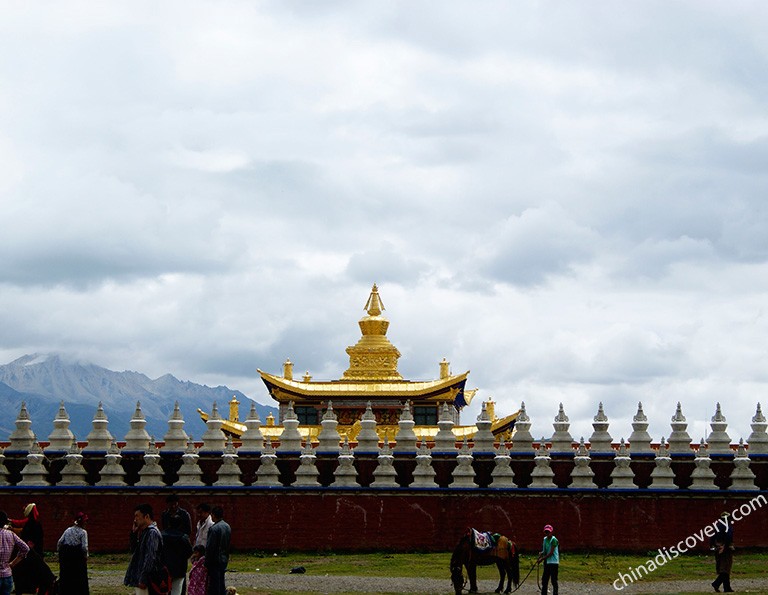 Tagong Monastery and Yala Mountain in a Distance
Ake Droba Boutique homestay
Top 4: Yala Town - Closest Area to Visit Mugecuo Scenic Area (Kangding Love Song Resort)
Mugecuo Scenic Area, or known as Kangding Love Song Resort, is one of the reasons attracting tourists to Kangding. Mugecuo is about 26km from Kangding downtown, which needs about 1 hour by car. Normally, tourists planning to visit Mugecuo will stay in Kangding downtown, and then drive to pay a visit. And if you are looking for a closer place to stay, Yala Town about 1~15km southeast from the entrance of Mugecuo will be a good alternative option. In Erdaoqiao Village (二道桥) of Yala Town, you can also have chances to immerse yourself in healing hot springs.
Similar to hotels in Tagong, the accommodations in Yala Village are mostly in basic, especially in the area closing to the entrance of Mugecuo Scenic Area. While in Erdaoqiao Village of Yala Town, there are 4-star hotels with better facilities for you to choose.
Recommended Hotels in Yala Town:
Feeling Mountain Homestay (康定听山民宿) ★★★★
康定杨家锅庄休闲山庄 ★★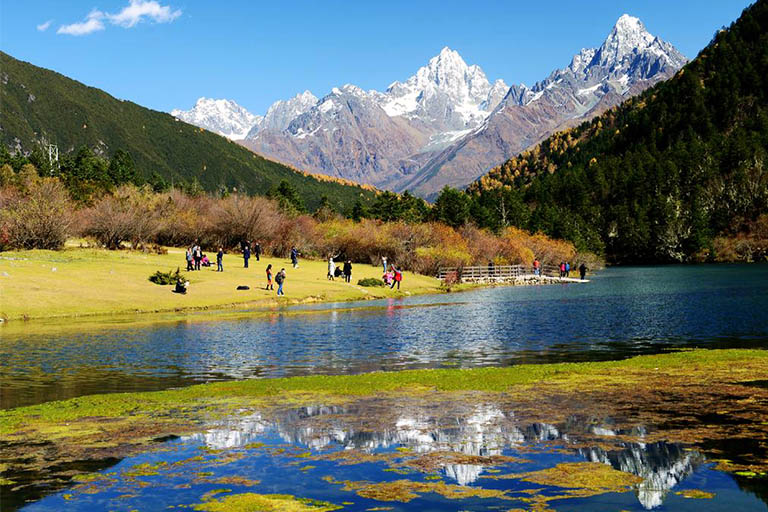 A Corner of Mugecuo Scenic Area
Feeling Mountain Homestay
Kangding Hotels Price: Are Hotels in Kangding Expensive?
The comfortable 3 star and 4 star hotels in Kangding charge about CNY 150~600 per night. The price may be higher during peak seasons like first week of May and October. The prices of hotels in Kangding are reasonable since they offer surprising great facilities and service in such a remote area. And for budget travelers who care less on facilities and services, there are also great amount of budget inns and hostels for you to stay, which charge only about CNY 30~100.
Warm Tips of Kangding Hotels:
1. Book your hotels in Xinduqiao in advance if you want to stay there. The hotels in Xinduqiao are limited and really popular.
2. The workers in Kangding hotels are always polite, but the language barriers can so meantime become a bit of an issue since few of them can speak English.
How to Plan a Kangding Tour
For most people traveling to Western Sichuan for hiking, sightseeing, photography and culture exploring will spend in Kangding for 2~3 days around, including 1 day to visit Tagong and Xinduqiao, 1 day for the monasteries and mountains in the city, and another day to Mugecuo Scenic Area. The day-by-day itinerary of a Kangding tour varies according to the way you get to the city.
If you go by air, you are suggested to stay and explore the city area first, and then spend another 2 days to the nearby attractions. And if you go by Southern Driving Line from Chengdu via Ya'an, you will pass the city area and have a city tour there first and then drive to Xinduqiao for a stay. For tourists go from Chengdu by Northern Driving Line via Dujiangyan, Mount Siguniang and Danba, you will arrive at Tagong and have a short tour there first, and then go to Xinduqiao for a stay.
>> 4 Days Classic Kangding, Xinduqiao & Tagong Grassland Tour
>> 7 Days Western Sichuan Small Loop Tour
For more Kangding tour plan ideas, you could contact our professional local travel consultants for help!
Tagong Grassland and Tagong Temple
Travel Kangding with China Discovery
Since the Western Sichuan Travel Circle offers 10+ splendid tourist destinations to be explored and Kangding is only one of them, you are highly suggested to travel with experienced guide and driver who will suggest you the best travel route according to the weather and your interest. We China Discovery also offer such services. And if you travel with us, we will take care of everything for you, including the best hotel, restaurant, travel means and route, entrance ticket, tips for altitude sickness... Therefore, you could focus on the beautiful scenery and thrilling culture atmosphere on the way!
The tour can be tailor-made according to your group size, interests, physical condition, time, plan, budget and every special need. Please feel free to contact us if you need any help!
Nanwu Monastery in Kangding
Keep Reading on Kangding
Read More about Western Sichuan Small Tourist Loop
Other Useful Sichuan Travel Articles
Recommended Tours
Top 3 tours chosen by most customers to explore in the best way. Check the detailed itinerary, or tailor your own trip now with us.
8 Day Diverse Sichuan Exploration Tour

Chengdu / Mount Siguniang / Danba / Tagong / Xinduqiao / Leshan / Emei / Chengdu
6 Days Western Sichuan Autumn Sightseeing Tour

Chengdu / Wolong / Mount Siguniang / Danba / Tagong / Xinduqiao / Kangding / Chengdu
4 Days Classic Kangding, Xinduqiao & Tagong Grassland Tour

Chengdu / Hailuogou / Kangding / Xinduqiao / Tagong / Kangding / Chengdu
Start planning your tailor-made holiday to China by contacting one of our specialists. Once inquired, you'll get a response within 0.5~23.5 hours.
Customize a Trip
Have a question? Get answers from our travel experts or guests
Your Question:

Your Name:

Your Email: