Tagong Location & Brief Introduction
This treasured place in the foothills of the Tibetan plateau is one of the main spot on West Sichuan Small loop with Bamei in the north and Xinduqiao in the south. Tagong is a township belongs to Kangding City. The town of Tagong features traditional Tibetan-style houses built from stone.
Best Western Sichuan Tours Including Tagong
>> 4 Days Classic Kangding, Xinduqiao & Tagong Grassland Tour
>> 7 Days Western Sichuan Small Loop Tour
The Tagong Monastery is in the main square of the village, and grasslands all around are easy to reach and explore. Since it is not yet open to massive Chinese tourism, the place keeps its authentic atmosphere.
History about Tagong
"Tagong", in Tibetan, means " the land favored by Bodhisattva". Tagong Grassland covers an area of 712.37 square kilometers. The terrain is gently undulating. Sheep and yaks are wandering on the massive rich grassland. According to the legend in this area, Princess Wencheng brought a golden statue as twelve-year-old Sakyamuni on her way to Lhasa for her wedding to Tibetan King. When she passed this place, the statue became very heavy and could not be lifted. Just when the followers didn't know how to deal with the situation, the Sakyamuni Statues started to talk, said that he loves this place and would like to stay here. However, this Buddhist Statue is a treasured present from Emperor Taizong of Tang to Srongtsen Gampo represent the friendship of two countries, therefore can not be left here, so the princess asked accompanying craftsmen to make a replica of the Buddha Statue and consecrated at this place. From then on, Tagong became famous in Kangba, it is said that people in Kangba who don't have the chance to go to Lhasa for Pilgrimage, can go to Tagong Monastery instead to worship the Buddha, which can also accumulate merit to the Buddha.
Tagong Monastery
Tagong Monastery is built right at the heart of the town during Qing Dynasty to consecrated the replica of the scared statue of Sakyamuni at Jokhang Temple in Lhasa along with scriptures of the Sakya Buddhist sect and other cultural relics more than 1000 years old. A major three-day Buddha event is held at the end of June every year at the Monastery, travelers can participate in temple activities, including meditation and daily circumambulation.
Highlight activities: Visit the second most important Shakyamuni statue in China; Join the three-day Buddha event at the end of June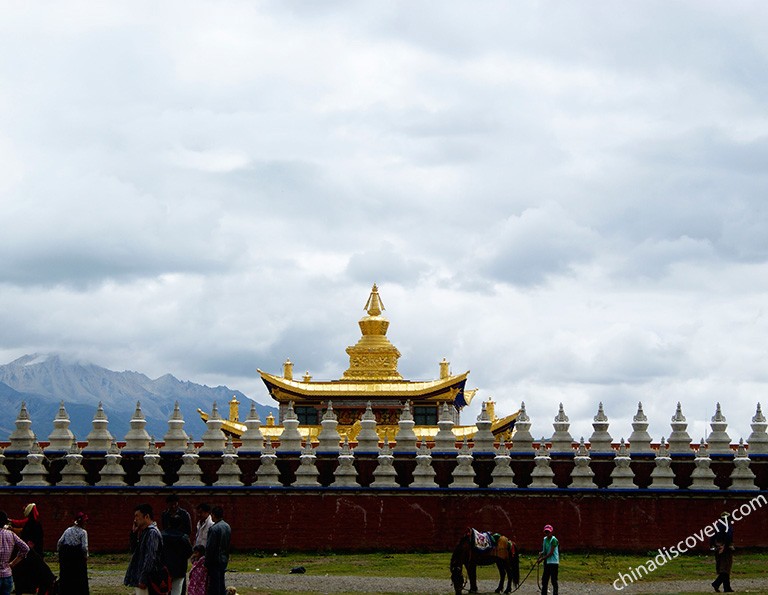 Tagong Temple
Tagong Grasslands
Tagong Grassland (塔公草原) is a vast expanse of meadow covering an area of 712.37 square kilometers and located at 3900m in elevation. These beautiful grasslands are home to Tibetan nomads grazing their herds of yaks and living in traditional black yak wool tents. Under the blue sky, the yaks flocks in the vast prairie wide. Riding on a horseback and look across the snow-topped Mount Yala, with the magnificent Golden Padoga and captivating grasslands, Mount Yala presents spectacular views for you to admire.
If you are a hiker, you can hike across the grassland to the south to Ani Gompa (nunnery), which offers affordable lodging. To get there, simply proceed from town, make a right on the road 100m past the Tagong Monastery, and you will see the Lhagang Monestery's golden roof in the distance lies at the foothills of scared snowcapped Mount Yala. Then walk toward it. The walk is around 9 km each way, but most of the way the terrain is flat making your hiking more easy. It takes about 3 hours to get there. If you hike from Tagong to west by any of valleys you'll get to very authentic beautiful villages. No tourist visit these places, so you will be absolutely alone. Continuing further on the roads you'll get soon on the plateau where in summer are many nomads and Yaks.
Horse Race Festival is held in the grassland every year at the beginning of the eight month of the lunar calendar. Local Tibetan herdsmen in great numbers get together to watch the sport and attend the Tibetan opera. These festivities are witness to the authentic Kham Tibetan culture.
Tagong Grassland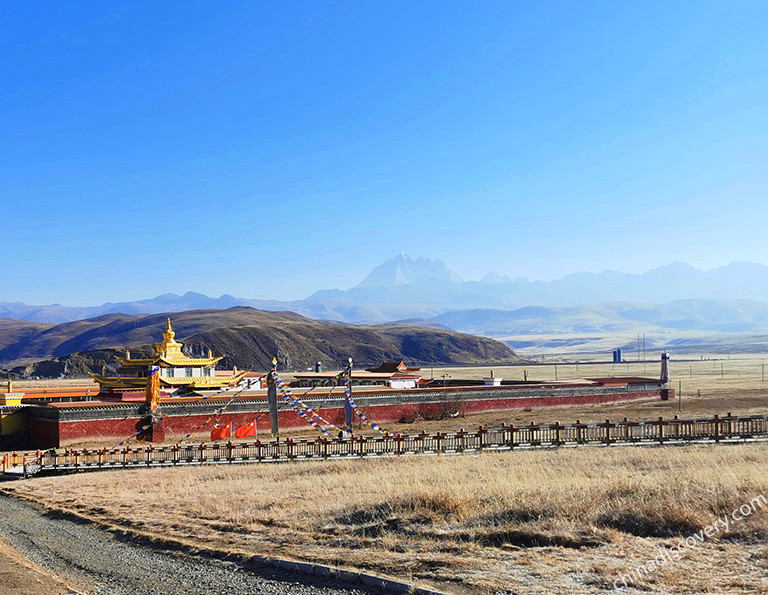 Mount Yala
Best Time to Visit Tagong
Tagong Grassland is located in Tagong Town, Kangding City, Ganzi Tibetan Autonomous Prefecture, Sichuan province, is a plateau with an elevation of 3730m, through the Sichuan-Tibet Highway.
Summer and autumn are the best seasons to visit Tagong Grassland. The summer scenery in Tagong Grassland is extraordinary picturesque,under the green meadow, on the lane to the hill, all kinds of wild flowers bloom in red, purple and lemon. They are either like flame or horns-how beautiful. Look out into a distance are continuous and eminent snow peaks. When it comes to autumn, the ground is covered with bright green grass and the beaded dewdrops stood on their tips and reflected the sunshine, together with the Tibetan architectures which are depicting Tibetan history and folk custom draws a gorgeous scroll painting.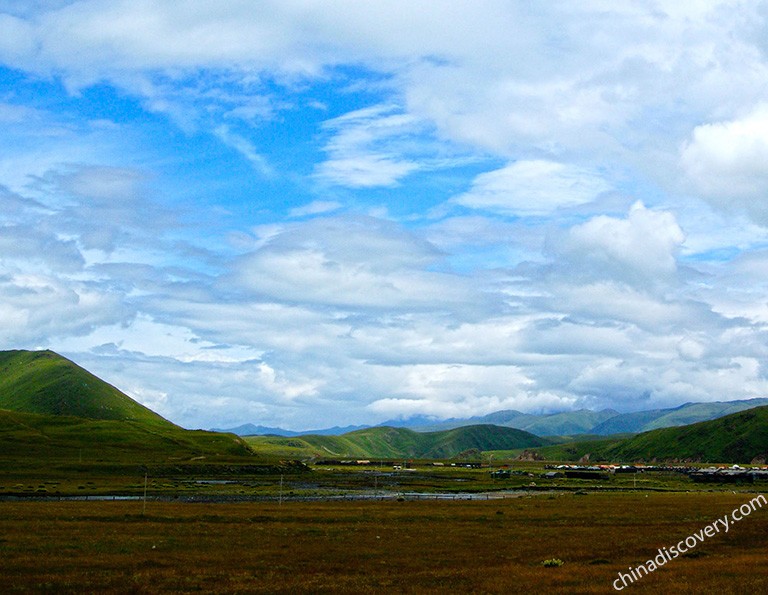 Best Time to Visit Tagong
How to Get to Tagong Grassland
Chengdu to Tagong Map
Tagong is a small town in Garzê Tibetan Autonomous Prefecture of western Sichuan, it's around 36km from Xinduqiao, 110km from Danba, 110 kilometers from Kangding city and 310km from Chengdu - province capital of Sichuan. It takes about 4-4.5 hours to get to Tagong directly from Chengdu by car. Most tourists will choose to stay 1-2 days in Tagong on their way to Danba, Yading, Kangding or other main sites on the West Sichuan Small Loop. The most common way for people to get to Tagong is by booking a private car service or by air transfer.
Private Car Service - Tailor Your Own Trip
Even there is an airport in Kangding city, most foreign tourists would still choose to book a private car service to get to Tagong for there are many worthwhile places to visit and things to see on the road such as Dujiangyan, Wolong, Mount Siguniang, Luding, Kangding etc. By taking a private car service, you can tailor your own west Sichuan tour. We chinadiscovery will provide you with the most comfortable, enjoyable and memorable journey, our experienced driver will guarantee your safety along the road and transfer you directly to the places which you would like to visit. Our English-speaking tour guide will introduce to you the attractions alongside the road to fulfill your long journey.
By air & By bus
For independent visitors who want to get to Tagong can reach to Kangding first by air, there is one flight to Kangding Airport from Chengdu Shuangliu Airport everyday. After landed at Kangding Airport, take a local running car to transfer to Kangding City. Get around and stay overnight at Kangding city, then take the next day early bus to Tagong. The whole journey from Kangding to Tagong would take about 3.5-4.5 hours.
Independent travelers can also take long-distance buses from Chengdu to Kangding first, takes about 4.5-8 hours, stay overnight at Kangding and then catch the next day bus to get to Tagong.
>> Learn more about how to get from Chengdu to Kangding
Important Travel Tips
1.Mount Zheduo is about 4298 meters above sea level, so to avoid or relieve altitude sickness, you need to sleep well, drink enough water, have enough fruits and vegetables, and keep a calm mood to release your body, which is also helpful. Strenuous exercise and alcoholic drinks are better to avoid. Passengers who have severer altitude illness could take some anti high-altitude sickness medicines, after a while, you will feel much better.
2.Xinduqiao is the fork between North Sichuan-Tibet Highway and South Sichuan-Tibet Highway, a relatively prosperous place. After passing Mount Zheduo, food, village and ornaments in Tibetan style would be more frequently seen.
How to Plan Your Tagong Grasslands Tour
Tagong should be on every backpackers destination list, most tourist would spend 1-2 days in Tagong to visit the famous Monastery, take a short distance hiking tour in Tagong Grassland and stay overnight in local Tibetan Guesthouse to feel the local culture.
Tagong is on the West Sichuan Small Loop, after visiting Tagong, you can continue your trip to other hot destination on the loop such as Kangding, Danba, Luding, Mount Sigunaing ect.
>> 7 Days Western Sichuan Small Loop Tour
Travel with China Discovery
Based in Chengdu, we China Discovery can provide you with the best travel experiences with reasonable price. Our experienced local drivers will escort you to Tagong from Chengdu or Kangding Airport directly and guarantee your safety along the trip.
The tour can be tailor-made according to your group size, time, physical condition, plan, interest, budget and every special need. If you have any other ideas about the trip or you have other places or cities wanted to visit such as Yunnan, Shanghai, Beijing or Xian, our experienced travel consultants are very glad to offer their help. Please feel free to contact us!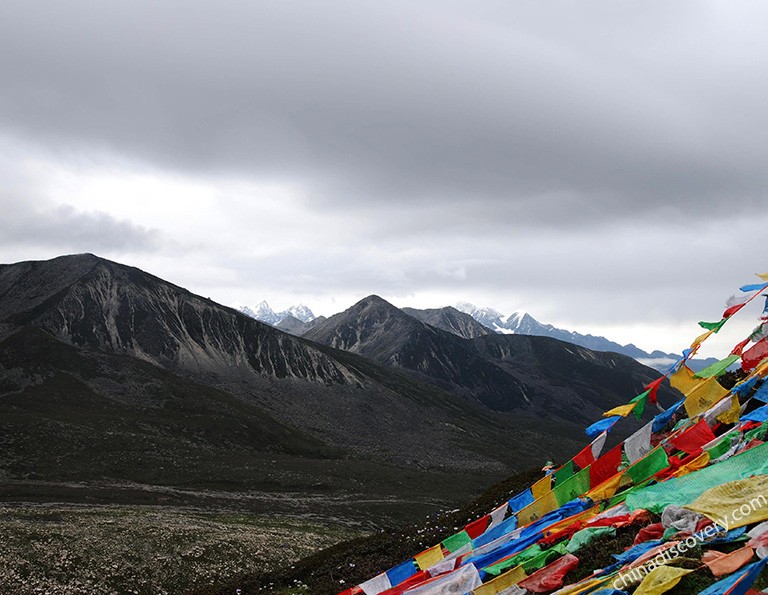 Mount Zheduo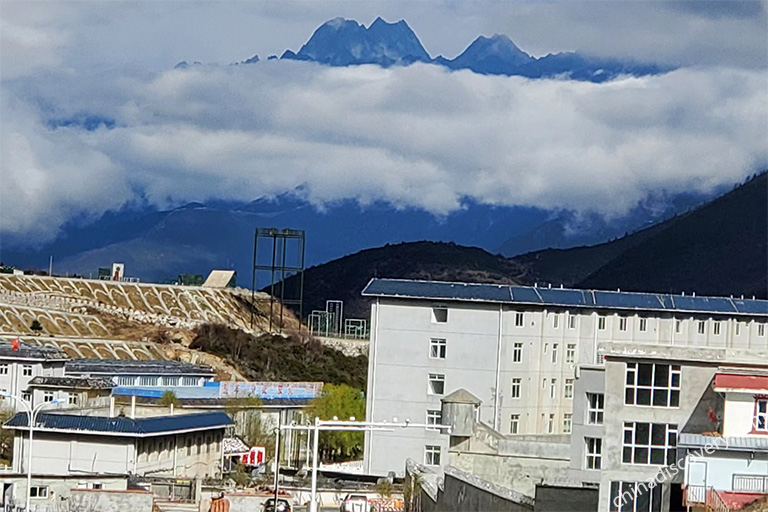 Kangding City
Keep Reading on Kangding
Read More about Western Sichuan Small Tourist Loop
Other Useful Sichuan Travel Articles
Recommended West Sichuan Tours
Top 3 West Sichuan tours chosen by most customers to explore West Sichuan in the best way. Check the detailed itinerary, or tailor your own trip now with us.
7 Days Western Sichuan Small Loop Tour

Chengdu / Dujiangyan / Mount Siguniang / Danba / Tagong / Xinduqiao / Hailuogou / Chengdu
8 Day Diverse Sichuan Exploration Tour

Chengdu / Mount Siguniang / Danba / Tagong / Xinduqiao / Leshan / Emei / Chengdu
4 Days Classic Kangding, Xinduqiao & Tagong Grassland Tour

Chengdu / Hailuogou / Kangding / Xinduqiao / Tagong / Kangding / Chengdu
Start planning your tailor-made holiday to China by contacting one of our specialists. Once inquired, you'll get a response within 0.5~23.5 hours.
Customize a Trip
Have a question? Get answers from our travel experts or guests
Your Question:

Your Name:

Your Email: