Kangding Maps: Location, Attractions & Transportation on Map
Kangding, the capital city of nowadays Garze Tibetan Autonomous Prefecture in China's Sichuan Province, is about 280km southwest of Chengdu. This town has long been a major trading center. In the old days, it was a significant stop on "tea road", and now it is mainly serving as a vital gateway for tourists traveling Tibetan Sichuan, where they could find breathtaking alpine landscape and get a taste of Tibet without a Tibet Enter Permit! Besides its important role on a Tibetan Sichuan tour, Kangding itself also offers grand snow-capped mountains, grasslands, national parks, lakes and sacred monasteries to be visited!
In this Kangding Maps Guide, we've put together a list of useful English maps for you to have a better understanding of location, attraction and transportation of Kangding City and have a better plan for your Sichuan Kangding tour!
Kangding Location Maps - Where is Kangding on Map?
Kangding Town is located on the west side of Sichuan Province, adjacent to Danba in the north and Luding in the east. It consists of 8 towns and 7 townships, including the most famous Xinduqiao Town and Tagong Town. The following maps show you where Kangding is on the China Map, Sichuan Map and also Western Sichuan Map.
Kangding Tourist Maps - Attractions in & around Kangding
When it comes to Kangding, it usually comes with its amazing Tagong Grassland and Xinduqiao Town. Tagong, which literally means the place loved by Bodhisattva in Tibetan, is one of the major tourist attractions in western Sichuan, with giant monasteries, snow-capped mountains and spectacular rolling grasslands dotted with yaks and full of hiking possibilities. And Xianduqiao in Kangding is another highlight on the Western Sichuan Travel Circle, with a reputation of "paradise for photographers and painters".
Besides Tagong and Xianduqiao, the Nanwu Monastery, Mugecuo Scenic Resort (Kangding Love Song Resort) and Yaha Scenic Area in Kangding also wait tourist to explore.
Check the Kangding Tourist Map below to know the location of main attraction spots of Kangding.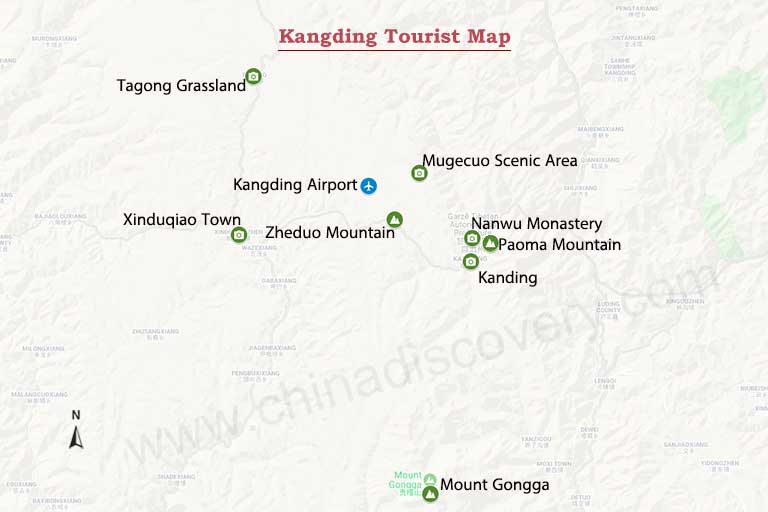 Click to Enlarge Kangding Tourist Maps
Kangding Transportation Map - How to Get to & around Kangding
Though Kangding sits in the remote area of Sichuan, it can be reached by air. At present, you can get to its Kangding Airport from Chengdu, which needs about 1 hour. Sometimes you may also find flights between Chongqing and Kangding. Getting to Kangding by road from Chengdu is also a hot choice, which needs about 4~5 hours by coach. Check the Chengdu to Kangding Map below to know more detailed info.
Know more about How to Get from Chengdu to Kangding >>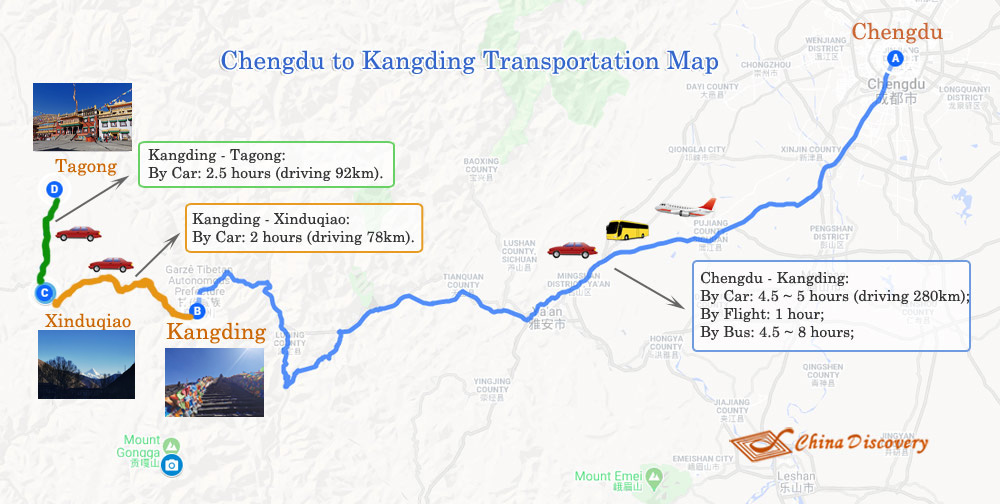 Click to Enlarge Chengdu to Kangding Transportation Map
How to Plan a Kangding Tour
For most people traveling to Western Sichuan for hiking, sightseeing, photography and culture exploring will spend in Kangding for 2~3 days around, including 1 day to visit Tagong and Xinduqiao, 1 day for the monasteries and mountains in the city, and another day to Mugecuo Scenic Area. The day-by-day itinerary of a Kangding tour varies according to the way you get to the city.
If you go by air, you are suggested to stay and explore the city area first, and then spend another 2 days to the nearby attractions. And if you go by Southern Driving Line from Chengdu via Ya'an, you will pass the city area and have a city tour there first and then drive to Xinduqiao for a stay. For tourists go from Chengdu by Northern Driving Line via Dujiangyan, Mount Siguniang and Danba, you will arrive at Tagong and have a short tour there first, and then go to Xinduqiao for a stay.
>> 4 Days Classic Kangding, Xinduqiao & Tagong Grassland Tour
For more Kangding tour plan ideas, you could contact our professional local travel consultants for help!
Tagong Grassland and Tagong Temple
Travel Kangding with China Discovery
Since the Western Sichuan Travel Circle offers 10+ splendid tourist destinations to be explored and Kangding is only one of them, you are highly suggested to travel with experienced guide and driver who will suggest you the best travel route according to the weather and your interest. We China Discovery also offer such services. And if you travel with us, we will take care of everything for you, including the best hotel, restaurant, travel means and route, entrance ticket, tips for altitude sickness... Therefore, you could focus on the beautiful scenery and thrilling culture atmosphere on the way!
The tour can be tailor-made according to your group size, interests, physical condition, time, plan, budget and every special need. Please feel free to contact us if you need any help!
Nanwu Monastery in Kangding
Keep Reading on Kangding
Read More about Western Sichuan Small Tourist Loop
Other Useful Sichuan Travel Articles
Recommended Kangding Tours
Top 3 Kangding tours chosen by most customers to explore Kangding in the best way. Check the detailed itinerary,or tailor your own trip now with us.
7 Days Western Sichuan Small Loop Tour

Chengdu / Dujiangyan / Mount Siguniang / Danba / Tagong / Xinduqiao / Hailuogou / Chengdu
6 Days Western Sichuan Autumn Sightseeing Tour

Chengdu / Wolong / Mount Siguniang / Danba / Tagong / Xinduqiao / Kangding / Chengdu
8 Days Sichuan Spring Tour with Flowers Appreciation

Chengdu / Siguniangshan / Jinchuan / Danba / Tagong / Xinduqiao / Leshan / Chengdu