Visit Jiuzhaigou in Spring & Jiuzhaigou Weather in March, April, May 2023
From March, Jiuzhaigou starts to wake up from the hibernation in winter. It gets warmer but is still a little chilly in somedays especially during night time. In April and May, traveler will enjoy a pleasant weather – warm and less windy. The plants also start to grow from stagnancy. So you have chance to see many colorful wild flowers blooming in the valley and mountains. A good situation is that there are less tourists visiting Jiuzhaigou during spring. So you can get away from crowds, and also enjoy a good discount of hotel and transfer.
Before you start your journey, here we have provided you with some useful information about Jiuzhaigou in spring, such as the weather, scenery, packing suggestions and travel tips to help you better plan a Jiuzhaigou spring tour.
Jiuzhaigou Weather in March, April and May
Generally speaking, Jiuzhaigou in spring is still a little cold, especially in early March. Most days are overcast and cloudy. Though little rain, the melting snow water and humid climate will keep the weather relatively pleasant.
According to the historic weather data in 2019, the average temperature of Jiuzhaigou in March is 4.4 ~ 15.2℃ (39.93 ~ 59.36℉), in April is 10.6 ~ 24.2℃ (51.08 ~ 75.56℉), and in May is 11.9 ~ 21.8℃ (53.42 ~ 71.24℉). The chart below is the specific temperature of Jiuzhaigou from March to May in 2019.
Jiuzhaigou Temperature from March to May, 2019
What to See & Do in Jiuzhaigou in Spring
Apart from the eternal star and water of Jiuzhaigou, flowers in spring have added more colors to this beautiful land. Some people compare Jiuzhaigou in spring to a teenager girl, pure as the water and lively as the flower.
Appreciate the Limpid Water in Jiuzhaigou Haizi
Water is the highlight of Jiuzhaigou. There are more than 100 lakes and waterfalls. The local people of Jiuzhaigou call the lakes there "Haizi". In spring, Haizi is as clear as ever, especially after the washing of winter snow water, the water level of lakes such as Shuzheng Lakes in Shuzheng Valley and Panda Lake in Rize Valley will rise slightly, which makes Haizi look more plump than winter. Here you can see the pure blue and green of amazing Jiuzhaigou water.
Admire the Tender Peach Blossom
People say that peach blooming means the true arrival of spring in Jiuzhaigou. The peach blossom seen all over the mountain sets off the beautiful and charming Jiuzhaigou, and every peach tree is so dazzling with the mountain and water in the background. Those delicate peach flowers extend to the distant snow mountain. The pink flowers, white snow, and floating clouds form an attractive picture together. What a fairyland on earth!
Breathe Fresh Air in the Natural Air Anion Bar
Jiuzhaigou is the heaven of lakes and trees. Unlike other attractions which only feature in lakes or forests, Jiuzhaigou has both. And with a vast area, though its forest coverage rate has reached 80%, people won't feel too overwhelmed by the trees but a perfect balance with the water. In spring, the water and trees in slumber begin to wake up. Everything seems fresh, so does the air. And you can feel that when you step into this natural air anion bar.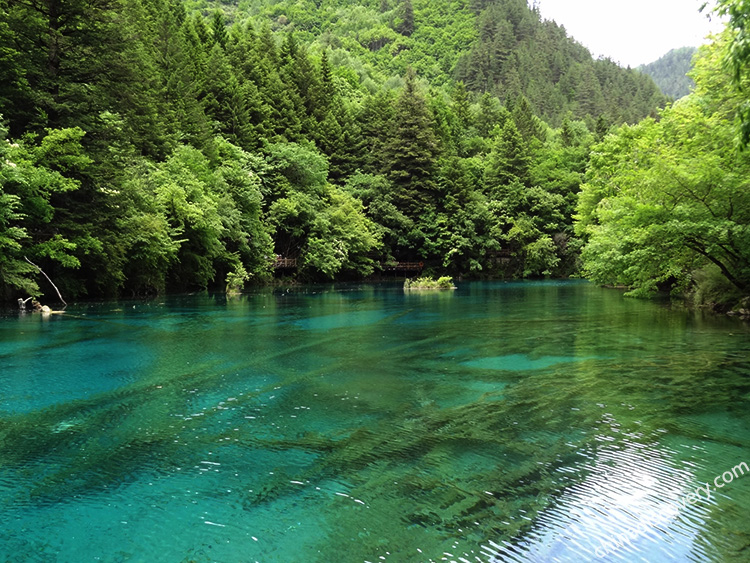 Jiuzhaigou Landscape in Spring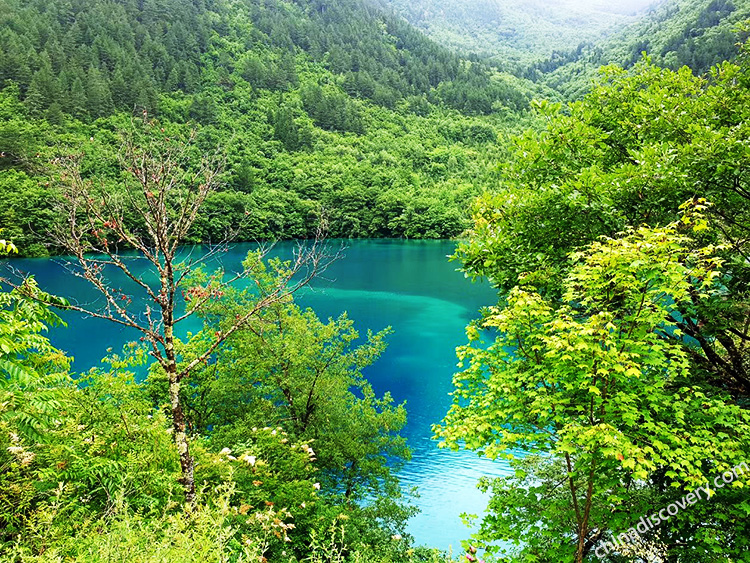 Dense Forest in Jiuzhaigou in May
What to Wear & Pack for a Jiuzhaigou Spring Trip
What to Wear: In March it is recommended to wear sweater and coat to drive away the cold. In April and May, it is OK to wear a blouse with a jacket. Always remember to wear a pair of comfortable shoes, because although tourist car is available, there will still be some walking in this vast scenic area.
What to Pack: Bring a backpack to take some water and snacks with you to refill your energy. Sunglasses and sunhat are not necessary but you can take them just in case, especially in May.
Jiuzhaigou Spring Travel Tips
1.Jiuzhaigou in spring has a sharp difference in temperature. Though it's getting warmer, people may still feel chilly at night or near the waterfall. So please remember to keep yourself warm during travelling.
2.Try to avoid statutory holidays such as Tomb-Sweeping Day (usually a 3-day holiday in early April) and Labor Day holiday in early May.
3. Jiuzhaigou enters peak season in April. The entrance fee will increase from CNY 80 to CNY 169 and tourist bus fare changes from CNY 80 to CNY 90.
How to Plan a Jiuzhaigou Trip
The Y shape Jiuzhaigou consists of three main valleys (Shuzheng Valley, Rize Valley, Zechawa Valley) with a total length of over 50km. You will need at least 1-2 days to explore this beautiful place. Shuzheng Valley is near the entrance, so you can visit there at the beginning or ending of your trip. Pass Shuzheng Valley, you will meet the famous Nuorilang Waterfall, then you can either go to Rize Valley in the northeast or Zechawa Valley in the northwest.
If time permits, after visiting Jiuzhaigou, it is highly recommended to spend some time in the 150km away Huanglong Valley and Mounigou to appreciate the multi-colored terrace ponds and Karst caves.
Recommended Jiuzhaigou Tours:
√ 4 Days Enjoyable Jiuzhaigou Walking Tour | 4 Days Jiuzhaigou In-depth Photography Tour
If you have more days, other cities in Sichuan Province such as Chengdu, Emeishan, Dujiangyan are worth a visit, or you can travel beyond the province to Beijing, Xian, Chongqing...
Recommended Tours Including Jiuzhaigou:
√ 4 Days Classic Jiuzhaigou Tour from Chengdu | 6 Days Jiuzhaigou Fairyland Tour from Xian
If you have more questions about a Jiuzhaigou trip, please feel free to contact us. We are specialized in customized tours according to your interests, budget, traveling time, etc. Just tell us your needs, and we will provided you with a satisfactory tour.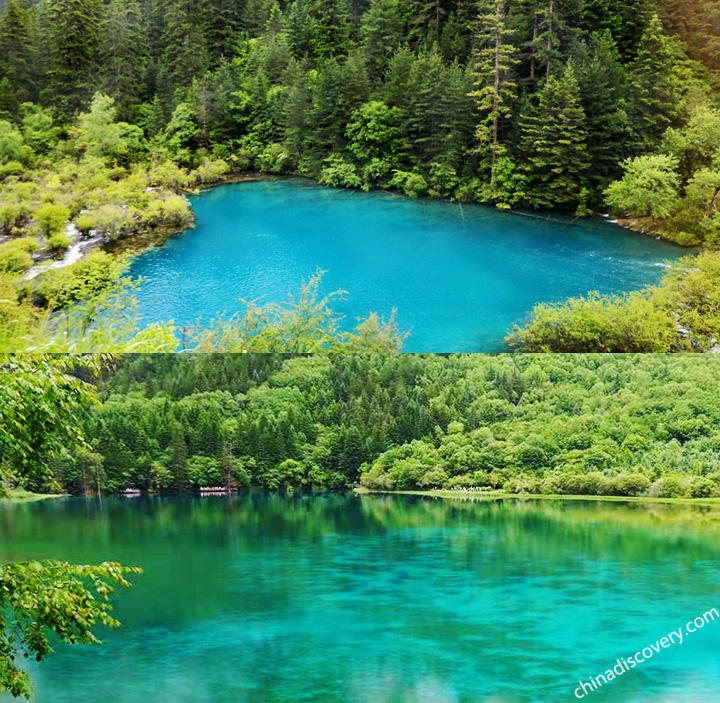 Lakes of Jiuzhaigou in Spring
Our Clients in Jiuzhaigou
Recommended Jiuzhaigou Photo Gallary Shared by Our Customers
Stunning Scenery of Jiuzhaigou

Stunning Scenery of Jiuzhaigou

Stunning Scenery of Jiuzhaigou

Stunning Scenery of Jiuzhaigou

Stunning Scenery of Jiuzhaigou

Stunning Scenery of Jiuzhaigou

Stunning Scenery of Jiuzhaigou

Stunning Scenery of Jiuzhaigou

Stunning Scenery of Jiuzhaigou

Stunning Scenery of Jiuzhaigou
Keep Reading about Jiuzhaigou Tour and Travel Guide
Jiuzhaigou Transportation Guide
Jiuzhaigou Weather Guide
See Other Seasons of Jiuzhaigou
Recommended Tours
Top 3 tours chosen by most customers to explore in the best way. Check the detailed itinerary, or tailor your own trip now with us.
3 Days Classic Jiuzhaigou Tour (Flight Arrival)

Chengdu / Huanglong / Jiuzhaigou
4 Days Jiuzhaigou Huanglong Highlights Tour from Chengdu by Private Car

Chengdu / Huanglong / Jiuzhaigou / Chengdu
4 Days Jiuzhaigou In-depth Tour with Walking Experience (Spending 2 Days in Jiuzhaigou Valley)

Chengdu - Huanglong - Jiuzhaigou
Start planning your tailor-made holiday to China by contacting one of our specialists. Once inquired, you'll get a response within 0.5~23.5 hours.
Customize a Trip
Have a question? Get answers from our travel experts or guests
Your Question:

Your Name:

Your Email: