Brief Introduction
Huanglong National Park, or Huanglong Scenic and Historic Interest Area is located in Songpan County of Aba, Sichuan Province. It is famous for colorful travertine lakes and ponds, sinuous deep mountain valleys, magnificent snow mountains and mysterious peaceful wild forests, which has made the park known as "Wonder on the World" and "Heaven on the Earth". Many influential reputations favored Huanglong National Park, including the World Natural Heritage Site, World Biosphere Reserve, Green Globes 21, etc.
Huanglong National Park consists of Huanglong Valley, Danyu Gorge, Xuebao Peak ang Munigou Valley. But so far, only the Huanglong Valley and Munigou Valley are well-maintained sites, other two are only visited by adventurers.
Huanglong Valley Location & Transportation
1.Where is the Huanglong Valley located
Huanglong Valley is located in northwestern Sichuan Province, by the side of Pingsong Road, Songpan County, Aba Autonomous Region. It is about 370km's driving from Chengdu, 110km from Jiuzhaigou Valley and about 50km from Jiuzhaigou Huanglong Airport.
2.How to transfer to Huanglong National Park
Flight
Travelers can get to Jiuzhai Huanglong Airport by flight from Chengdu, Chongqing. The flight routes from other cities such as Xian, Beijing, Shanghai, Hangzhou, and Mianyang are about to open soon. Chengdu – Jiuzhaigou Huanglong Airport is the busiest line with usually 2 flights each day (more in peak season, less in off season). Chongqing is also a popular gateway hub to Jiuzhaigou with about 2 flights each day. Other cities can't guarantee daily or frequent flights to the airport. The airport is only about 50km to Huanglong Scenic Area. Most tourists will visit both Jiuzhai Valley and Huanglong.
Useful Links: Jiuzhaigou Huanglong Airport | Airport to Huanglong National Park
Driving
The shortest driving route is 370km from Chengdu, via Dujiangyan, Wenchuan, Maoxian, Songopan, to Huanglong. Road is well paved with good traffic condition. Some travelers drive from far northern Lanzhou to Huanglong with the whole distance of 650km.
Bus
Travelers can also take bus from Cha Dianzi Bus Station (茶店子客运站) or Xin Nanmen Bus Station (新南门客运站) to Songpan or ChuanZhusi, then transfer to Huanglong. The bus journey usually takes about 7~8 hours.
Useful Links: Chengdu Jiuzhaigou Tours | How to Plan a Chengdu Jiuzhaigou Tour
Sites to See in Huanglong Valley
Huanglong Valley is a 7.5 kilometers long, 1.5 kilometers wide gentle-slope valley on the Xuebao Peak (Xuebao Snow Mountain). Vast yellow travertine landforms exist in the valley, and look like a yellow dragon. This is how the valley gained the name as Huanglong (Yellow Dragon). The travertine scenery was created by the thousands years of geological evolution, including glacial revolution, terrane movement, chemical reaction, climate changing, etc. It covers a total length of 3.6 kilometers. The best featured landscapes in the valley are travertine banks and waterfalls, colorful ponds, caves, etc.
Welcome Pool (Yingbing Pool) – entering the gate of Huanglong Valley, travelers will be welcomed by an ingenious and clean pool – the Welcome Pool. It is composed of 350 small bonds with different shapes stacking one after one like welcoming the guests. The murmuring streams flows from upper ponds to lower ponds.
Flying Waterfall – walk several minutes from the Welcome Pool, you will get to the Flying Waterfall. Hundreds slices of waterfalls fly out from the forest, and drop down the slope, then form many ladder waterfalls because the slope has tens of layers. In the sunny days, the sunlight shine one the waters, and reflects different colors.
Lianyan Lake – located at altitude of 3,251 meters, this lake covers more than 2,000 square meters, has water as clean as mirror. It is the only lake in Huanglong Valley.
Lotus Waterfall – a 167 meters long waterfall drops on a yellow travertine slope which is shaped like a lotus throne.
Rhododendron Forest – Huanglong Valley has a humid and cool climate which is good for the growing of Rhododendron. So travelers can see vast forests of Rhododendron which usually bloom from March to June. There are many species of Rhododendron in Huanglong Valley.
Jin Sha Pu Di – it is a travertine slope which is more than 1,300 meters long and 40~122 meters wide. According to records, the travertine landform is the largest, longest and most functional and colorful among its kind in the world. Watching from afar, one will find the slope is looking like the squama of the Yellow Dragon.
Bonsai Pool – located at 3,320 meters above sea level, the Bonsai Pool consists of 330 colorful small ponds, and covers more than 20,000 square meters. The ponds is formed by the rhizomes of trees, and connect with each other. Different colors of travertine in the bottom of the ponds create a beautiful natural wonder. The pool, together with the trees, flowers, rhizomes, forms a natural Chinese bonsai.
Zhengyan Pool – the pool is the second largest group of colorful ponds in Huanglong Valley, right after the Five-color Pool. It has 658 small ponds, covering more than 20,000 square meters. Zhengyan Pool is famous for its hundreds unique and beautiful shapes of ponds which reflect different color under sun light.
Rhododendron Pool – this pool is composed of more than 400 ponds. The best highlight here is the vast beautiful rhododendron surrounding the pool. The different colors of rhododendron's flower or leaves reflect in the water, and create mottled scenery.
Huanglong Middle Temple – this temple was originally built in Ming Dynasty. It is a temple of Bon. There is no ponds here, but you can enjoy great scenery of wild forest here. There used to be a large complex of buildings, but so far, only an Avalokitesvara Hall sits here.
Huanglong Back Temple – this temple has a history of more than 600 years. It is a Taoist temple. The Five-color Pool is situating at the back of the temple. This temple is a great background when travelers take the full views of the pools.
Five-color Pool – located at the altitude of 3,576 meters, the pool is the highest group of outdoor colorful travertine ponds, also the largest-scale in the world. It has 693 small ponds, covers more than 21,000 square meters. The ponds here are well-arranged, very similar to the Yuanyuan Rice Terrace in Yunnan. Looked from afar, the ponds are like many jade slices.
★ Recommended Jiuzhaigou Huanglong Tours
>>3 Days Classic Jiuzhaigou Tour by Flight
Huanglong Valley Tourist Map
Flying Waterfall
Jin Sha Pu Di
Five-color Pool in Summer
Five-color Pool in Autumn
Visiting Route - Walking or Cableway
Since the attractions of Huanglong Valley are located in a valley, so travelers only need follow the well paved walking path in the valley to explore the attractions one after another. The entrance gate is situated at the foot of the valley.
Walking or Cableway?
Walking is the only way in the valley. No vehicle is available. So far, the most popular visiting route is taking the cable way to the upper location of the Huanglong Valley. After visiting the most top attractions – the Huanglong Temple and Five-color Pool, then walk down the valley, and visit the attractions one by one, until get to the foot of the valley. You can also walk the valley to the top, then take the cableway down the valley. Walking whole journey is not recommended because it costs much energy, and doesn't have to repeat the walking path again.
Useful Links: Jiuzhaigou to Huanglong | Huanglong Valley Map
Nearby Attractions
Jiuzhaigou Valley
Generally, Huanglong is not as famous as Jiuzhaigou. Travelers usually spend one or two days in Jiuzhaigou, and explore Huanglong Valley in a half day. The most popular way is firstly tour the Huanglong Valley, then transfer to visit Jiuzhaigou. Because Huanglong is relatively near the Jiuzhaigou Huanglong Airport, also close to Chuan Zhusi and Songpan Old City where travelers usually accommodate.
Munigou Valley
Munigou Valley is located 30 kilometers west of Songpan County, 60km from Jiuzhaigou Huanglong Airport. It is affiliate scenic area of Huanglong National Park. It has five features – waterfall, sea of flowers, lake, hot spring and stalactites.
It has two major attractions – Zhaga Waterfall and Erdao Lake. Zhaga Waterfall, 104 meters in width, 40 meters in height, is the highest travertine waterfall in the world. The water rush out from a lake, and drops on a layer-shape bed, passes three stages, fall off rapidly and splash back. The soaring sound of the waterfall can be heard from miles away. On the upper and lower locations of Zhaga Waterfall, there are dozens of small waterfalls with different shape and size. Erdao Lake region has 26 small attractions of forests, lakes, flowers, hot springs, stalactites, karst caves. Step along the path in the forests, you will find hundred lakes scattering around, and deep caves are hidden in the deep forests.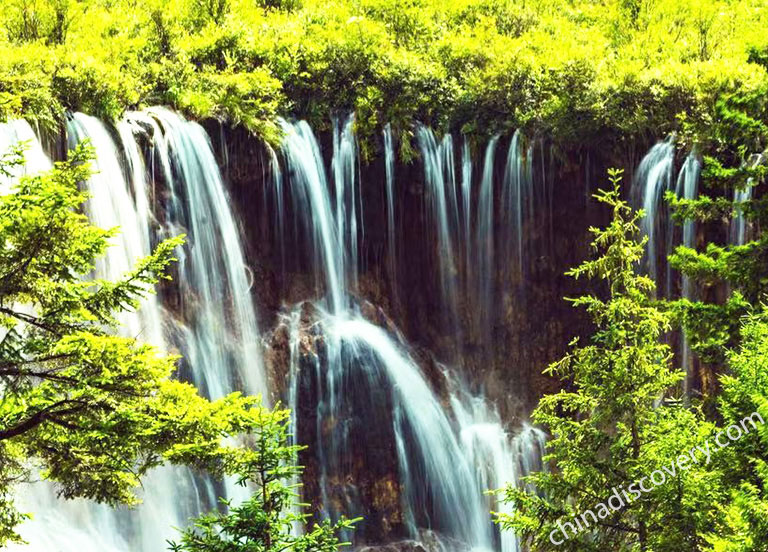 Nuorilang Waterfall in Jiuzhaigou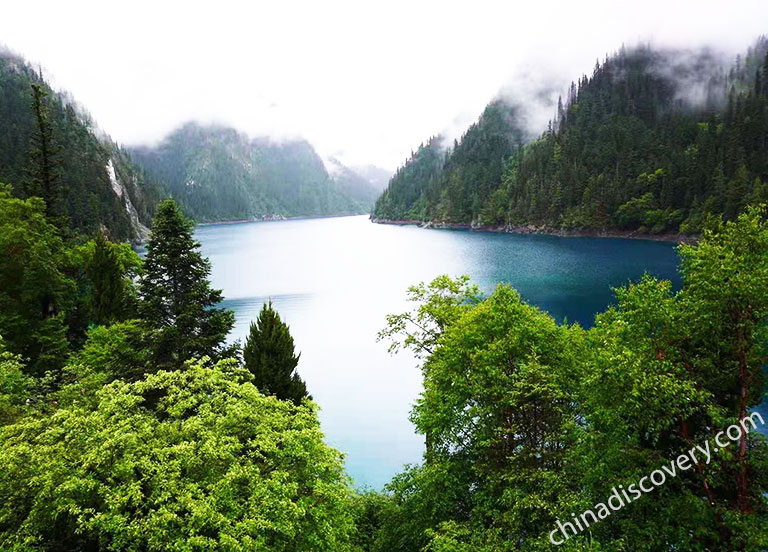 Long Lake in Jiuzhaigou
Important Tips
1.Best Time to Visit - Seasonal Advice
Huanglong National Park belongs to a high plateau template and subfrigid monsoon climate. Summer and Autumn are best season to visit Huanglong when the weather is cool and sunny. Because the ponds have not much water in the spring, and it usually snow in the winter. The cableway in Huanglong Vallley will be closed in winter for maintenance.
2.High Altitude
Since the attractions of Huanglong Naitonal Park are located more than 3,000 meters above the sea level, travelers should prepare well for the high altitude sickness. Keep a good healthy condition before your tour and rest well especially the first night of arrival. When walking in the valley, don't go too rush. If you feel hard to breathe, you can stop in the tourist service center to rest and get oxygen supply.
3.Ticket & Fee
Huanglong Valley
Entrance Ticket - Peak Season (6.1-12.15) : ¥170 / Off Season (12.16-5.31) : ¥60
Cableway – Upgoing: 80 / Down: 40
Munigou Valley
Entrance Ticket - Peak Season (6.1-12.15) : ¥100 / Off Season (12.16-5.31) : ¥60
How to Plan Your Jiuzhaigou Huanglong Tour
Travelers usually spend one or two days in Jiuzhaigou Valley, and explore Huanglong Valley in a half day, excluding the arrival and departure days. Most travelers transfer to Jiuzhaigou from Chengdu by flight or driving. Some other cities also have flights to Jiuzhaigou, such as Beijing, Chongqing, etc. After arrival, spend a half day to tour the Huanglong Valley, and another full day to visit Jiuzhaigou. If you want to take a walking or photography tour, we recommend spend one more day.
Besides Jiuzhaigou and some other attractions around it such as Huanglong, Songpan, Mounigou, and Ruoergai, you can also travel Jiuzhaigou with other hot destinations in Sichuan, such as Chengdu, Mount Emei, Leshan Giant Buddha, etc.
★ Recommended Jiuzhaigou Tours
>>3 Days Classic Jiuzhaigou Tour by Flight
>>4 Days Classic Jiuzhaigou Tour from Chengdu
Our Clients in Jiuzhaigou
Keep Reading about Jiuzhaigou Tour and Travel Guide
Jiuzhaigou Transportation Guide
Jiuzhaigou Weather Guide
Recommended Jiuzhaigou Tours
Top 3 Jiuzhaigou tours chosen by most customers to explore Jiuzhaigou in the best way. Check the detailed itinerary, or tailor your own trip now with us.
3 Days Classic Jiuzhaigou Tour (Flight Arrival)

Chengdu / Huanglong / Jiuzhaigou
4 Days Jiuzhaigou Huanglong Highlights Tour from Chengdu by Private Car

Chengdu / Huanglong / Jiuzhaigou / Chengdu
4 Days Jiuzhaigou In-depth Tour with Walking Experience (Spending 2 Days in Jiuzhaigou Valley)

Chengdu - Huanglong - Jiuzhaigou
Start planning your tailor-made holiday to China by contacting one of our specialists. Once inquired, you'll get a response within 0.5~23.5 hours.
Customize a Trip
Questions & Discussions
Following are latest questions and answers from our webusers and customers. You can learn many useful information from the discussion and cases. You can also join in the discussions or ask your own question. Our experts will help you ASAP.
economic impact of Huanglong
How many people visit Huanglong in a year?
Hi Sagan,

Thanks for your question. In 2019, there were about 620,000 tourists visited Huanglong National Park.
huanglong\'re close in late november??
I've plan to go to huanglong in 21-24 november,is it possible to go to the park or it will be close??? Thank you.
Hi Woraphith,

Thanks for your message. Huanglong National Park will be closed for maintenance from 16th November, 2017 to 1st Apirl, 2018.
Bus routes Chengdu-Jiuzhaigou-Huanglong-Changdu
Hi,
Is it possible to leave Chengdu day 1 for Jiuzhaigou, stay one night in Jiuzhaigou and explore the park during day 2. Day 3 we want to go to Huanglong National Park and take the cable car up, walk down, as far as I know that would take about five-six hours? Back to Chengdu, are there any night buses? So that we could be back in Chengdu in the morning day 4?
Thank you in advance!
Dear Sofia,

Thanks for your question. You can leave Chengdu day 1 for Jiuzhaigou, stay one night in Jiuzhaigou and explore the park during day 2, then go to visit Huanglong on the day 3. But currently there is no night bus from Huanglong or Jiuzhaigou back to Chengdu. The buses normally leave in the morning and get to Chengdu in the afternoon. After visiting Huanglong, you can transfer to Chuanzhusi or Songpan for accommodation, then get back to Chengdu from these two towns.
Have a question? Get answers from our travel experts or guests
Your Question:

Your Name:

Your Email: