Dujiangyan Panda Valley Brief Introduction
The abundant Sichuan is the hometown of giant pandas that travelers can see giant pandas in panda bases in Chengdu, Dujiangyan, Ya'an and Wolong. In fact, there are two places to see giant pandas in Dujiangyan City. One is called Dujiangyan Panda Base where travelers can see more than 30 giant pandas, do panda volunteer work; and the other one is called Dujiangyan Panda Valley, the Chengdu Research Base of Giant Panda Breeding Dujiangyan Field Research Center for Giant Pandas.
The Dujiangyan Panda Valley was built in 2010 with an area of 140 hectares. The valley is a narrow strip with streams flowing through and edible bamboo for giant pandas. The Dujiangyan Panda Valley is divided into three parts: the experimental area, semi-wild reintroduction area and reintroduction area. After all the constructions, it will be home to 30 to 40 giant pandas, 50 to 100 red pandas and other wild animals.
Giant Pandas in Dujiangyan Panda Valley
On Jan. 10, 2012, there were six wild trained giant pandas first sent to the Dujiangyan Panda Valley and set up home here. The six giant pandas are called Xingrong (female), Xingya (female), Gongzai (male), Yingying (male), Zhizhi (female), Qiqi (female). The release of giant pandas is the beginning of taking giant pandas to real natural environment.
Now, travelers can visit about 10 pandas in this wild and peaceful environment and see the cuddly creatures playing, crawling, rolling, climbing trees, eating bamboos, sleeping, etc.
Recommended Dujiangyan Giant Panda Volunteer Tour:
Panda in Dujiangyan Panda Valley
Nearby Attractions
Dujiangyan Irrigation System
With a history of more than two thousand years, Dujiangyan Irrigation System is the only reserved no control irrigation system which is still in use. This marvelous irrigation system is the only reason why Chengdu is called the "Land of Abundance". The irrigation system was listed as World Heritage Site by UNESCO in 2000, and it's the oldest existing large-scale water project in the world.
Dujiangyan Confucius Temple
First built in the Five Dynasties (907-960), Dujiangyan Confucius Temple is the ONLY living Confucius Temple with a combination of temple and academy where travelers can experience traditional Six Arts - "Rites", "Music", "Archery", "Charioteering", "Calligraphy" and "Mathematics", taking you feel, touch and experience Confucius' life 2500 years ago.
Mount Qingcheng
Mount Qingcheng is 16km from Dujiangyan City center and it's one of the cradles of Taoism in China. Mount Qingcheng is divided into two parts – The Front Mountain is dense with Taoism temples, while the Rear Mountain is tranquil and serene, reserving its original scenery. If you are fancy with the Taoism culture, then Front Mountain is the best choice, while for those who are in love with mountain hiking, Rear Mountain is better. Front Mountain is smaller and half day will be enough, while Rear Mountain will need at least one day to tour. Most travelers will choose to connect Dujiangyan Irrigation System tour with Mount Qingcheng Tour.
Dujiangyan Panda Base
Dujiangyan Panda Base is located in Qingchengshan Town of Dujiang City and is 18 km from the downtown. Covering an area of 50 hectares, Dujiangyan Panda Base has the right climate and nature environment for the giant panda. At present, there are more than 40 giant pandas and 5 red pandas living here. The Dujiangyan Panda Base is also the closest panda base, providing Panda Volunteer Program to the public at present in China. The one-day volunteer program will allow travelers to experience how to rescue, research and take care of giant panda.
Dujiangyan Irrigation System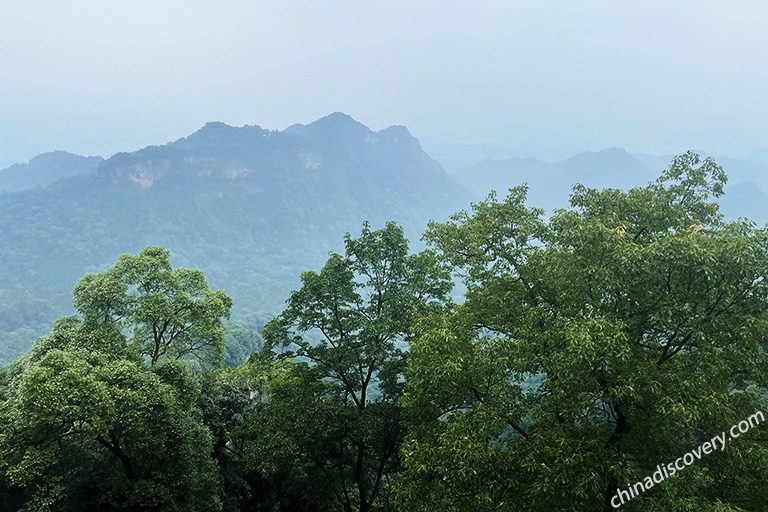 Mount Qingcheng
Dujiangyan Panda Base
Location & Transportation
Dujiangyan Panda Valley is located in Baima Village, Yutang Town of Dujiangyan City, about 50 kilometers from Chengdu.
Distance to Other Attractions in Dujiangyan
About 6.4 kilometers to Dujiangyan Irrigation System
About 7.4 kilometers to Dujiangyan Confucius Temple
About 11 kilometers to Mount Qingcheng
About 13 kilometers to Dujiangyan Panda Base
Transfer to Dujiangyan Panda Valley
Travelers can take high speed train - C train from Chengdu to Dujiangyan City which takes about 20~40 minutes. After getting off Dujiangyan high speed train station or Lidui Park Station, it takes 20 minutes to the Dujiangyan Panda Valley by taxi. China Discovery suggests you use our private service which we can cover private car transfer, local tour guide, panda and other Dujiangyan attractions visiting, etc.
Click to Enlarge Dujiangyan Panda Valley Map
Travel Tips
1. Best Time to Visit Panda
The best time in a day to see the giant panda is in the morning, and it's suggested to get to the Panda Base before 09:00 am for the pandas will be fed during 09:00 ~ 11:00. At this time, you will see the active giant pandas.
2. Important Notice
Do not shout in the panda valley, in case you will disturb the giant panda; when you take photo of the giant panda, do not use the flash light; do not feed the giant panda with your own food for your food may not be suitable.
Keep Reading on Dujiangyan
Other Useful Chengdu Travel Articles
Read More about Western Sichuan Small Tourist Loop
Recommended Dujiangyan Tours
Top 3 Dujiangyan tours chosen by most customers to explore Dujiangyan in the best way. Check the detailed itinerary, or tailor your own trip now with us.
1 Day Dujiangyan Panda Volunteer Tour

Dujiangyan
2 Days Panda Volunteer Tour with Dujiangyan Highlights

Dujiangyang Panda Base, Mount Qingcheng, Dujiangyan Irrigation System
4 Days Chengdu & Dujiangyan All Bests with Panda Volunteer Tour

Chengdu / Dujiangyan / Chengdu
Start planning your tailor-made holiday to China by contacting one of our specialists. Once inquired, you'll get a response within 0.5~23.5 hours.
Customize a Trip
Have a question? Get answers from our travel experts or guests
Your Question:

Your Name:

Your Email: