Yading Map, Daocheng Map, Daocheng Yading Map
On the west side of China's Sichuan Province, there are rich and unbeatable natural plateau gifts from the earth, which have attracted numerous travelers from home and abroad to explore. And Daocheng Yading Nature Reserve is one of the most standout natural masterpieces. This "hidden gem" is seldom known by the world, neither domestic nor aboard, until the famous Dr. Joseph Rock stumbled upon this land on his exploration journey of the southeast Tibetan Plateau in 1928. And now, an increasing number of tourists are planning their up-close visit to this fairyland.
To help you have a better plan to travel Daocheng Yading, here we offer some useful English maps for you, such as Yading Nature Reserve Map, Daocheng Yading China Map, Daocheng Yading Sichuan Map, Daocheng Yading Western Sichuan Map, Daocheng Yading Airport to Yading Nature Reserve Map, etc. The detailed information on the maps like altitude, attractions, hiking route and hours can help you go traveling in & around Daocheng Yading smoothly!
Daocheng Yading Location Maps - Where is Daocheng Yading?
Daocheng Yading is arched on the southwestern edge of Sichuan, bordering Yunnan in its south. Most tourists dreaming to this land are mainly for its beautiful Yading Nature Reserve, which is also known as Daocheng Yading Nature Reserve because it is located in Yading Village, Shangri-La Town, Daocheng County, Garze Tibetan Autonomous Prefecture, Sichuan. The following maps show you where Daocheng Yading is on the China Map, Sichuan Map and also Western Sichuan Map.
Daocheng Yading Tourist Maps - Attractions in & around Daocheng
The most popular and famous attraction in Daocheng must be its Yading Nature Reserve (稻城亚丁风景区). However, on the way driving close to the Yading Nature Reserve, there are also many other amazing attractions in Daocheng are waiting for you explore, such as Benbo Temple (奔波寺/蚌普寺), Sangdui Red Grass (桑堆红草地), Daocheng White Tower (尊胜白塔), and Bang River and Sela Scenic Resort (傍河和色拉). All those highlights are settled on the roadside and can be easily reached. You can make stops and take some short tours when going to visit the Yading Nature Reserve. Check the Yading Nature Reserve Map and Daocheng Attractions Map below to know more details.
Besides the attractions in Daocheng, the nearby areas in Western Sichuan offer many other hot tourist destinations, which are only several hours away from Daocheng, such as Xingduqiao, Litang, Tagong, Danba, Kanding... And since Daocheng is located on the edge of Sichuan Province and neighbors Shangri-La in Yunnan, you can easily travel from Daocheng to the attractions in Shangri-La too, such as the most notable Garden Sumtsaling Monastery, Pudacuo National Park, etc. If you want to travel Daocheng and Shangri-La in one trip, you can get inspired from the Daocheng Yading & Shangri-La Tourist Map below.
Daocheng Yading Transportation Maps - How to Get to/around Daocheng & Yading
How to get to Daocheng County and Daocheng Yading Nature Reserve? At present, tourists can go to Daocheng by flight or private car. The Daocheng Yading Airport is about 128km from Yading Nature Reserve, which needs about 2.5 hours by car. And inside Yading Nature Reserve, there are tourist sightseeing buses arranged.
Get detailed transportation info from the following maps or Check How to Get to Daocheng Yading and Chengdu to Daocheng Yading to know more.
How to Plan Your Daocheng Yading Tour?
Usually, tourists spend about 2~3 days in Daocheng.
The first day and night in Daocheng is for your good rest to adapt the pressure of high altitude and have a better plan for the coming high altitude hiking tours there. Therefore, you are suggested to have leisure visits to Benbo Temple (奔波寺/蚌普寺), Sangdui Red Grass (桑堆红草地), Daocheng White Tower (尊胜白塔), and Bang River and Sela Scenic Resort (傍河和色拉) on the first day.
And after a good sleep, you can spend 1~2 days more to enjoy hiking and more nature exploring inside the Yading Nature Reserve. Seldom tourist chooses Daocheng as their first stop of their China tour. Normally, tourists prefer visiting Daocheng from Chengdu or Shangri-La. Both Chengdu and Shangri-La are fantastic choices, selecting your way according to your tour plan and interest. If you prefer flights than driving, and then Chengdu is your best choice, because Shangri-La has no flight to Daocheng now.
>> 4 Days Daocheng Yading Classic Hiking Tour from Chengdu (by Flight)
>> 4 Days Daocheng Yading In-depth Photography Tour
For travelers who can bear long journey, see and explore along the way, it would be a nice idea to travel from Chengdu via Ya'an, Luding, Kangding, Xinduqiao, Litang to Daocheng Yading. For more ideas, you can contact us or go to select from all of our Daocheng Yading tours.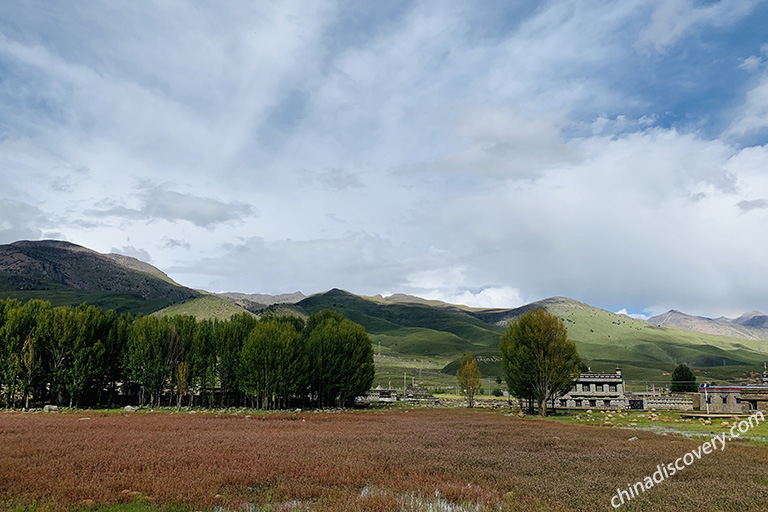 Pearl Lake of Yading Nature Reserve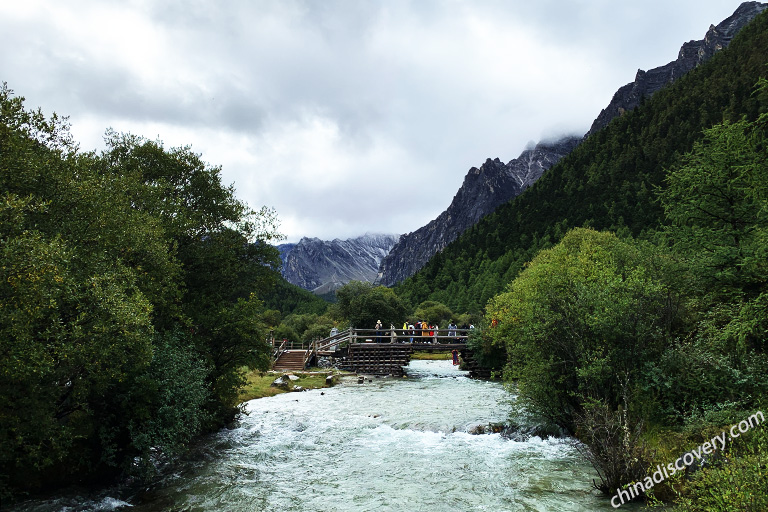 Yading Nature Reserve Trekking
Travel Daocheng Yading with China Discovery
Since the transportation network of Daocheng Yading is not well developed at present and it is also not a wise choice to travel alone in a high altitude area, you are highly suggested to travel Daocheng Yading with professional travel guide and driver, who can help you travel safely and conveniently! We China Discovery also offer such services for Daocheng tourists. If you are interested, please feel free to contact us for help! During the whole journey, your tour guide will accompany all the way, showing you the best hiking route, tips and best photography sites according to your interest and physical condition.
The tour can be tailor-made according to your group size, time, plan, budget and every special need. Please feel free to contact us if you need any help!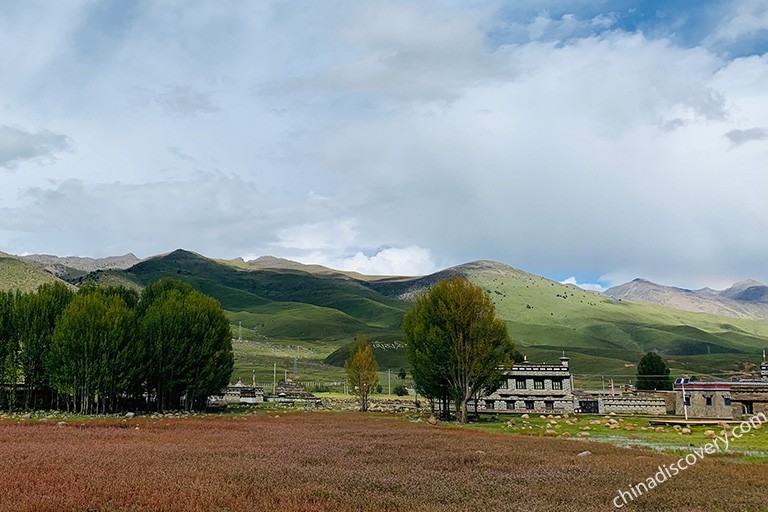 Sangdui Red Grass
Keep Reading on Daocheng Yading
Read More about Western Sichuan Small Tourist Loop
Other Useful Sichuan Travel Articles
Recommended Daocheng Yading Tours
Top 3 Daocheng Yading tours chosen by most customers to explore Daocheng Yading in the best way. Check the detailed itinerary,or tailor your own trip now with us.
4 Days Daocheng Yading Classic Hiking Tour from Chengdu (by Flight)

Chengdu / Daocheng / Yading
4 Days Daocheng Yading In-depth Hiking Tour

Chengdu / Daocheng / Yading
4 Days Daocheng Yading Photography Tour

Chengdu / Daocheng