Daocheng Yading is located in southwestern part of Sichuan Province and about 860km away from Chengdu, the provincial capital. It is praised above the moon as "the Last Pure Land on Our Blue Planet" with its superb landscape kingdom decorated by pure white holy snow mountains, ice glaciers, dense forests, vast grasslands, challenging valleys, glittering lakes, grazing cattle, etc. Daocheng Yading has boomed its popularity first after Joseph Rock found this pure fairyland in 1928 and published its photo on National Geography. Later, it gained its global fame contributed by James Hilton's inspiring description in his Lost Horizon, and is highly regarded by lots of international visitors as the "Soul of Shangri-La" and also the "Last Shangri-La" for its mysterious charm and amazingly pastoral happiness. Hence, Daocheng Yading attracts more tourists and photographers to unveil its praisable inborn beauty every year. And in 2003, it was listed as a UNESCO MAB (Man and the Biosphere Programme) Reserve to protect its valuable and rare treasures of nature and sceneries!
(Please note: Administratively, Daocheng is a county in Garze Tibetan Autonomous Prefecture in Sichuan Province, and Yading is nature reserve area in Daocheng County. Daocheng Yading usually refers to Yading Nature Reserve specifically in a narrow sense mostly or Daocheng County in a board sense.)
Why Visit Daocheng Yading:
Yading Nature Reserve: Explore the best essence of Daocheng Yading and the paradise for photographers to witness closely its three holy snow mountains, transparent holy lakes, and more in the finest Garden of Eden far away from tumult for the utmost visual feast of undisturbed pure landscape.
Splendid Varicolored Autumn: Daocheng is dressed by Autumn into fascinating red, orange, golden and yellow hues to treat every visitor to the best, especially the Sangdui red grassland and hundred-mile poplar forest contrasting under the azure sky every year.
Sacred Buddhist Monasteries & Belief: Visit some of the multiple historical monasteries with several hundred years to admire the distinct beautiful temple clusters and Buddhist statues and know more about the different Buddhist sects including Ning-ma, Kagyu, etc. pursued by local devout believers old and young.
Scenic Hiking Experience: Wild trekking chances above 4,000 meters among the surrounding snow mountains with eye-pleasant sightseeing of lakes, waterfalls, blooms, cattle, etc. along your way up.
Top Attractions in Yading
Most people visit Daocheng actually for the not-missing Yading Nature Reserve where to admire its three sacred snow mountains, shimmering changing lakes, idyllic pasture, and more fabulous highlights within this unbelievable resort. Let's have a brief look at the top attractions in Daocheng Yading Nature Reserve at below! You can also check Yading Nature Reserve to see all things to see and do!
Xiannairi
Mount Chianrezig (6,032m), the north peak representing Bodhisattva of Mercy is one of the most beautiful mountains in China. With never melting snow on its cirque shape, Xiannairi seems a kind giant Buddha sitting in the sublime lotus throne facing visitors all the time.
Yangmaiyong
Mount Jambeyang (5,958m) is the south peak symbolizing Manjusri Bodhisattva and looks particularly like a demure and pure maiden. This hidden site with surrounding wide valleys, lefty forests, nutritious grass and singing streams is the hard-to-see but dreaming "Shangri-La" for anyone.
Xianuoduoji
Mount Chanadorje, the east peak rising up to 5,958m, is the embodiment of Vajrapani Bodhisattva. Having the typical pyramid shape with clear line seeming to be tailored by human with a giant scissor, this holy mountain is more like a powerful and brave young man standing between heaven and earth to protect its people.
Luorong Pasture
Luorong Pasture (4,150m) is an alpine pasture surrounded by three sacred snow mountains. Gongga River flows through the pasture, leaving a charming harmonious picture of moving tickled streams combined with wooden house, blue sky and green grassland, and also grows the idyllic wonderland for carefree grazing cattle.
Milk Lake
Also called Luorongcuo Lake, Milk Lake (4,500m) is in the col at the foot of Yangmaiyong. This lake from ancient ice glacier surrounded by snow mountains and belted in milk white is naturally made like a drop of tear and appears like a pure blue turquoise from above. This stunning lake is also the No.1 holy lake among local people.
Five-color Lake
Five-color Lake (4,600m) is located in the upward side of Milk Lake and resembles a circle with five colors when the sun shines down so it gets the name. Visitors often feel confused if it is a dream with its amazing waterscape like a painting in various blue. To be highly regarded by believers, it enjoys an equal popularity with Yamdrok Lake in Buddhist classics.
Pearl Lake
No one can imagine the beauty of Pearl Lake (4,100m) until the first sight of this dazzling emerald under the snow-capped mountains formed by the melting snow. Viewing a wonderful reflection of clear boundless sky, silent forests, snow peaks, spring flowers and rich autumn colors, you may wonder whether you enter into a fairyland.
Chonggu Monaster
Chonggu Monastery (3,880m) stands at the foot of Mount Xiannairi and enjoys the great position to glut your eyes on the three sacred mountains, meadows full of wild flowers, precipitous Yading Valley, etc. This ancient Buddhist temple is the start for local's Kora pursuit and also seems a guardian to safeguard the heaven of Shambhala.
Yading Village
Yading Village of 4,060 meters high means "place facing the sun" in Tibetan for its abundant sunshine. 30 kilometers away from the ticket center, this village with around 30 households makes the holy fairyland no more a legend out of reach but a real place existing on earth.
Top Attractions in Daocheng
Apart from Yading Nature Reserve, Daocheng County offers many other highlights of mountains, lakes, rivers, forests, temples, pagodas, and more to enrich your understanding of this holy and enchanting hidden place in Sichuan. Please check Daocheng top attractions at below!
Haizi Mountain
With an area of 3,287 square meters and an average altitude of 4,500 meters, Haizi Mountain is the largest ancient glacial vestiges. There are 1145 lakes scattered in Haizi Mountain which look like blinking stars. Haizi Mountain is also a natural stone sculpture park and jagged rocks of grotesque shapes can be seen everywhere.
Red Grassland
Red Grassland in Sangdui Town, 28km away from Daocheng County, is the warmest autumn gift from god. In early October, this Tibetan rural village changes into a glowing world by painters with full intoxicating and flamboyant red grass against the yellow poplar and clear blue sky. It also offers a pleasant walk along the lake after your photo time
Golden Poplar Forest
The wide poplar forest on the benchland around Daocheng is one of the most favorite kids of Autumn. In October, it feasts your eyes with the glorious golden straight poplar forest along the clear river and fertile fields under the cerulean backdrop to make you love the way to Shangri-La Town. Bang River and Sela is the best shooting location.
Benpo Monastery
Benpo Monastery (3,940m) of 900 years is the oldest temple in Daocheng. Being the typical Tibetan Kagyu Buddhist sect monastery, this temple cluster built leaning the mountain still keeps its strong red colored religious architecture and preserves many precious old cliff paintings and caves for padipata for your cultural exploration.
Featured Activities in Daocheng
Daocheng being the "Last Shangri-La" is the paradise of nature and culture, with the authentic nature close trekking, outstanding photographing of different themes, nice admiration of various azalea, spiritual visits to old temple sites, etc. Please check featured activities in Daocheng at below!
Daocheng Yading is no exception your ideal site to enjoy trekking for a physical challenge above 4,000 meters and moreover to have an enjoyable sightseeing discovery of the off-the-beaten-track splendors of the snow mountains, lovely lakes, luxuriant meadows, village houses surrounded by all way up for a lifetime valuable experience!
With its spectacular and breathtaking landscape, Daocheng Yading is reputed as the "paradise for photographers" and becomes a favorite of many artists and shutterbugs. Why not take your camera to record all the breathtaking sceneries during your unforgettable trip in the best way since you will soon start to miss this place as you just leave!
Temple Visiting
Daocheng preserves rich sacred hundreds-of-year old temples on its charming nature. Paying some visits to those old cultural old sites to appreciate the story-telling Buddhist constructions, exquisite Buddha statues, Buddhist paintings, etc., find out why local people stick to their holy belief and also relieve your mind away from the bustling urban life.
Azalea Paradise Admiration
Influenced by the geography and climate, Daocheng Yading is the paradise for Azalea flowers and also is liked by abundant types of Azaleas in various colors and shapes. During April to July, Daocheng Yading is finely covered by Azalea in white, pink, rose and purple to be a pretty girl for your satisfying admiration and relaxation!
Weather & Best Time to Visit
Daocheng Yading bears an Alpine Climate of monsoon types with a longer winter, shorter summer and great day-night temperature difference. July is usually the warmest month with an average tempreture around 12.3°C, while January is usually the coldest one with the lowest temperature around -4.7°C. Apart from June to September, there are not many rain days around year round in Daocheng.
The best time to visit Daocheng Yading is from middle of September to middle of November, when you can appreciated the splendid autumn sceneries of Yading Nature Reserve in dazzling colors of red, orange, yellow and golden against the white snow mountains and blue sky. Also, during October, it is best to enjoy Sangdui Red Grass and the golden poplar forest during your Daocheng trip! Besides, from late March to June, you are also recommended to visit Daocheng to appreciate the sorts of flowers in full bloom to dress the sacred mountains more splendid and bright. From July to early September, the temperature makes Yading a nice summer resort, however, there are more rains. While from late November to early March, Daocheng Yading is covered to be more pure and mysterious by snow, but the road is usually closed for heavy snow during January and February.
Know more about Daocheng Yading Weather & Best Time to Visit >>
Transportation & How to Get There
Daocheng Yading is located in the southwest of Sichuan Province and about 683 kilometers from Chengdu, the provincial capital city. At present, visitors can get to Daocheng Yading by flights, distance coaches, and car.
Fight to Daocheng Yading
Daocheng Yading Airport is the only airport in Daocheng and offers direct flights with Chengdu (1 hour), Chongqing (1.5 hour) and Xian (2 hours), and some connecting flights with Guangzhou, Hangzhou, Kunming, etc. Since there are usually 1-2 daily flights between Chengdu and Daocheng, Chengdu is the top 1 choice for most visitors fly to Daocheng. Yading Airport is about 50 km from Daocheng Yading and usually needs about 1 hour to get to the county, or about 2.5 hours to Yading Nature Reserve by car.
Know more about Daocheng Yading Airport >>
Long-distance Bus to Daocheng Yading
There is about 1 coach from Chengdu Xinnanmen Bus Station to Daocheng County, which takes usually 25 hours with a stop in Kangding. Besides, there is 1 coach from Shangri-La Bus Station in Shangri-La City (Yunnan) to Daocheng every day, which needs about 10 hours. The distance bus is a cost efficient way but due to the too long time and not very comfortable bus, international visitors are not recommended to get to Daocheng by coach.
Transfer within Daocheng Yading
Airport shuttle buses are under operation according to the landing time of flights to transfer people between airport and Daocheng County (1 hour), and between Daocheng County and Shangri-La Town (2 hours). There are a lot of buses available between Shangri-La Town and Yading Nature Reserve. Furthermore, for your visiting within Yading Nature Reserve, there are some sightseeing buses, battery cars, and horse riding services available at some areas to save your energy!
Travel Daocheng Yading with China Discovery
For visitors want to save energy and efforts on planning the not so convenient transfer between Daocheng and other popular destinations and transfer to Yading, you are highly recommended to travel with us China Discovery. We China Discovery based in Chengdu, Sichuan have many professional expert with rich knowledge of whole Sichuan and will help you plan and arrange the most comfortable and convenient way to get to Daocheng and the core Yading Nature Reserve. Besides, our local English guide will introduce all highlights of Daocheng Yading for your memorable experience and our local driver will escort you from the airport to your accommodation and attractions with our comfortable licensed private vehicle! Please feel free to contact us if you need any help!
Know more about: How to get to Daocheng Yading | From Chengdu to Daocheng | Daocheng Yading Airport
Accommodation & Recommended Hotels
Daocheng Yading provides many hotels from comfortable to budget, also incuding some youth hostels and Tibetan folk houses. However, the facilities and services may not level to those in large cities like Beijing, Shanghai, Chengdu, etc. But most accommodations meet your basic needs of hot water, air conditioner, breakfast, wi-fi. For visitors' discovery of Yading Nature Reserve, Shangri-La Town is the best place to stay with the closer distance of several kilometers to the entrance and an altitude lower than 3,000m. Holyland Hotel (5 Star) is the best luxury hotel with great equipment and services. Besides, Daocheng Yading Yunmo Art Hotel (4 star) is also a good choice there. Yading Village within the Yading scenic area is good for a following hiking day and the altitude above 4,000 is not recommended for the first night in Daocheng plus the facilities and provide of water and electricity is not very good. Yading Zhaxi Kongshu Tibetan Culture Theme Hotel there is a 3 star hotel recommended by visitors. If you arrive in Daocheng very late or want to discover more highlights in this county, you can also choose to stay in Daocheng County that is 3700m high and offers more than 10 choices of 2-4 stars. Snow Area Hot Spring Garden Hotel, Dear Zhaizhai Hot Spring Hostel and Jinzhu Hotel are all recommended 4-star accommodations.
Know more about Where to Stay in Daocheng Yading >>
Useful Travel Tips
Tickets: 150RMB/person for admission and 120RMB/person for sightseeing vehicle are needed. Battery car between Chonggu Pasture and Luorong Pasture needs 80RMB/person for a round trip. Horse riding usually charges 500RMB/person for a round trip between Luorong Pasture and Milk Road (4 hours).
Altitude Sickness: To help you avoid or relieve the high altitude sickness, drink some Rhodiola rosea at least one week before visiting Daocheng Yading. Drink enough water and sleep well!
Wearing: It is necessary to take enough thick sweaters, thick coats, waterproof clothes, scarves, gloves and antiskid hiking shoes in spring, autumn and winter season. Long-sleeves coats are still recommended in summer. Sun block, sunglasses, hats, lip balm, and so on are suggested for all seasons.
Hiking: It is best to prepare professional hiking shoes and mountaineering jackets for your hiking experience. Also, a bag with some food, at least 500ml water, tissue, and more necessary items are suggested to be packed. Know more about Hiking in Daocheng Yading >>
Altitude of major places:
| | | | |
| --- | --- | --- | --- |
| Daocheng County | 3,700m | Yading Nature Reserve | 2,900m-6,032m |
| Mount Xiannairi | 6,032m | Mount Yangmaiyong | 5,958m |
| Mount Xianuoduoji | 5,958m | Milk Lake | 4,600m |
| Five Color Lake | 4,500m | Pearl Lake | 4,100m |
| Luorong Pasture | 4,150m | Wisdom Lake | 4,600m |
| Chonggu Monastery | 3,900m | Yading Village Viewing Deck | 4,060m |
| Blue Moon Valley | 2,200m | Haizi Mountain | 4,500m-4,700m |
| Benpo Temple | 3,940m | Sela Scenic Resort | 3,890m |
Daocheng Yading Maps
To help you have a better understanding of Daocheng Yading's location, transportation, top highlights and hiking routes, we here collect some useful maps at below, including Daocheng Yading Sichuan Map, Chengdu to Daocheng Yading Transportation Map, Daocheng Yading Airport Map, Daocheng Yading Tourist Map, etc. For more maps, please check all 2023 Daocheng Yading Maps >>
Other Destinations in Sichuan
Besides Daocheng Yading, there are some other destinations in Sichuan well worth your visit. Travel Daocheng Yading with following destinations and explore more of Sichuan's wonderful nature, cultural heritage sites, and authentic local life, including leisure Chengdu City, the hometown of giant panda, Jiuzhaigou Valley, the fairyland world, Leshan, the profound home of Giant Buddha and Mount Emei, Mount Siguniang, the Oriental Alps. Discover now!
More Natural Destinations in China
If you are fond of nature very much, why not discover the terrific sceneries of more scenic destinations in China, such as Guilin, Zhangjiajie, Huangshan, Yunnan, etc. to satisfy your eyes and mind to the most. Check the detailed travel guide of each destination and start your nature exploration!
Chinese Name: 稻城亚丁
Chinese Pinyin: dàochéng yàdīng
English IPA: / 'daʊ 'tʃʌŋ: ja'dɪn/
Population: 0.3 million
Language: Mandarin & Sichuan Dialect & Tibetan
Tel Code: 0836
Zip Code: 626000
Time Zone: (UTC+8)
Plan your Daocheng Yading Tour
Most visitors enjoy 2-3 days in Daocheng Yading. They spend at least 1-2 days to explore top must-sees in its most famous Yading Nature Reserve including the three sacred mountains (Xiannairi, Yangmaiyong and Xiannuoduoji), holy lakes (Milk Lake, Five Color Lake and Pearl Lake), Luorong Pasture, Chonggu Temple, etc. Besides, on your way between Daocheng County and Yading, further feast your eyes with the glamorous Sangdui Red Grass, enormous spread of brilliant golden poplar forest from Bang River and Sela Scenic Area, historical Buddhist temple clusters at Benpo, magnificent white pagodas, and so on during your full discovery of Daocheng's scenery!
You can also travel from Chengdu, like most people to enjoy the benefit air transfer and also enjoy another 1-2 days to meet the giant panda closely and feel the leisure life with visits to the top places. If you got a longer vacation, you are also highly recommended to spend 6-8 days in total to have a classic discovery of Mount Siguniang, Xinduqiao, Kangding, Danba, and more in one go to catch the sceneries and culture of Western Sichuan region.
If you are interested, you can also travel beyond Daocheng Yading to more popular destinations in China, such as Yunnan, Tibet, Beijing, Shanghai, Xian, etc. Please feel free to tell us directly for a tailor-made China trip according to your interests and needs!
Recommended Tours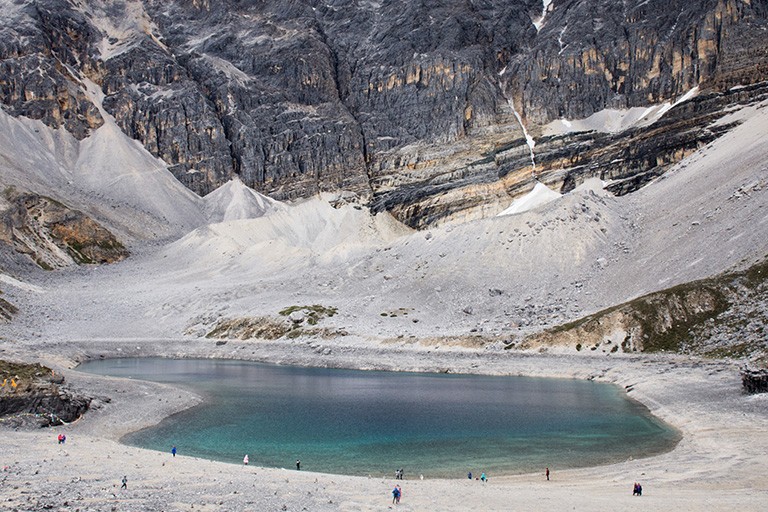 MORE