Jiezi Ancient Town Brief Introduction
Jiezi Ancient Town in Chongzhou City is located at the foot of Fengqi Mountain, linking with the back mountain of Mount Qingcheng and with Weijiang River flowing through. It has the "mountains and water" combination that travelers can enjoy elegant natural scenery and historical sites in the same visit.
Jiezi Ancient Town is famed as the hometown of the "One Gourd Ladle Poet" - Tang Qiu in Tang Dynasty. Moreover, this 4A scenic spot is called "the Back Garden of Mount Qingcheng", "the Most Beautiful Ancient Town in Sichuan", "Hometown of Orchid", "One of the Top 10 Worthwhile Ancient Towns in Sichuan". If you have enough time, it is a great choice to cover Jiezi Ancient Town visit after Mount Qingcheng trip.
Jiezi Ancient Town
History of Jiezi Ancient Town
Jiezi Ancient Town is an old town with more than 1000 years' history. "Jiezi" means small street. In Tang Dynasty and Five Dynasties, it was called "Hengqu" which means across Weijiang River. For the chaos caused by war, the prosperous town turned into a street along the river in 1615 in Ming Dynasty. The local people set this street a new name "Jiezi Chang" for marketing. Hence, it got "Jiezi".
Highlights & Experience You Won't Miss
The pure, elegant Jiezi Ancient Town is the typical reflection of old town in Western Sichuan. There is a wealth of relic sites scattered around Jiezi Old Town including Guangyan Buddhist Temple, Fengqishan Scenic Spot, Primitive Forest, Millennium gingko tree, ancient stone pagodas, bridges, well-preserved Qing-dynasty street, caves and 32 temples.
Stroll along Old Streets
The best way to explore Jiezi Ancient Town is simply strolling around the old streets. Walk on the ancient paved streets to discover the old shops with old books, paintings, handmade straw sandals, antiques, old silver, old furniture…Also, there is a bar street built along the Weijiang River with ancient dwellings. Immerse yourselves in the old time and relax your eyes by overlooking the beautiful mountains.
Appreciate Qing-Dynasty Ziku Pagoda
Ziku Pagoda is located in Gingko Square (five Millennium gingko trees with 20-meter high). Built in Qing Dynasty, Ziku Pagoda is 15 meters high with five floors in the shape of hexagon. On the top four layers, it is carved "The Legend of White Snake". The local people believed that it was blessed if cherished words, they won't throw away paper with words and gather the paper to incinerate. Ziku Pagoda was built in 1852 to incinerate the words and now become the historical site to explore in Jiezi.
Know Tang-Dynasty Poet Tang Qiu
Tang Qiu was called the Ladle Poet in the late of Tang Dynasty. He retreated in the mountain of Weijiang and wrote poems for fun also to express his feelings and ambition. After his accomplished his poems and threw them into gourds to flow down the river. Walk to Tangqiu Square and have a look at Tangqiu Statue to know more about this ladle poet.
Visit Guangyan Buddhist Temple
Guangyan Buddhist Temple is situated in the forest of Fengqi Mountain at an altitude of 1100 meters. It was first built in Jin Dynasty. The uncle and grandson of Zhu Yuanzhang in Ming Dynasty took refuge in Guangyan Buddhist Temple and the imperial court presented "Hongwu Nancang" which was the typical book of Buddhism as a gift to the temple.
Qing-dynasty old street
Interesting statues on old street
Recommended Visiting Routes
Route One: Stroll along Qing-dynasty Jiangcheng Street and appreciate the exquisite architectures and folk life, visit Tea and Horse Bureau and know the past history and economy of Jiezi Ancient Town, walk to Shuimu Leisure Square and take the raft down the river to enjoy beautiful scenery along the river, reach Gingko Tree Square and know the customs of Ziku Pagoda, enjoy Qing-dynasty relic – Ruilong Bridge and take a leisure walk along bar street. It takes about 2 hours for the relaxing visiting.
Route Two: Take a walk to Gingko Tree Square to see five thousand-year Gingko trees and Ziku Pagoda, walk along Jiangcheng Street to taste some local snacks, reach Tang Qiu Square to know stories about this Ladle Poet in late Tang Dynasty. Hike up Fengqi Mountain and reach Guangyan Buddhist Temple to know more about this royal Buddhist temple. It takes about 3 hours and more for this in-depth visiting.
>> 3 Days Dujiangyan Tour with Panda Volunteer & Six Arts Experience
Nearby Attractions
Mount Qingcheng
Mount Qingcheng is 16km from Dujiangyan City center and it's one of the cradles of Taoism in China. Mount Qingcheng is divided into two parts – The Front Mountain is dense with Taoism temples, while the Rear Mountain is tranquil and serene, reserving its original scenery. If you are fancy with the Taoism culture, then Front Mountain is the best choice, while for those who are in love with mountain hiking, Rear Mountain is better. Front Mountain is smaller and half day will be enough, while Rear Mountain will need about one day to tour.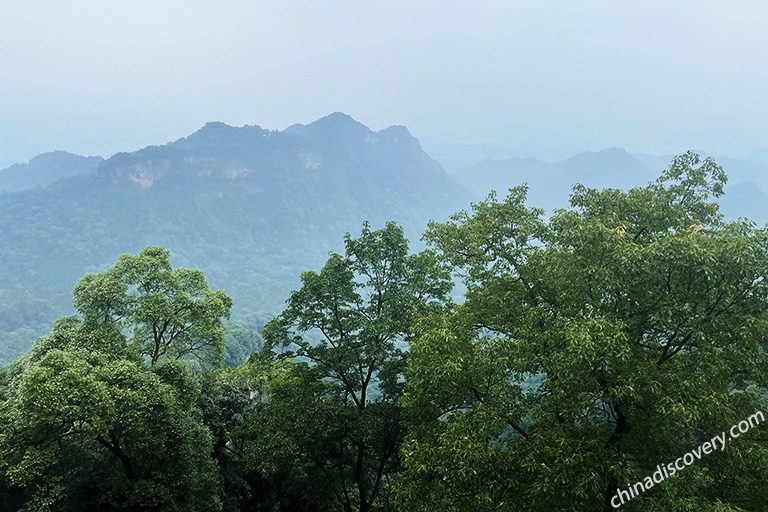 Mount Qingcheng
Location & How to Get to Jiezi Ancient Town
Jiezi Ancient Town is located in 23 kilometers northwest of Chongzhou City, about 57 kilometers from Chengdu. It is adjacent next to Dujiangyan Irrigation System in the northeast, Mount Qingcheng in the north.
Transfer to Jiezi Ancient Town
There are 9 C trains from Chengdu to Qingchengshan Station during 06:48~21:25. It takes about 30~45 minutes. After getting off Qingchengshan Station, you can take bus No.102 directly to Jiezi Ancient Town. It is recommended to use our private service with private transfer to Jiezi Ancient Town (less than 1.5 hours' drive from Chengdu) and other attractions including Mount Qingcheng, Dujiangyan Irrigation System, Dujiangyan Panda Base.
Click to Enlarge Jiezi Ancient Town Location Map
Keep Reading
Recommended Jiezi Ancient Town Tours
Top 3 Jiezi Ancient Town tours chosen by most customers to explore Jiezi Ancient Town in the best way. Check the detailed itinerary, or tailor your own trip now with us.
1 Day Dujiangyan & Mount Qingcheng World Heritage Tour

Chengdu / Dujiangyan / Chengdu
4 Days Chengdu & Dujiangyan All Bests with Panda Volunteer Tour

Chengdu / Dujiangyan / Chengdu
Start planning your tailor-made holiday to China by contacting one of our specialists. Once inquired, you'll get a response within 0.5~23.5 hours.
Customize a Trip
Have a question? Get answers from our travel experts or guests
Your Question:

Your Name:

Your Email: