11 Top Things to Do in Chengdu: Chengdu Bucket List 2023
As the capital city and transportation center of Sichuan Province, a world-famous tourist destinations most known for the Giant Panda, Chengdu actually has many more fun things to do for all tourists. In this "Land of Abundance", geographical location and long history has bred Chengdu with beautiful natural landscape, rich culture and profound historical relics, as well as a distinctive local leisure lifestyle.
Whether it's your first time to travel to Chengdu or already come to the city before, there are always wonderful things to do during your Chengdu tour, It can be once-in-a-lifetime experience to be a Panda nanny, very pleasing to the lovely nature, quite knowledgeable to discover culture of "Three Kingdom" and Sanxingdui, and interesting to try local daily activities, unique to see farther attractions near Chengdu. Get inspiration from our hand-picked Top 11 Things to Do in Chengdu to plan your Chengdu itinerary.
Top 1: See Adorable Giant Pandas & Take Panda Base Volunteering Programs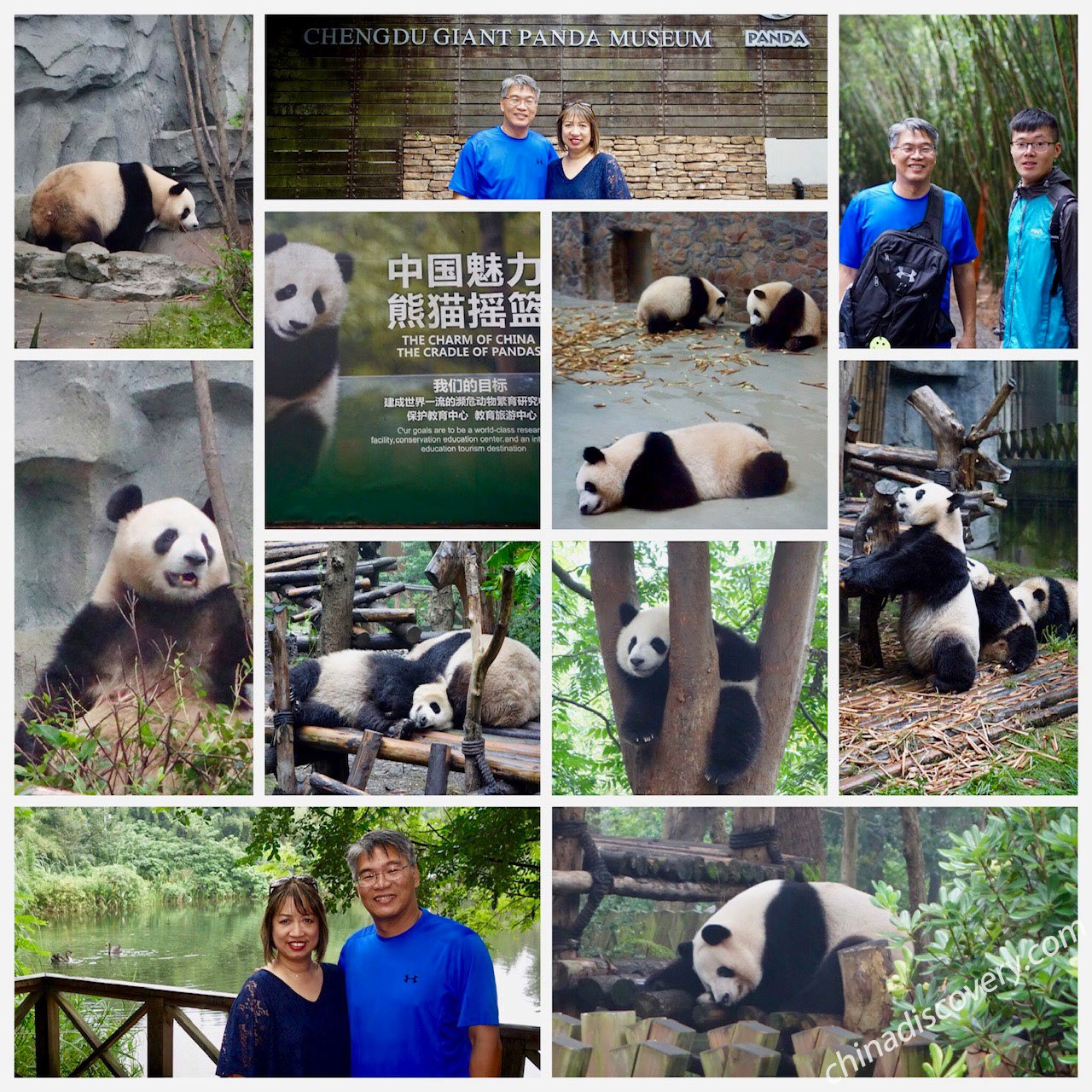 Our American Customers Visited Chengdu Giant Panda Base
Visiting one panda base to see the cute Giant Pandas is always the No.1 things to do in Chengdu for every tourists. Because Chengdu has one of the largest panda bases in the world. And there are about 120 pandas living in Chengdu Research Base of Giant Panda Breeding, including newborn panda infants, panda cubs, adult pandas, red pandas. The panda base is only 15km away from city center (Tianfu Square). You are suggested to visit pandas in the morning when you have big chance to see the most active pandas - eating bamboos, rolling on grass, climbing trees, playing with panda friends. A half day is enough to finish the visit. Don't lose the chance to see the panda infants in the Sun Nursery.
Want to have an in-depth Panda tour in significant meaning? You can take a half day or full day of volunteering program in Dujiangyan/Ya'an/Shenshuping Panda Base ( Panda Tours in Sichuan). The program includes cleaning panda house and yards, feeding panda, collecting bamboo, making panda cake, watching documentary film, etc.
Recommended Chengdu Attractions to Visit: Chengdu Panda Base
√ 1 Day Chengdu Relaxing Panda Highlights Tour
√ 1 Day Dujiangyan Panda Volunteer Tour from Chengdu
√ 3 Days Chengdu City Break inclduing Panda Volunteering Experience
√ 4 Days Dujiangyan Panda Tour with Chengdu
Top 2: Take Side trip to Leshan Giant Buddha, Emeishan and Jiuzhaigou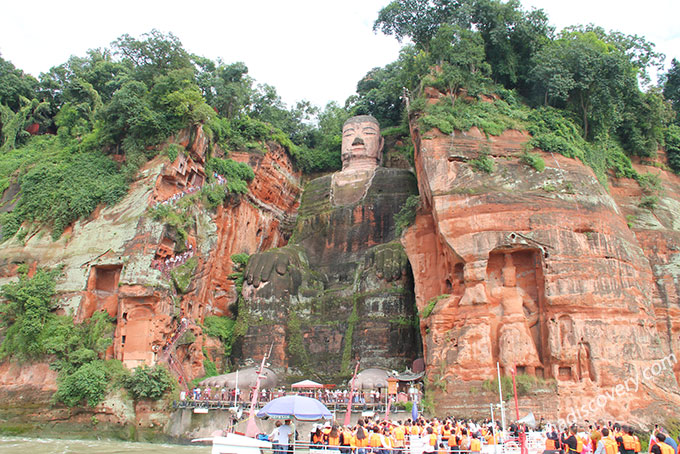 Leshan Giant Buddha
A highlighted Chengdu city tour usually takes 1-3 days. If you plan to visit UNESCO World Cultural Heritages near Chengdu, Leshan Giant Buddha and Mount Emei in Leshan, Jiuzhaigou Valley in Aba, northwest Sichuan, Mount Qingcheng in Dujiangyan must be on your chuck-list.
There used to be a survey: "which two attractions you will visit if you only have only one day in Chengdu?" More than 90% travelers chose Chengdu Panda Base and Leshan Giant Buddha. So you definitely have to cover the visit to the largest and tallest stone Buddha which was built during Tang Empire, more than 1300 years ago into your Chengdu trip. It is only 2 hours' driving from Chengdu city downtown. A half day is enough to get all the highlights of Leshan Giant Buddha. Hiking on Mount Emei and making a fairyland tour to Jiuzhaigou is also popular. Currently, there are fast and comfortable High Speed Trains connecting Leshan with Chengdu and Emeishan.
√ 2 Days Best Chengdu Leshan Giant Buddha Tour
√ 4 Days Classic Leshan & Mount Emei Tour from Chengdu
√ 6 Days Chengdu and Jiuzhaigou In-depth Tour
Top 3: Enjoy Local Sichuan Food & Learn to Cook Authentic Sichuan Cuisine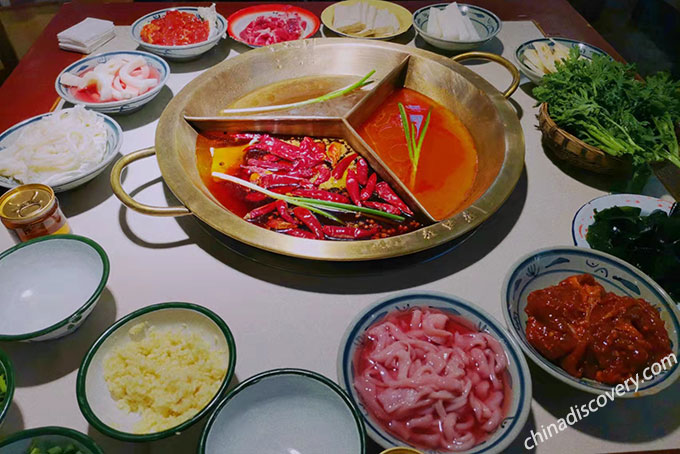 Sichuan Hotpot and Classic Sichuan Dishes
Sichuan Cuisine is one of the most favorite style among China's "Eight Great Cuisines". Chengdu has awarded the first City of Gastronomy in Asia and long known for the spicy Hotpot and multifarious Sichuan dishes. Your trip to Chengdu is not complete or ideal without tasting the famous Sichuan Cuisine.
During your stay in Chengdu, you can try many different kinds of Sichuan food, like Sichuan Hotpot, Mapo Doufu, Kung Pao Chicken, Twice Cooked Pork, and local Chengdu snacks and street food such as Dandan Noodle, Long Chao Shou, Dan Hong Gao (Stuffed Pancake), etc. It is very easy to find Sichuan restaurants and local snack shops, vendors, in each tourist attraction. To taste the authentic Sichuan cuisine and local snacks, you can go to Jinli Old Street, Kuanzhai Alley, Shua Du, Yulin Gourmet Center, etc.
Most Sichuan food are not convenient to bring home, but you can have an in-depth learning about the history, culture, recipe, cooking in the Sichuan Cuisine Museum, get some simple and basic cooking skills.
Recommended Chengdu Attractions to Visit: Jinli Ancient Street / Kuanzhai Alley / Chunxi Road / Sichuan Cuisine Museum
√ 2 Days Best Chengdu Food Toru with City Sightseeing
√ 3 Days Chengdu Family Tour with Cooking Class
Top 4: Try Local Leisure Lifestyle in Downtown Attractions
Foreigner Was Drinking Tea in Heming Tea House, Chengdu People's Park
As the old saying goes, when you are young, you should not go to Sichuan because you will be not willing to leave after getting old. That perfectly explain the leisure life in Chengdu and Sichuan is unbelievably attractive. Unlike other cities in a fast pace of life, slow life is the core and high praised spirit of Chengdu. In Chengdu, you can see the locals enjoying sunshine, drink tea, place Mahjang everywhere. The best places to see local daily life activities are the parks, like the People's Park, groups of seniors gather together singing and dancing, playing chess, cards, musical instruments, strolling, practising Tai Chi, calligraphy and painting and so on. Except watching, you can also try some interesting things, maybe have a relaxing tea time in Heming Tea House, Renmin Park, or challenge the ear cleaning, a quiet walking in the lush forests.
Recommended Chengdu Attractions to Visit: People's Park / Chengdu Culture Park / Huanhuaxi Park
√ 1 Day Chengdu Panda Highlights Tour with People's Park
√ 2 Days Classic Chengdu City Break
√ 3 Days Chengdu Highlights Tour plus Leshan Giant Buddha
Top 5: Wander on Ancient Streets & Towns to Find Old Chengdu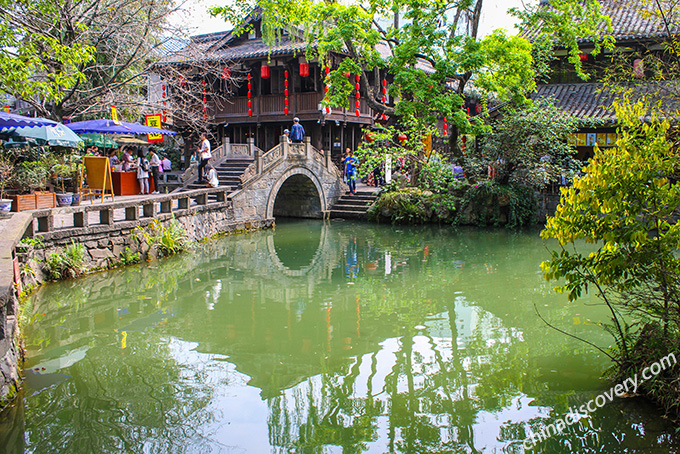 Jinli Ancient Street in Downtown
Ancient Streets are always good places to go as the cultural uniqueness of a destination. Also a city like Chengdu which has a long-lasting prosperous history usually has many featured ancient streets. Jinli Ancient Street and Kuanzhai Alley are best places in Chengdu to have a leisure wandering though the past of the city. Luodai and Huanglongxi Ancient Towns in suburb areas also offers a variety of interesting things to do. The ornate ancient buildings which combine classic Chinese architectural style with local features erect along the narrow flagging, which is very beautiful. Tourists wander leisurely or stop to watch an exciting Sichuan opera, or sit down to taste some delicious local snacks. You can see many shops of creative artifacts and snack shops in the streets and towns. It's very suitable for family travelers with kids since the walking requires little strength and most towns have children entertainments facilities.
Recommended Chengdu Attractions to Visit: Jinli Ancient Street / Kuanzhai Alley / Huanglongxi Ancient Town / Luodai Ancient Town
√ 2 Days Classic Chengdu Tour with Panda Base & Jinli Street
√ 2 Days Chengdu Essence Tour with Huanglongxi Ancient Town
√ 2 Days Chengdu Highlights Tour with Hakka Ancient Town
Top 6: Discover the Mysterious Sanxingdui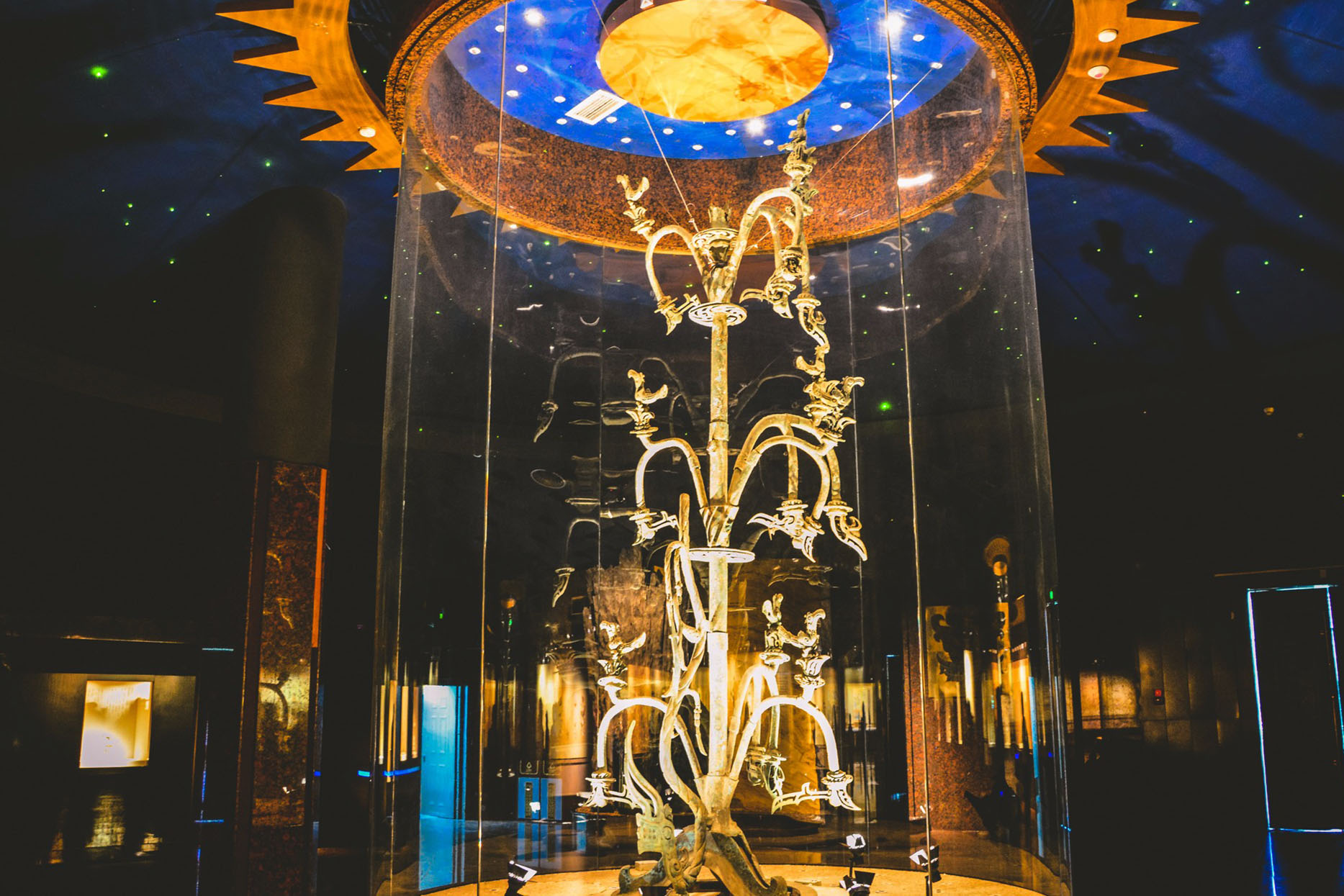 Bronze Sacred Tree in Sanxingdui Museum, Guanghan
It is the Sanxingdui Civilization that put Sichuan to the stage of 5000 Years Old Civilization, like ancient China, Egypt, Indian, etc. The unearthed relics has shown Sanxingdui people lived in Sichuan during 3,000~5,000 years ago, and created a magnificent but mysterious civilization which is called Ancient Shu Kingdom today. Even though it has been more than 80 years after the discovery of the Sanxingdui Site, there are still many mysterious not unveil yet. Archaeologists still don't know how the kingdom originated, and how it disappeared? Why there are so many strange masks excavated? Why the shells of Mediterranean appeared here? Sanxingdui Kingdom had created brilliant wares of bronzes, golds and jades, but why haven't found any sighs of their language and words? All these mysteries are waiting for you to explore the origin and help you understand the previous glory of Chengdu and Sichuan. Sanxingdui Museum in Guanghan City is an important channel to see the miracles, and some Sanxingdui relics are displayed in Jinsha Site Museum in Chengdu. Chines cultural fans may be marvel at how mature the ancient techniques are.
Recommended Chengdu Attractions to Visit: Sanxingdui Museum / Jinsha Site Museum
√ 2 Days Chengdu City Tour including Sanxingdui Museum
Top 7: Watch a Live Sichuan Opera Show & Face-Changing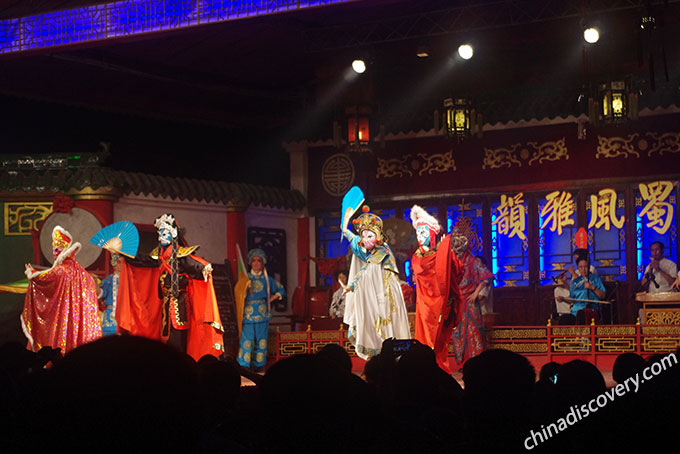 Face Changing Show of Sichuan Opera in Shufeng Yayun
Looking for an interesting things to do about the city local culture? It's highly recommended to watch a Sichuan Opera Show to catch a glimpse of the famous art. When drinking a cup of Chinese tea, you can see the actors singing to tell folk stories, making acrobatics and performing different types of folklore shows, where you may learn the essence of Sichuan local culture and tradition from the vivid humorous narration.
All the things, from stage, costumes, making up, yards, apply the traditional way of opera. The performances are full of bravos, and diverse in the way of performing - shadow puppetry, comedy, hand shadows, opera, acrobatics, singing… The most wonderful parts are the very famous Face Changing and Fire Spitting, when at the end, the performers change their masks in seconds and spit fire from mouth suddenly. There are several places suggested to watch an opera show in Chengdu in the night, including the Shufeng Yayun Opera House in Qintai Road, Jinli Street and Kuanzhai Alley.
Recommended Chengdu Attractions to Visit: Shufeng Yayun Sichuan Opera House / Kuanzhai Alley / Jinli Ancient Street
Top 8: Seek Buddhism & Taoist Culture in Temples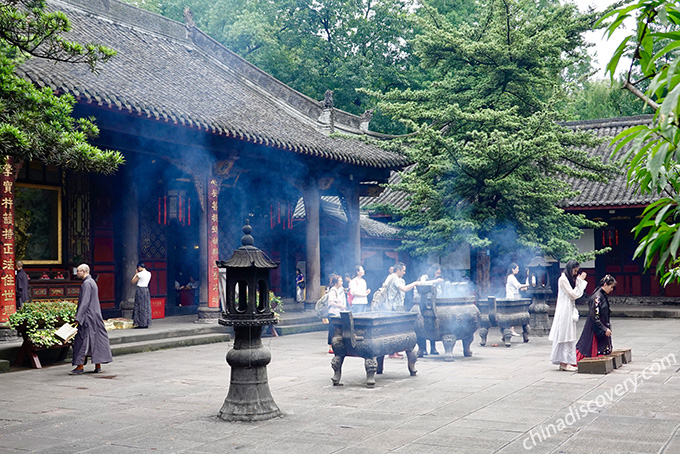 Wenshu Monastery in Chengdu City
Chengdu has a long and splendid history, including the sacred Buddhist culture and Taoist culture. If you prefer to find a serene and mind-purifing place to escape from the chaotic tourist crowds, visiting the temples is a good idea. Most temples are located in downtown area, easy to get to. And inside the sacred religious sites, you can view ancient architectures in exquisite layout and decoration, beautiful courtyard like environment and devout locals worshiping Buddhas, pray and light incense sticks, free captive animals. Even you can see monks and Taoist daily routine there. If visit in a proper time, you can enjoy a simple cheap vegetarian meal in the temple and a leisure tea time.
Recommended Chengdu Attractions to Visit: Wenshu Monastery / Qingyang Palace / Baoguang Temple / Daci Temple
Top 9: Make a Cultural Adventure in City Museums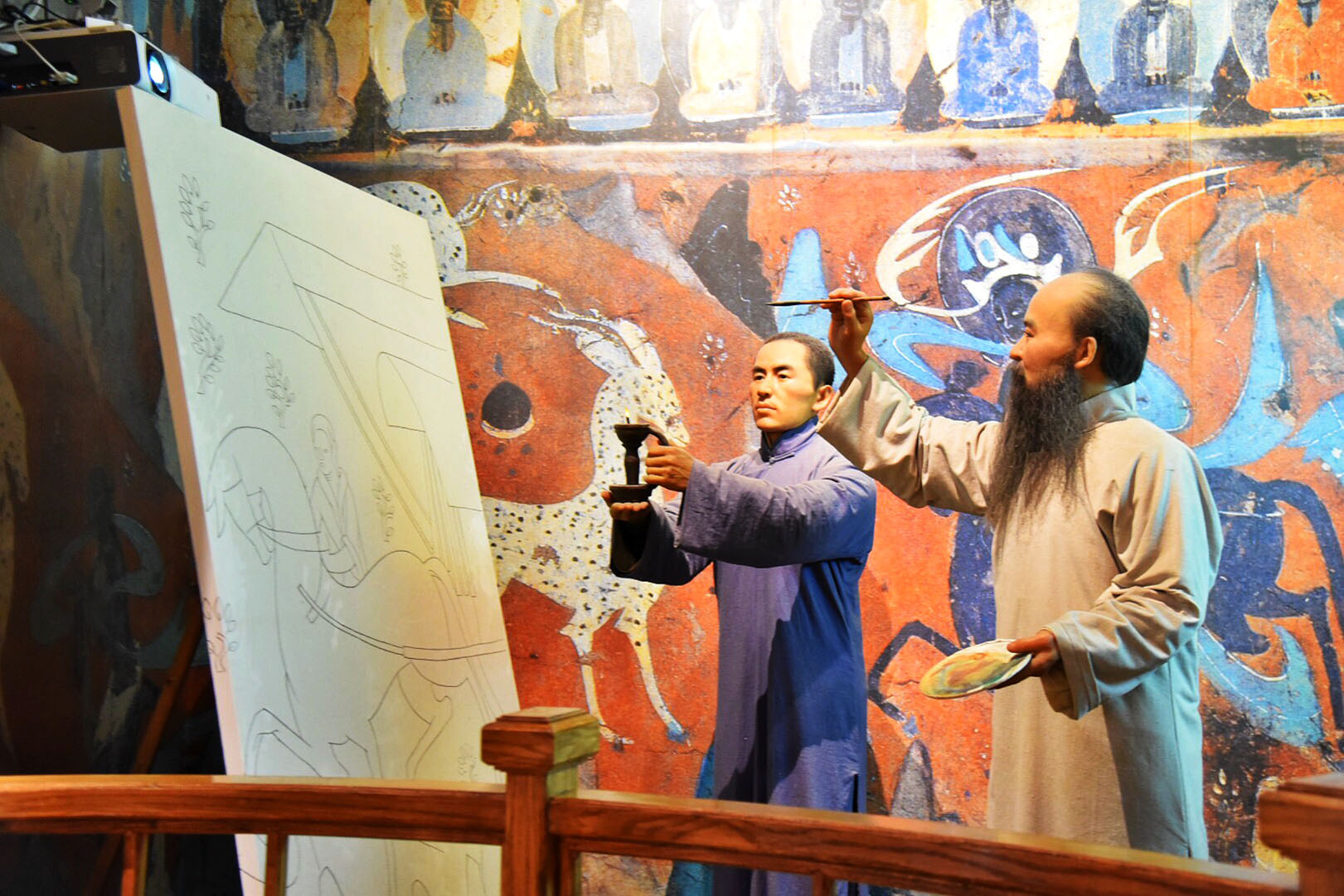 Zhangdaqian Exhibition in Sichuan Museum
Nowhere else collects the most abundant elements about a city than a museum. And normally they are free for entry. Going to the hot tourist attractions helps you know how Chengdu current looks like. But getting to the museums, you will see plenty of cultural relics telling you the past of Chengdu, the developing process and most influential factors to its role and achievement nowadays. The museums are perfect epitomes to learn about Chengdu, by watching the ancient bronzes, gold and silver wares, jade, pottery, stone, porcelain, stone carvings, calligraphy and paintings, etc. Comprehensive museums give you broader insight to Chengdu, and special themed museums more focus on one specialized local culture or history, like "Three Kingdom Culture" in Wuhou Temple, Shu Brocade culture in Shu Brocade & Embroidery Museum. Don't miss the museums, if you really love Chinese culture and history.
Recommended Chengdu Attractions to Visit: Chengdu Museum / Sichuan Museum / Shu Brocade and Embroidery Museum / Wuhou Temple
√ 4 Days Chengdu History & Culture Tour with Panda Base
√ 4 Days Ancient Three Kingdom History Tour
Top 10: Spend Wonderful Nightlife in Modern Chengdu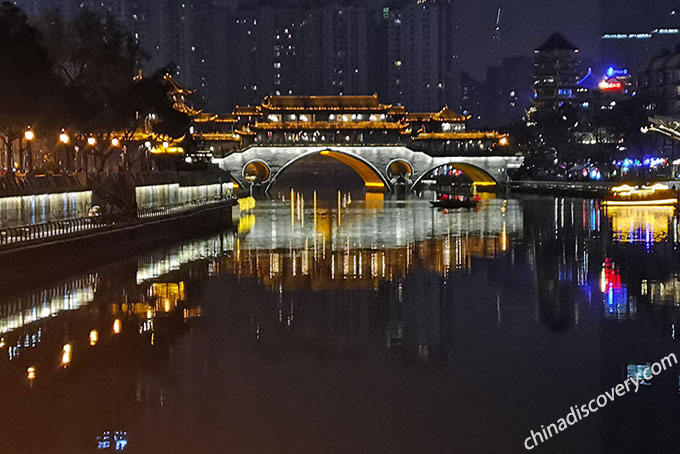 Nice Night View of Anshun Bridge
Chengdu not only is a national famous cultural and historical city, cradle of Ancient Shu Culture, but also a modern city with high-speed economic development, attracting many Fortune 500 companies. Daytime sightseeing is one kind of things to do in Chengdu, when night falls and lights on, you can spend some time to discovery a different Chengdu in rich and varied nightlife activities. Dazzling views of skyscraper in city center, great evening shows in tourist spots or quiet walking path by the river, fantastic bars with ... Chengdu never turn dark and boring when evening comes. Based on your hobbies, you can find a own way to capture the stunning night views, may be roam around Chunxi Road, watch Sichuan Opera in a theatre, enjoy happy hours in a bar in Jiuyan Bridge, visit the picturesque Anshun Bridge and so on.
Recommended Chengdu Attractions to Visit: Chunxi Road / Taikoo Li / Anshun Bridge
Top 11: Go Shopping in the Busy Commercial Centers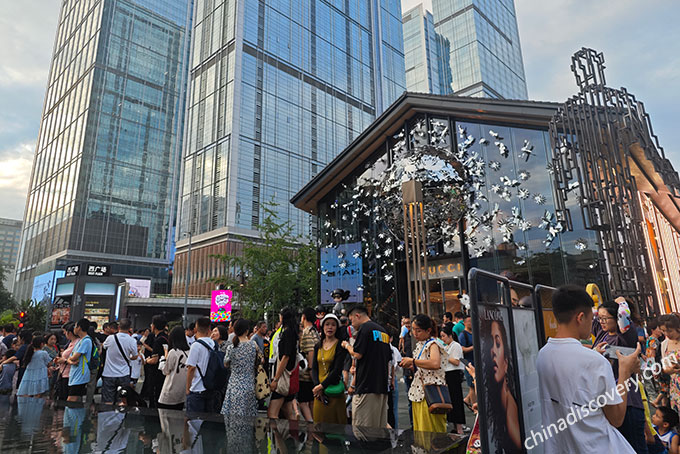 Taikoo Li Shopping Mall next to Chunxi Road
When your Chengdu tour comes to an end, it's very meaningful to buy some gifts and souvenirs, local speciality to memorize this trip. Of course, the Giant Panda related items are always the most popular and right choices. You can find panda toys in Chengdu Panda Base, Jinli Street, Kuanzhai Alley and most downtown attractions. Foodies can get Hotpot condiment there too. Like shopping for clothes, bags or other articles? Big shopping malls, such as Chunxi Road, Taikoo Li, New Century Global Center are the top recommendations, where have both cheap brands and high ends.
Recommended Chengdu Attractions to Visit: Chunxi Road / Taikoo Li
How to Plan Your Chengdu Tour
Your Chengdu travel itinerary can be short or long, in different themes and budgets according to your plan. Whether you visit Chengdu for a short layover or pay a special visit, you need at least 1 day to see the lovely Giant Pandas and visit major must-visit spots in downtown. If time allows, you're advised to spend a leisure tea time in People's Park, satisfy tastebuds in Jinli Ancient Street, watch an amazing face-changing Sichuan Opera show. Side trips to Leshan Giant Buddha, Mount Emei and Jiuzhaigou Valley are highly recommended for you to seek more magnificent natural and cultural wonders in Sichuan, if you have more time. Know more Chengdu Tours >>
√ 6 Days Leshan, Mount Emei & Panda Volunteer Tour
√ 7 Days Sichuan Discovery Tour
Travel with China Discovery
As an experienced, professional and reliable travel agency based in Chengdu, China Discovery are try our best to make every clients' tour to Chengdu interesting, unique and memorable, and at the best value. Travel with us, you can enjoy a worry-free tour covering airport/train station pick-up services, knowledgeable tour guide and safe private transfer, accommodation and ticket booking help, visa application assistance and other needed services. Just contact us, tell your schedule, we will do the rest to make sure a wonderful Chengdu tour.
We have helped many global travelers enjoy their memorable trips to Chengdu for the past few years. Among them, Lawson's Family from UK enjoyed their 19 days China family vacation with Chengdu with our customized tour pacakge, our warm guest Ronald from USA enjoying 3 China trips with us also dicovered Chengdu and met us... They all shared us their memorable travel stories after the trips! Travel with China Discovery to create your wonderful Chengdu trip memories!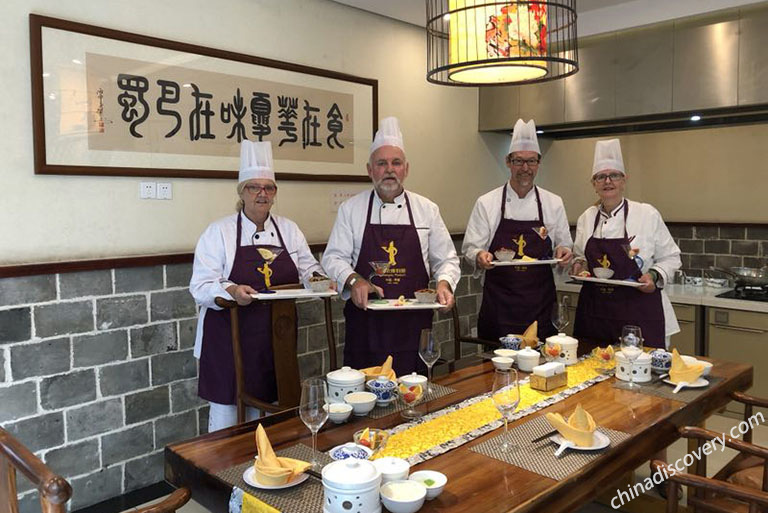 Our Tourists Joined Cooking Class in Sichuan Cuisine Museum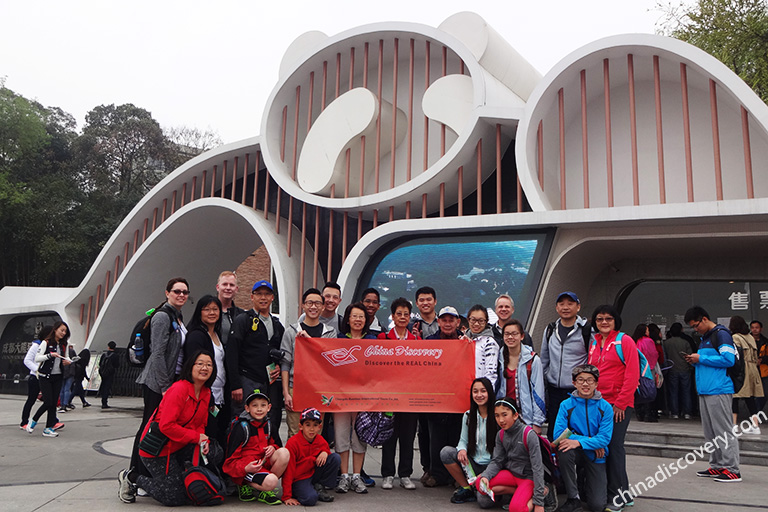 China Discovery Customzied Private Tour to Chengdu Panda Base
Useful Chengdu Travel Guide
Popular Chengdu Tours
Recommended Chengdu Tours
Top 3 Chengdu tours chosen by most customers to explore Chengdu in the best way. Check the detailed itinerary, or tailor your own trip now with us.
2 Days Leisure Chengdu Private Tour with Panda Visit

Chengdu: Jinli Street, Giant Panda Base, Wenshu Temple
3 Days Chengdu Highlights Tour plus Leshan Giant Buddha

Chengdu: Chengdu Panda Base, Leshan Giant Buddha, Jinli Street
Start planning your tailor-made holiday to China by contacting one of our specialists. Once inquired, you'll get a response within 0.5~23.5 hours.
Customize a Trip
Have a question? Get answers from our travel experts or guests
Your Question:

Your Name:

Your Email: