Impression about Wangjianglou Park
Situated in an agreeable environment made by flourishing woods and luxuriant bamboo bushes, Wangjianglou Park covers an area of 118 mu. Built in Ming and Qing Dynasties and turning to a whole park in the Republic of China, Wangjianglou Park and Xuetao Memorial Hall became famed in Chengdu long years ago. Nowadays, Wangjianglou Park is listed in National Key Cultural Sites.
Brief Introduction to Xue Tao
Xue Tao is a legendary poetess listed in Four Great Poetesses in Tang Dynasty and Four Talented Females in Sichuan. She was born in Chang'an and came to Chengdu with her father in her childhood. Being a studious and brilliant girl, she had superior abilities to write poetry when she was rather young. Suffering from a life of destitution after the death of her father, Xue Tao became a female Official Collator since her literary talent was appreciated by Jiedushi (title of an official) in Western Sichuan. It is recorded that Xue Tao has created about 500 poems during her lifetime, but most got lost and there are only less than 100 poems existing now. Famous poets in the same times like Yuan Zhen, Bai Juyi, Du Mu, Liu yuxi etc. praised highly of Xue Tao and they always communicated through the poems responsory.
Xue Tao Statue in Wangjianglou Park
Xue Tao once had a transitory relationship with Yuan Zhen and never married after their separation. In her dating time, Xue Tao made a pink note-paper to write poem. Later generation copyed this note-paper and named it Xue Tao Paper.
Highlights to See in Wangjianglou Park
Memorial Buildings
Besides the verdurous willow trees, elegant tracks lined with green bamboos, there are also different ancient towers worth your exploration.
Wangjiang Tower - Being a landmark, Wangjiang Tower (also called Chongli Pavilion) is the most majestic building in Wangjianglou Park with a height of 39 meters. It is so charming that every ridge and sparrow brave is decorated with clay sculpture of animals and human figurines, and roof is painted to dazzling gilding aureate. Climbing Wangjiang Tower and overlooking panoramic view of this amazing park, you can feast Sichuan style garden constituted by towers, plants and river.
Zhuojin Tower - Located in the west side of Chongli Pavilion, Zhuojin Tower shapes like a boat with two floors. Zhuojin Tower was built boat-shape for Xue Tao once saw Yuan Zhen off in a boat. In Han Dynasty, the waver washed the brocade in Jinjiang River and Jinjiang River also called Zhuojinjiang River (Zhuojin means washing brocade). Wangjianglou Park sat in the south bank of Jinjiang River, so Zhuojin Tower named after Jinjiang River.
Yinshi Tower - In the east Wangjianglou stands Yinshi (poem-chanting) Tower which was built in 1899 according to the destroyed tower where Xue Tao always wrote poems. There is artificial stone hill with steps also made by a heap of stones, which displays natural taste in man-made landscape and inspires great works of poets and writers. Stepping in the tower, you can see several statues of poets, it seems that they are talking about writing poems. As you cross Loquat Corridor connected with Yinshi Tower, memorial buildings like Wuyun Immoral Hall, Xuanxiang Shed, Qingyuan House etc. come into your sight.
Xue Tao Well - It is rumored that Xue Tao Well is the place from which Xue Tao fetched water to make note-paper. In fact, it is King of Shu (mistaken for Xue Tao) in Ming Dynasty fetched water here to imitate Xue Tao Paper. A stela erected near the well is inscribed with three characters "Xue Tao Well" which are handwriting of the magistrate of Chengdu in Tang Dynasty.
Wangjiang Tower
Xue Tao Pavilions
Natural Landscape
In Wangjianglou Park, you can greatly widen your horizon by viewing all kinds of bamboos in thousands of postures. It is recorded that Xue Tao was keen on bamboo for bamboo is a symbol of moral integrity and self-restraint in her mind. As a result, the descendants grew many bamboos in the garden. The variety of bamboos reaches more than 150 containing not only all different of bamboos grown in Sichuan but also the rare kind of bamboos in South China, Japan and Southeast Asia. Some bamboos make a green vaulted corridor, some become thick canopy to offer shade, some stand in the bank of pool or river and some surround waterside pavilion or tower.
Leisure Culture
Wangjianglou Park is a wonderful place to experience local slow life. Here visitors can rent a row boat and paddle on the water to relax themselves while viewing this bright green bamboo sea, communicate with their friends while meandering along with the beautiful path, and read an interesting book over a cup of jasmine tea which are most popular in Wangjianglou Park. Local people are inclined to spend a whole weekend day to drink a cup of tea by the riverside, feed mammoth sized koi, or play Mahjong. The retirees are those who like this park most, because they can enjoy the later life by square-dancing, spinning tops, playing chess and sharing their old stories with their peers.
√ 4 Days Chengdu History & Culture Tour with Wangjianglou Park
Bamboo Forest
Local Life in Wangjianglou Park
How to Get to Wangjianglou Park
Where is Wangjianglou Park?
Wangjianglou Park is situated in the south bank of Jinjiang River in the downtown area, approximately 6km away from Chengdu city center (Tianfu Square), adjacent to Jiuyan Bridge and Sichuan University. It's very convenient to take a city bus, a taxi to get to the park. If you take a Chengdu subway, transfer to Chengdu Metro Line 2, get off at Niushikou Station (牛市口站-the nearest metro station) and walk nearly 30 minutes.
about 1.5km (20 minutes' walking) to the Anshun Bridge
about 6 km away from Tianfu Square (about 20 minutes by car)
about 8 km away from Jinli Ancient Street (about 30 minutes by car)
about 5.5 km away from Chunxi Road (about 20 minutes by car)
about 18 km away from Chengdu Research Base of Giant Panda Breeding (about 40 minutes by car)
Get to Wangjianglou Park by Private Tour (Top Recommended)
If you want to get rid of hustle of public transportation, troublesome navigation and language communication, you can book a private tour package which covers sightseeing, dining and transfer from us. Our local tour guide and driver will escort you to Wangjianglou Park and other attractions in & around Chengdu with speed and convenience, and take care of all the details. You just need to focus on sightseeing.
Wangjianglou Park Location Map (click to enlarge)
Useful Tips for Visiting Wangjianglou Park
Best time to go : Wangjianglou Park is a cultural sites and a leisure park, so all seasons are available to visit. In the morning, there are less people, and you can see many people exercising here and playing Tai Chi and square-dancing are most common. In the afternoon, you can see a bustling scene because many people start their leisure activities.
Tickets: 20 RMB for Cultural Relics Area including all memorial buildings.
How to Plan a Chengdu Trip with Wangjianglou Park
Chengdu is most known as "the Land of Abundance" in China, with three most representative brands: Giant Panda, leisure life and delicious food. Actually, there are more charm hidden in and around Chengdu, including the "Three Kingdom Culture", Sanxingdui civilization, brilliant UNESCO World Herigates. Once you come to Chengdu, you don't want to leave after you really into it.
During your Chengdu city tour, you can visit the Chengdu Panda Base in the morning to see the cute pandas, and visit other attractions in downtown, such as Renmin Park, Jinli Old Street, Kuanzhai Alley, Jinsha Site Museum, Chunxi Road, etc. Like local experience? Try a afternoon tea time in Renmin Park, or watch a Sichuan Opera Show in Shufeng Yayun Opera House, enjoy a cooking class in Sichuan Cuisine Museum. Your Chengdu tour can be interesting and relaxing.
★ Recommended Chengdu Tours:
With more time, travel beyond the city center to nearby Leshan to watch Leshan Giant Buddha and hike the Mount Emei,even you can go further to northwestern Sichuan to Jiuzhaigou Valley and western Sichuan for less-tourist but amazing beautiful scenery. China is vast and rich land, which offers a great variety of great destinations to travel with Chengdu. Therefore, you can expand your trip to Beijing - capital of China, Shanghai - modern metropolis, and Xian - time-honored ancient capital to have a deeper understanding of China.
★ Recommended Tours including Chengdu:
√ 7 Days Sichuan Discovery Tour (Chengdu / Leshan / Emei / Chengdu / Jiuzhaigou)
√ 7 Days Ancient China Tour with Panda (Beijing / Xian / Chengdu)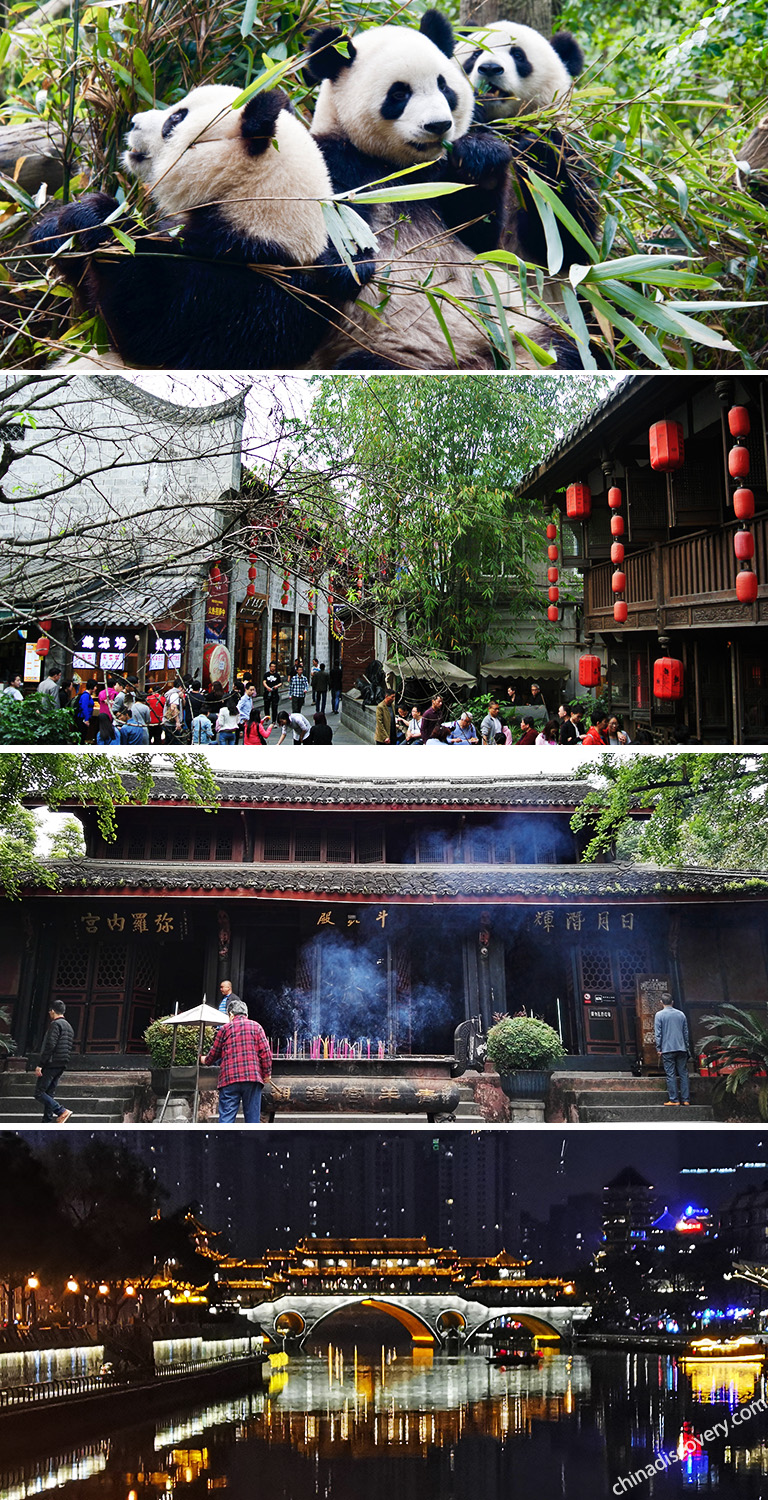 Chengdu Top Tourist Attractions
Top Attractions in Chengdu
Useful Chengdu Travel Guide
Recommended Chengdu Tours
Top 3 Chengdu tours chosen by most customers to explore Chengdu in the best way. Check the detailed itinerary, or tailor your own trip now with us.
2 Days Leisure Chengdu Private Tour with Panda Visit

Chengdu: Jinli Street, Giant Panda Base, Wenshu Temple
3 Days Chengdu Highlights Tour plus Leshan Giant Buddha

Chengdu: Chengdu Panda Base, Leshan Giant Buddha, Jinli Street
Start planning your tailor-made holiday to China by contacting one of our specialists. Once inquired, you'll get a response within 0.5~23.5 hours.
Customize a Trip
Have a question? Get answers from our travel experts or guests
Your Question:

Your Name:

Your Email: