Chengdu is now one of the most popular travel destinations in China mostly owning to its everlasting history, well-preserved tradition, unique local folks and arts, pleasant weather, developed tourism industry. Among all these features, Giant Panda is the most attractive treasure for all visitors to Chengdu, and world-famous Sichuan Cuisine and Chengdu's local leisure lifestyle also appeal to worldwide curiosity. After realizing dream panda tour in & near Chengdu, You can have in-depth Panda Volunteer, and visit city landmarks helping you better understand the past history and current innovation coexisting in this metropolis. Except the modern skyline, it's best to discover real Chengdu in old-style streets and towns, experience relaxed pace drinking a Chinese Tea, watch an amazing Face-changing Sichuan Opera show, seek sacred religious culture in temples, satisfy taste buds by multifarious Sichuan food and snacks. Your once-in-a-lifetime trip to Chengdu would be more significant if making side trips from Chengdu to Leshan, Mount Emei, Jiuzhaigou - notable UNESCO World Heritages in Sichuan.
Latest Travel News: Since December 1, 2019, qualified foreigner can enter and stay in Chengdu, Leshan, Yibin and total 11 cities within Sichuan without a Chinese Visa for up to 144 hours. Chengdu 144-Hour Transit Visa Free Guide >>
Brief Chengdu Travel Guide:
Popular Attractions: Chengdu Research Base of Giant Panda Breeding, Wenshu Monastery, People's Park, Jinli Ancient Street, Kuanzhai Alley, Jinsha Site Museum...
Best Time to Visit: suitable in all months, Spring (March to June) and Autumn (September to November) are most recommended.
Recommended Trip Length: 1 day ~ 4 days
Main Transportation: flights, high speed trains, buses, driving, biking, etc.
Accommodation: flexible choices from luxury brands to economy class
Following are some useful articles on planning travel experience in Chengdu, local features, tourism news, food and drink recommendations, popular things to do, etc. Since we are based in Chengdu, we really know the city well, and have mastered the best way to travel here from attractions, transfer, hotels, to food, activities, etc. So you can completely rely on our local expertise and experience. Contact us to plan your trip in Chengdu here >>
Top Tourists Attractions in Chengdu
Besides the No.1 must-do of seeing cute pandas in the Chengdu Research Base of Giant Panda Breeding, Chengdu has many sites in different styles to catch a glimpse of Chengdu' unique culture, history and closely experience the local relaxing life. Below are 24 most popular Chengdu tourist attractions recommended during your Chengdu tour!
24 Recommended Places to Visit in Chengdu
Chengdu Attractions by Catagories
Giant Panda - The Top Must-See in Chengdu
The cute Giant Pandas no doubt is the biggest reason why foreign tourists visit Chengdu, even during a short layover. You better have a morning visit to see the active Giant Pandas outdoor, eating bamboos, climbing on the tree, playing with Panda friends, etc. The new-born panda babies are the highlights you shouldn't miss. Like an in-depth Panda Tour and want to do meaningful things to help this lovely species? Contact us to customize a Panda Volunteer Tour!
Top 7 Featured Activities to Experience in Chengdu
Sightseeing is merely a part of your trip in Chengdu. To get the essence of Chengdu local life and make your journey more interesting, you're highly suggested to take some of activities to sense the spirit of Chengdu. Panda Volunteer can be done in nearby Panda Bases, while Sichuan Opera watching and other experiences are easily to be arranged in Chengdu city according to your itinerary and interets.
Chengdu Weather & Climate, Seasons - Best Time to Visit
Located in Sichuan basin, Chengdu has a subtropical monsoon climate, characterized by its early spring, hot summer, cool autumn and warm winter. The annual average temperature is 16 ℃ / 61 ℉ and the annual rainfall is about 1000mm. It's cloudy and humid always and short of sunny days. Another remarkable feature of Chengdu climate is its high humidity.
Most Useful Chengdu Travel Articles & Tips
How to Get to & Around Chengdu
Chengdu is located in central Sichuan Province, Southwest China. You can fly to Chengdu from overseas cities, like USA, UK, Japan, Singapore, Thailand, etc., or take a high speed train or flight from domestic cities in China, such as Beijing, Shanghai, Chongqing, Guilin, Kunming and so on. Visit How to Get to & Around Chengdu to get more detailed transportation guide of Chengdu!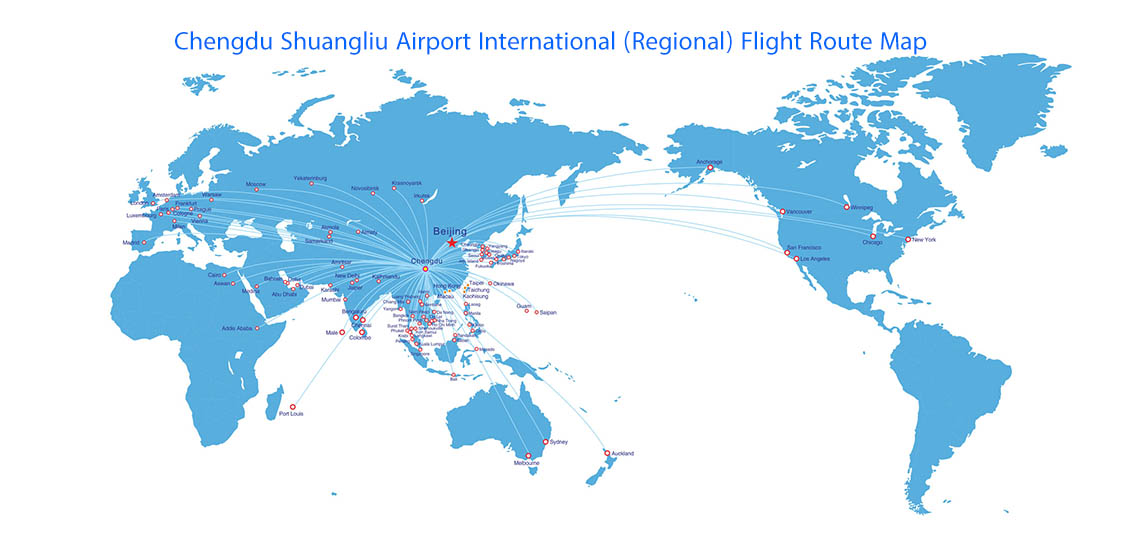 Take Flights & High Speed Bullet Trains to Chengdu
● Flights to Chengdu
Until September 2019, Chengdu totally operates about 350 airlines, including more than 120 international air routes to Europe (London, Madrid, Paris...), Australia (Melbourne, Sydney), North America (New York, San-Francisco, Los Angeles, Vancouver), Middle East (Abu Dhabi, Dubai, Doha), East Asia (Seoul, Jeju Island, Tokyo, Osaka, Fukuoka, Kuala Lumpur, Singapore), Southeast Asia (Kathmandu, Colombo) and other regions (Hong Kong, Macau, Taipei, Taichung, Songshan, Kaohsiung), etc. Meanwhile, over 210 domestic lines connects Chengdu with Beijing, Shanghai, Guangzhou, Hong Kong, Guilin, Zhangjiajie, Harbin, nealy all major destinatiosn in China.
● High Speed Trains to Xian
Chengdu East Railway Station is the most used high speed train station in Chengdu. It mainly serves for high speed trains between Chengdu and Chongqing, Xian, Guiyang, Kunming and other connected cities. Chengdu Lhasa Train departs from the old Chengdu Railway Station in north of the city.
Chengdu City Transportation
Chengdu has developed to be a first-tier city in China with excellent transportation internal traffic and external transportation network. It's very convenient to transfer in downtown areas for sightseeing by public vehicles and private transfers.
-Private tour: China Discovery offers you worry-free private transfer services. Itinerary can be customized based on your schedule and requirements.(Most Recommended)
-Subway: Chengdu currently has opened 7 metro lines opened. Line 10 links Chengdu Shuangliu International Airport; Line 2 has stops in Chunxi Road, Tianfu Square, People's Park, Chadianzi Bus Station; Line 7 goes to Jinsha Site Museum, Chengdu Railway Station, Chengdu East Station...
-Bus: It's cheapest but more suitable for tourists who have a good direction, know the city well and understand Chinese well (prepare some cash).
-Taxi: Taking a local taxi is very convenient and flexible. Recommended for short-distance transfer in city central areas.
-Cycling: You can use shared bike to travel for short-distance travel. The bikes are obviously in streets and near subway exits.
Useful Chengdu Maps
To help you figure out the clear location of Chengdu attractions, we collect plenty of Chengdu maps, including Chengdu location maps, Chengdu tourist maps, Chengdu transportation maps, detailed travel maps of top scenic spots. Click to read All Chengdu Maps >>..