Brief Introduction of Tianfu Square
First built in 1951, Tianfu Square covers a wide rectangle area of 88,000 square meters. It has long been the center of economy, culture and business due to the best location in Chengdu. Almost every day, you can see groups of people come here to take photos, chat with friends, exercise, have a rest, go shopping, or transfer to other buses or subways. And the 30-meter high statue of chairman Mao Zedong (毛泽东) is standing in the due north of Tianfu Square, facing south with his right hand waving to Chengdu citizens. Being the symbol of Chengdu and even Sichuan, Tianfu Square has been attracting a great number of visitors home and abroad.
Layout of Tianfu Square
The ground
Designed according to the combination of traditional Chinese culture and Western landscape art, Tianfu Square involves vigorous plants, shining lights, and fountain views around, presenting an appealingm Chinese water drawing. Tianfu Square is divided into the East Square and the West Square by a curve of Taijitu (a Diagram of Chinese Taoism, 太极图) in the middle. The West Square contains the lush trees and colorful flowers. The round part in the central West Square is a blue fountain pool. The East Square presents a Sunken Plaza that is the largest in China. In the middle of this Taijitu is a pattern of Golden Sun Bird, which is the symbol of China's intangible cultural heritage. At the center of each square is a statue with a golden dragon embracing, which stands for the two cradles of Chinese culture, the Yellow River and the Yangtze River. Tianfu Square is surrounded by 12 cultural totem poles of 12-meter height with the foundation supports inspired from the relics unearthed from Sanxingdui Museum. And the patterns and dark fringes on the poles are selected from the historical relics from Jinsha Site Museum. Standing on a high building, you can admire the charm and spectacular view of Tianfu Square that is like a piece of landscape painting.
Metro Station at the Basement
Since Chengdu Metro Line 1 and Chengdu Metro Line 2, two most busiest subway lines have stations underground here, Tianfu Square has become the biggest transfer station for metro and the new focus of Chengdu. You will feel it convenient to take a subway here to other places in Chengdu.
Click to Enlarge the Tourist Map of Tianfu Square
Night View of Tianfu Square
Chengdu Tianfu Square Metro Station
Famous Tourist Attractions Near Tianfu Square
Apart from Tianfu Square, there are a series of worth-seeing places nearby, like Sichuan Art Museum, Chengdu Museum, Sichuan Science and Technology Museum, Jincheng Palace of Fine Arts and Sichuan Library in the Cultural Gathering Center, the ancient Islamic Imperial Mosque and the People's Park. (Optional)
Sichuan Art Museum
Walking for only 3 minutes from the northwest side of Tianfu Square, you can see Sichuan Art Museum that is a modern type building consists of 38 meters high. Looking down from other high buildings, you can find this museum seems a lying " Ruyi" (如意, an "S" shaped Chinese ornamental object made of jade). Abundant quantities of famous paintings in different styles are collected here, including the classic works of Zhang Daqian, Xu Beihong, etc. Apart from those of Chinese painters, Sichuan Art Museum frequently holds exhibitions to provide citizens to get close to the great works of countries and regions all over the world, like South Korea, Japan, Denmark, France, Taiwan, and so on. As a result, it is really a valuable opportunity to appreciate those excellent paintings in this Museum.
(Opening hours: 09:00-20:00, stop entering after 19:00; exit before 19:30; close on every Monday)
Chengdu Museum
Cross the street on the west side of Tianfu Square, you can reach Chengdu Museum (the new building) that was designed into the shape of an irregular geometry but with smooth lines. From afar, this building stands out among the rest nearby constructions for its golden color external walls. Inside the Chengdu Museum, more than ten thousand rare cultural relics from remote ancient times to Republic of China are collected. Want to know about the historical background, culture and development process of this city? Chengdu Museum is absolutely your wise choice.
(Opening hours: 9:00-20:30 during May 1st - October 31st; 9:00-20:00 during November 1 - April 30th, Tue-Sun; close on every monday)
Click to Enlarge the Location Map of Tianfu Square & nearby Spots
Sichuan Art Museum
Chengdu Museum (New Building)
Sichuan Science and Technology Museum
Sichuan Science and Technology Museum is located behind the statue of Chairman Mao, on the right north side of Tianfu Square. This Museum shows the knowledge of Science and Technology to the public with the help of modern technology means, so people can have a great experience to know about the essence of some great projects, like Dujiangyan Irregation System, Jiuzhaigou Valley and Huanglong National Park, and other amazing aspects, such as the aerospace, robots, virtual world, etc. After visiting here, you will be amazed at the super wisdom of human beings.
(Opening hours: 9:30-17:00, Tue-Sun; close on every monday)
Sichuan Library
Closer to Tianfu Square, Sichuan Library is next to Sichuan Art Museum on the northwest side. The original library was built in 1912 and is one of the oldest public libraries in China. The new Sichuan Library covers an area of 17 acre, which can hold over 6,000 people within its 8 floors. Divided reasonably according to the classification of about 500,000 books, Sichuan Library provides visitors a comfortable environment to read interesting books, do various kinds of research, attend trainings, etc.
(Opening hours: 9:00-17:00, Tue-Sun; close on every monday, exact opening hours differs from each room)
Jincheng Palace of Fine Arts
Cross the street on the east of Tianfu Square, you will find Jincheng Palace of Fine Arts with a big billboard outside to inform people the upcoming shows. The palace appears magnificent with water pools embracing, fountains of diverse shapes, and colorful spotlights. Apart from the shows of popular stars, dancers, orchestras, opera troupes and other excellent people in China, Jincheng Palace of Fine Arts also frequently holds large-scale performances of artists worldwide, making it a center for art communication.
People's Park
1 km away from the west of Tianfu Square, People's Park is located here. Roaming in this park, you can experience the leisure life of Chengdu watching a lot of elder people dancing in groups, singing happily, children play freely in the beautiful garden, people drinking covered-bowl tea and playing Mahjong, many kinds of fishes swimming in the lakes.
(Opening hours: 06:00-22:30 in summer; 06:30-22:00 in winter)
For more information about People's Park.
Imperial Mosque
300 meters away from the west of Tianfu Square is the Imperial Mosque. Constructed in 16th century, this is one of the most well-known Islamic mosques in southwest China. You can feel the magnificent and ancient characteristics of this mosque when wandering in the arched doors, the palace for worshipping, and other components.
Sichuan Science and Tchnology Museum
Sichaun Library
Performance in Jincheng Palace of Fine Arts
Dancing Ladies in People's Park
Recommended Route to Visit Tianfu Square
Classical route
Take Chengdu Metro Line 1 or Line 2 or a bus to Tianfu Square to appreciate its splendid view of Taijitu, the statue of Chairman Mao, surrounding colorful plants, and feel the modern life of Chengdu city. Then, visit Sichuan Art Museum on the right northwest of Tianfu Square to admire the excellent painting works and go to Chengdu Museum to see the precious historic relics. Night view is more beautiful and more suitable for taking photo. (For about 1-2 hours)
In-depth Route
Take Metro Line 1 or 2 or a bus to Tianfu Square to appreciate the splendid view of Taijitu and beautiful fountains, the statue of Chairman Mao. Then, visit Sichuan Art Museum on the right northwest of Tianfu Square to admire the excellent painting works and go to Chengdu Museum to see the precious historic relics. After that you can wander to Renmin Park to have a cup of tea and experience the leisure life of Chengdu. Then, if you have enough time, you can go to Sichuan Science and Technology Museum to know more about the mysterious and great phenomena and enjoy a show in Jincheng Palace of Fine Arts. Finally, you can go to Sichuan Library to experience the reading environment of Chengdu citizens. (Optional)
How to Get to & around Tianfu Square
Located in the center of Chengdu city, Chengdu Tianfu Square is extremely easy to get to by different sorts of transportation vehicles like bus, subway, taxi, etc.
By Subway: Chengdu Metro Line 1, and Line 2 (Tianfu Sqaure Station 天府广场站)
Get around Tianfu Square by China Discovery's Private Tour (Top Recommended)
If you want to get rid of hustle of public transportation, troublesome navigation and language communication, you can book a private tour package from China Discovery which covers sightseeing, dining and transfer from us. Our local tour guide and driver will escort you to Tianfu Sqaure and other tourists attractions with speed and convenience, and take care of all the details. You just need to focus on sightseeing.
Accommodations around Tianfu Square
Luxury hotels: Chengdu Ritz Carlton Hotel, Celebrity City Hotel, etc.
Comfort hotels: Chengdu Minyoun Central Hotel, Yinhe Dynasty Hotel, Green Tree Inn, etc.
Economy hotels: Blessdden City Hotel, etc
Useful Tips for Visiting Tianfu Square
1. After appreciating Tianfu Square, it is highly recommended to visit the Sichuan Art Museum as well as Chengdu Museum that are both built with elegant and exquisite appearances and are great places to know the culture and history of Chengdu.
2. At night, all the colorful lights around Tianfu Square are lit, including the LED buried lights that look like the bright stars in the sky, and the fountains are dancing to the soft music. Visiting Tianfu Square at this moment to enjoy its most attractive moment is really unforgettable.
3. Well prepare your camera, because you will be excited to take pictures of the beautiful attractions as keepsakes, like the colorful fountains dancing to the music, the splendid night view of Tianfu Square and the surrounding buildings, etc.
4. Since the very large Tianfu Square and nearby appealing spots cost time to visit, it is better for you to wear comfortable shoes and cloths, because you may walk around.
Lights in Tianfu Square
How to Plan a Chengdu Trip with Tianfu Square
Chengdu is most known as "the Land of Abundance" in China, with three most representative brands: Giant Panda, leisure life and delicious food. Actually, there are more charm hidden in and around Chengdu, including the "Three Kingdom Culture", Sanxingdui civilization, brilliant UNESCO World Herigates. Once you come to Chengdu, you don't want to leave after you really into it.
During your Chengdu city tour, you can visit the Chengdu Panda Base in the morning to see the cute pandas, and visit other attractions in downtown, such as Renmin Park, Jinli Old Street, Kuanzhai Alley, Jinsha Site Museum, Chunxi Road, etc. Like local experience? Try a afternoon tea time in Renmin Park, or watch a Sichuan Opera Show in Shufeng Yayun Opera House, enjoy a cooking class in Sichuan Cuisine Museum. Your Chengdu tour can be interesting and relaxing.
★ Recommended Chengdu Tours :
With more time, travel beyond the city center to nearby Leshan to watch Leshan Giant Buddha and hike the Mount Emei, even you can go further to northwestern Sichuan to Jiuzhaigou Valley and western Sichuan for less-tourist but amazing beautiful scenery. China is vast and rich land, which offers a great variety of great destinations to travel with Chengdu. Therefore, you can expand your trip to Beijing - capital of China, Shanghai - modern metropolis, and Xian - time-honored ancient capital to have a deeper understanding of China.
★ Recommended Tours including Chengdu:
√ 7 Days Sichuan Discovery Tour (Chengdu / Leshan / Emei / Chengdu / Jiuzhaigou)
√ 7 Days Ancient China Tour with Panda (Beijing / Xian / Chengdu)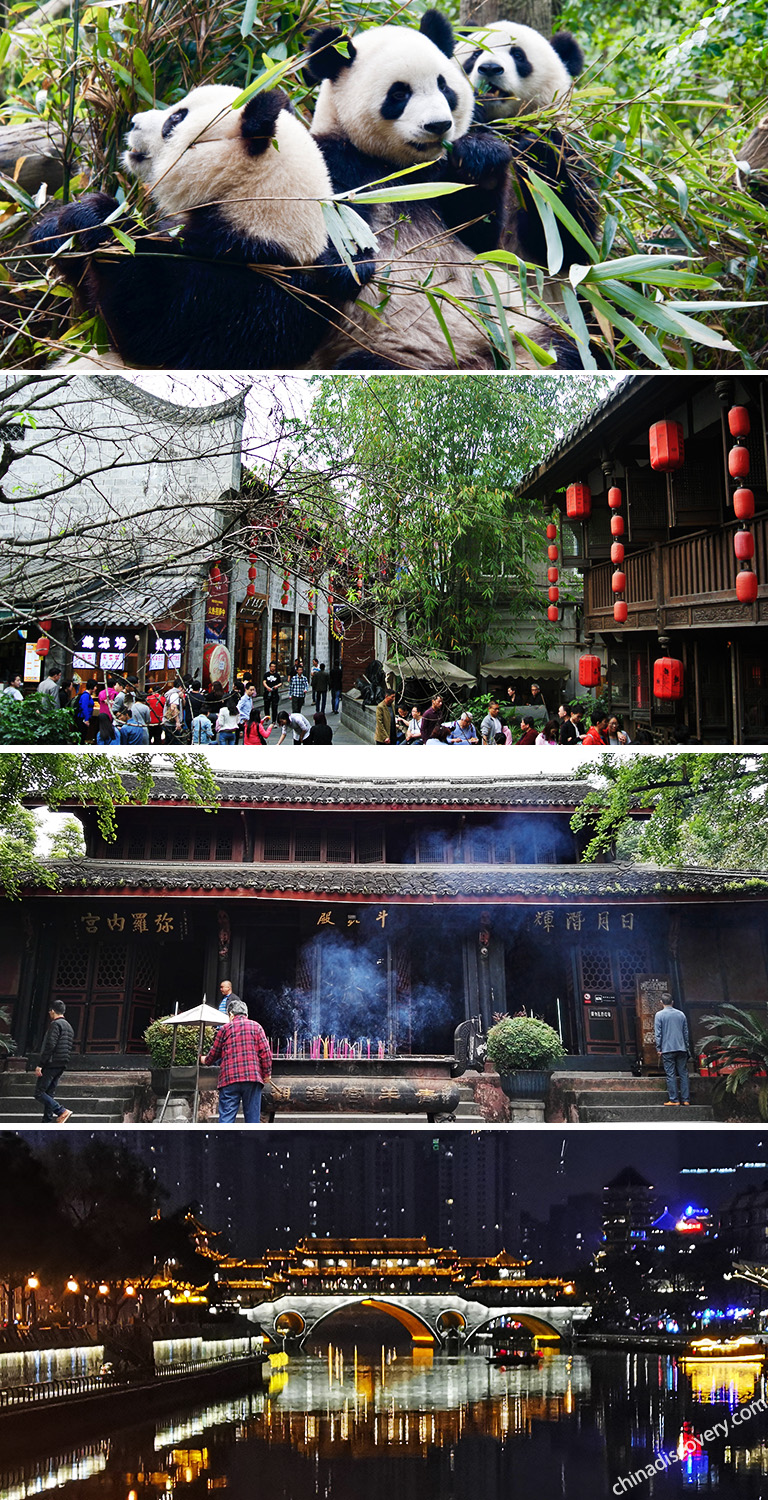 Chengdu Attractions
Top Attractions in Chengdu
Useful Chengdu Travel Guide
Recommended Chengdu Tours
Top 3 Chengdu tours chosen by most customers to explore Chengdu in the best way. Check the detailed itinerary, or tailor your own trip now with us.
2 Days Leisure Chengdu Private Tour with Panda Visit

Chengdu: Jinli Street, Giant Panda Base, Wenshu Temple
4 Days Classic Leshan Buddha & Mount Emei Tour from Chengdu

Chengdu / Leshan / Mt. Emei / Chengdu
Start planning your tailor-made holiday to China by contacting one of our specialists. Once inquired, you'll get a response within 0.5~23.5 hours.
Customize a Trip
Have a question? Get answers from our travel experts or guests
Your Question:

Your Name:

Your Email: